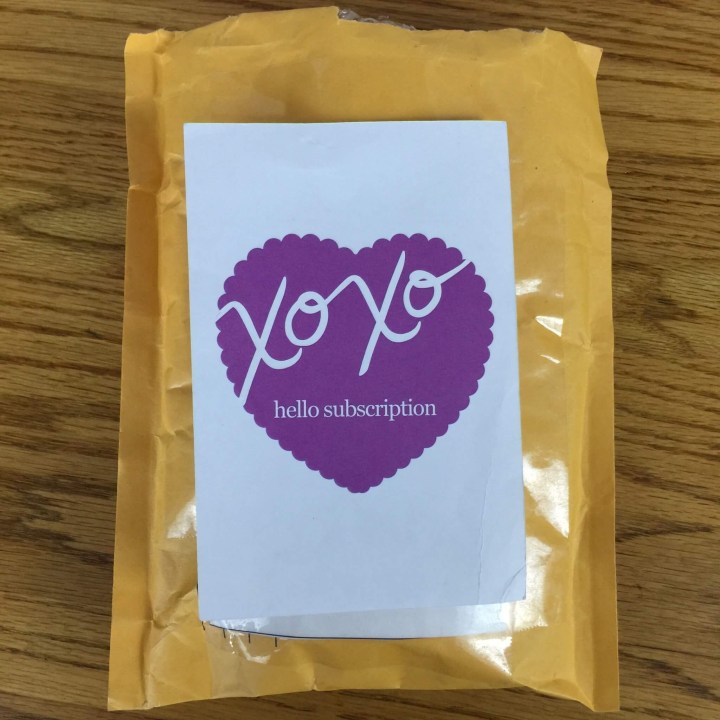 Buzz Bag by Sweet Melissa's Gifts & Etc is a subscription filled with fandom jewelry and gifts. The cost for each mystery bag is only $15 per month (you must buy each month individually).
Each bag you'll receive follows a certain theme every month, which is announced before you can buy. It is the perfect geek box for those who are fans of Game of Thrones, Harry Potter, Lord of the Rings, Star Wars, Legend of Zelda, The Hunger Games, Doctor Who, Percy Jackson and more!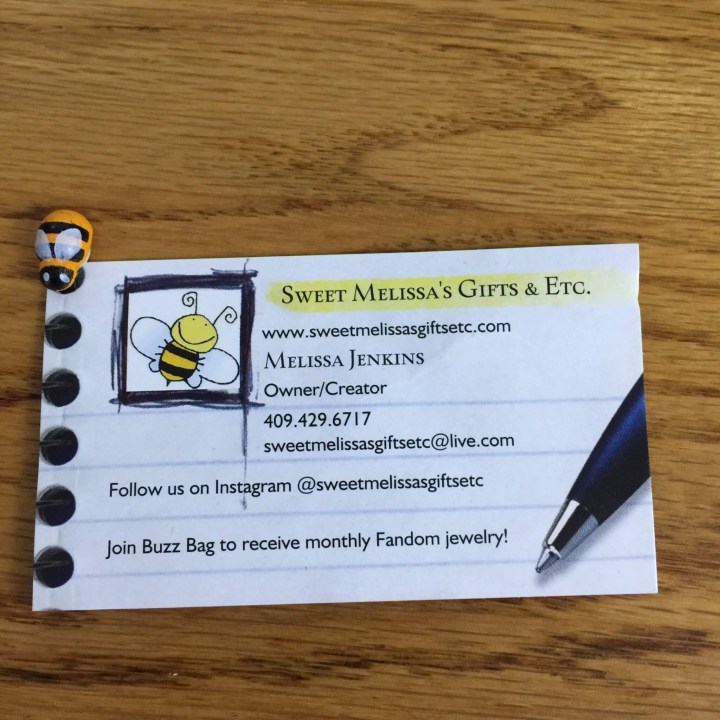 Included is a business card that gives information on Sweet Melissa's Gifts and asks you to follow them on Instagram. I suggest following them, there are some great pictures and awesome product. I have to say that I love the little bee that is included with each buzz bag, it's so cute.
221B key..I have the key to Sherlock Holmes fictional apartment! I love the idea of wearing a key and this one is simple and light weight. An adjustable necklace is great too because then I can layer my necklaces for a fun look.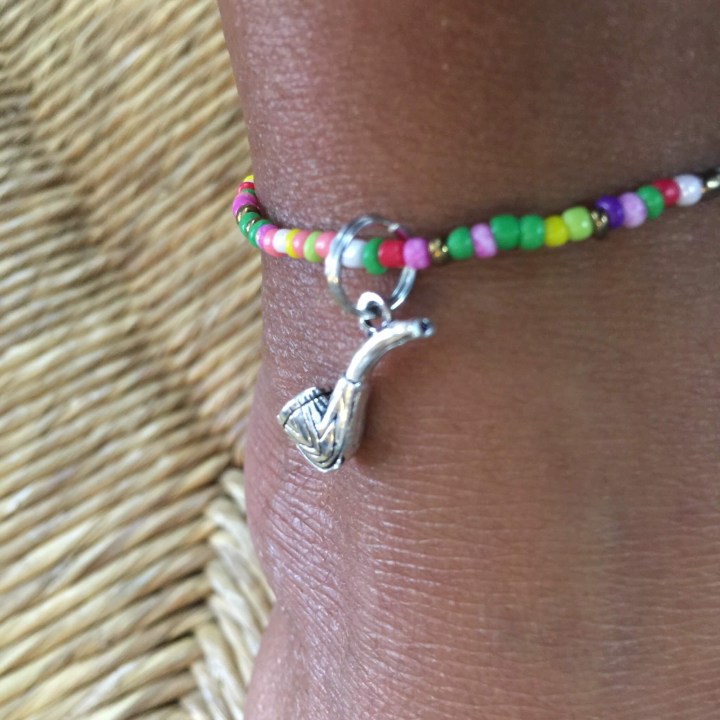 I'm not sure if it was meant to be a bracelet or an anklet but it was too big for my wrist and fits perfectly on my ankle. I love the colors and the pipe is darling. I do have a thing for pipes as they remind me of some of the greatest men in my life and some great literary characters.
Pins! My daughter loves pins and I love quotes that can make you stop and think, we are both happy with this selection of pins. "Experience. Indirectly it man be of value, you know; you have only to put it into words to gain the reputation of being excellent company for the remainder of your existence.",  this quote is a bit long for a small pin and really takes away from the silhouette of Sherlock in the background.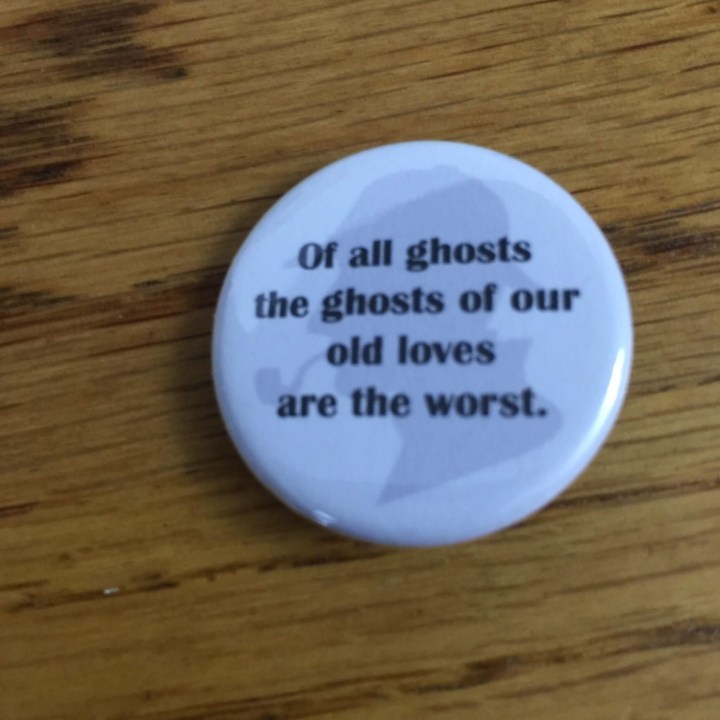 "of all the ghosts the ghost of our old loves are the worst", this quote is beautiful and kind of tragic. I like that I can see the background clearly and can't wait to display this one on my work bag.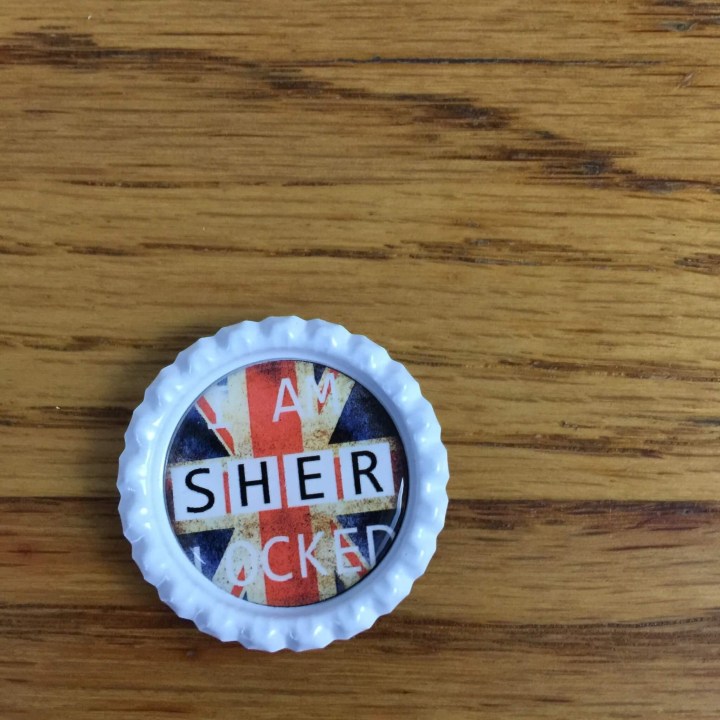 I am Sher locked bottle cap magnet is so cute. It's very light and I'm thinking it's more for decorating then actually holding papers on the refrigerator.
I am Sher Locked necklace is amazing. It's super long, and the basic colors go with everything in my closet. I love pieces like this  that I can declare my love for my favorite shows and still look like an adult.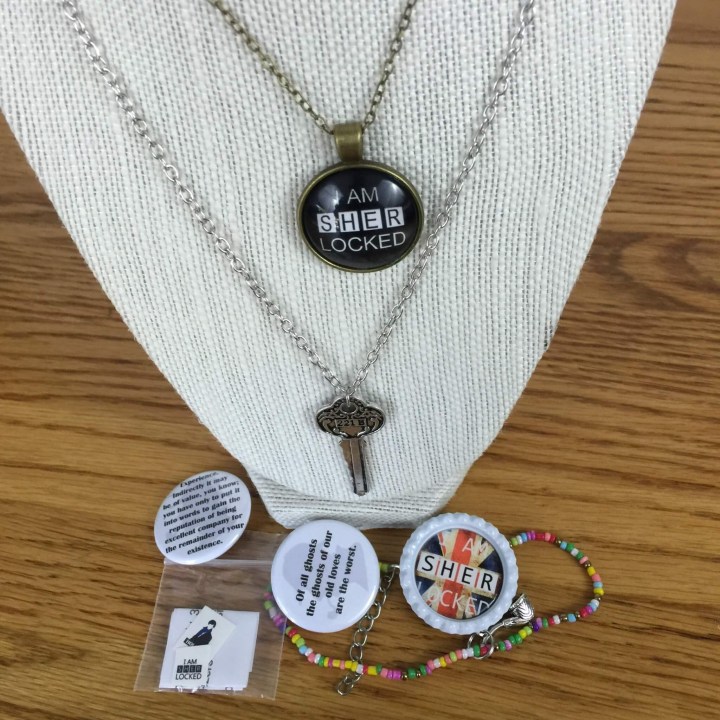 As you can see in the picture of all the great stuff I got I missed the nail decals, this is not the case. I could not get a good up close and personal picture without distorting their awesomeness. This buzz bag was so much fun, the items are unique and there is something for everyone. I tend to be on the girlie side and love the jewelry while my daughter is a little more tomboy and enjoys the magnet and pins. This subscription really could be for any lady in my life.
Upcoming Buzz Bag Themes:

2016

August – Harley Quinn/The Joker
September – Zelda/Pokémon

October – Vampires (Twilight, True Blood, Vampire Diaries, Underworld, Shadowhunters, etc.)

November – Fantastic Beast (The movie we've all been waiting for! This bag will include items from Harry Potter as well as magical animal themed items)
December – Nightmare Before Christmas (Tim Burton themed jewelry included)

2017

January – Post Apocalyptic (Resident Evil/Mad Max)
Visit Buzz Bag – Sweet Melissa's Gifts & ETC. to subscribe or find out more!
The Subscription
:
Buzz Bag – Sweet Melissa's Gifts & ETC.
The Description
: A mystery bag filled with fandom jewelry & gifts, just for you! Buzz Bags are filled with items from your favorite sources of entertainment, including Game of Thrones, Harry Potter, Lord of the Rings, Star Wars, Legend of Zelda, The Hunger Games, Doctor Who, Percy Jackson and much more! We focus on giving fans high-quality, fun items that celebrate fandom. Each bag is tied together with a theme and is announced prior to your purchase.
The Price
: $15.00 per month