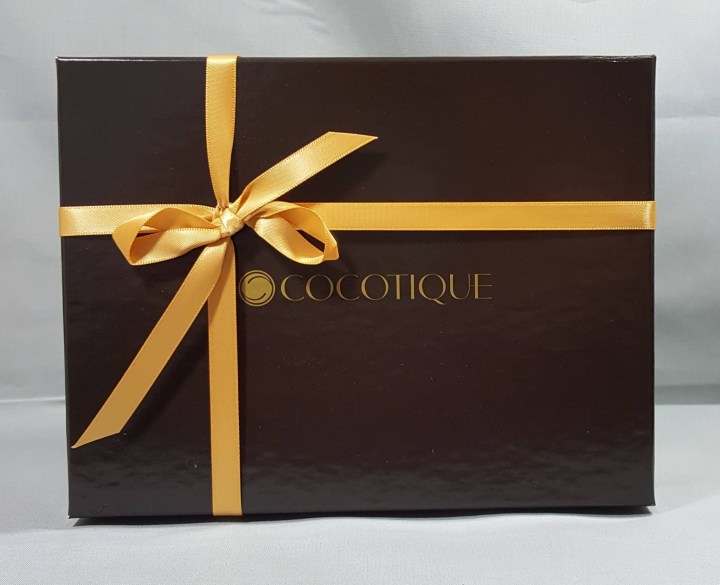 For July, Cocotique has been taken over by Luster Products.  The box features products from the Pink and You Be-Natural lines.  Cocotique is a deluxe beauty box subscription service for women of color and diverse ethnicities.  Each month Cocotique will ship to your door a specially curated deluxe box filled with 5-8 sample size and full size beauty and lifestyle products for just $20 including free shipping.  After trying out your samples, you can then purchase the full size products in the Cocotique Shop.  Cocotique offers an exciting and fun experience for women of color who love beauty and are in search of an affordable way to try new beauty and lifestyle brands.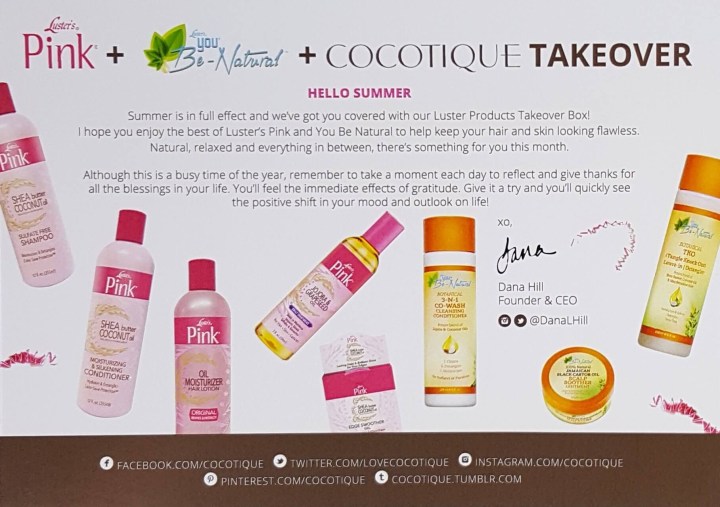 HELLO SUMMER

Summer is in full effect and we've got you covered with our Luster Products Takeover Box!  I hope you enjoy the best of Luster's Pink and You Be Natural to help keep your hair and skin looking flawless.  Natural, relaxed and everything in between, there's something for you this month.

Although this is a busy time of year, remember to take a moment each day to reflect and give thanks for all the blessings in your life.  You'll feel the immediate effects of gratitude.  Give it a try and you'll quickly see the positive shift in your mood and outlook on life!

xo,

Dana Hill

Founder & CEO
I opened the box and had to smile.  If you've read any of my previous reviews, you'll understand.  If not, you'll find out soon enough.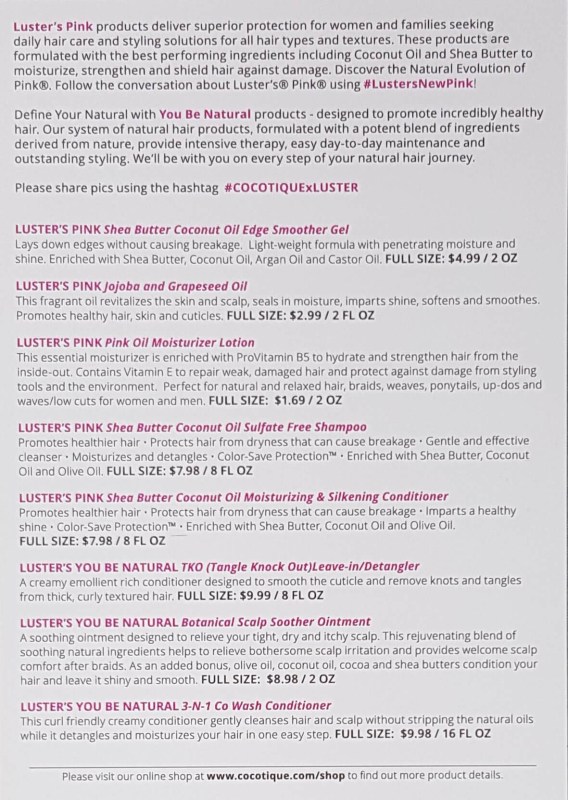 The information card has a brief description of each item as well as costs for full size products.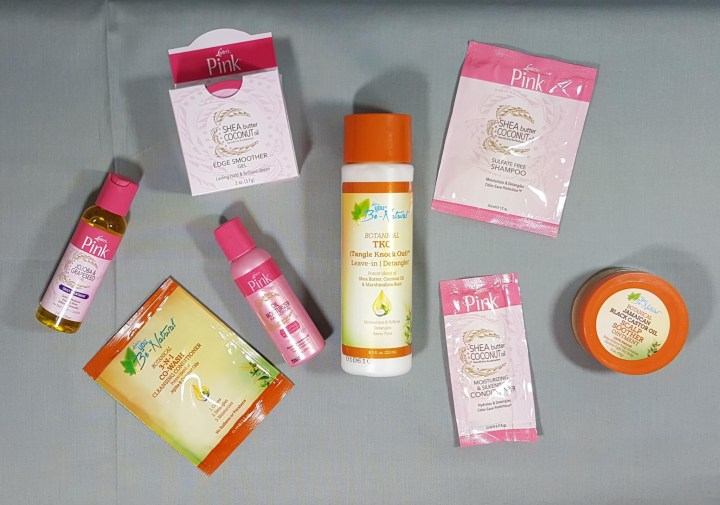 The Luster Products Cocotique Takeover!!!
Luster's Pink Line-Up: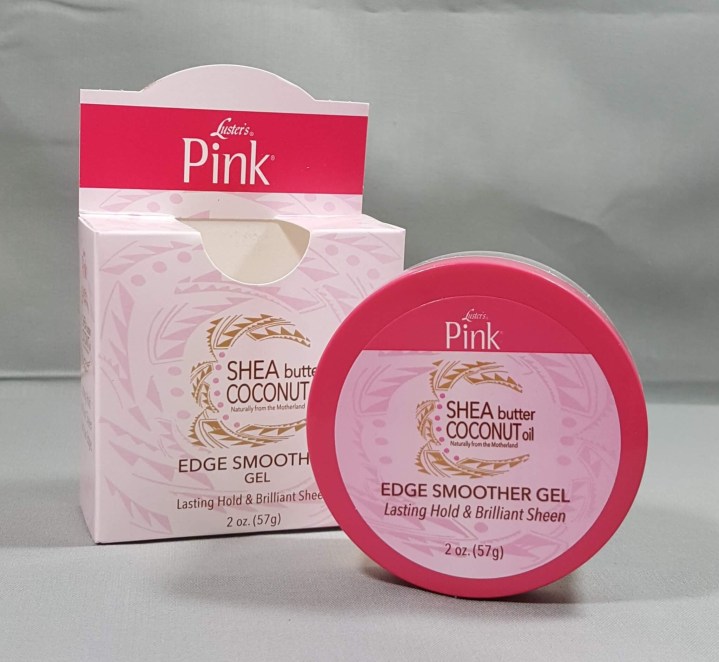 Shea Butter Coconut Oil Edge Smoother Gel ($4.98):  And here it is, the ubiquitous edge gel.  I have received so many tubs since becoming a reviewer, I've lost count.  I feel that I get a tub every other month.  I know we curly girls suffer from frizz and flyaways, but c'mon.  Sorry, I've digressed.   This gel is tackier/stickier than some of the others I've received.  The shea butter and coconut oil give it a sweeter scent.  I gifted this to my sister since my niece won't share the tub I gave her last month.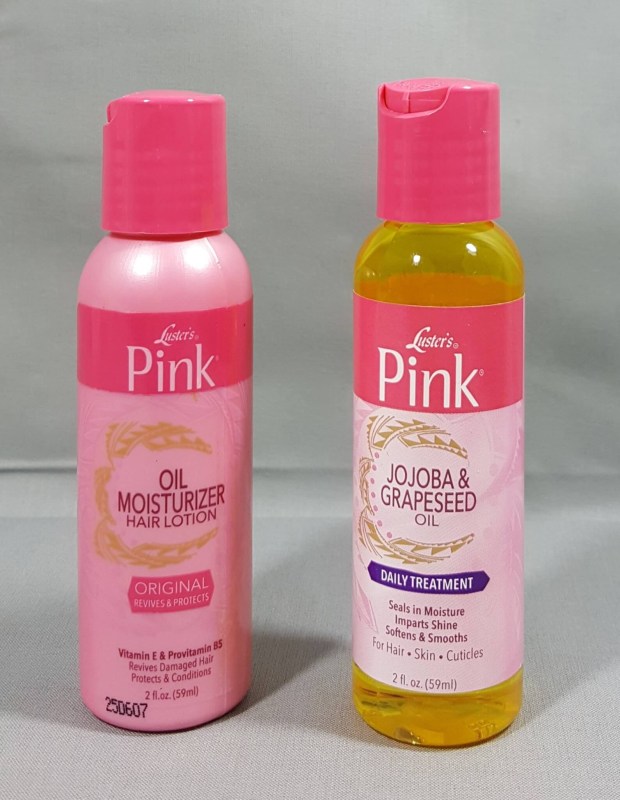 Pink Oil Moisturizer Lotion ($1.86):  I've mentioned this in previous reviews, but Pink lotion and I have not had a good relationship.  On one of the rare days that my dad did my hair, he tried using this to help work through my curls.  EPIC FAIL.  Not only did my 'do look crazy, he used too much and my mom had to wash my hair multiple times to get it all out.  So, remember, less is more with this.  I tried it again as an adult, with no success.  However, my sister has thicker hair, and this works for her.  She likes it when she's going natural and sometimes to add shine when she uses styling tools.  The formula contains Pro-Vitamin B5 and Vitamin E.
Jojoba and Grapeseed Oil ($2.99):  This oil is part of Pink's line of natural oils and is great to use as part of your haircare cocktail.  Jojoba easily penetrates the hair shaft to moisturize, and grapeseed oil is rich in Vitamin E and proteins.  Use this to revitalize skin and scalp, seal in moisture, add shine, and soften/smooth hair.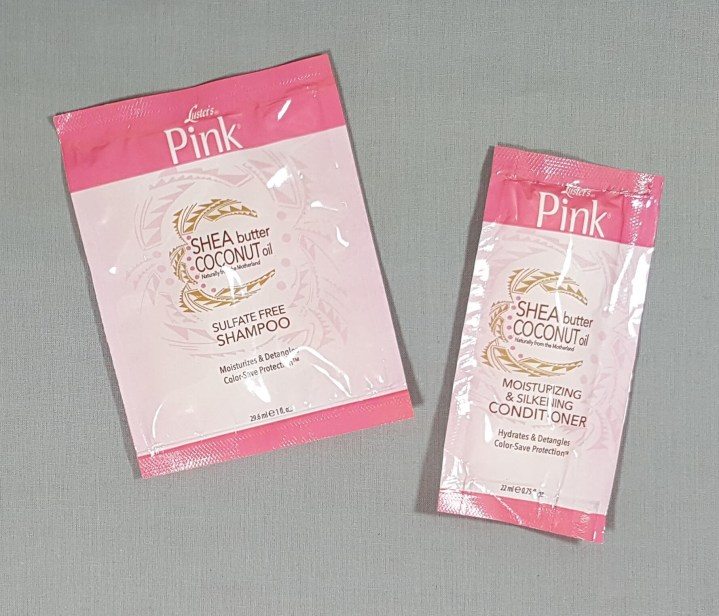 Shea Butter Coconut Oil Sulfate Free Shampoo ($0.67):  This shampoo is enriched with shea butter, coconut oil, and olive oil to moisturize and detangle hair.  It promises to protect hair from dryness and breakage while providing a health shine.  Considering this is sulfate free, it had a large amount of lather.  Unfortunately, I couldn't find an ingredients list on the sample or on the Luster's website to confirm the lack of sulfates.  My hair felt very clean, without being stripped.
Shea Butter Coconut Oil Moisturizing & Silkening Conditioner ($0.50):  Like the shampoo, this conditioner contains shea butter, coconut oil, and olive oil to moisturize and protect hair.  So, a few things… First, why is the conditioner sample smaller than the shampoo sample?!?  Most curly girls use more conditioner in their routine.  Next, this felt very thin.  I used half of the packet and didn't feel that it was enough for my shoulder length hair.  And lastly, I felt like this left a residue on my hair – it seemed that I couldn't fully rinse it out.  That said, my curls had nice definition and were soft when air dried.
You Be-Natural Line-up:  
TKO (Tangle Knock Out) Leave-in Conditioner ($9.98):  This conditioner is designed to smooth the cuticle and remove knots and tangles from thick, curly textured hair.  I liked this leave-in.  It worked well as a detangler and as a styling lotion.  I didn't add any additional products to my hair with this and it kept my curls in check.  Actually, my hair looked better than it had in a while.  My curls were defined and shiny.  Even on a humid and rainy day, I didn't have issues with frizz!  This is a keeper for me.
3-N-1 Co Wash Conditioner ($0.94):  This conditioner is designed to cleanse the hair and scalp without stripping natural oils.  Use between shampoos to keep hair clean and moisturized.  I really like co-washes and can't wait to try this one out.
Botanical Scalp Soother Ointment ($8.98):  This formula contains a blend of olive oil, coconut oil, cocoa butter, and shea butter to relieve scalp irritation while leaving hair smooth and shiny.  Unlike petroleum based products, this is a healthier alternative for greasing the scalp when getting braids.
This Luster takeover box comes in at $31.  While that is more than the cost of a single box, it is underwhelming compared to some recent Cocotique boxes.  I've said this before, I like the takeovers because I get a chance to use a line of products and see how they work together.  I was hoping that the curation would have had more items from the You Be-Natural line because the line uses natural ingredients, and there is a good variety of products in the assortment.  What did you think of the takeover?  Leave a comment below to let me know your thoughts.
Visit COCOTIQUE to subscribe or find out more! Get 10% off your entire subscription. Use coupon code  BOX10.
The Subscription
:
COCOTIQUE
The Description
: Each month, you will receive a COCOTIQUE Box with 5-6 expertly curated beauty and lifestyle samples delivered to your door. Your COCOTIQUE Box will include a variety of samples from skin care, hair care, fragrance, nail and lifestyle companies.
The Price
: $20.00 per month