DogPeopleBox is a monthly dog inspired box that offers quality, hard to find products for people and their dogs. Two boxes are offered. The DogPeople Box contains four items that may be home decor, accessories, and more! The DeluxeDogPeopleBox contains two additional items that will have your best friend's tail wagging with excitement. All products are dog inspired. Customize the box for the human by selecting male or female. Then select the shirt size which ranges from small to XXX-Large. DeluxeDogPeople Box subscribers will also select dog size. Two percent of all sales are donated each month to animal sanctuaries.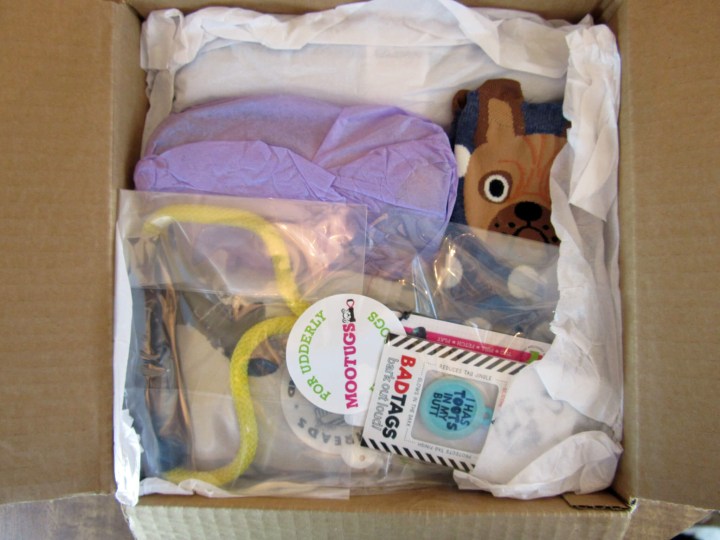 I am excited to review the very first box! I have no idea what to expect.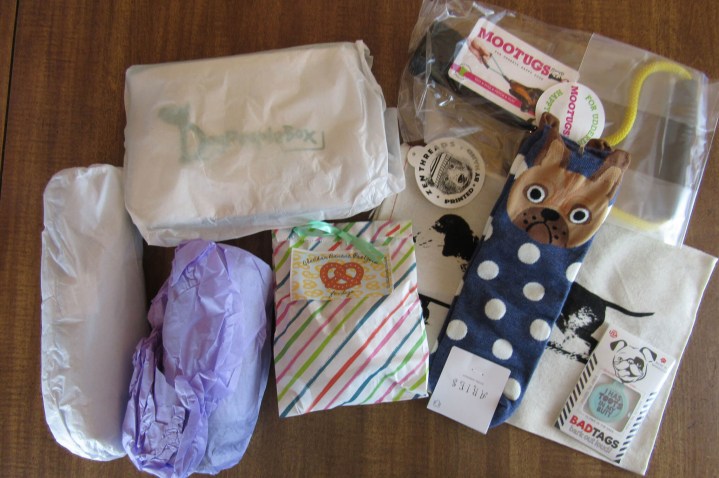 The items were well wrapped! I am still not sure what to expect!
The information card lists the items, description, and prices. I did not peek at the card until after I opened everything. I wanted to be surprised!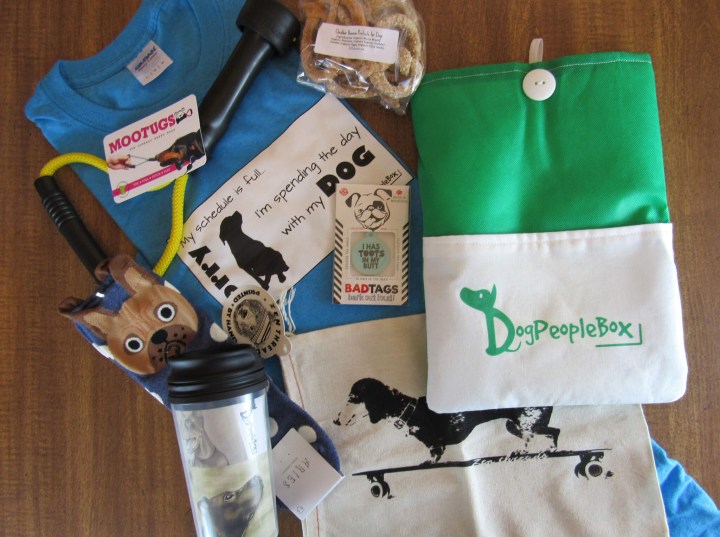 Here are all the items in the July DeluxeDogPeople Box. The box was packed with items! It's a great way to start off a brand new subscription!
The exclusive t-shirt designed by DogPeopleBox ($21.99) is adorable. I do spend days working with my dogs on the farm and will save the shirt for one of those days. Do you think the doggies will appreciate it?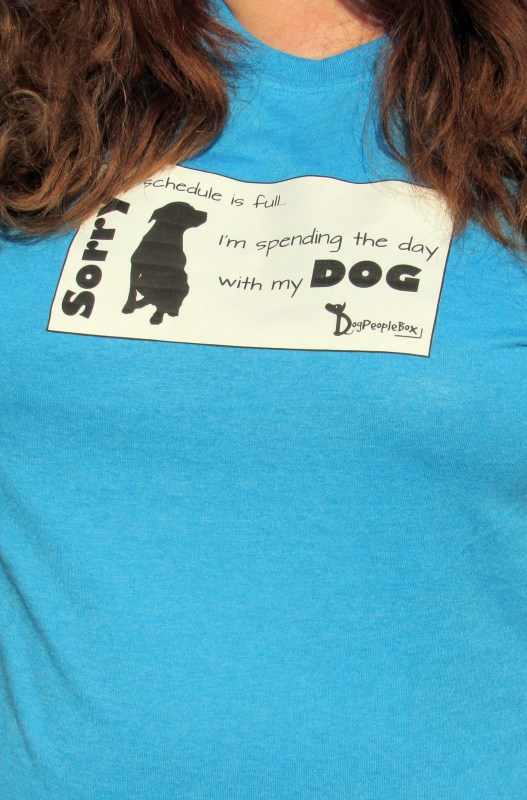 The shirt is not exactly form fitting. It's a cute saying, "Sorry, My schedule is full… I'm spending the day with my DOG."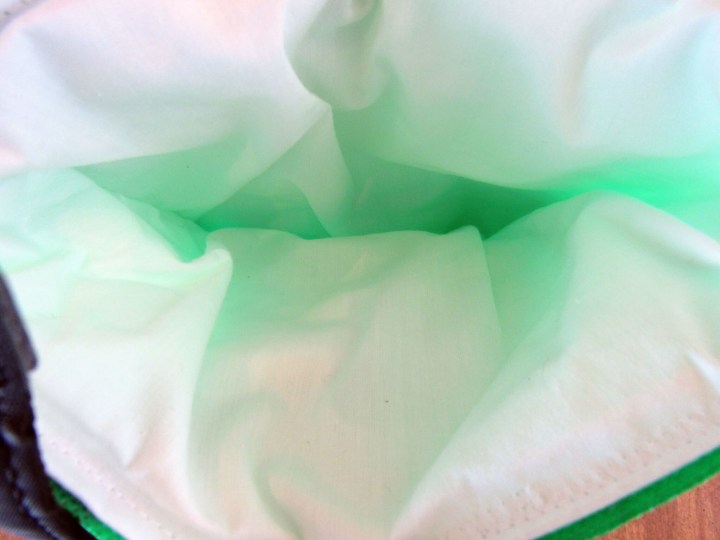 The Exclusive Table Sleeve ($45.00) is the July Spoiler. The tablet sleeve is one-of-a-kind handmade case with foam padding. It has a button design to secure the tablet and a pocket to hold accessories. I like the colors and design.
The Socksense Socks Hello Puppy Dogs ($2.53) is the ultimate in cuteness! Look at those adorable ears peeking up over the cotton-blended socks.
I will be wearing them once it cools down. They felt comfortable and will look great when I am walking the doggies.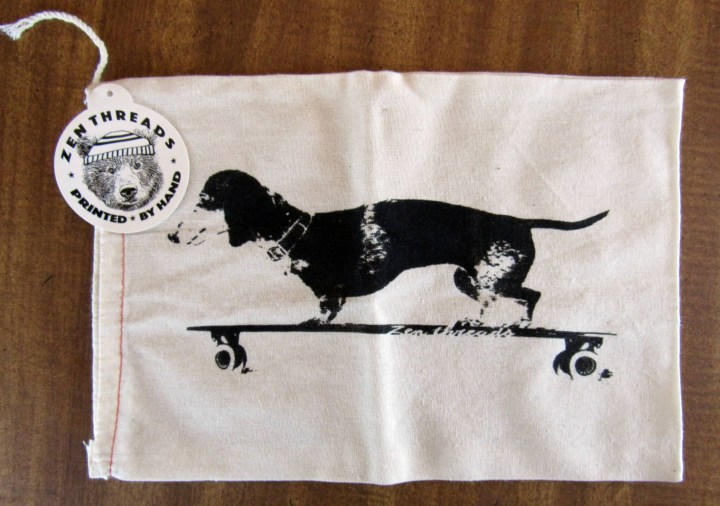 Time for an adventure. Throw your keys, snacks, and doggy toys in the Zen Threads Longboard Dachshund bag ($3), and go off on an adventure! It's even printed with eco-friendly ink.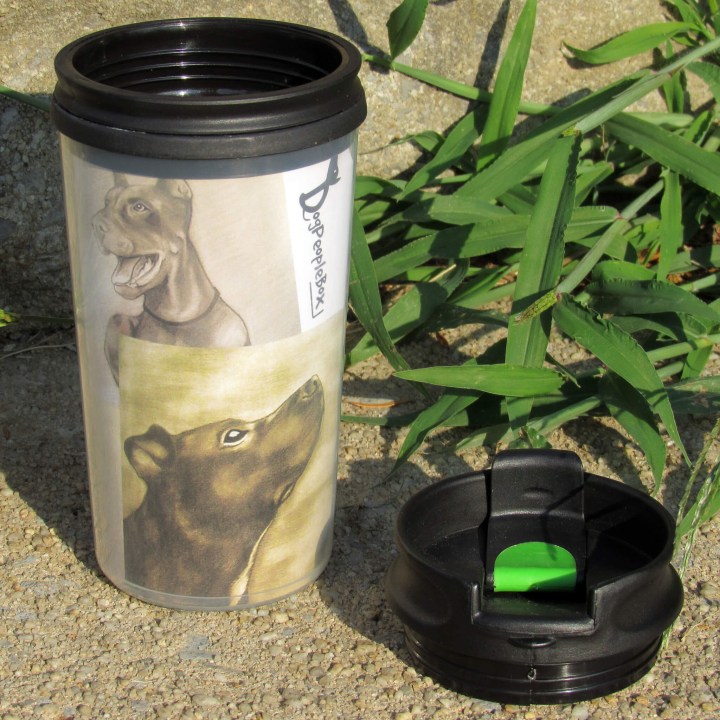 The exclusive tumbler ($14.99) is a free gift to thank subscribers for their support. It features prints and handmade graphite drawings by designed by a DogPeopleBox founder. No more worries about someone stealing your tumbler at work!
Onto the deluxe part of the DeluxePeopleBox which is gifts for your very best friend in the whole wide world!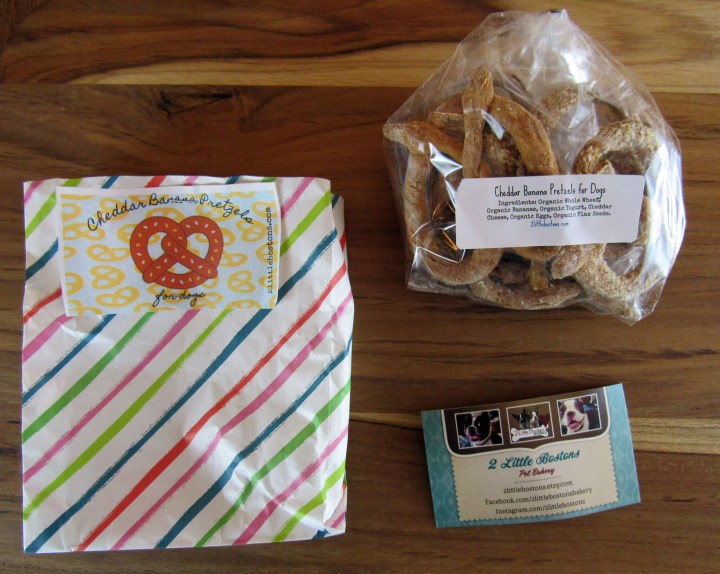 The dogs loved the 2 Little Bostons Cheddar and Banana Doggy Pretzels (6 pretzels, $3.95). The dogs inhaled them! They are full of wonderful ingredients such as organic yogurt and cheddar cheese. They are handmade in New Hampshire, USA.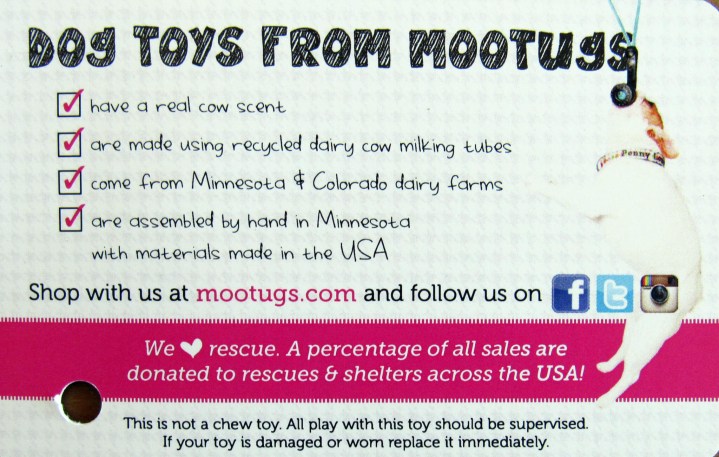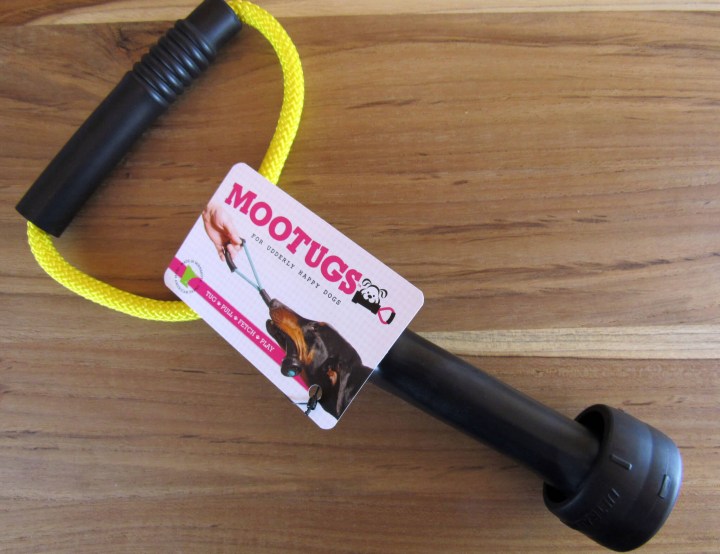 My husband and I got a kick out of the Mootug Toy ($14.00) because our farm was a dairy farm for many years before we switched over to being an diversified organic farm. It's a clever idea. Guess who loved the toy?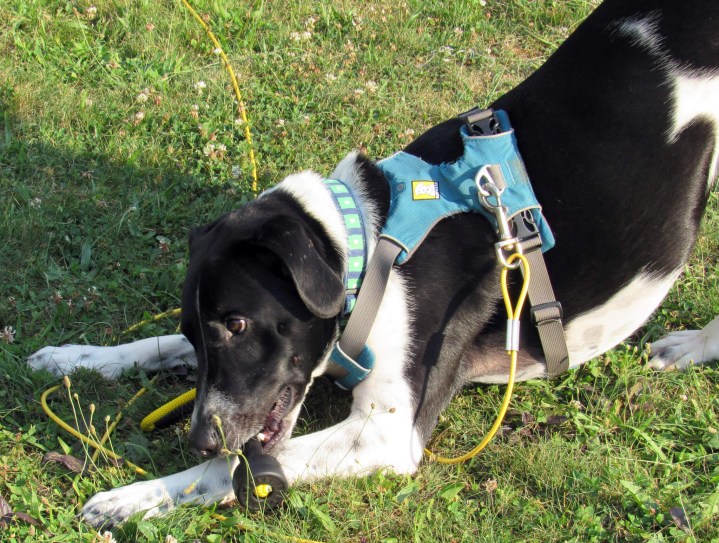 Odie couldn't wait to play tug of war!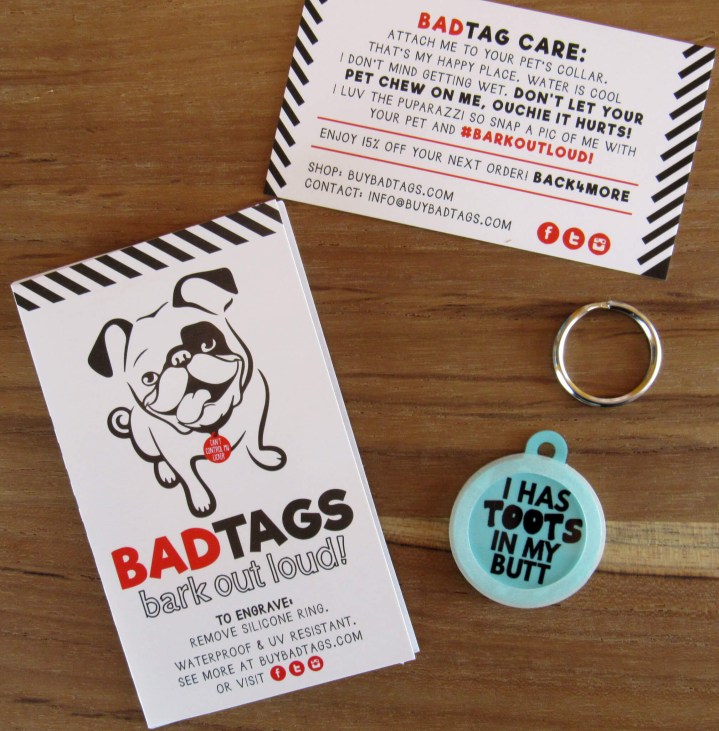 Which dog will wear the BadTags Custom Tag ($14.00) I has toots in my butt?  I can tell the DogPeopleBox founders have a sense of humor. The tag is made in the USA, never fades, and glows in the dark.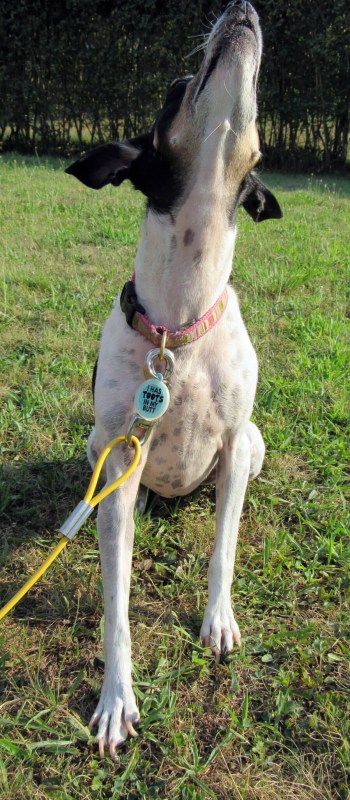 Hmm. I wonder what Bella is trying to tell us? Is it toots related?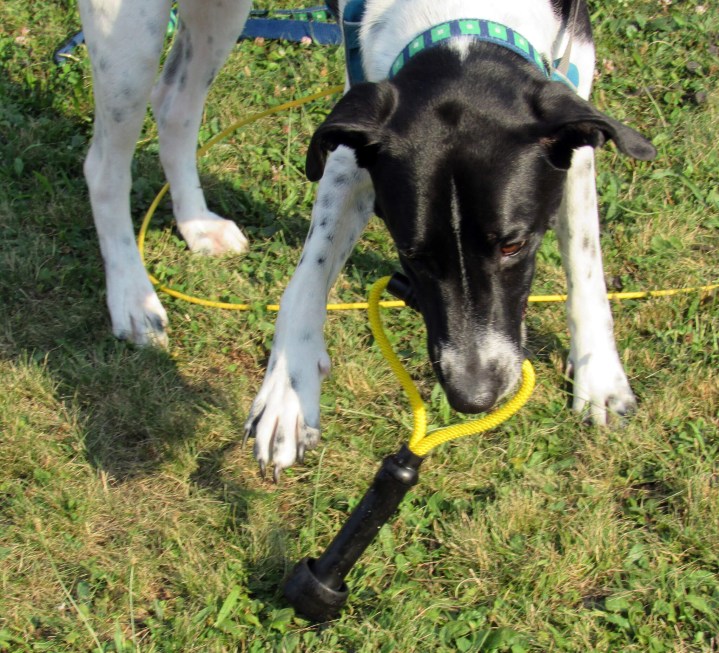 One last picture. Odie was a blur in most of the pictures. He loved the Mootug!
I've been waiting for a lifestyle dog box to appear on the market! The doggies and I enjoyed the inaugural DogPeopleBox. We will be using everything in the box although I do wish that the t-shirt was a bit more flattering. The box was jam packed and has a value of $119.50. It's clear that the founders have a sense of humor and artistic talent. It makes me wonder what will pop up in future boxes. It's an excellent box for dog-lovers and their doggies!
What do you think of the new DogPeopleBox subscription? Save 10% for life with coupon code FOUNDINGMBR.
Visit DogPeopleBox to subscribe or find out more!
The Subscription
:
DogPeopleBox
The Description
: Imagine you, the awesome dog person you are, receiving quality, handpicked, hard to find amazing items that are completely inspired by dogs. Every month, delivered right to your doorstep! Discover dog-themed surprises in the form of gifts, accessories, home goods, and more, that are all designed to remind you of your best friend! First ever monthly box for dog lovers and dog parents alike! Surprises for your dog are also available with our DeluxeDogPeopleBox!
The Price
: $44.99 per month