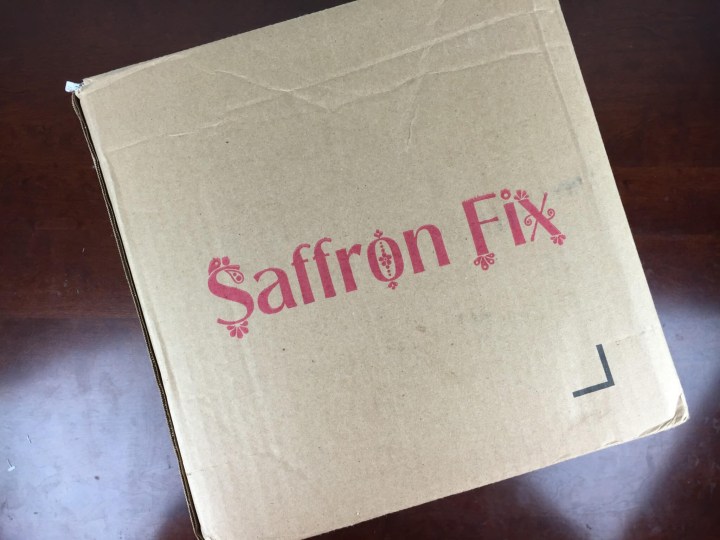 Saffron Fix is a meal and dinner kit subscription service that will satisfy your Indian food craving each month. The subscription costs $48.00 per month for 2 meals or $60 for 3, and you can choose vegetarian or non-veg, and you'll receive fresh pre-chopped ingredients and hard-to-find spices to prepare a delicious home-cooked Indian meal. Every month they'll send you an email for meal selection.
Note that this box delivers only to New York, New Jersey, Connecticut, Virginia, Washington DC, Maryland, Pennsylvania and Delaware at the present time.  The limited geography ensures limited time in transit, which means fresher ingredients.  Hopefully they will add additional locations from which they ship, so everyone can enjoy it as much as we do!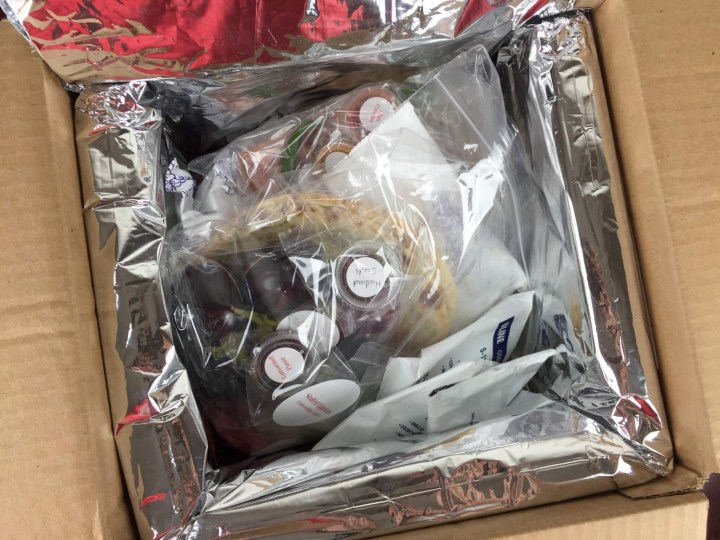 Everything arrived packed in a cushy, reflective, foam-filled liner.  In our first review of Saffron Fix, we noted that there was only one ice pack, and it didn't keep everything as cold as we'd prefer.  I'm glad to see that they have upgraded their packing, adding several ice packs (three or four in total), and surrounding the food with ice instead of vice versa.   Everything needed for each recipe is bagged together, including the meat, but it is packed in heavy duty vacuum bags with much better integrity than typical butcher bags.  The ice packs are mingled with the bags of food, but only the fresh cilantro ever seems to experience any ill effects.  I expect the packing will continue to evolve over time, as that of every meal service has.
The recipe cards note the cooking time, calories, and number of servings, and it separately lists those ingredients included in the kit and those items you need to supply (e.g. salt, butter, saucepan, etc).  Because the dishes prepared are likely to be relatively unfamiliar to the cook (If you eat gourmet Indian food all the time, I am very jealous), the color photograph is really handy for getting a sense of the desired appearance and consistency of the prepared dish.  Also useful is a short description of the dish, including notes on any unusual ingredients or techniques, as well as a guide to adjusting the heat level of the dish.
The back of the card has the actual recipe guidance, complete with pictures.  The instructions are very clear, concise, and easy to follow — I think the sentence construction is more natural than that sometimes employed in other subscription boxes, and I appreciate the relative brevity.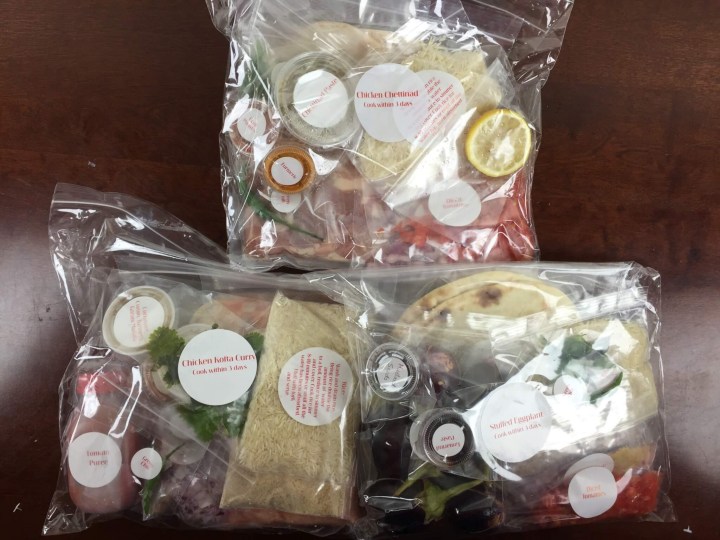 Each recipe was packed separately, and neatly, in its own bag.  Everything was surprisingly fresh for being pre-chopped — only the cilantro showed any signs of wilting (from proximity to icepack, not quality of product).  All of the following pictures of completed dishes show one of two servings.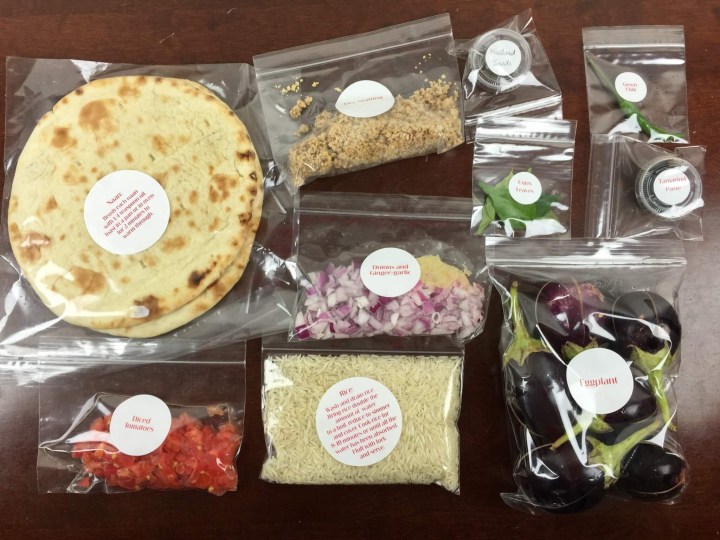 Gutti Vankaiya Stuffed Eggplant. 30 minutes, 350 calories per serving.
This month's dishes all took a tiny bit more work than those of previous months.  The dry stuffing came pre-mixed, but it needed to be jammed up into the eggplant.  The eggplant were pre-sliced, which was very handy — this dish is best served with the eggplant intact, and the pre-slicing helps the novice avoid mangling this unusually proportioned style of eggplant.  This vegetarian dish had wonderful flavor, and the chunky sauce, eggplant, and stuffing each provided a distinct textural experience.  The prepared eggplant is very lovely in appearance, too!  A little more time was needed for prep than we've spent in the past, as the eggplant is stuffed, sauteed, and then braised in the sauce.  This came with both naan and rice.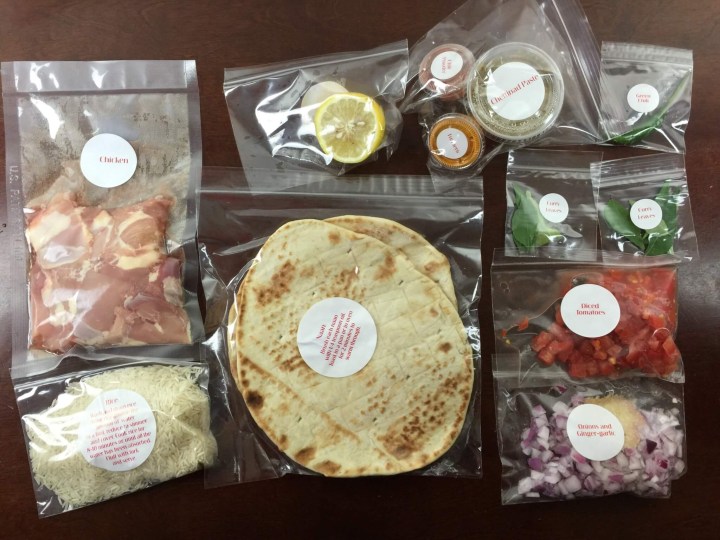 Chicken Chettinad. 3o minutes, 350 calories per serving.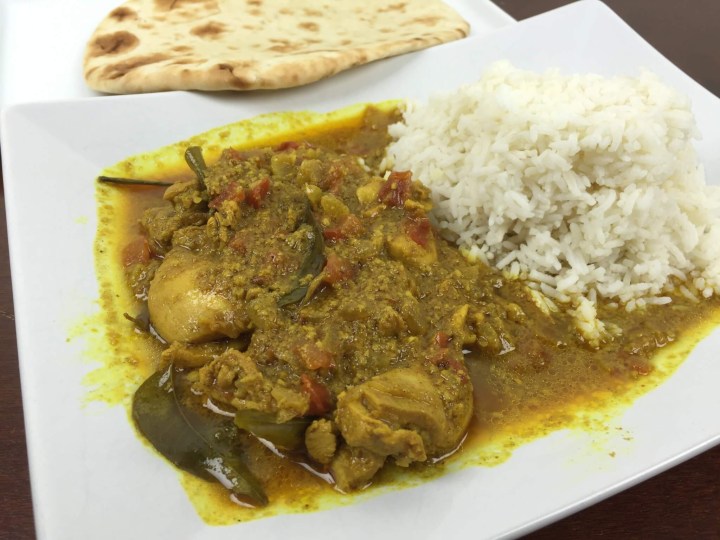 This dish came with chicken thighs, but they were not pre-marinated.  Instead, we were given half a lemon and some turmeric to use as a quick marinade.  The lemon mellowed once cooked in the dish, but it provided a bright and tangy flavor to the dish.  The dish incorporated a heap of fresh curry leaves, plus the usual ginger, garlic, onion, tomato, and hot pepper, but it also included Chettinad masala paste, a flavorful blend of bold spices, fennel, and coconut.  The resulting dish had more of a spiced character than most species of curry, with cardamom, cinnamon, and clove a warm, cloying, slightly menthol and bitter character to the tender chicken and sauce.  My preparation rendered a very loose, but flavorful sauce.  The curry leaves remained intact and curled into flavorful little rolls.  This was served with both rice and naan.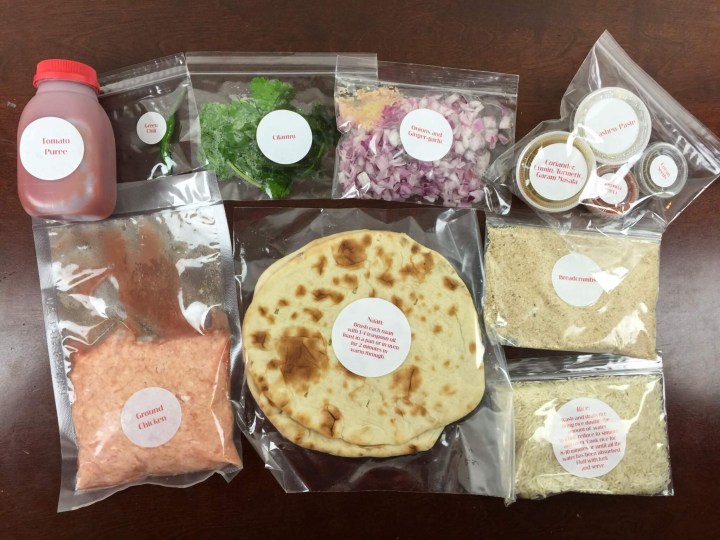 Chicken Kofta Curry. 30 minutes.
This dish had a thick and very spicy tomato-based sauce.  With the naan, it made for a superb Indian meatball sub!  The rice was also helpful to cut the heat.  The sauce was powerful and rich, but its creamy richness came from cashew paste and a chili-like consistency and feel rather than a smooth sauciness.  The meatballs were flavorful and very dense — they were likely the best chicken meatballs I've had, as the meat was closer in consistency to the veal/beef/pork type mixture you see in Italian cuisine than it was to a typically dry chicken meatball.  This dish had both naan and rice, which is always great when there is lots of sauce to enjoy.
We continue to be super-psyched about getting a block of Indian nights every month!  The packing of the items is very nice, and I love the quality of the ingredients and recipes.  When unpacking this particular box, I thought aloud at how very wonderful and fresh everything looked.  I've noticed a couple of changes this month.  First, all dishes had both rice and naan, something I applaud.  Naan is delightful, and having the sides definitely stretches the meal and allows you to enjoy the intense flavors more easily.  The second change was the need for a tiny bit of additional prep for each meal — instead of dumping everything (including pre-marinated meat) into the pot in turn, this set of meals need stuffing of eggplant, marinating of chicken, and rolling of meatballs.  I only note this because the previous boxes required zero prep prior to putting food on the stove — the prep is still wonderfully easy.  The prep may have been simply due to the nature of these dishes, as each would suffer if pre-prepared.
Here's next month's menu!
It's worth pointing out very specifically that this box currently only ships once per month. We cooked our meals over 3 days but you could sign up for 2 and cook them all together. This box was really delicious and we hope you're in their shipping zone! Taking the chopping out of the meal preparation really cuts down the prep time.  We wish more subscriptions would provide pre-prepared ingredients, because these meals were so easy to pull off!
Visit Saffron Fix to subscribe or find out more!
The Subscription
:
Saffron Fix
The Description
: Saffron Fix is a meal-kit service specializing in Indian cuisine and flavors. We deliver fresh pre-chopped ingredients and hard-to-find spices so you can cook delicious and authentic Indian meals right at home, in UNDER 30 MINUTES!Flexible subscription delivered first Friday of every month . Skip or cancel anytime you want – no questions asked! We currently deliver to New York, New Jersey, Connecticut, Virginia, Washington DC, Maryland, Pennsylvania and Delaware
The Price
: $48.00 per month