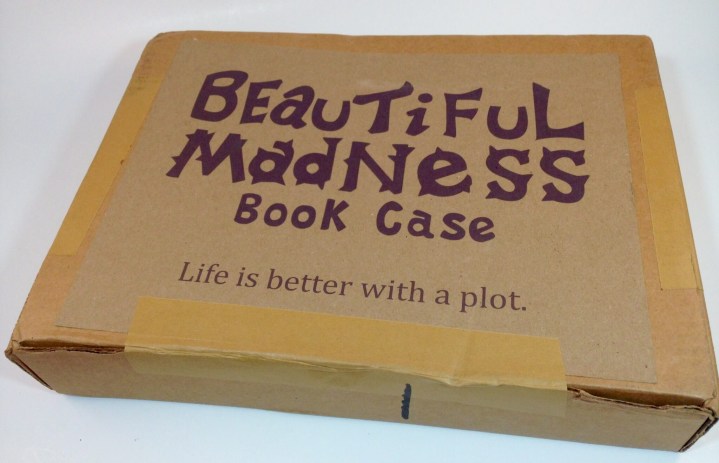 Beautiful Madness Book Case is a new themed monthly subscription box from a former bookseller who wanted to offer something different. This box has a care package feel to it and will contain a book, a drink mix of some sort (coffee, tea, hot chocolate), a snack, and 2-3 items to complement that month's plot. It is $46.50 a month and there are discounts for 3, 6, or 12 month plans and all plans auto-renew. This box ships for free and is currently only available in the US. The Chapter One box is still available in their online shop as a one-time purchase.
In keeping with the literary theme, this box was called "Chapter Two: What's Past is Past…Right?".
The Chapter Two Box is all about buried secrets and uncovering the truth. Go find your comfy spot, and dig deep into these amazing gothic mysteries.
Books sent may be fiction, non-fiction, or young adult. In the future they hope to offer either a genre or fiction/nonfiction choice for each box, but the book itself will still be a mystery.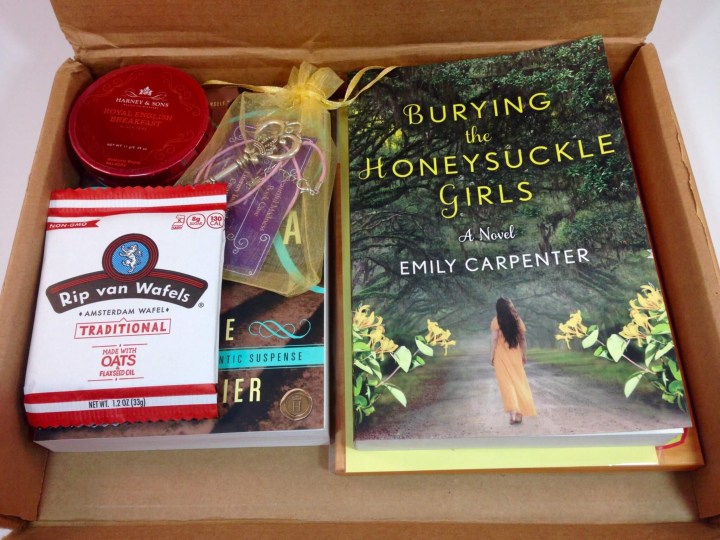 Everything in the box. There were 2 books this month! I also spotted my favorite type of tea!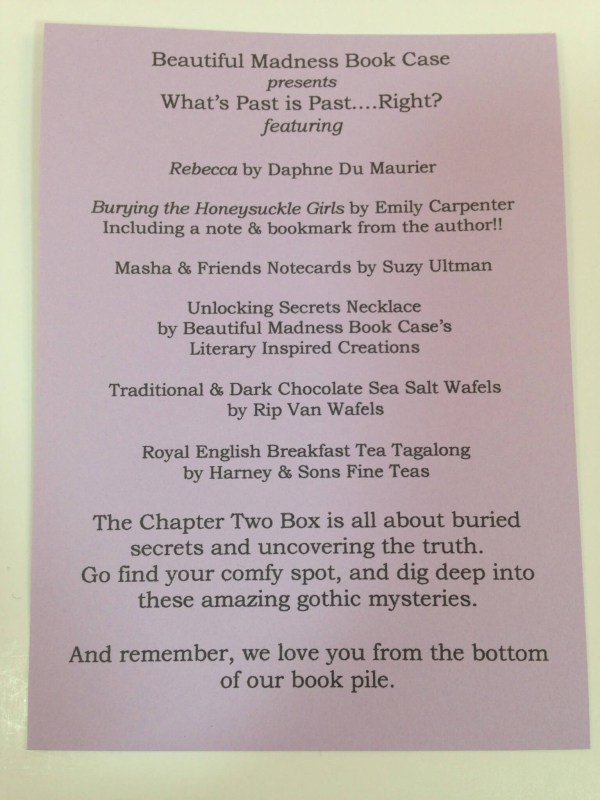 First up is the product information card.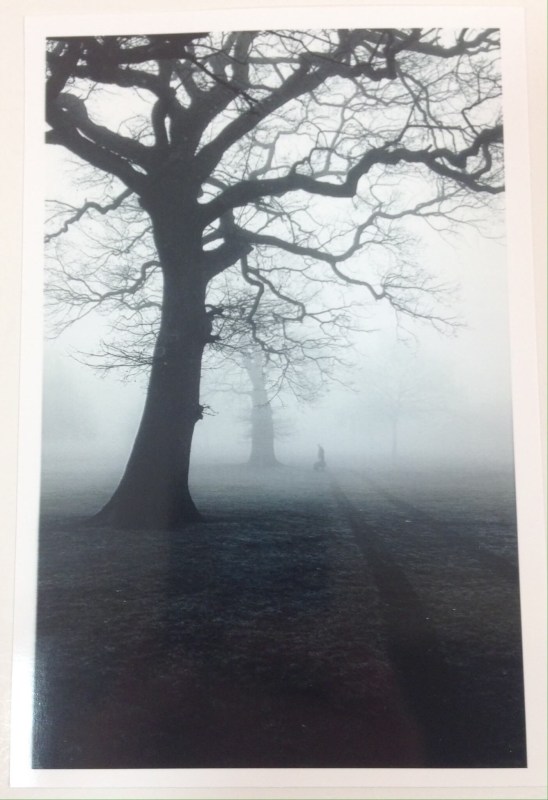 There was a spooky looking postcard.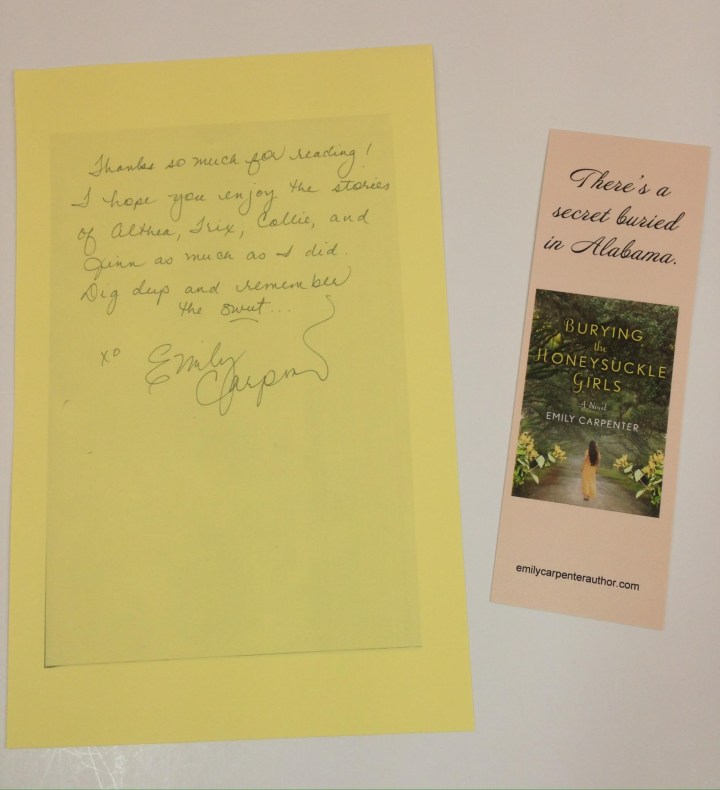 They included a note and bookmark from the author of one of the books featured this month.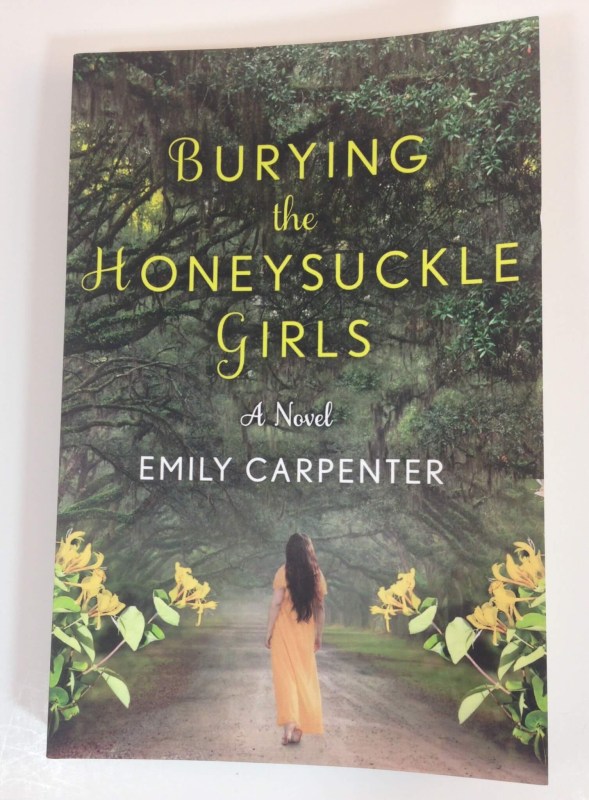 Burying the Honeysuckle Girls by Emily Carpenter ($14.95 $8.96) The first book is a recent one that has positive reviews on Amazon and Goodreads. It is described as Southern Gothic and weaves back and forth between two time periods.
Althea Bell is still heartbroken by her mother's tragic, premature death—and tormented by the last, frantic words she whispered into young Althea's ear: Wait for her. For the honeysuckle girl. She'll find you, I think, but if she doesn't, you find her.

Adrift ever since, Althea is now fresh out of rehab and returning to her family home in Mobile, Alabama, determined to reconnect with her estranged, ailing father. While Althea doesn't expect him, or her politically ambitious brother, to welcome her with open arms, she's not prepared for the chilling revelation of a grim, long-buried family secret. Fragile and desperate, Althea escapes with an old flame to uncover the truth about her lineage. Drawn deeper into her ancestors' lives, Althea begins to unearth their disturbing history…and the part she's meant to play in it.

Gripping and visceral, this unforgettable debut delves straight into the heart of dark family secrets and into one woman's emotional journey to save herself from a sinister inheritance.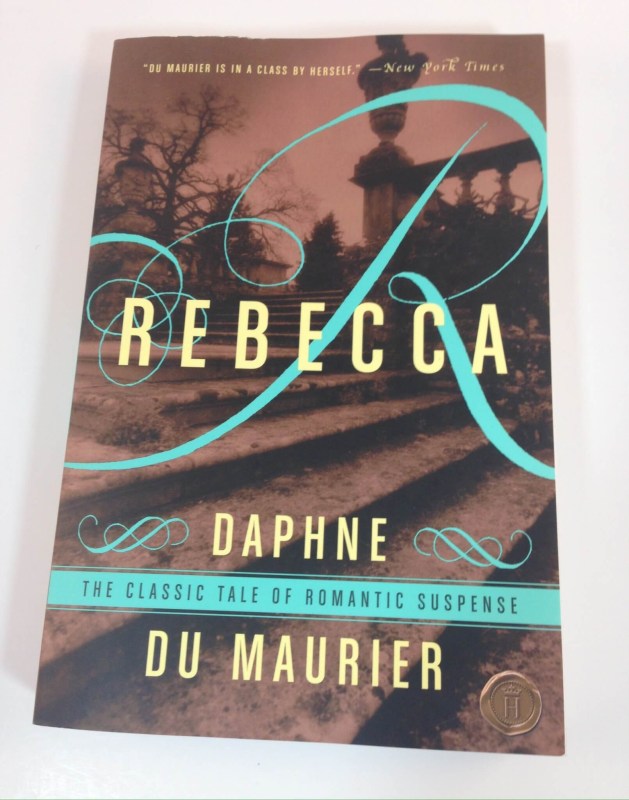 Rebecca by Daphne Du Maurier ($15.99 $10.06) The second book is a classic and it has been over a decade since I read it last. I plan on saving this for a cold, rainy winter day to get the full effect.
With these words, the reader is ushered into an isolated gray stone mansion on the windswept Cornish coast, as the second Mrs. Maxim de Winter recalls the chilling events that transpired as she began her new life as the young bride of a husband she barely knew. For in every corner of every room were phantoms of a time dead but not forgotten—a past devotedly preserved by the sinister housekeeper, Mrs. Danvers: a suite immaculate and untouched, clothing laid out and ready to be worn, but not by any of the great house's current occupants. With an eerie presentiment of evil tightening her heart, the second Mrs. de Winter walked in the shadow of her mysterious predecessor, determined to uncover the darkest secrets and shattering truths about Maxim's first wife—the late and hauntingly beautiful Rebecca.

This special edition of Rebecca includes excerpts from Daphne du Maurier's The Rebecca Notebook and Other Memories, an essay on the real Manderley, du Maurier's original epilogue to the book, and more.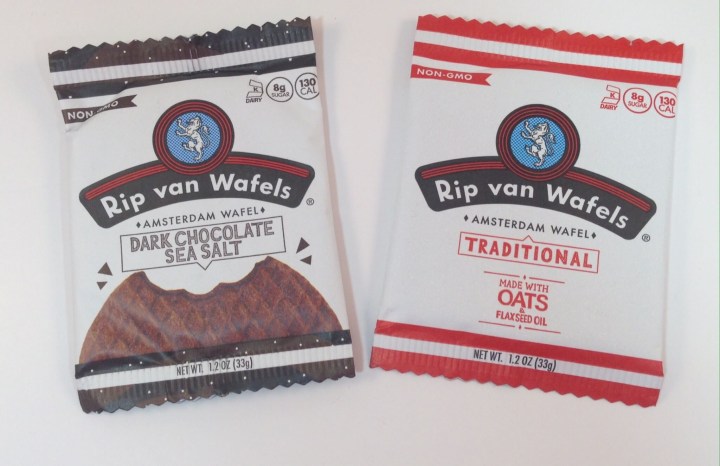 Rip van Wafels ($1.56 each) I had never even heard of a stroopwafel until a few months ago and now they are everywhere! A stroopwafel is two very thin waffle-like cookies with a chewy filling in the middle. I tried the Dark Chocolate Sea Salt first and it reminded me of a caramel filled brownie. The Traditional flavor had more of a vanilla taste and I enjoyed them both. These are best served with a hot drink, just place the cookie on top of the cup to warm it up first.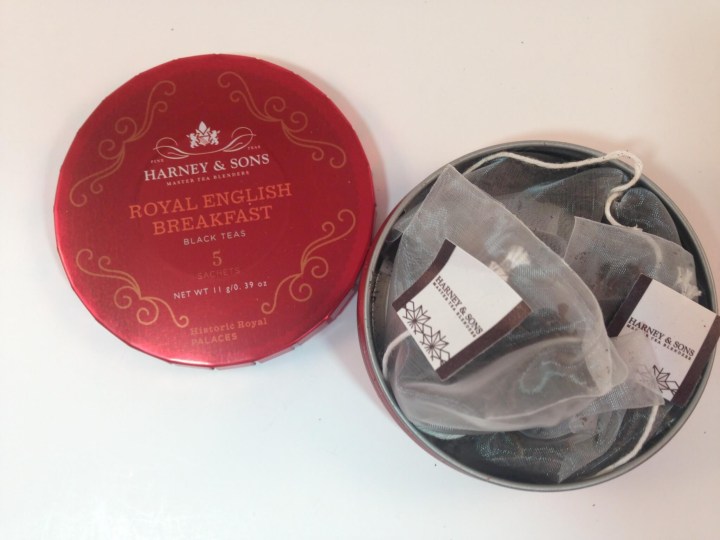 Harney & Sons Royal English Breakfast Tea Tagalong  ($4) I love tea and my very favorite is English Breakfast tea! This tin contained 5 sachets. They are comprised of Ceylon and Kenyan black teas and were perfect with sugar and milk.
Unlocking Secrets Necklace ($24) I found a similar necklace on Etsy. This is cute and certainly goes along with the theme. It is a rustic looking skeleton key with a heart and crown at the top on a pink waxed cord necklace with a lobster clasp closure.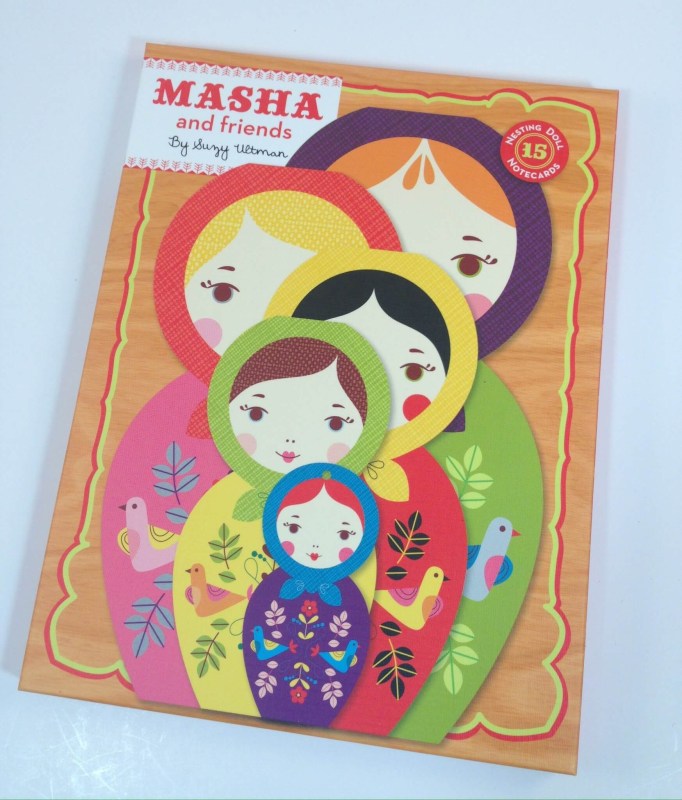 Masha and Friends Notecards by Suzy Ultman ($12.95) What an absolutely adorable stationery set! I loved the colorfulness of these matryoshka doll cards that can also be displayed on a table as they can stand on their own. Just like traditional nesting dolls, these are various sizes and the smallest ones are gift tags. This set contains 12 cards with matching envelopes, 3 gift tags, and a sticker sheet. Even the envelopes are cute!
What an interesting and unexpected choice, but the traditional dolls do indeed have an inner secret!
Wow, what a fun box! This is quickly becoming my favorite subscription. It has just a touch of darkness, and then BAM, there's something cute to keep me distracted. I love the way all of the products fit the theme and the quality of the products were top-notch. I loved all of the items this month and the value was over $63! I look forward to getting this box and can't wait to see what comes next. Where do you think Beautiful Madness Book Case should take us next month?
Save $4.00 off your first box! Use coupon code SIMPLYMAD.
Visit Beautiful Madness Book Case to subscribe or find out more!
The Subscription
:
Beautiful Madness Book Case
The Description
: Beautiful Madness Book Case sends a box of happiness to every subscribers every month. The box will include a handpicked book, a snack, a drink that can be brewed or made, and two to three items that complement the book. All you need to do is find your cozy spot, and get lost in a great book.
The Price
: $46.50 per month