MiamMiam Box is a monthly subscription box that delivers only the latest and tastiest French snacks right to your door.  "MiamMiam" is how they say "yum yum" in France — like "mmm" and "yum" together!  The subscription has three levels:  Mini, Original, and Maxi — and each has unique and hard-to-find French treats based on seasonal themes.
The box was in a priority mailer, not in the cute custom designed boxes they show on their home page.
This month, Miam Miam Box included a recipe card for Cherry Clafoutis.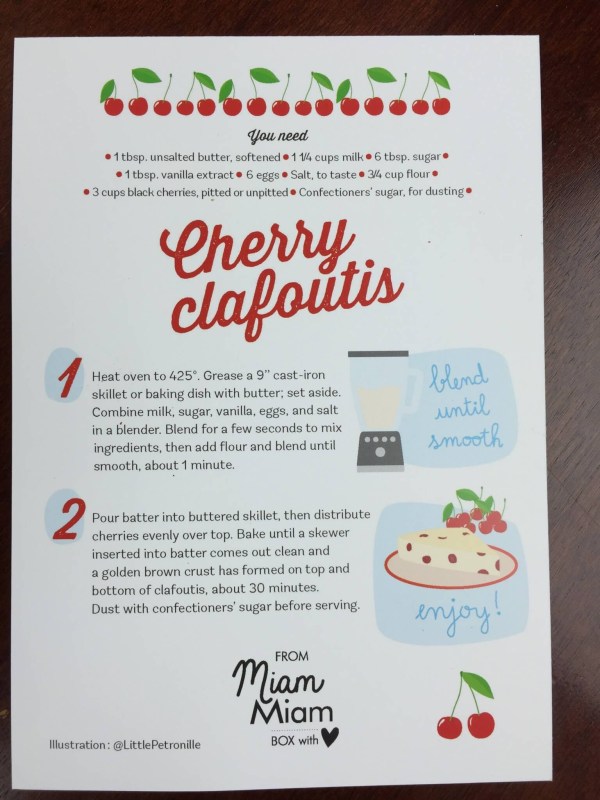 A simple and elegant recipe, anyone who cooks will likely only need to buy cherries, as all the other ingredients are kitchen staples.
Miam Miam Box sells snacks ala carte and active subscribers automatically get 8% off with their purchase.  They also let you know that a real person packed all your goodies (and kudos for showing someone I suspect is an actual employee, rather than a beret-wearing composite named Jean-Pierre).
With every MiamMiam Box to which you subscribe, they donate a portion of their proceeds to ActionAgainstHunger.Org. The Maxi box equals 2 donations to a food bank!
Everything in my June MiamMiam Box!  There was no information card about the items or themes, but everything comes in its own commercial packaging, so it's easy to figure out.  I subscribed to the Maxi box, described as "about 4 lbs of exclusive and premium French snacks, food, treats, swags and much more!"  Unfortunately, I can't tell you what the other subscription levels comprise, though I suspect they are of lesser quantity and similar composition (and you probably miss out on some of the larger snacks).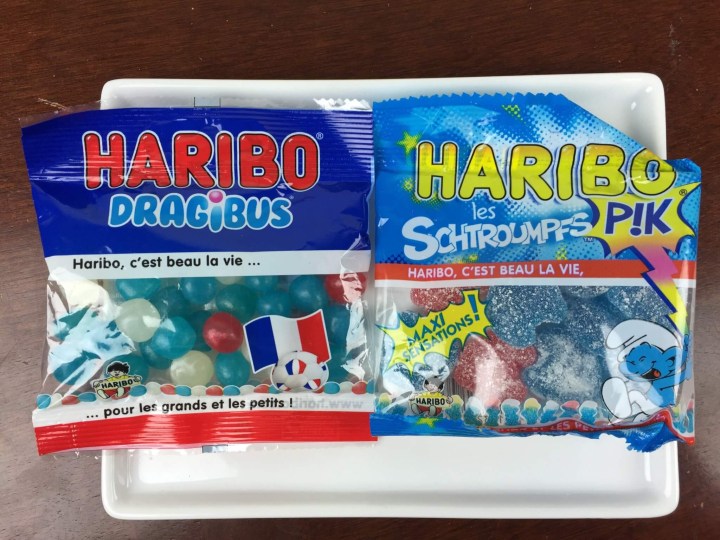 Haribo Dragibus Soft Candy:  These are French version of the jelly bean (produced by German candy maker Haribo) in the colors of the Tricolor.  Very similar in taste and composition, these slightly tart candies are roughly spherical instead of bean shaped.
Haribo Les Schtroumpfs Pik Bon Bon:  These are Haribo's sour gummies, similar in concept to a Sour Patch Kid or Gummy Worm, but with Haribo quality gummy and less dusty sour crystals.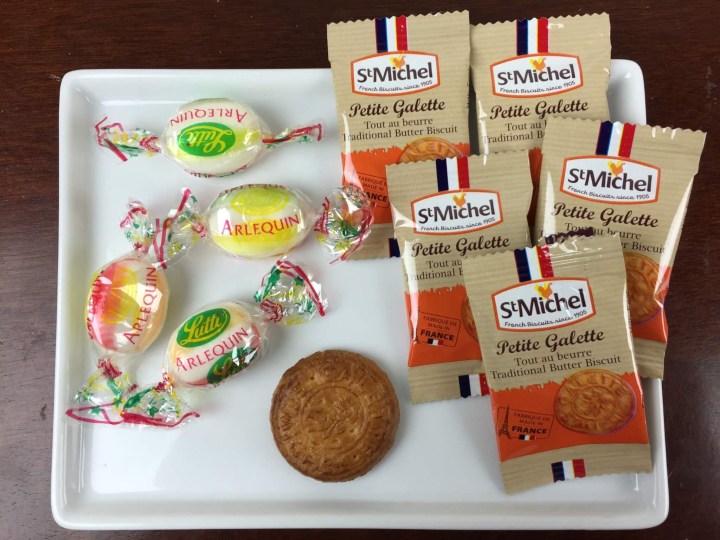 Lutti Arlequin Bon Bon:  A very unique hard candy, these are slightly sweet, but they have some relatively intense sour fruit flavor that emerges in bouts.  The flavor is tough to pin down, but it is a very concentrated fruit flavor like pear, peach, mango, or guava nectar.
St Michel Petite Galette:  Small butter cookies with very light and crisp texture.  While the Mere Poulard (below) are very similar to a Danish style butter cookie, the St Michel version is less less crumbly, slightly denser, and tastes a tad like the flaky exterior or a croissant.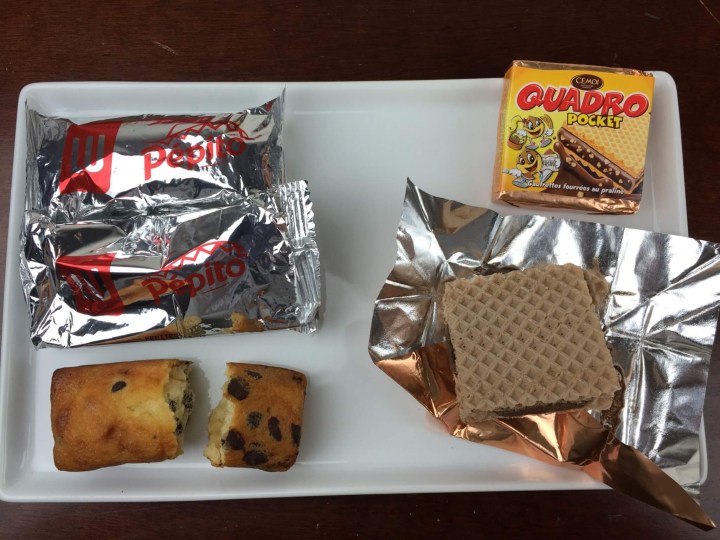 Lu Pepito Choco Pepites Bar:  This tiny poundcake loaf is very moist and studded with chocolate chips.  Oddly themed, the Pepito line of products features a little guy in a sombrero.  This version is the chocolate nugget (cake) bar.
Cemoi Quadro Pocket:  A dark cocoa chocolate creme flavored wafer sandwich.  The very rich gianduja creme is very Nutella-like and is studded with hazelnut praline.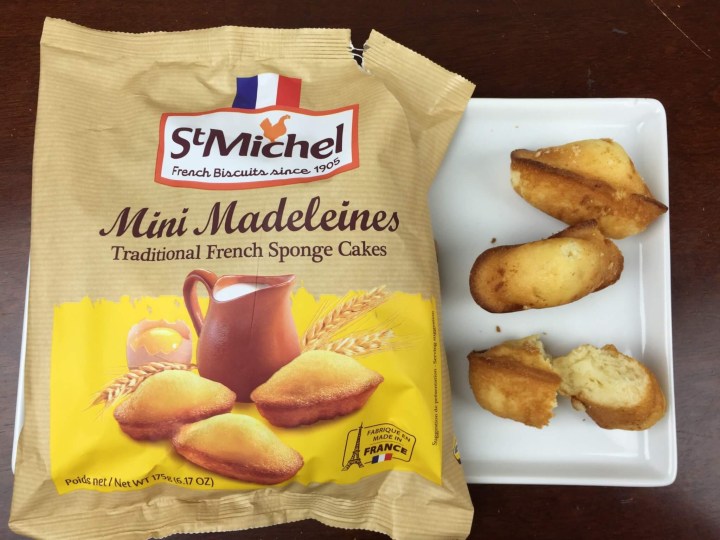 St. Michel Mini Madeleines:  Traditional moist and slightly granular-textured madeleines.  Though not advertised on the front of the bag, these were flavored with a large splash of almond extract.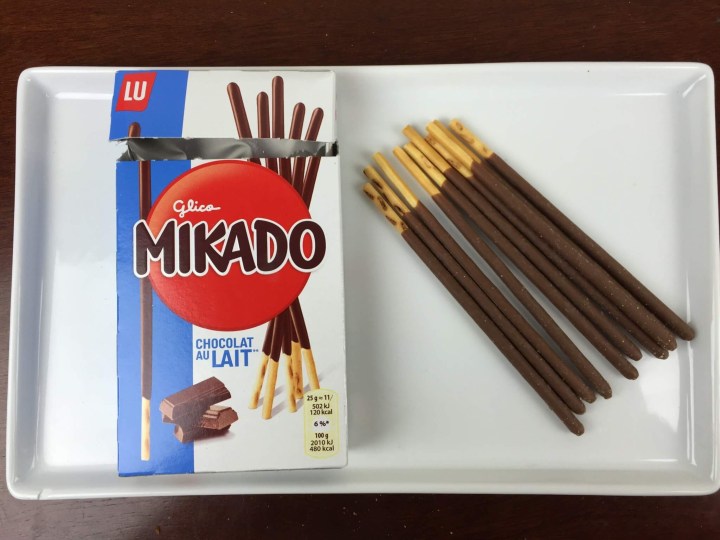 Glico Mikado:  Pocky style crisp biscuit sticks coated with milk chocolate.  Very similar to the Japanese treat, but the Mikado version has a less waxy coating that is more like true chocolate.  It has a very dark flavor for a milk chocolate and would pass for dark outside of France.
La Mere Poulard Sables Traditional Biscuits:  Another version of Mont Saint Michel butter cookies.  This style is slightly powdery inside and tastes more clearly of butter.  They are very similar to Danish butter cookies, but with a slightly more rustic look.  This was my favorite item in the box — simple but very classic and delicious!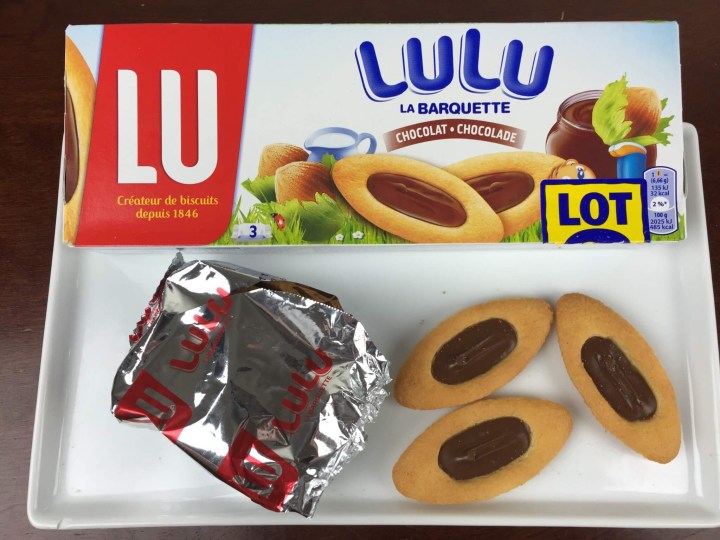 Lu Lulu La Barquette:  Thin and crispy cookies with a puddle of hazelnut chocolate creme inset in the middle. Brandy would not stop eating these!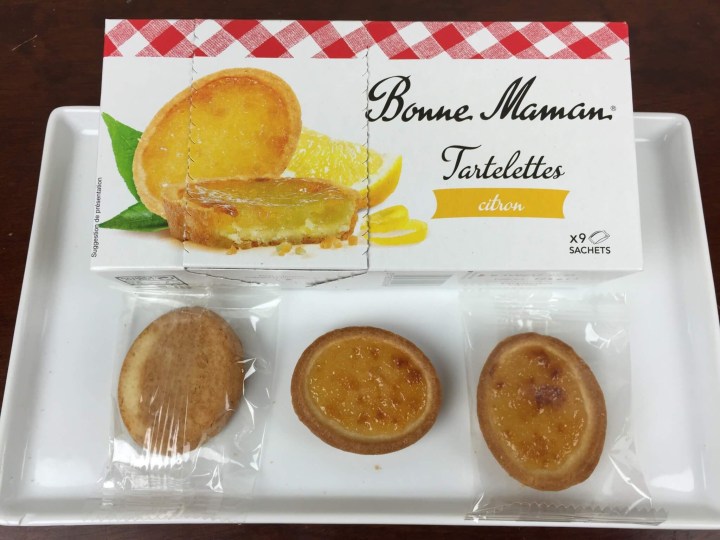 Bonne Maman Citron Tartelettes:  These beautiful lemon tarts come individually wrapped.  The shell is a tiny flaky butter cookie, and the filling is tender and sweet, with a nice lemon flavor.   Brandy was very excited when she saw these and easily ate 2/3 of them within a week.
This box had multiple multi-serving packages plus more than a handful single-serving packages. I didn't do a cost breakdown but this is pretty good for an imported treats subscription!  We are very pleased with this subscription — it has a nice volume and variety of snacks, and they are all very high quality items.  French cuisine has so much to offer in the way of sweets and baked goods — we are so happy to see a well-executed subscription focusing on these great treats.
Have you tried MiamMiam Box? We're looking forward to next month already!
Visit MiamMiam Box to subscribe or find out more!
The Subscription
:
MiamMiam Box
The Description
: MiamMiam BOX helps you discover French snacks delivered to your door every month. Every month, MiamMiam BOX members will receive a curated box of unique, hard-to-find tasty French snacks which varies based on seasonal themes. Say goodbye to boring grocery selections and start discovering your MiamMiam BOX experience!
The Price
: $22.95 per month