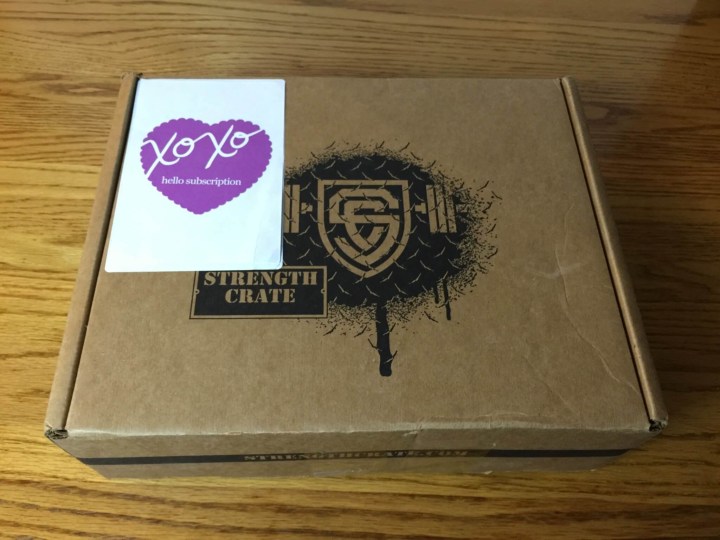 Strength Crate is a monthly subscription service that delivers essential items to make your workouts better. You'll get apparel, snacks, equipment, supplements, and a lot more in every box for only $35 per month. There are items in here I didn't realize I needed until actually getting them.  Let's take a look.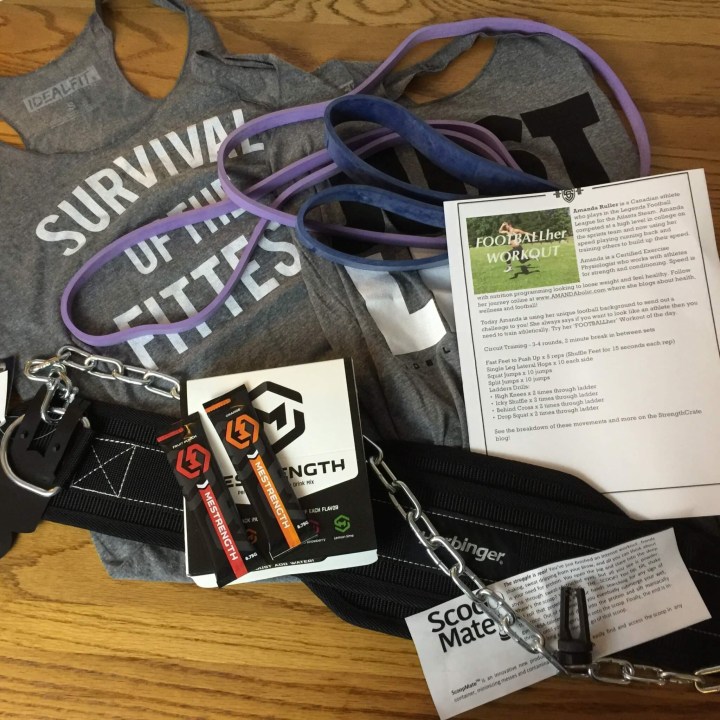 Everything in this box. There's a lot in this this box!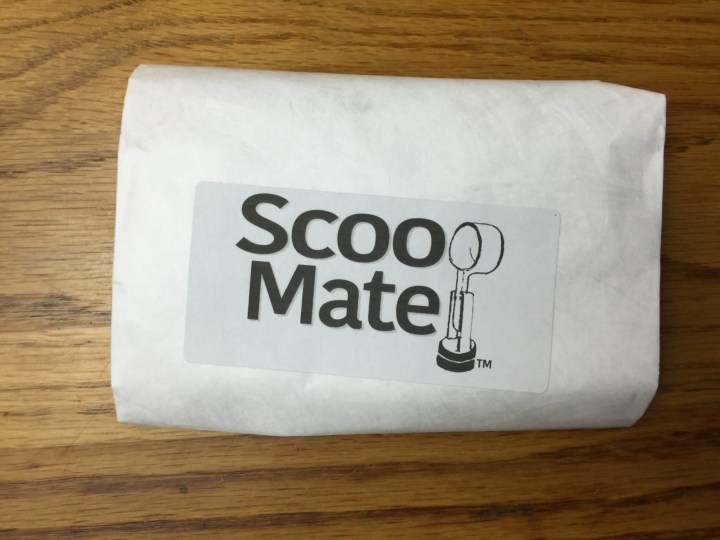 I had never heard of the Scoop Mate before, but it is quite a handy item.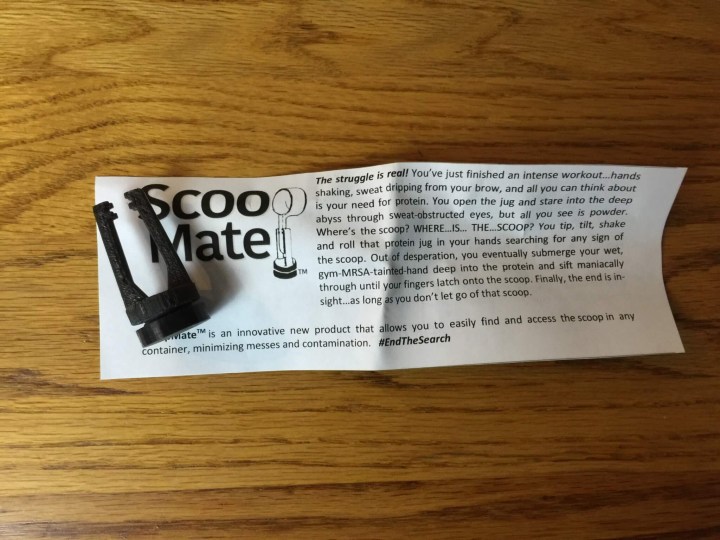 Almost every fitness fanatic mixes powdered shakes of some kind, whether its protein, BCAAs, supplements, fiber, etc.  One of the most frustrating aspects of preparing your drink is finding the scoop.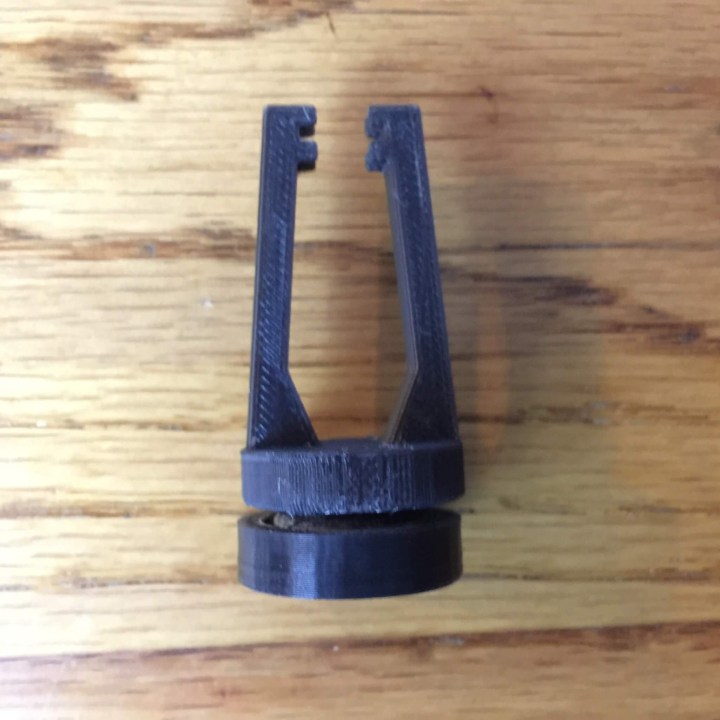 Scoop Mate is one of those items that we all should know we need but not until someone shows it to you.  It's a magnet that you can attach to the top of your favorite protein drinks or fiber so you never end up with powder under your finger nails.  This very clever contraption will be saving my manicure and the silent screams in the morning.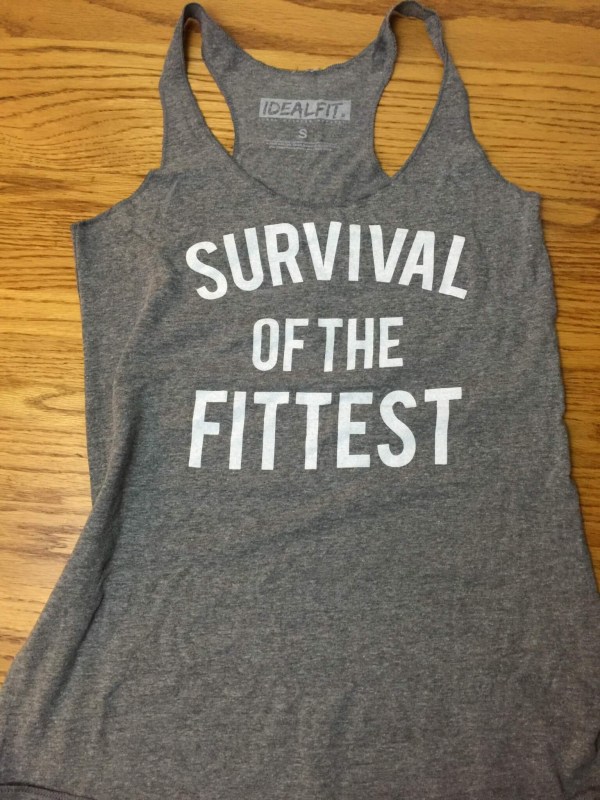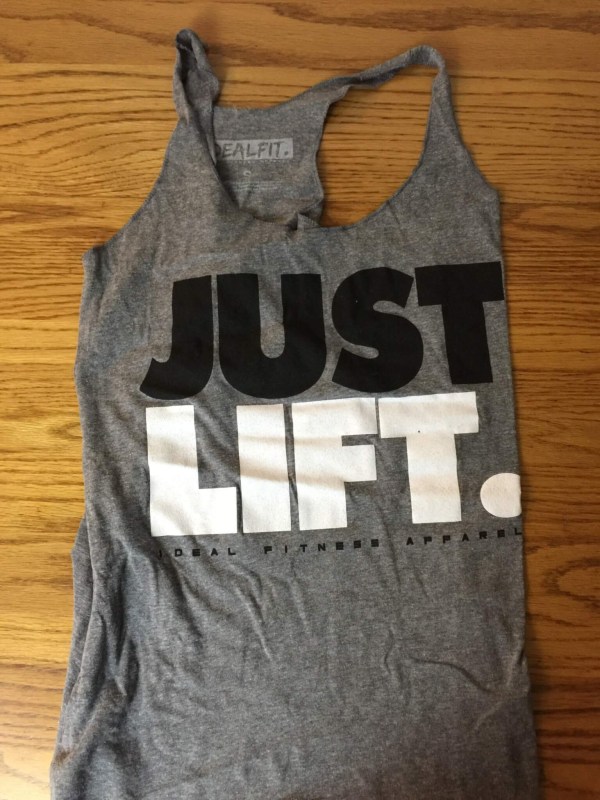 IdealFit Tank Tops.  Stay motivated and look awesome doing it.  Well, not me, as I don't wear a Small in Women's clothing.  We love the shirts and they look great. My favorite thing about these tops is they are more empowering than the normal I don't sweat I glisten kind of stuff.
Iron Woody Fitness Resistance Bands $18-$36.  Bands are my favorite new workout tool, there is so much I can do with them and they are easy to throw into my weekend bag.  This box came with a mini purple one pound band and a slightly heftier dark blue band.  I love that I can use them in front of my tv for those days I just don't want to work out with weights at the gym. I can't even begin to tell you how excited I was for these as the personal trainer at my gym had just started introducing them in my workouts but now I can get more coordinated with them in the comfort of my own home at the laughter of only my family.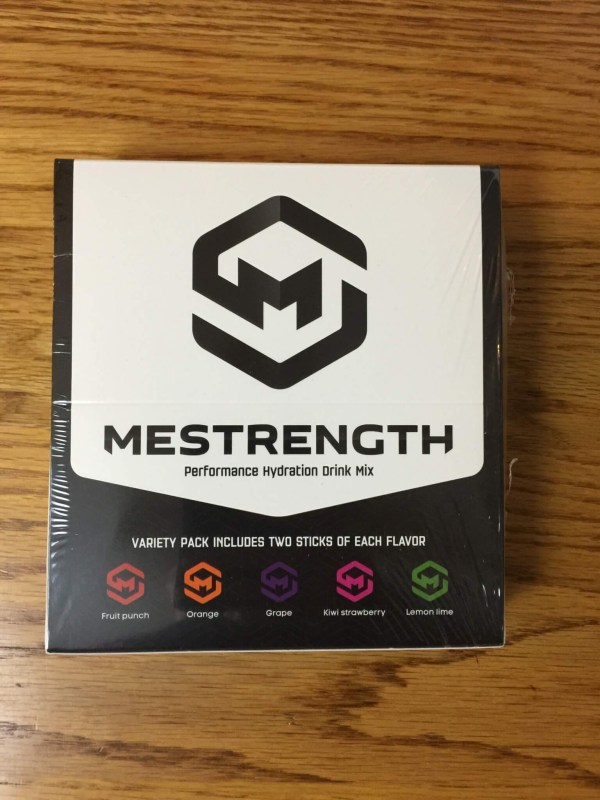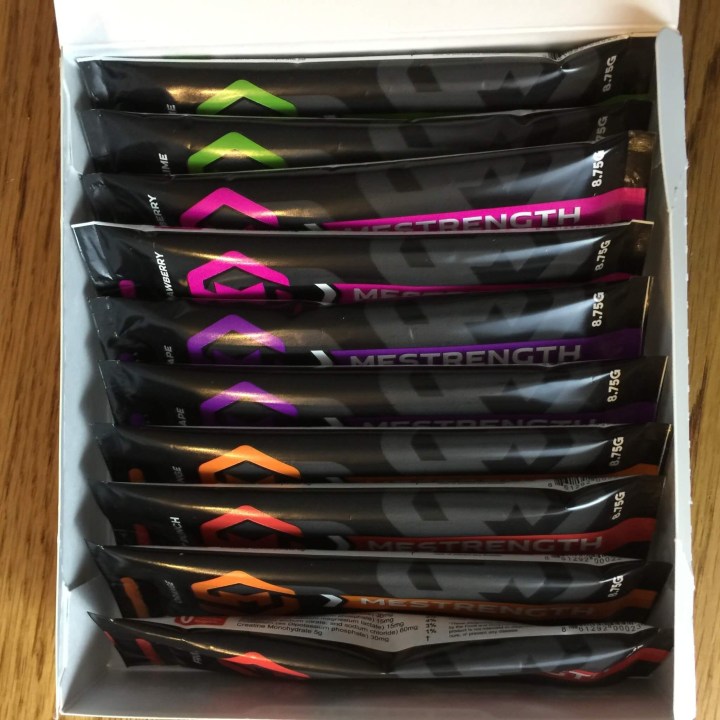 Mestrength Performance Hydration Drink Mix 10 Pack.  A tasty drink to keep you hydrated and so much easier to throw into your purse or gym bag.  I personally can't wait to try the Kiwi Strawberry, it's so rare that you get flavors other than orange, lemon lime and fruit punch. Plus, these have no carbs, calories, or sugar.  A 30 pack goes for $39.99.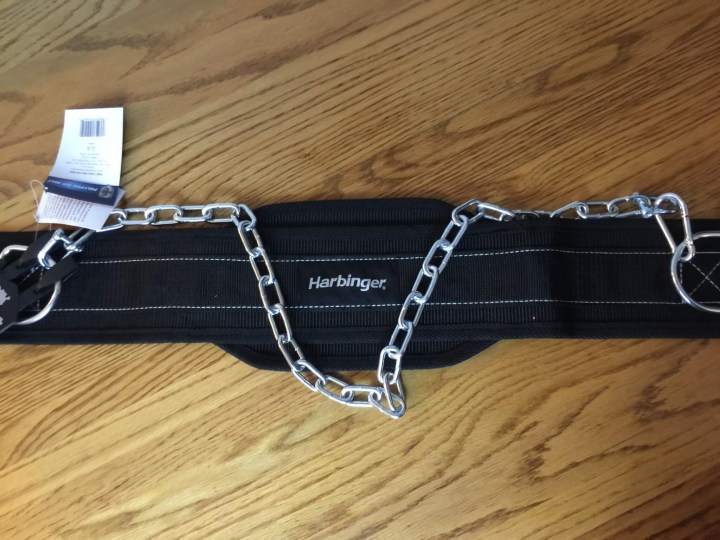 Harbinger PolyPro Dip Belt $29.99.  This is much lighter than the traditional leather belts.  It's adjustable to fit just about anybody type.  Out of all the body weight lifting exercises, dips are likely the first one you'll want to actually add extra weight to.   I'm not into lifting weights but I might have to find a cute guy at the gym to give me a demo.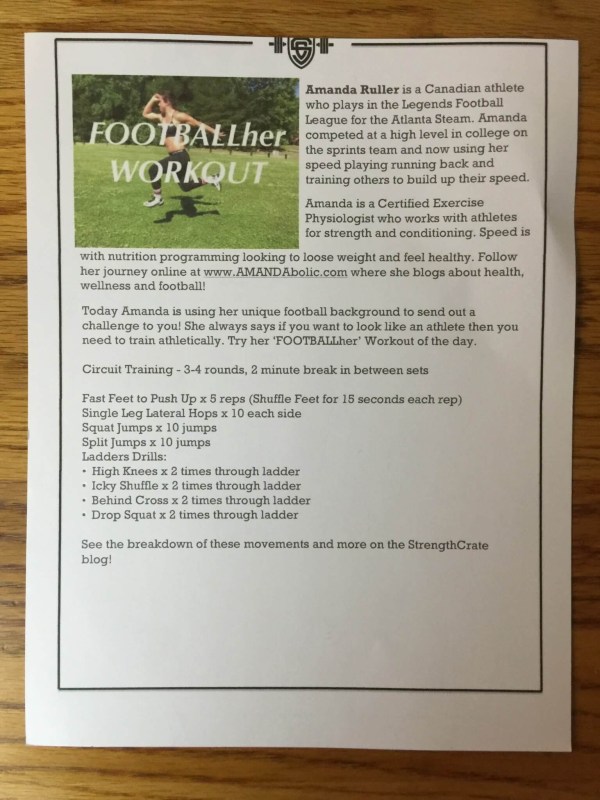 A custom exercise sheet is included.  This month's features a workout designed by Amanda Ruller, a Canadian football player and athlete who is also a certified Exercise Physiologist.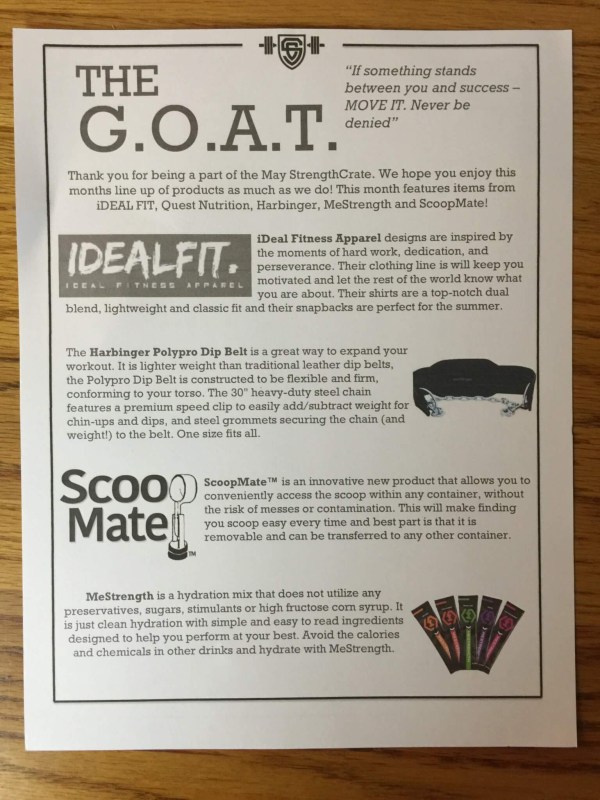 The info sheet has a nice blurb for each item in the crate.
This is a great subscription.  Strength Crate has found an exciting way to bring cool workout gear and gadgets to your door, plus the specially designed exercise and tips add some exciting content to the box.  Getting this on a regular basis is a great way to vary your workouts and get some items you may not have found on your own.  The value also seemed pretty good, as the pair of workout bands and dip belt were each worth nearly the cost of the box (plus there was a bunch of other cool stuff, too).
What do you think about Strength Crate?
Visit Strength Crate to subscribe or find out more!
The Subscription
:
Strength Crate
The Description
: Each month your StrengthCrate will include an assortment of these type of products , not every month will include every type of product (quantity will vary depending on the product and month). Each box will include Equipment, Supplements, Apparel( 1 to 2 pieces of high quality apparel), and Training Aids. They will also include a few extras like protein bars, paleo snacks and any other kind of product that we think you will enjoy.
The Price
: $35.00 per month