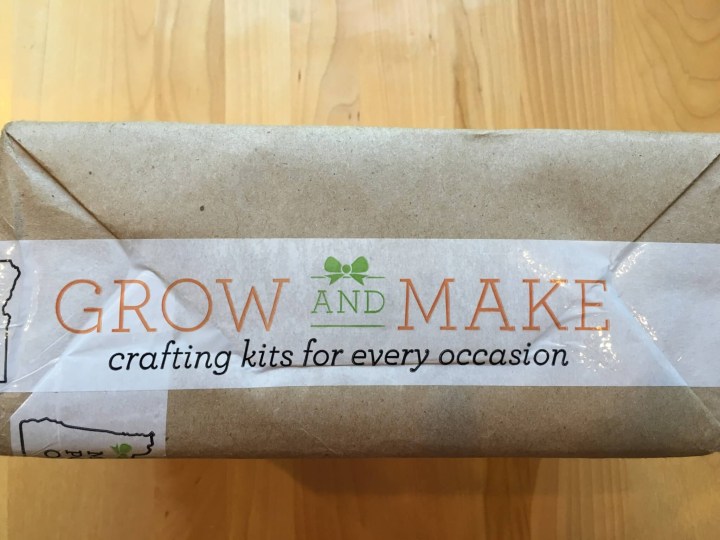 Grow and Make is a monthly subscription that sends top quality DIY and craft kits to your home. Starting at $75 for 3 months (boxes ship monthly), you'll save $50 by prepaying for an entire year. As a company, they aim to empower people to create for themselves, thereby encouraging creativity while also fostering a smaller footprint on our shared resources. Their website has nice DIY videos (viewable for free!) that showcase their fabulous kits in action. This month I received their Deluxe Hot Sauce Making Kit.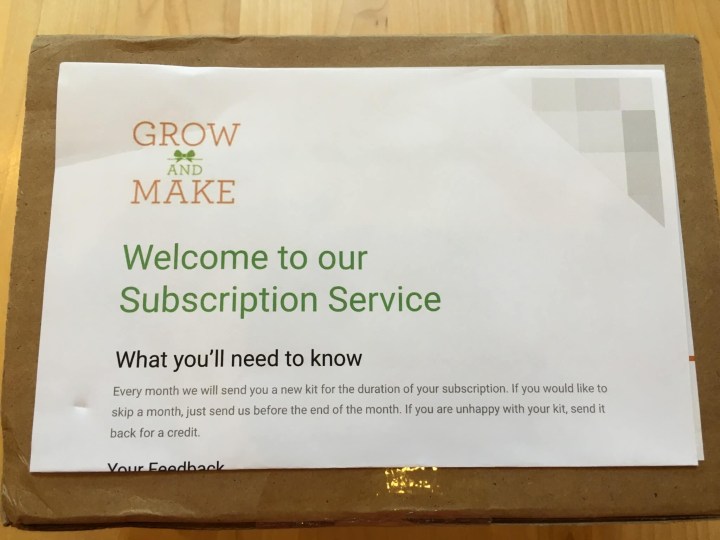 My kit arrived well-packaged along with a letter and an outer layer of butcher paper.
I couldn't wait to learn how to create my own hot sauce!
Like all great companies, Grow and Make wants to receive customer feedback about their products.
Here's mine: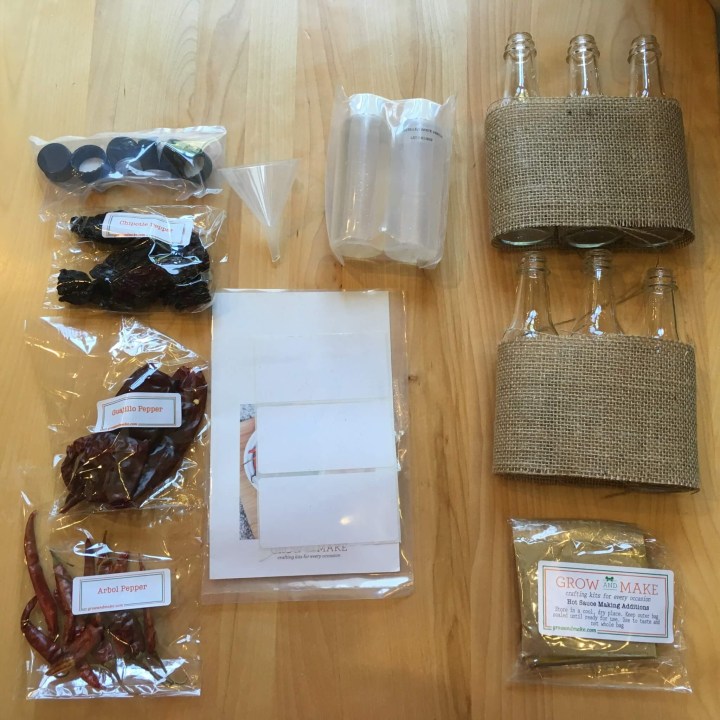 The kit arrived chock full of ingredients needed to make an array of hot sauces. I thought the bottles' burlap packaging was a nice touch.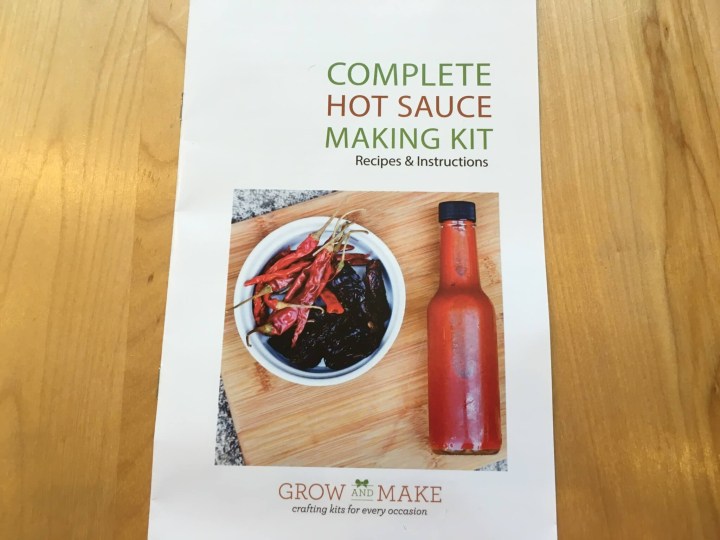 The cornerstone of the kit was this guide to making hot sauce.
This guidebook is fabulous! It teaches you what you need to know in general terms to create wonderful hot sauces (percentage acid, for instance). Its recipe suggestions list ingredients, but not exact amounts. Their goal is to foster creativity in the kitchen. Their motto should be, "here are some guidelines, now go have fun with it!" I know I did!
Their website includes a nice video without words that describes how to make hot sauce. While my method didn't quite look the same, after making my own hot sauces, I could easily follow along and recognize the similarities and differences between our two methods.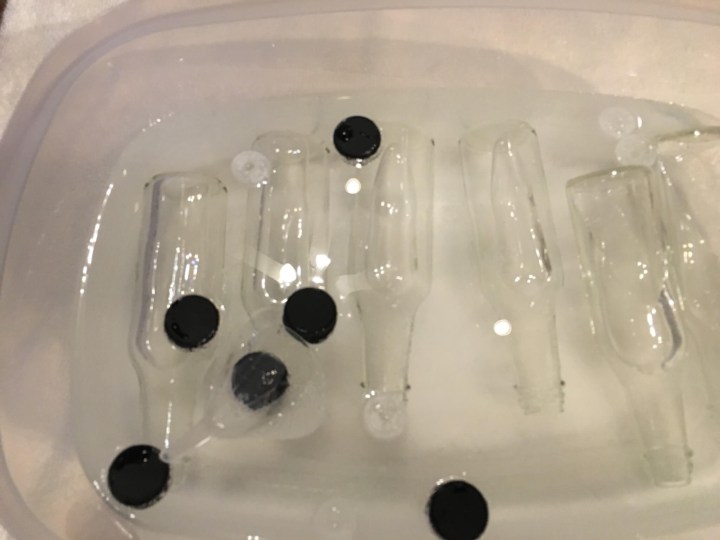 The deluxe set arrived with six bottles, each of which needed to be sanitized before use. Before beginning to make the sauces, the bottles needed to air dry. This took about a day for me.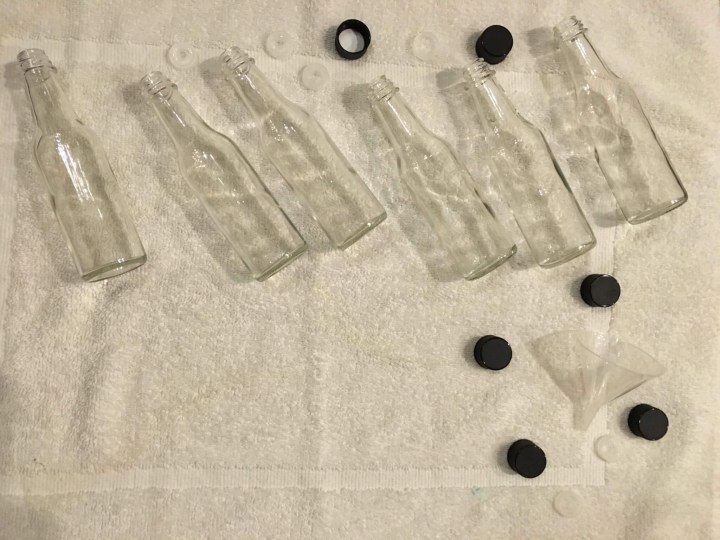 Once my equipment was ready, I got to work! Each of the "recipes" in the instruction manual makes about three bottles worth of sauce. Since I started with six bottles, I chose two recipes to try: Caribbean Hot Sauce and Garlic Hot Sauce.
Here's the "recipe" for Caribbean Hot Sauce:
dried guajillo pepper, cayenne powder, ancho powder, curry powder, white or apple cider vinegar, brown sugar. Add mango, papaya, ginger or pineapple instead of tomato, add salt to taste."
To make this, I added boiled water to all three dried guajillo peppers included in the kit and pulsed them together until a nice red liquid formed. Then I added one mango, a handful of cilantro, 3 garlic cloves and a half of a vidalia onion to the mixture. After adding the enclosed apple cider vinegar, I mixed in cayenne powder, ancho powder, curry powder, brown sugar and salt to taste. To say the result was fantastic was an understatement. This was, hands down, the best hot sauce (raw) I have ever had in my life! I literally licked what remained off my spoon and food processor. Following Grow and Make's directions, once my mixture was complete, I boiled and bottled it. I plan to keep it in my fridge for the next two weeks so that the flavors can further meld.
Next, I made the Garlic Sauce. Here's the recipe:
Dried arbol peppers, ancho powder, 5-10 garlic cloves, lime juice, apple cider vinegar, add salt to taste."
For this sauce, I mixed my arbol pepper/water mix with 2 1/2 heirloom tomatoes, 10 cloves of garlic, a handful of cilantro, 1/2 a vidalia onion, the juice of 1 1/2 limes, the enclosed amount of apple cider vinegar and ancho powder, brown sugar and salt to taste. The result was delicious! While I preferred the Caribbean Hot Sauce, this was easily one of the top five hot sauces I've ever tasted.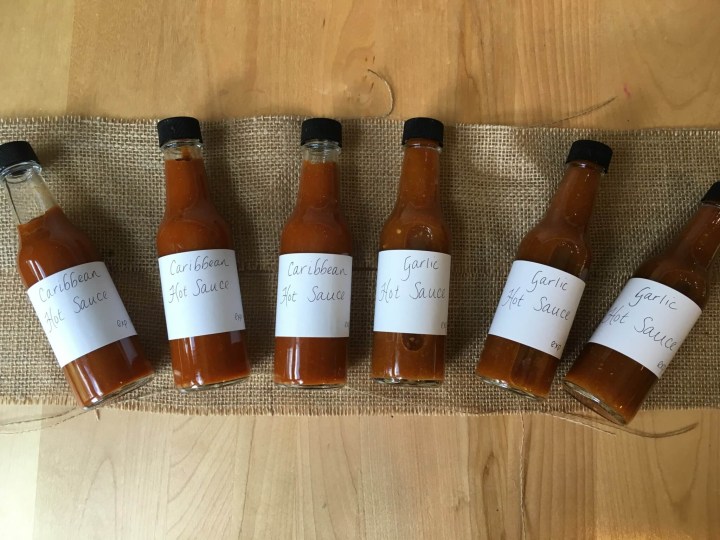 After boiling and bottling my sauces, I placed labels on the bottles. So pretty! Then I gave away two of the bottles as a birthday gift to someone who loves all things homemade.
I thought this was a fabulous subscription! Honestly, for me, it's right up there with Hamptons Lane and My Texas Market in terms of subscriptions that I adore. After tasting my Caribbean Hot Sauce, I even had visions of making hot sauce for a living. This box was so much fun to play with and so empowering! I can't wait to see what they send out next month!
Do you think you'd love Grow and Make DIY Box as much as I did? You can save 10% with coupon code HELLOSUBSCRIPTION.
Visit Grow and Make DIY Box to subscribe or find out more!
The Subscription
:
Grow and Make DIY Box
The Description
: Every month we send a unique DIY Kit. Our kits range from Candle and Soap making to Kombucha and Chai. We have over 100 kits and our box is a great way to get inspired about making. Each kit includes everything you'll need to learn to make something new. A great way to make gifts for friends or as a date night activity. If you're unhappy with a kit, just send it back and we'll credit you for a future kit.
The Price
: $75.00 per quarter