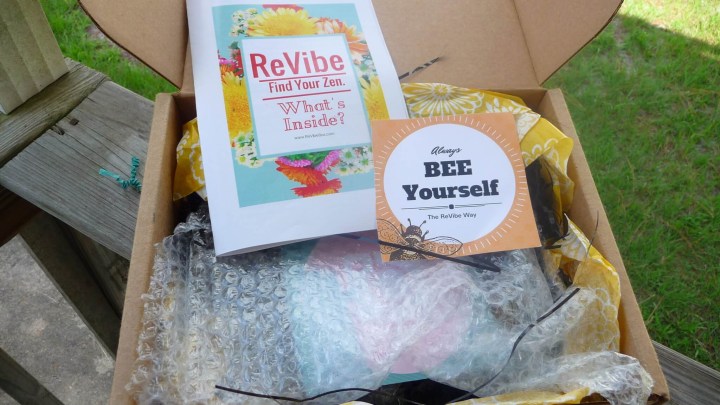 Don't you just love surprises, either in the mail or in person? I do and this month I got one in the mail…ReVibe Box! ReVibe sends you all natural items to help you find your Zen. Your box may include the following items: bath bombs, artisan soaps, journals, essential oils, herbal remedies, inspiring gifts, high end jewelry, natural candles, face masks, shower steamers, skin products, breathing techniques, adult coloring books, lotion bars, mugs, plants, crystals and a lot more!
This week I really needed it. Kids are home for the summer and raising two boys, you know I am always at the grocery store or running them here and there.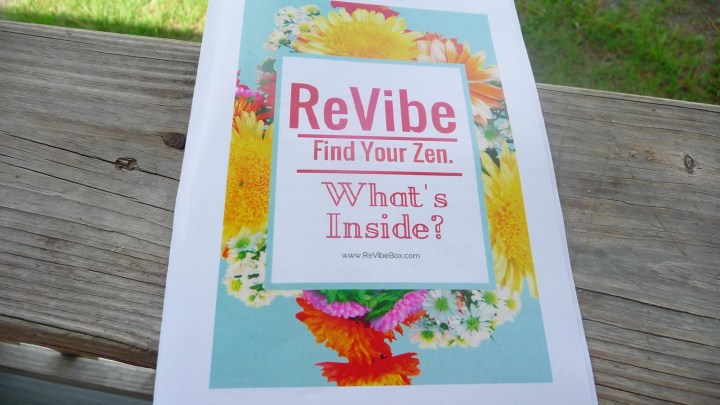 Here is the insert that describes all of the products sent and the theme of the month. This month they focused on the health benefits of honey. Honey is definitely a must in this house. It is great for your allergies and on Peanut butter sandwiches!
ScumSoaps Honey Almond Soap ($9.99) can be used as decor or in the bath. They are made with natural clays, cocoa butter, and coconut oil. It has a light fragrance that is very pleasing and it is not harsh on your skin.  I enjoyed this soap and because it came in a pair I decided to be nice. I gave one to a friend to try out on her eczema.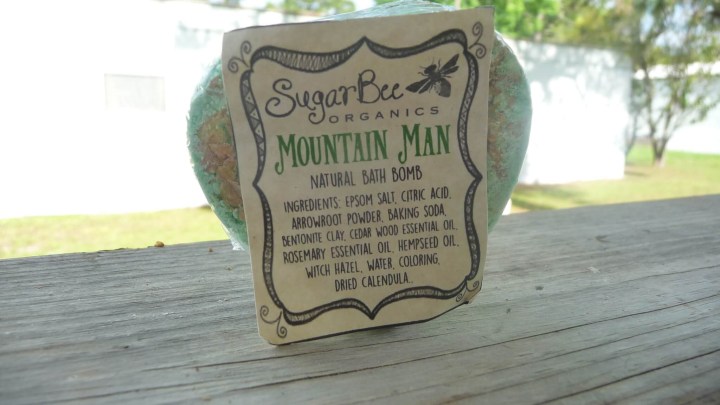 SugarBeeOrganics Mountain Man Bath Bomb ($5) is a bath bomb made with all natural items and smells great. After a rough day yesterday, I gave this a whirl in my tub to relieve my sore muscles. The fragrance was relaxing and the epsom salt in the bomb helped relax my muscles. It does color the water a light green color.
AbsintheArts Real Raw Honeycomb Necklace ($48.99) is a necklace made from a real honeycomb dipped in resin. It is then painted with a gold metallic paint and glitter.  It is a very interesting piece and definitely unique. I decided to hang this from my rearview to help remind me to just let things "bee".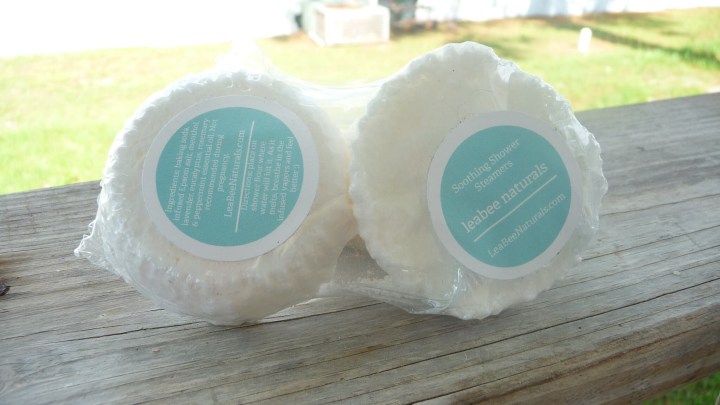 LeaBeeNaturals Soothing Decongesting Shower Steamer (multipack) ($6). These little shower  steamers are in infused with menthol, essential oils, and epsom salt. You just place it on your shower floor and let it get wet. The fragrance it releases opens up your nasal passage. It helps relieve congestion from colds, allergies, and sinus problems. Woohoo did it do the trick!! I always seem to get stuffy about this time of year and it sure opened me up. Since this was a multipack, I have an extra for later.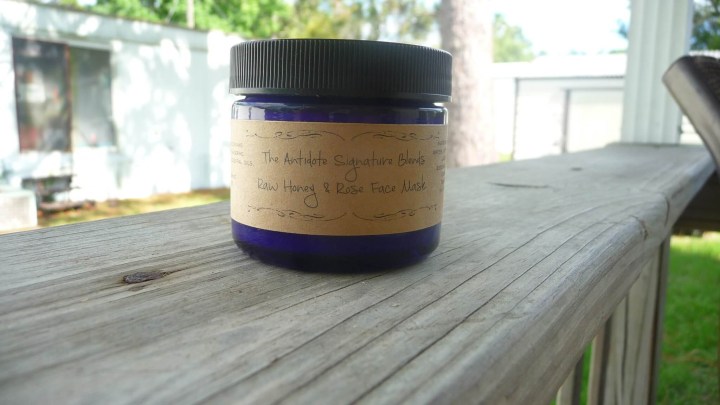 ArachnesDemise Raw Honey & Rose Clay Mask ($16) is a face mask made from raw honey, rose water, and essential oils. If you are like me you are careful as to what you put on your face but this mask can be used for all skin types. You apply a small bit to your face avoiding the eye areas. Go enjoy a hot cup of tea and rinse when mask is dry. Simple. Afterwards you are left with skin that feels refreshed and you smell like roses. I absolutely loved it.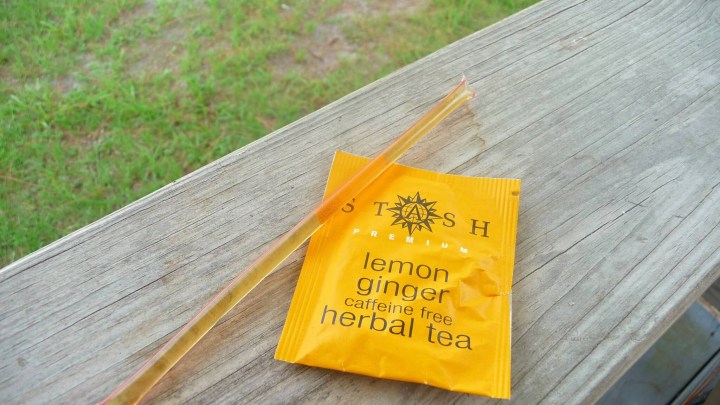 Stash Lemon Ginger Tea ($0.25) and a straw of honey. SURPRISE!!! There was 2 extra little items in my box. This is what I enjoyed while waiting for my mask to dry.
I hope you find your ZEN like I did and relax for the weekend.
Would you enjoy ReVibe Box? Receive 20% off of your first ReVibe Box with coupon code  LAUNCH20.
Visit ReVibe Box to subscribe or find out more!
The Subscription
:
ReVibe Box
The Description
: We are an all natural, all handmade and cruelty free subscription box that sends you the ultimate relaxation experience monthly. ReVibe Box is more than a spa box. We send you fun and healthy ways to revitalize your physical, mental and spiritual health from all over the globe.What's in the box? Each month has a new theme and we provide you with bath bombs, artisan soaps, bath melts, shower steamers, face masks, crystals, candles , artisan jewelry, hand crafted notebooks and journals, meditation tools, yoga moves, new exotic teas, positive vibes and more, that fit within the given month's theme.All boxes will contain 5-7 expertly curated items and are also guaranteed to equal $60.00 or more in retail value.
The Price
: $39.95 per month