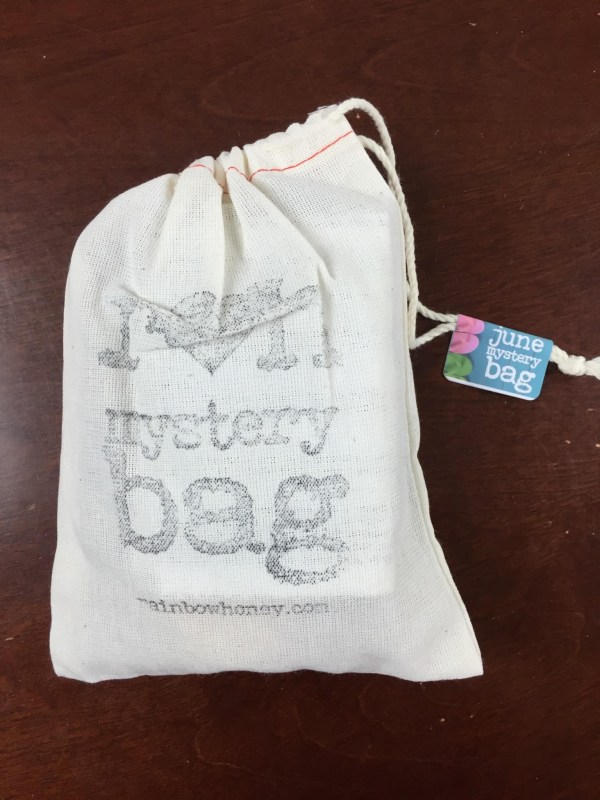 Rainbow Honey Mystery Bag is a monthly subscription box that brings previews and samples of Rainbow Honey Lab's upcoming new products and collections. Each mystery bag includes 3-6 handcrafted products, ranging from nail polish, shimmers and glitters, as well as handcrafted body and bath care treats. Rainbow Honey Mystery bag is available in Mini, Large, or in parts – Just Nails, Just Soaps and Just Body!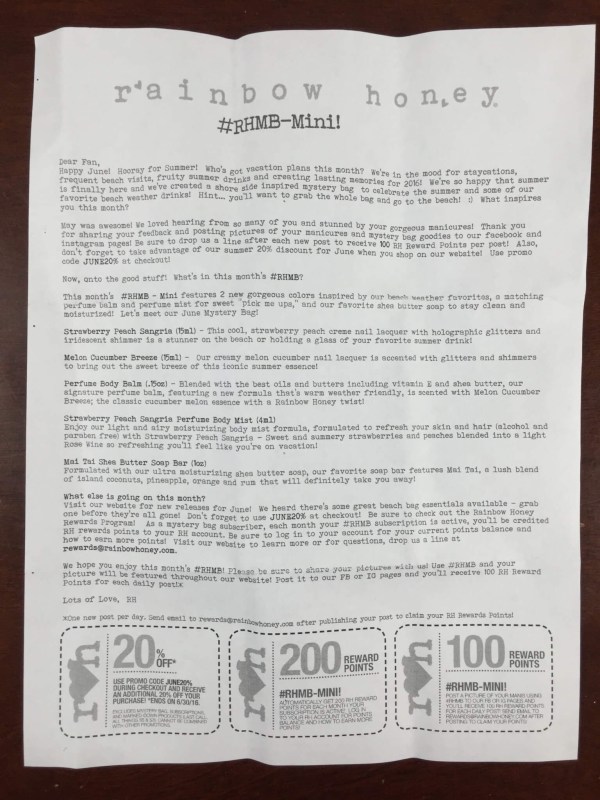 The information sheet includes the name of the items included in the mini bag and all the details! You can earn reward points by posting a picture of your manis, or just simply keeping your subscription active.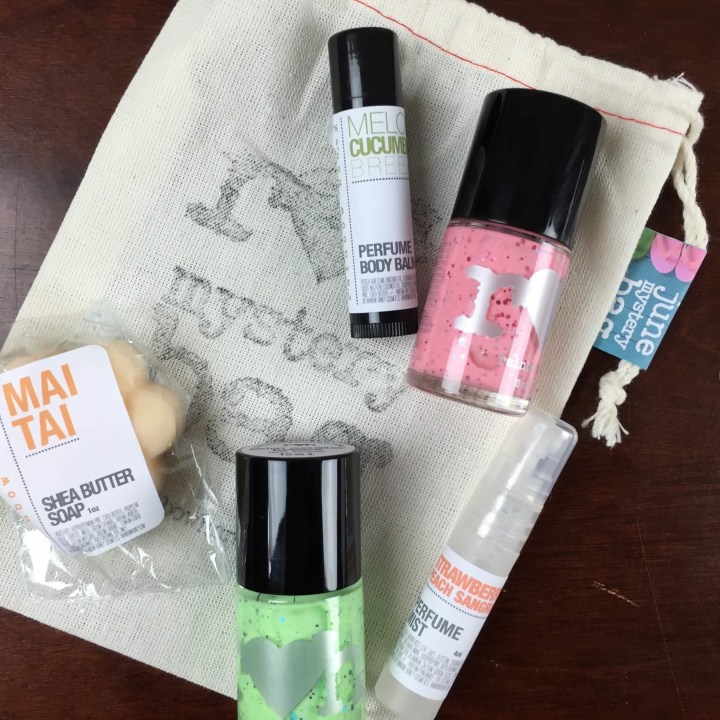 Everything in my June Rainbow Honey Mini Mystery Bag!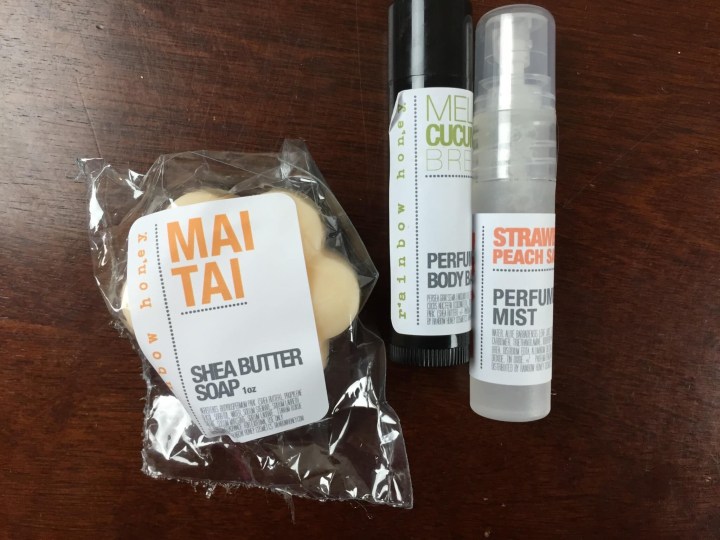 Mai Tai Shea Butter Soap: The smell of this is tropical and delicious. Unfortunately unlike the soap box, the ingredients are printed right on the label and I actually cannot read them, even with my reading glasses. This is problematic for me!
Melon Cucumber Breeze Perfume Body Balm: This is a unique product – a solid perfume balm in a stick – the letter notes that the formula is warm weather friendly, so I'm assuming it's harder than normal. The fresh cucumber melon scent is really inviting!
Strawberry Peach Sangria Perfume Mist: The card notes that this is alcohol and paraben free and it has a light fruity scent – strawberry and peaches and wine. It's actually a bit sticky and I think it has aloe in it.
Melon Cucumber Breeze Nail Lacquer
Strawberry Peach Sangria Nail Lacquer
YAY GLITTER! I was pretty bummed that last month had no glitter but was rewarded this month!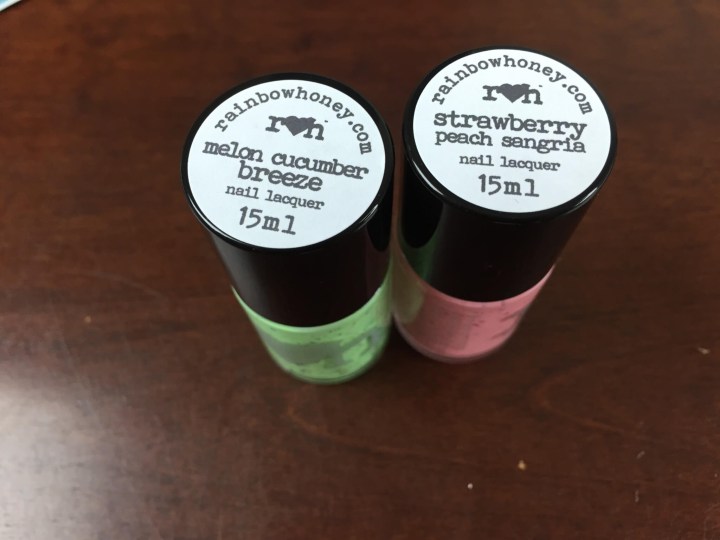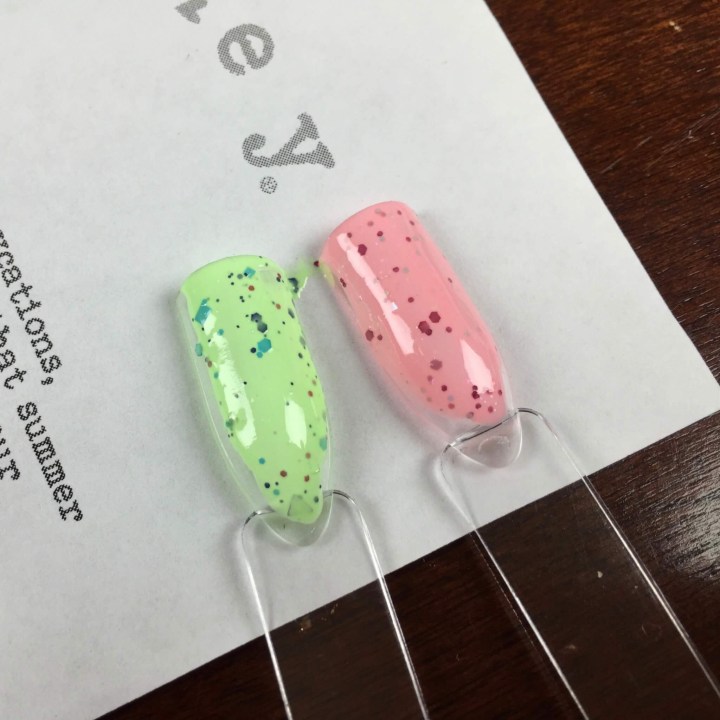 1 coat
2 coats
I thought these were both really fun and I had a hard time selecting what to use for my mani! (I was feeling Ghostbusters inspired so went with green – I'll need to do some more unboxings to show it off!).
This is a fun, inexpensive subscription with really a lot going for it. I'm crossing my fingers for continuing glitters (and maybe… a topper?!).
Visit Rainbow Honey Mystery Bag to subscribe or find out more!
The Subscription
:
Rainbow Honey Mystery Bag
The Description
: Each Mystery Bag has sneak peeks and previews of new lacquers, unreleased samples of future collections and exciting new products made by the Rainbow Honey Lab!
The Price
: $12.50 per month