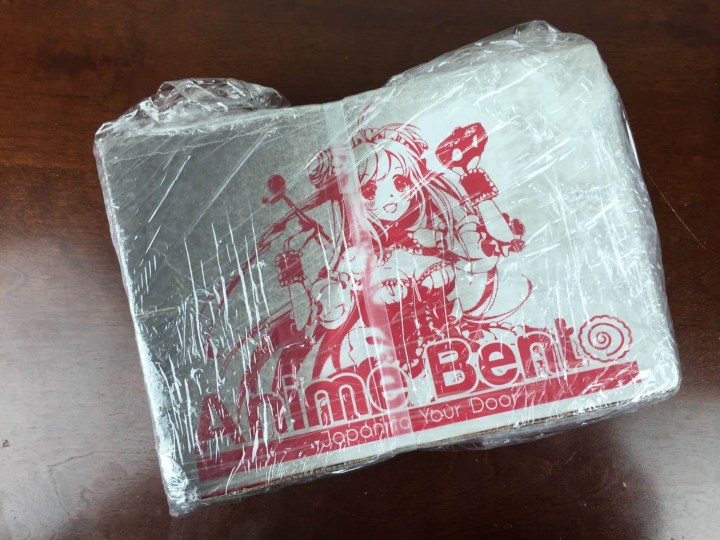 Anime Bento is a monthly subscription box for true anime fans! With this subscription you'll receive Japanese toys, collectibles, and other swag from your favorite anime shows delivered straight to your door every month. Anime Bento is committed to sending only authentic products, too. Moe Chan, depicted on the cover of the box, is Anime Bento's official mascot.
Moe Chan is a master chef and bento artist. You wouldn't know it by looking at her saucy get-up, but she's a sweet 16.
She enjoys watching comedic anime and is often caught doodling when she should be working.  Her dream is to one day open a great restaurant where food and art can be equally appreciated.  She attends the local high school and is popular with her class mates.  Moe has very close friends that she works with and always makes sure that they always have a good lunch to eat.  When she is not working at a maid cafe in Akihabara or going to school, she helps run the Social media sites for Anime Bento.
As you may have noticed, our box got spilled on by the post office, which did not include a notice or apology for damaging the box. The condition of the box is not Anime Bento's fault.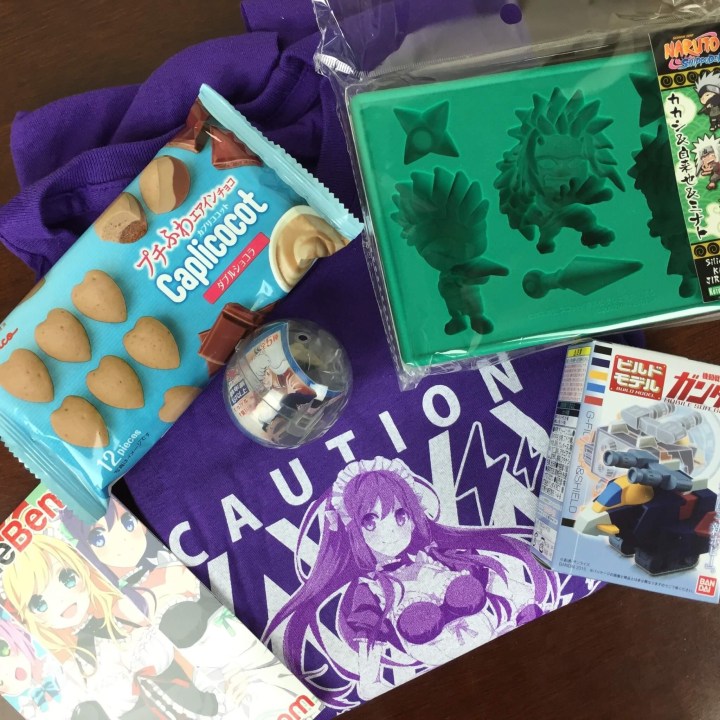 Everything in my June box! This month's Bento contained some pretty nice items- let's jump right in!
The information card shows all the items in this box!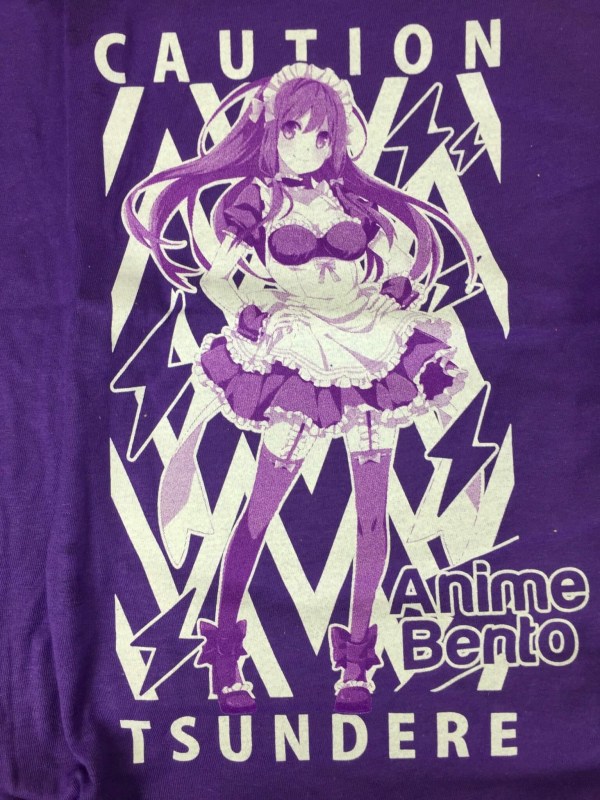 Izanami-chan Shirt. One of AB's mascots graces the front of this month's brilliant purple shirt.  Izanami-chan strikes a saucy pose while wearing a gleaming smile while the words 'Caution Tsundere' appear around her.  The word 'tsundere' is a character development process in Japanese manga and anime and describes a person who is cold, distant and even hostile at first meeting.  This person, however, warms up over time, becoming almost friendly to those who have earned their way past the chilly wall they've set up.  These are by far my favorite types of characters in anime and manga!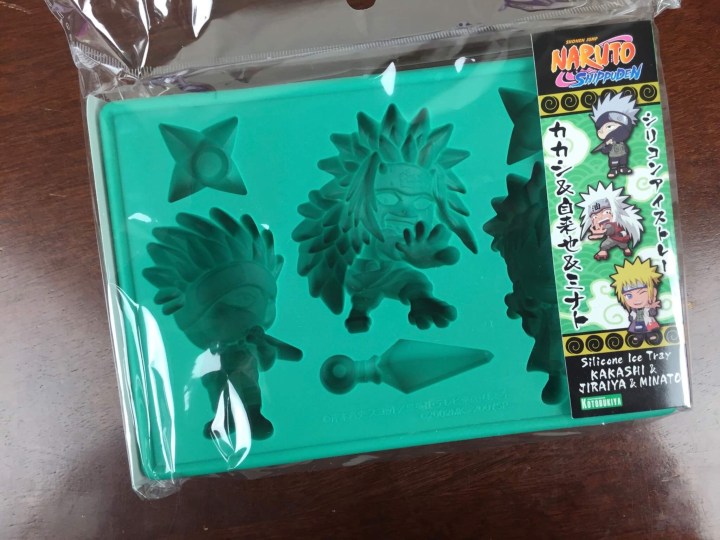 Naruto Silicone Ice Tray ($9.02). My favorite item in the box, the Naruto ice mould turns boring ice into a representation of your fandom!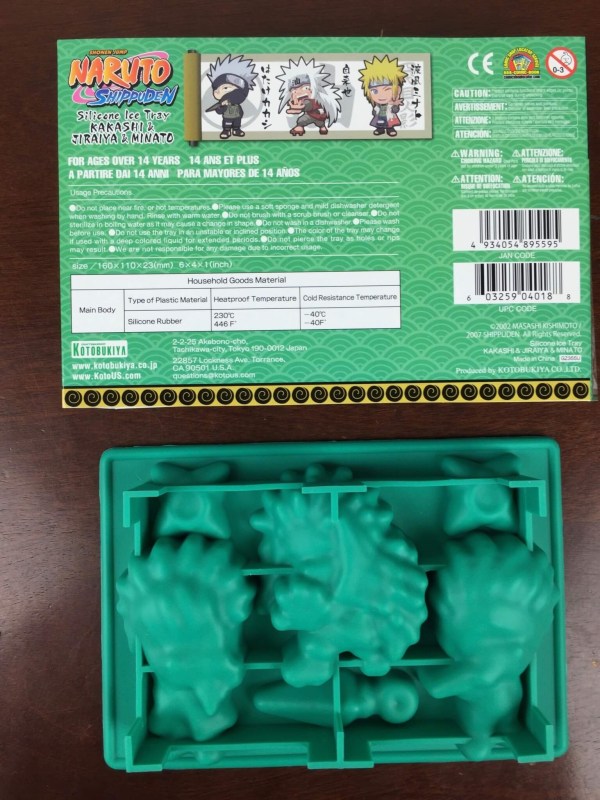 The instructions warn that the material may stick to the ice for the first few subsequent uses and say that this is normal and is not dangerous to one's health.    The material itself is silicone rubber and is listed as being safe from -40 to 446 degrees Fahrenheit (230 to -40 degrees Celsius).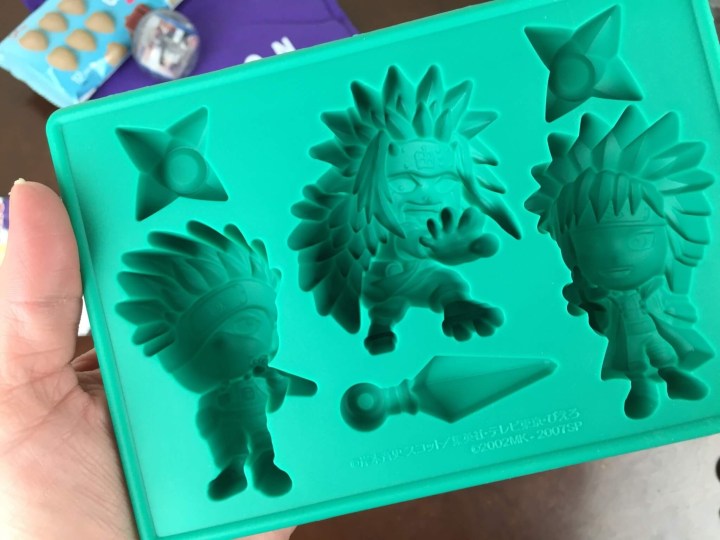 Out of three possible trays, ours was the green one which featured the shapes of the characters Kakashi, Jiraiya, Minato, as well as some shurikens and a kunai.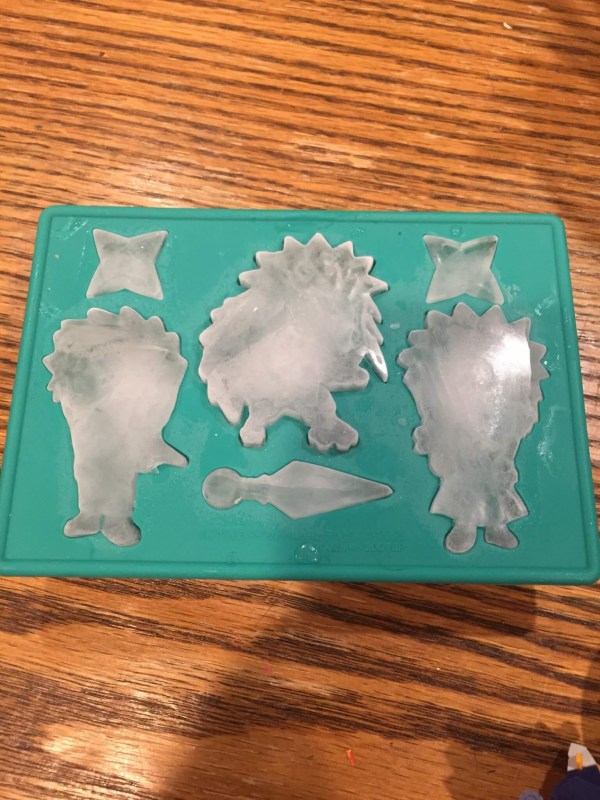 The tray worked well (I didn't have any sticking problems), and for those who are adept at producing clear ice cubes,
I'm sure that the features in the ice will show up better than mine did!   Jell-O would probably work very well in this too.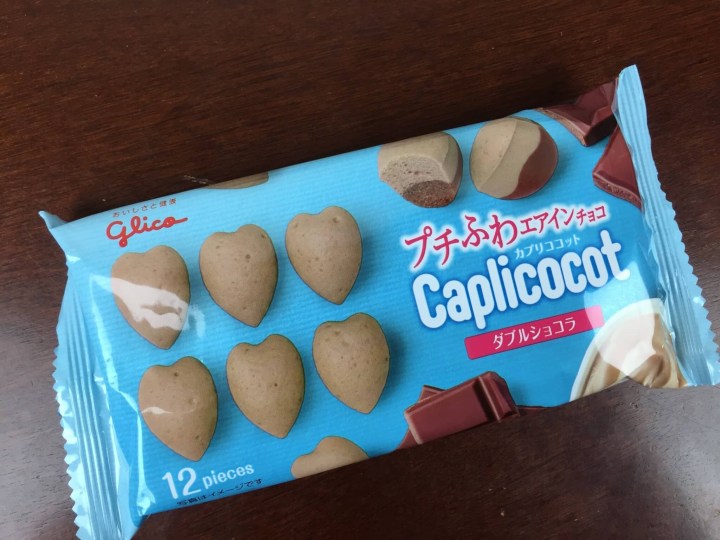 Glico Caplicocot Double Chocolate. If you remember, in a recent AB, we were treated to a large strawberry ice cream cone.  These are basically the bite sized version of that!  They are the same aerated sugary goodness, only heart-shaped and housed in a convenient resealable container (not that I needed that feature!).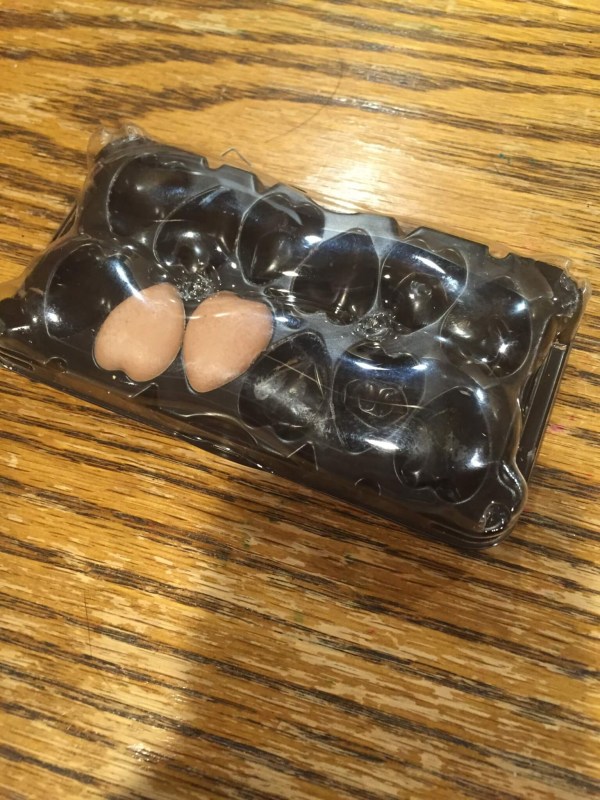 These chocolates were nice and airy and will easily satisfy any chocolate craving.  Other flavors of these tasty tinys include: chocolate strawberry, strawberry and vanilla, and matcha (green tea) chocolate.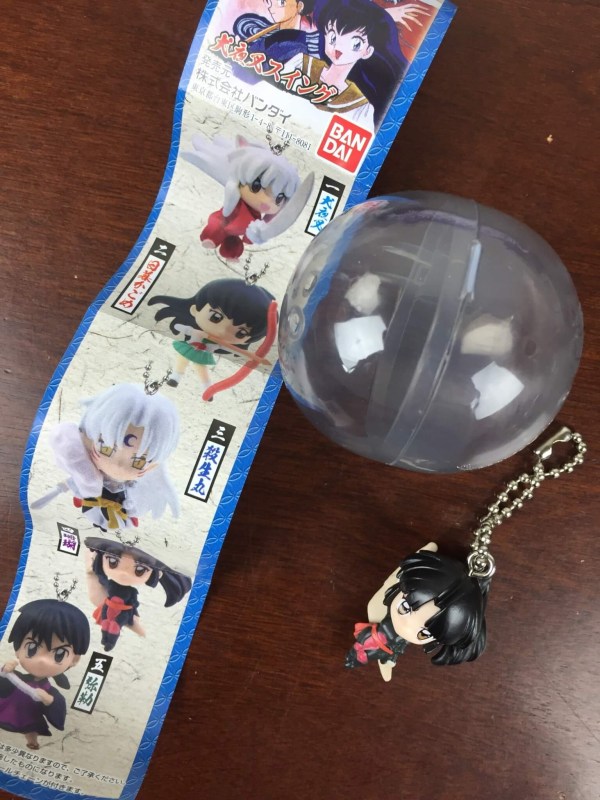 Bandai InuYasha Swing Figure Keychain. This item is a gachapon-like capsule from the anime Inuyasha.
Out of 5 possible figures, our box contained the character, Sango, a female demon slayer.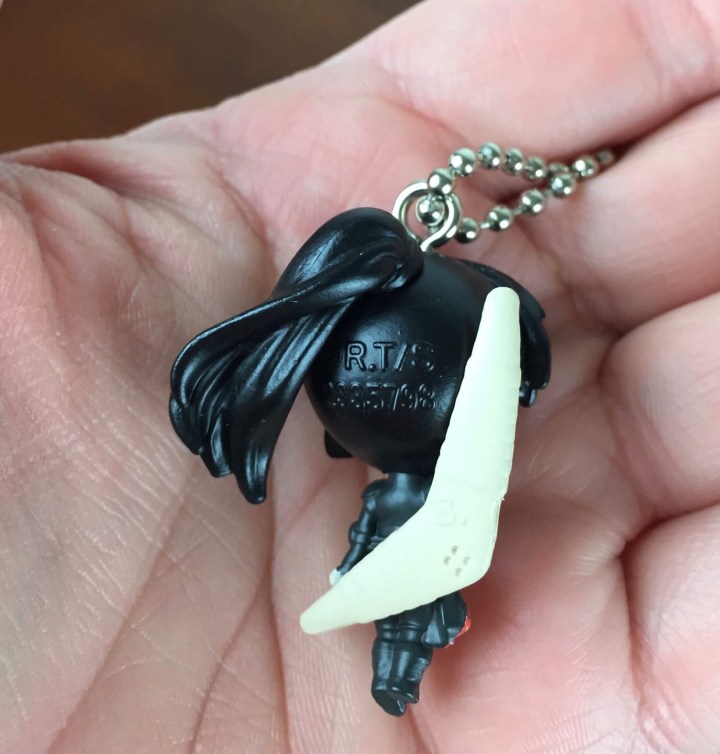 The figure is simply colored, but good quality.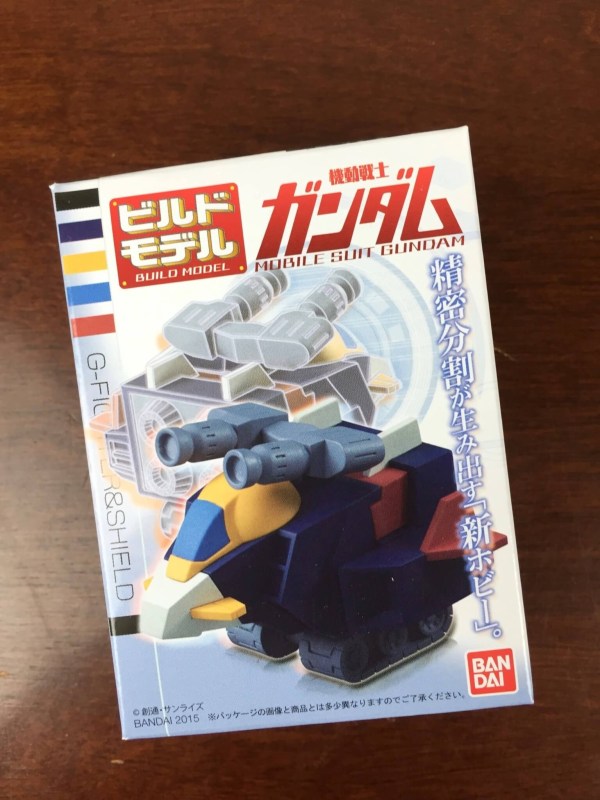 Bandai Mobile Suit Gundam G-Fighter & Shield ($4.52). Our next box item was a random figure. Ours turned out to be from the Bandai Hobby Candy collection: a buildable figure of the G-Fighter from Mobile Suite Gundam.
These figures offer a high level of detail with many small parts that speak to the engineer in all of us.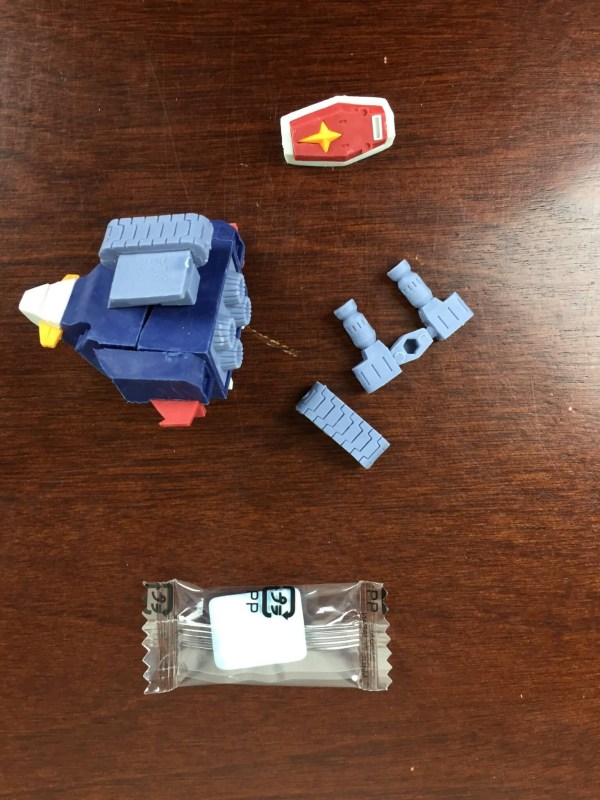 Some of the parts are VERY small, so this is not meant for young children.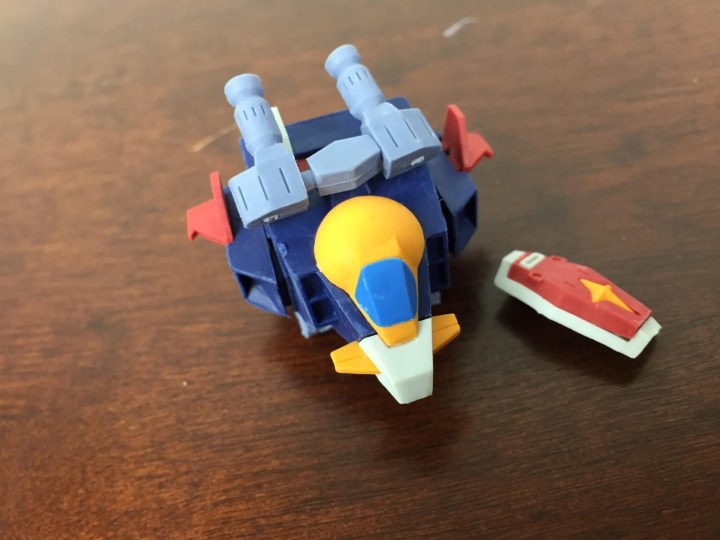 It is made of an almost rubbery material that goes together fairly well, but pretty much needs to be left alone after that as the items tend to fall apart easily.
Building these can be frustrating at times however with a little patience, you'll end up with a pretty neat collectable!

Another great box from Anime Bento! It was really fun to get a shirt again too!
What was your favorite item in this month's Anime Bento? Save 10% on your subscription with code CJ10
Visit Anime Bento to subscribe or find out more!
The Subscription
:
Anime Bento
The Description
: Created by anime convention organizers and Otakus, Anime Bento is a great way to get your anime fix each month. We pack the newest and best title into each months bento and ship it straight to your home.
The Price
: $35 per month