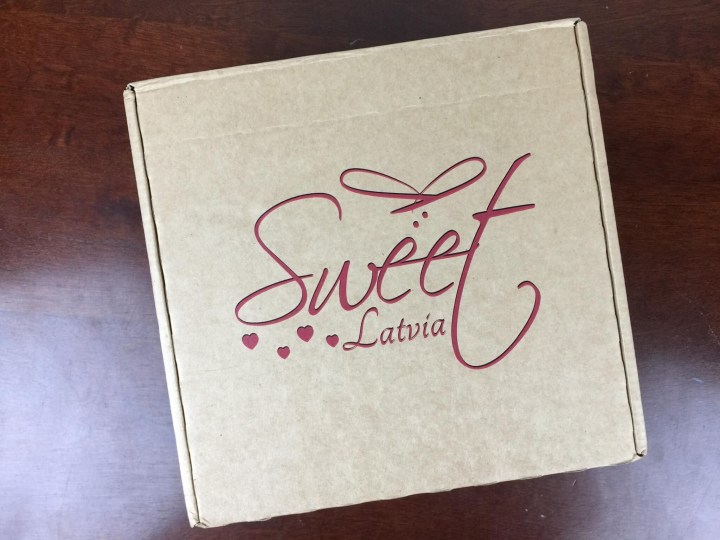 Sweet Latvia is a monthly subscription box that ships a wonderful variety of Latvian sweets straight to you.  Selections vary from timeless classics to trendy new flavors.  The selections tend to include several elegant and cottage products.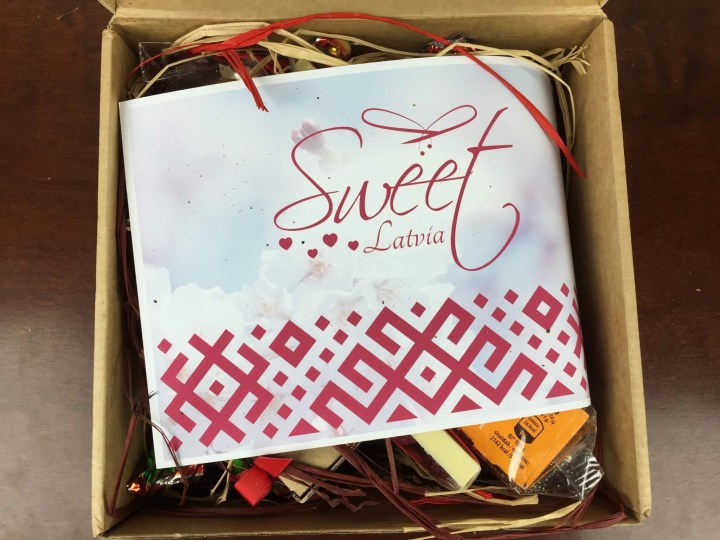 There wasn't a distinct theme this month, but the packaging always reminds me of both Valentine's and Easter!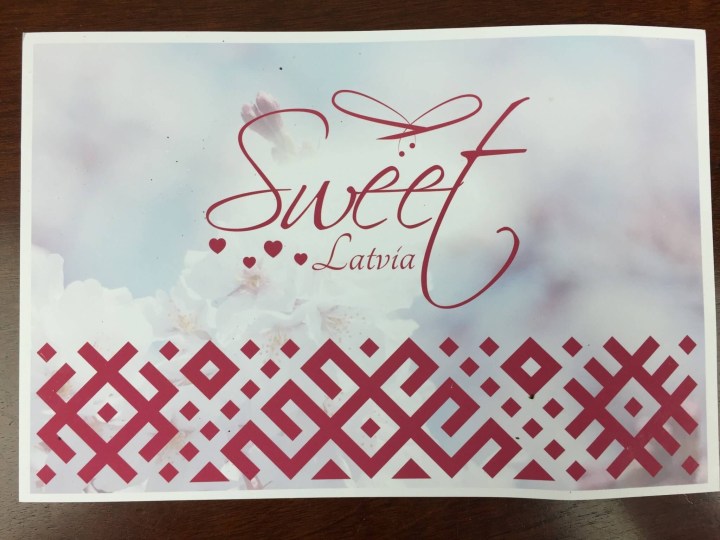 Last month, we learned that Sweet Latvia was expanding its geographic focus — the box will now also include sweets from other Baltic states, like Estonia and Lithuania!  This is great, because Estonia and Lithuania are underrepresented in the subscription box sweets arena, and we love getting to try out sweets from new places.
Everything in our box, stacked snugly together.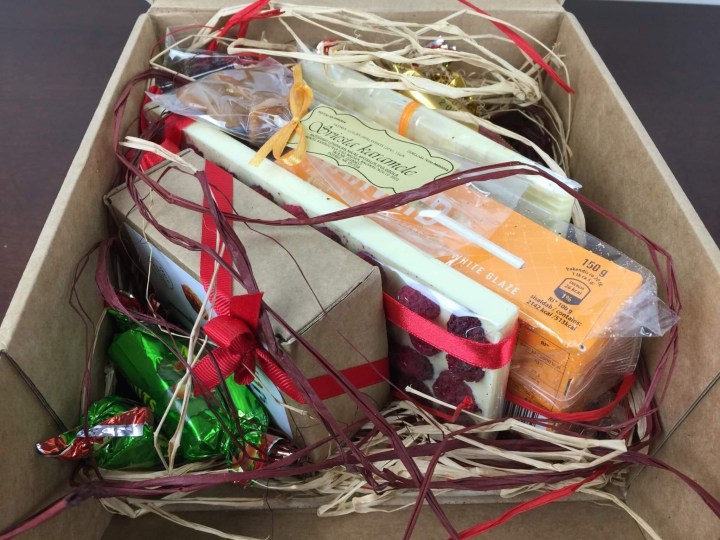 I love the way the straw is used as cushioning — it's boldly colorful and is totally wild!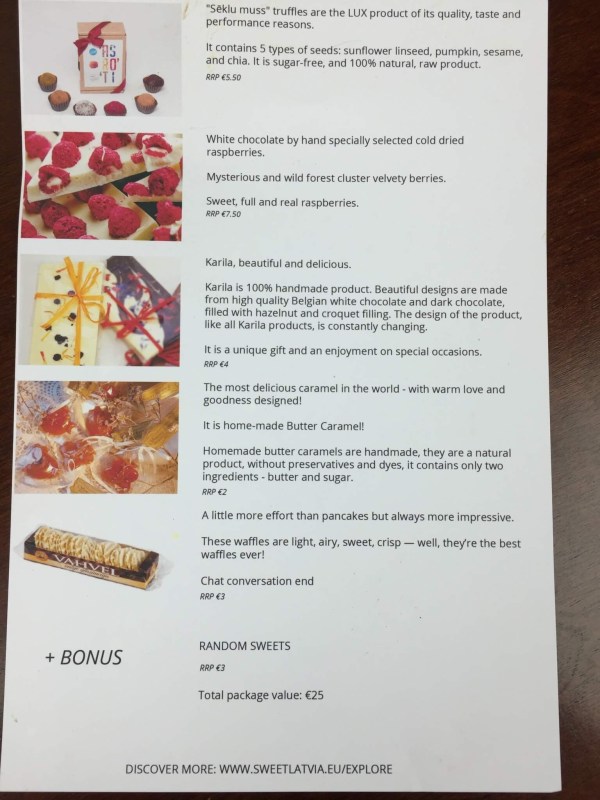 The information card tells a little bit about each item in the box.  The descriptions have a charming halting cadence.  In the U.S., we tend to use sugar and chocolate as a substitute for fruit, with most bars comprising only chocolate, various preparations of sugar, and sometimes nuts — Latvian and other Baltic confectioners seem much more willing to incorporate fruit into their chocolate, with wonderful results.
Everything in the Sweet Latvia April box!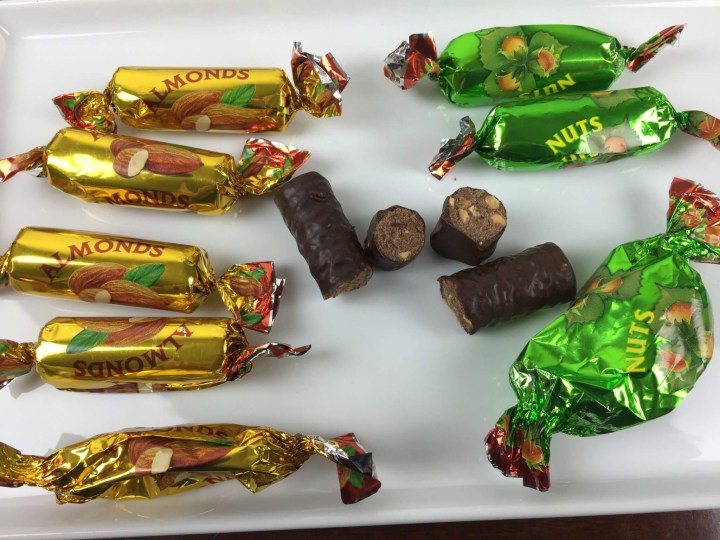 Bonus Almonds & Nuts Chocolates:  Noted as "Random Sweets" on the card, these were quite good.  Each kind had a core of chocolate cream truffle with nuts sprinkled throughout.  The chocolate coating was dark and delicious, too.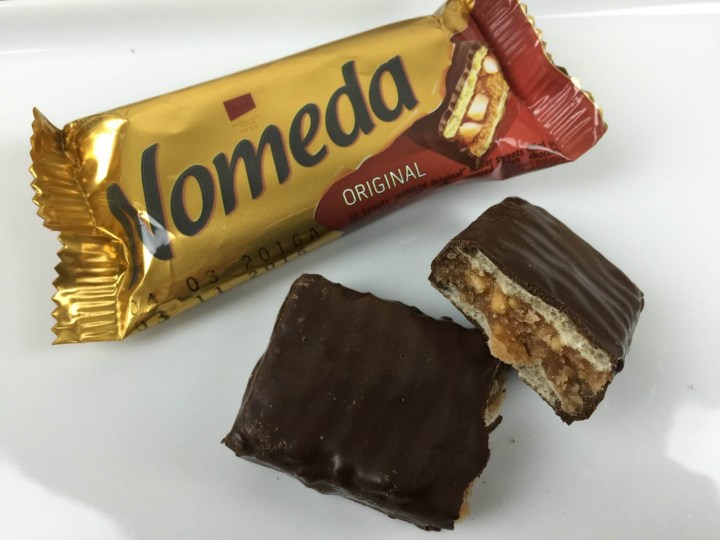 Nomeda Chocolate Bar:  This bar features a jam center dotted with peanuts and wedged between two slabs of waffle.  The entire bar is than coated with dark chocolate.  Very tasty, and the jam and chocolate combo epitomizes the Baltic approach to candy.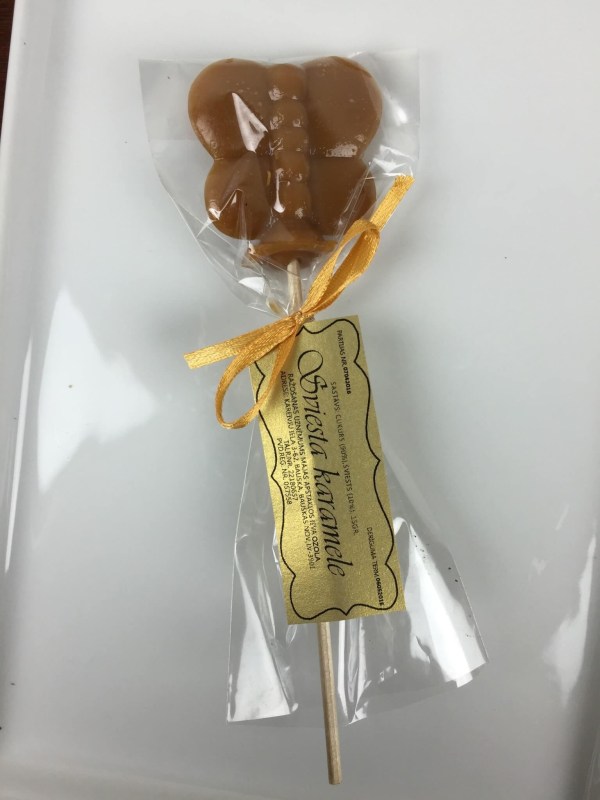 Sviesta Karamele Butter Caramel Lollipop:  This sweet caramel lolli came in an adorable butterfly shape.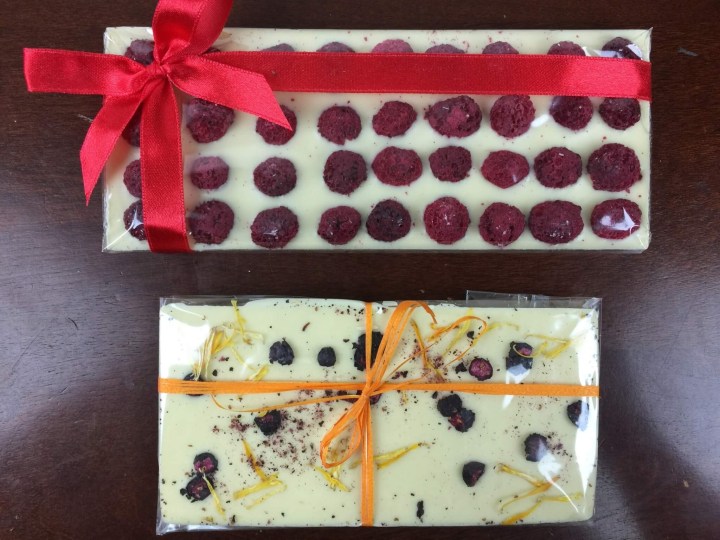 Nelleulla White Chocolate Bar With Dried Raspberry:  A beautiful white chocolate bar dotted with whole dried raspberries.  The symmetry of the fruit is impressive, especially given the delicate nature of raspberries — and they didn't even stain the surrounding candy!  If you are going to gift someone a candy bar, this is the way to do it with style.
Karila White Chocolate Bar:  The shop that produces these bars is constantly experimenting, with each bar representing a unique work of art.  This one is sprinkled with dried berries and lemon peel shavings.  The little bit of tartness and fruit really complements the creamy sweetness of the bar.
Sēklu Muss Truffles:  These raw truffles are made with 5 varieties of seeds, giving them a richer and heartier flavor profile and texture than those concocted solely with sugar and chocolate.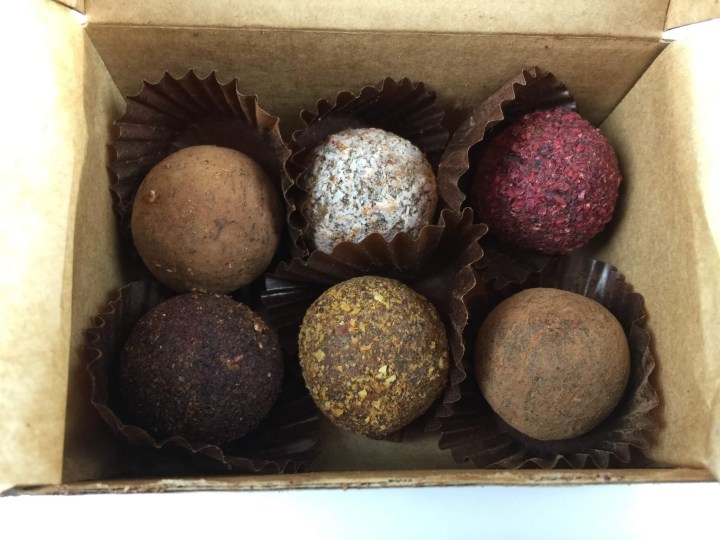 The truffles are coated in powdered fruit, nuts, cocoa, and sugar, giving the assortment a very pretty complexion.  I like the Baltic character of these sweets — they take the classic truffle and use natural nuts and fruit to turn a sugary confection into a  more complex and satisfying treat.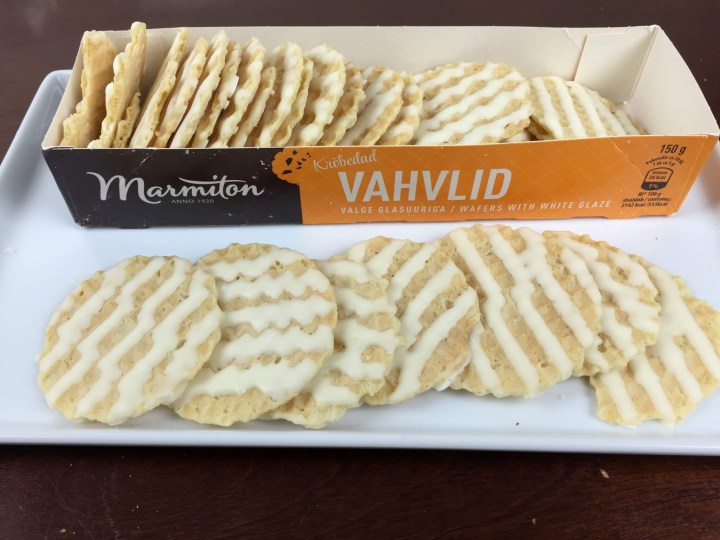 Marmiton Waffles with White Glaze:  These crispy waffle disks are sweetened with a white glaze that is alot like white chocolate.  I like the addition of the glaze, packaged waffle snacks that are not filled or glazed always seem lacking in sweetness, probably due to comparison with actual hot waffles.  The glaze provides that needed sweetness without covering the flavor of the waffle.
This is a fun subscription with really tasty selections.  The curators continue to put together an assortment of candies different from those offered in any other box we've had, and it was great.  Sweet Latvia now offers two versions of its subscription — you can receive either a classic assortment of Latvian treats, or you can get a pan-Baltic assortment featuring sweets from Latvia, Estonia, and Lithuania.
Have you tried Sweet Latvia?
FYI the price of this box is in Euros – the total including shipping is about $33 – after our code the first box is about $27!
Visit Sweet Latvia to subscribe or find out more! Save 30% on your first month! Use coupon code  HELLO30.
The Subscription
:
Sweet Latvia
The Description
: When you subscribe to Sweet Latvia, you will get a gift of trendy new as well as old-time favorite sweets in a curated box. The box will contain a lot of interesting mix of sweet with (all over 200 tastes in our collection) ranging from gummy, sour and nostalgically classic amongst others. €29 (free shipping)
The Price
: $33.00 per month