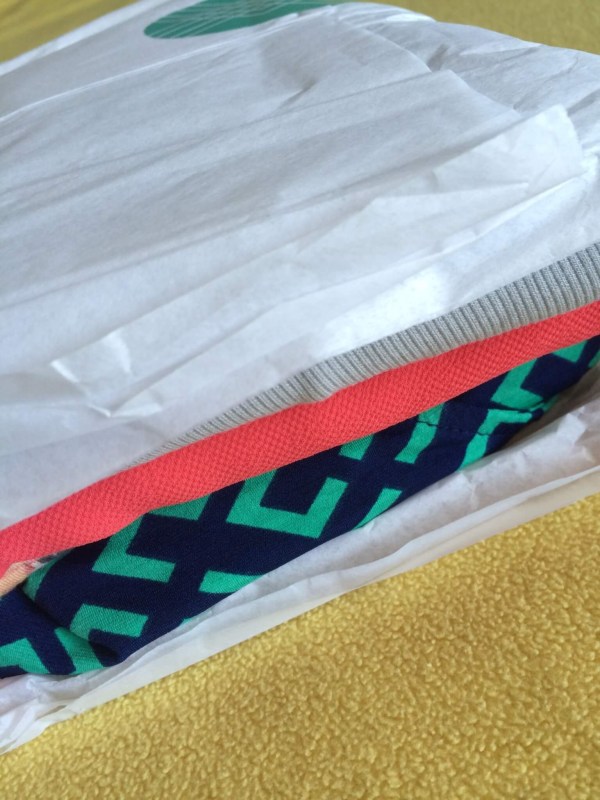 Stitch Fix is a personal styling service. Your stylist will send you 5 pieces based on your profile for you to try on at home and hopefully fall in love with. There are no coupons for Stitch Fix but if you hit the jackpot and keep everything, you save 25% on your whole fix (read below for details).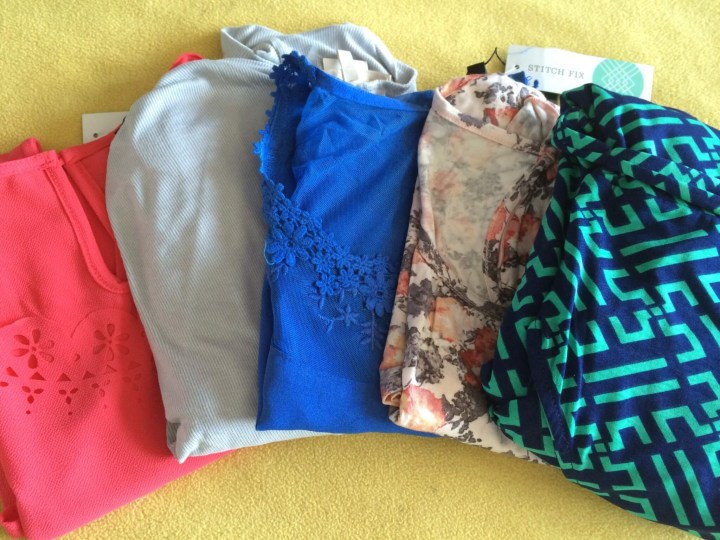 I asked for colorful, and my stylist did not disappoint! This month's Stitch Fix is bright and cheery and summery. As I opened the box, I was delighted to see the bold colors, and I couldn't wait to tear into that tissue paper.
Here's how Stitch Fix works: fill out your style profile! This includes style, budget, what you're looking for, and you can get as detailed as you want with the notes to your stylist. It really really does help to provide notes to what you're seeking, and a Pinterest board if you have one.  You will be charged a $20 styling fee and shipped five items to try on at home. If you keep anything your styling fee will be applied to your order, but if you don't, you will pay the $20 fee. This is so worth it. If you keep everything you get a 25% discount, so it pays off to be specific.
You will check out and get charged through your Stitch Fix account. Every box includes a set of styling cards with suggestions on how to wear the particular item. There's usually a dressed up and dressed down version for each piece of clothing.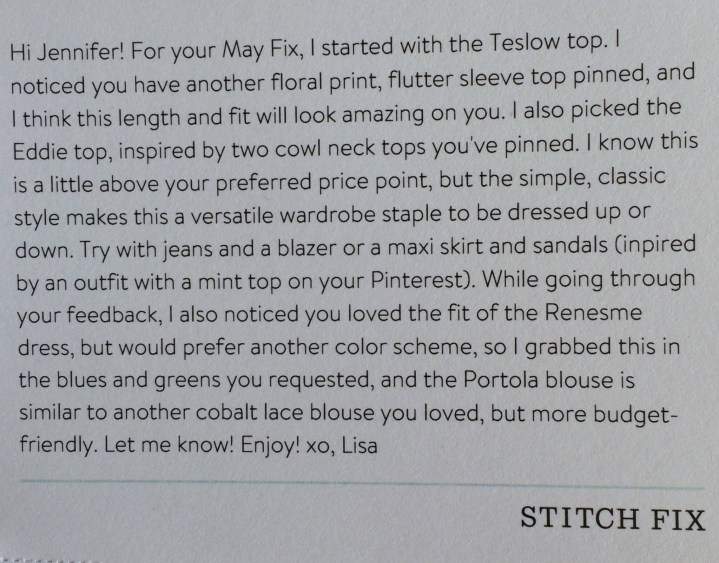 My style profile indicates I am interested in tops, which is why I rarely receive pants or other bottom items. This month, they really were paying attention to my feedback and my Pinterest, because I got the exact dress I was hoping for!
Papermoon Teslow Flutter Sleeve Knit Top XL ($48)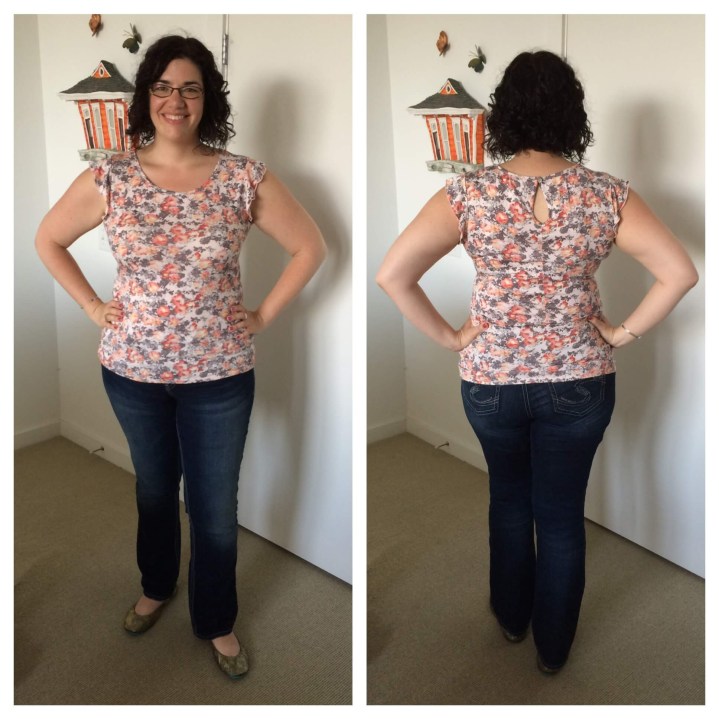 It has been a while since I got a knit top, and in this fix, I received two.  My tendency is to shop for knit tops, and expect non-knit in my fixes, but in reality, I am more of a knit top kind of girl.  I like the shape and fabric texture of this top, but I think the pattern is a little too fussy and floral for my taste.
Papermoon Magguie Lasercut Detail Blouse XL ($44)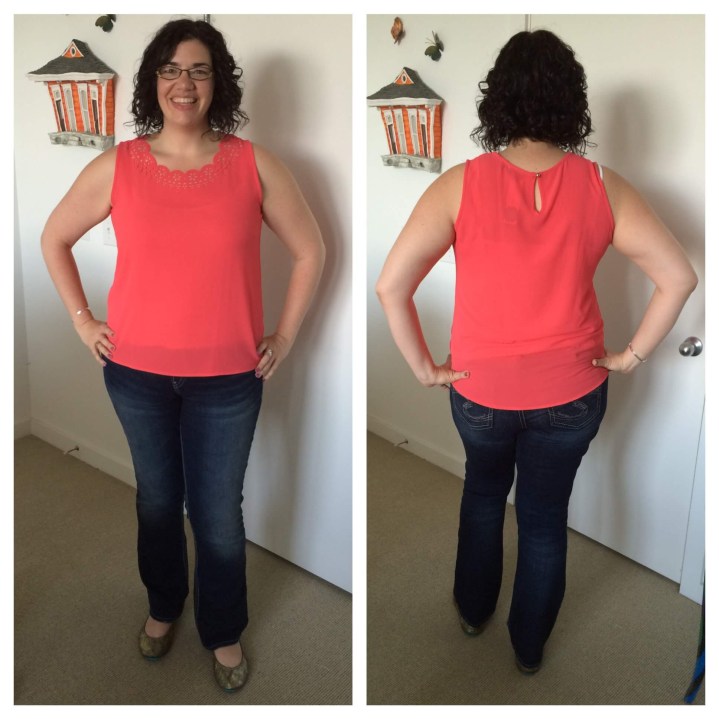 I love the color and shape of this top. The detail is really nice, and clearly lends itself to dressing up.  I will say, the delicacy of the lasercut would make me wary of wearing this around kids or pets, but it would be well-suited (get it?) to a professional environment. I did end up putting a cami under it, as I felt it was a smidge too sheer to go without (even though I have a bra in this exact color).
41Hawthorn Eddie Ribbed Cowl Neck Knit Top – XL ($58)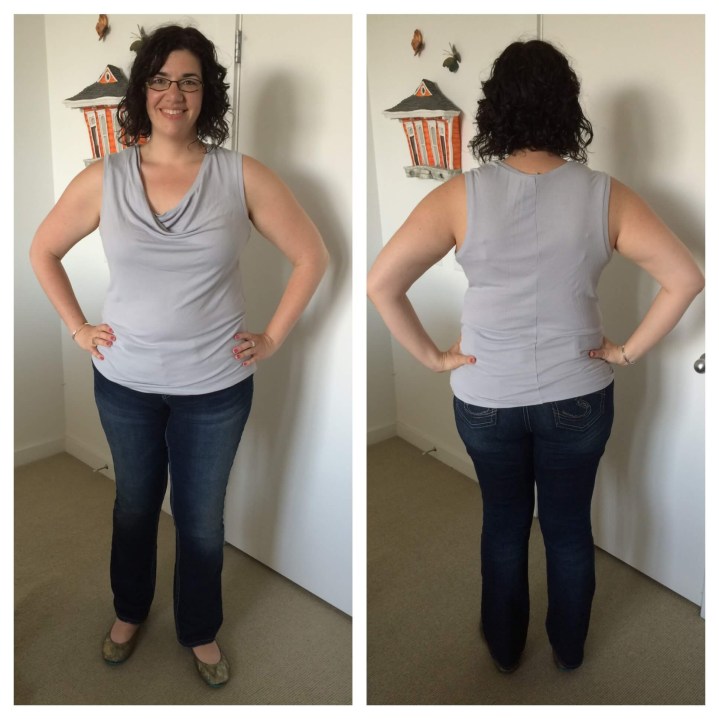 My stylist noted that she had seen me pinning cowl necks.  They are my favorite!  I just think they are flattering for us busty girls. I loved this one, and the fabric was just dreamy.  A really soft knit, but with a slight ribbed texture. As she noted in her message, it is a little above my price point.  I think if I had loved the color more, the decision would have been easier, but I just felt kind of meh in this shade of grey. It was a hint blue and just didn't feel like it was going to work well in my wardrobe.  But the top really is great, and a nice length for a tall person (I am 5'10).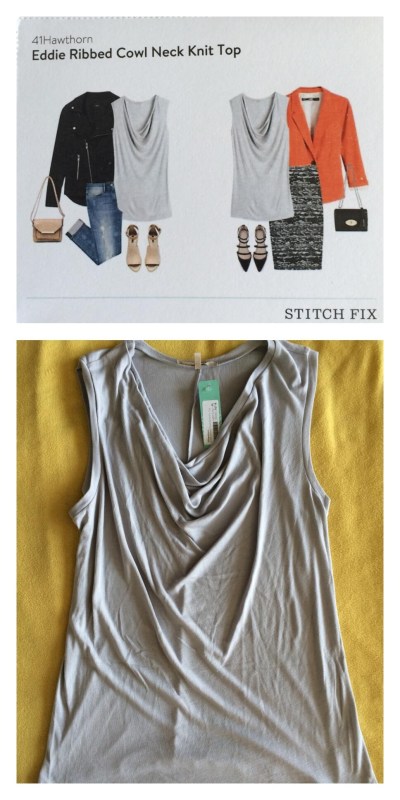 Fate Portola Lace Detail Blouse XL  ($48)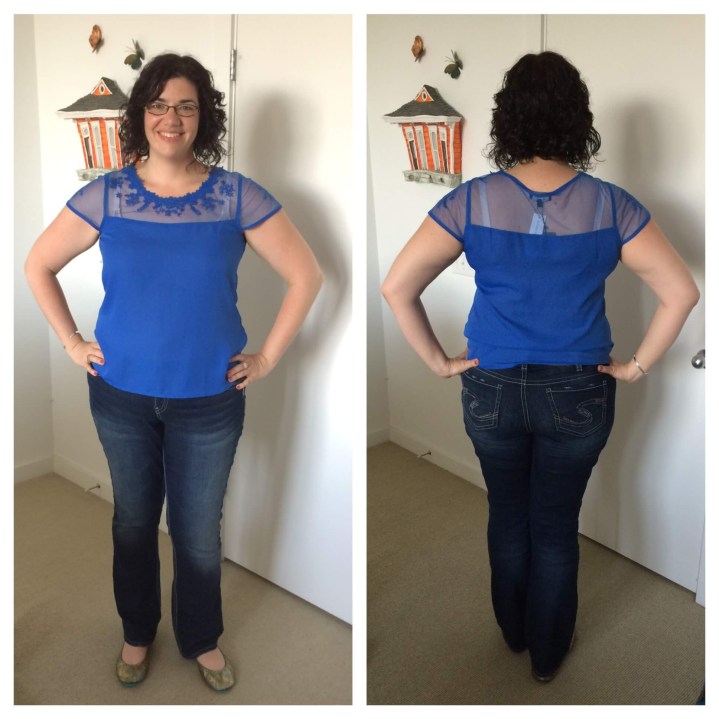 This was my least favorite thing in this fix. I received it because it is similar to another shirt that I loved but was too pricey. I remember the shirt she is talking about, and I see the relationship, but this shirt just really does nothing for me.  It was a little snug in the shoulders, and I just hate that there is no way to wear it with a normal bra, unless the straps show. Other than the shoulders, it isn't too sheer, so if you're ok with strapless bras, it doesn't need a cami.
41Hawthorn Renesme Jersey Faux Wrap Dress XL ($78)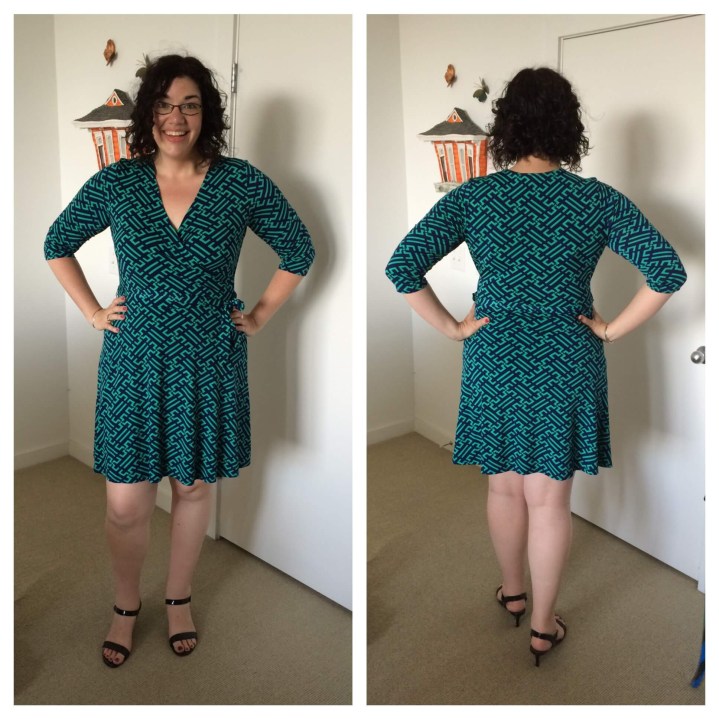 I think if all I ever received again in my fix is this dress in different patterns, I would be happy.  It is lightweight and works for all seasons (especially here in the south, with all of the AC). It is very packable, which is great for my work travel, and the length is just long enough (though I would actually like it to be a bit longer). This is the exact dress I pinned, pattern and all, so kudos to my stylist for doing her research on me!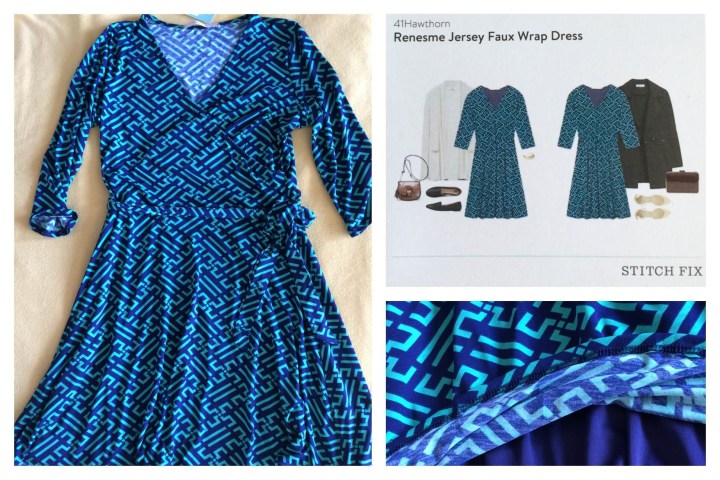 I am very happy with the direction my stylist is going. I appreciate that my stylist takes my feedback into account – I prefer bright tops (and I think I am going to go specify I want more knits and see what happens), and clearly having my Pinterest board in my account profile helps a lot.  I love several items, and even though I am not keeping everything, even ending up with one or two items each fix feels great and keeps my wardrobe interesting!
Visit Stitch Fix to find out more or set up your first box!
The Subscription
: 
Stitch Fix
The Description
: Create your style profile and get 5 stylist selected pieces – clothing & accessories – a month. Monthly "fixes" available.
The Price
: what you buy (~$75/ea) + $20 styling fee credited to order