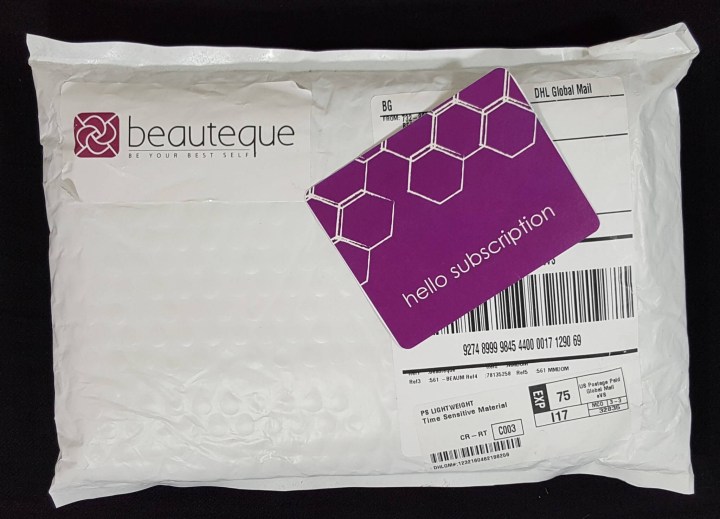 Beauteque offers two subscriptions featuring Asian beauty products delivered to your door monthly.  Products include makeup, skin care, body care, and more.  For $24 per month, your BB Bag comes with 6-8 full size products.  If you like masks, the Mask Maven subscription brings you 9-11 various masks monthly starting at $15.  The following is a review of the April Mask Maven, whose theme is THE CITY IN SPRING:  A Fresh-Faced Look at the Season.
Everything in my mailer.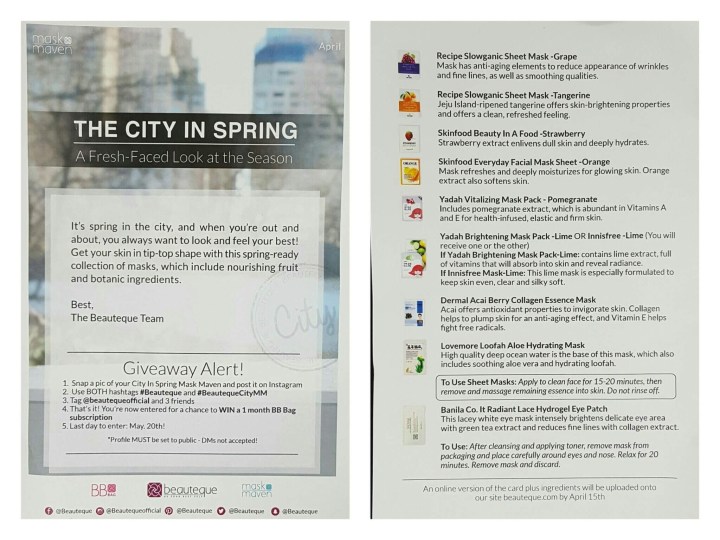 The information card has an explanation of each item's purpose and key ingredients.  For some products, there are also basic how to use directions.  Here's the note from the front of the information card:
It's spring in the city, and when you're out and about, you always want to look and feel your best!  Get your skin in tip-top shape with this spring-ready collections of masks, which include nourishing fruit and botanic ingredients.

Best,

The Beauteque Team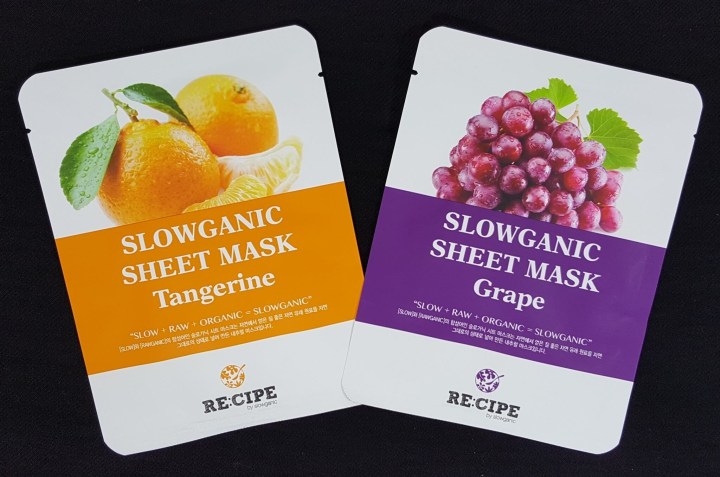 Re:cipe Slowganic Sheet Mask – grape ($1.99):  This mask sheet has grape extract, which is rich in antioxidants to help minimize wrinkles and enhance skin's elasticity.
Re:cipe Slowganic Sheet Mask – tangerine ($1.99):  This is enriched with tangerine/mandarin extracts that help brighten skin and correct uneven complexions due to dark spots and acne scars.
Both masks contain lavender, cucumber, and witch hazel to soothe and calm irritated skin.
Skinfood Beauty In A Food Mask – strawberry ($1.99):  The strawberry extract (and avocado oil) in this mask provides hydration and brightens dull skin.
Skinfood Beauty In A Food Mask – Jeju tangerine ($1.99):  This was noted as Skinfood Everyday Facial Mask – orange on the information card.  It may have been rebranded.  The mask contains Jeju tangerine peel extract (plus blueberry extract and witch hazel) and provides similar benefits as the Re:cipe mask.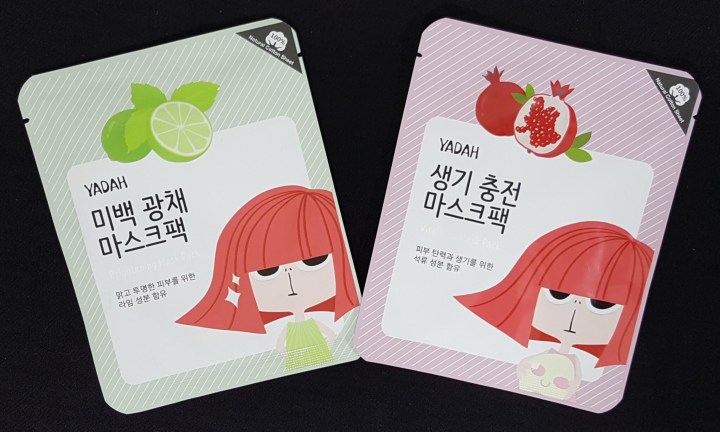 Yadah Vitalizing Mask Pack – pomegranate ($1.99):  The pomegranate extract in this mask provides a large dose of vitamins A and E to the skin, which moisturize and improve skin's elasticity and firmness.
Yadah Brightening Mask Pack – lime ($1.99):  Some subscribers received the Innisfree Mask – lime as an alternate.  The lime extracts help to brighten/whiten skin while removing harmful impurities.  Recently, I've had more breakouts, maybe due to stress.  Anyway, this will be nice to use during one of those flare-ups.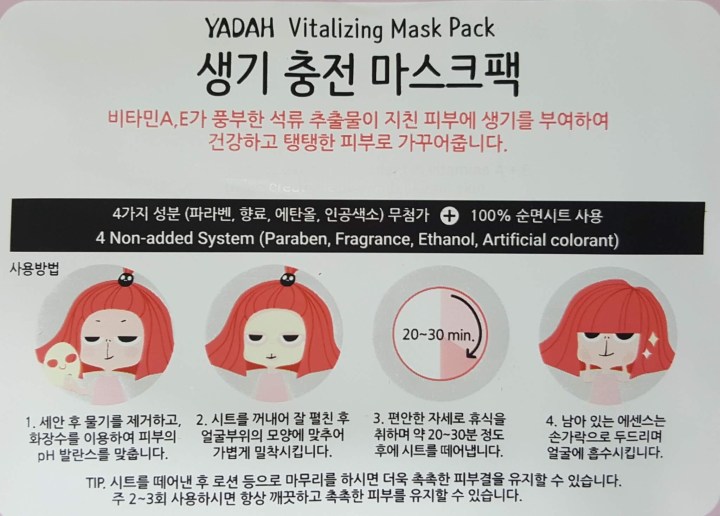 The Yadah masks are 4-free:  made without parabens, fragrances, ethanol, and artificial colors.
Dermal Collagen Essence Mask – acai berry ($1.99):  This mask provides antioxidants, as well as vitamin E and collagen, to keep skin firm, bright, and healthy.  Additional moisturizing benefits come from hyaluronate and aloe in the essence.
Lovemore Loofah &  Aloe Vera Hydrating Mask ($2.20):   Made from natural silk, this mask contains loofah and aloe extracts to hydrate skin.  This is a great mask for the summer – the aloe will help soothe skin after a day in the sun, and loofah provides extra moisture.  I've got a beach day coming up now that Florida is getting hotter, and I know that one of my friends will need the Lovemore mask to soothe their face afterwards.  Someone always forgets to reapply the sunscreen.

The natural silk stamp shows a picture of the fingertip exfoliator.  I still haven't gotten any of these in a box, and I really want to try them!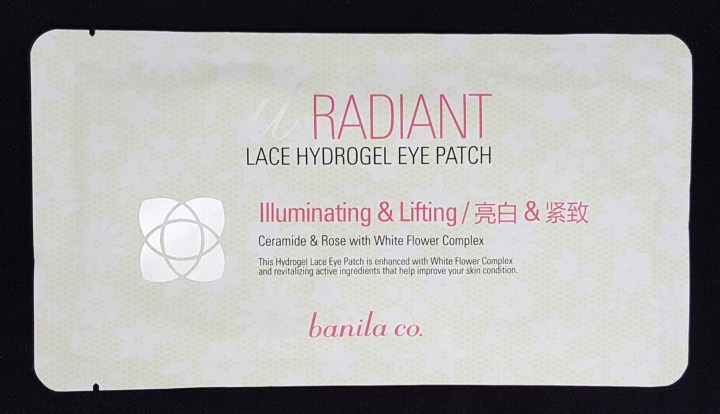 Banila Co. It Radiant Lace Hydrogel Eye Patch ($6.90):  This lacy white eye mask brightens the delicate eye area with green tea extract and reduces fine lines with collagen extract.  The mask has a light rose scent.  Generally, I am not a rose fan, but this was really faint.  Also, I liked that the mask felt cool on my skin.  I don't have fine lines around my eyes yet, but this did help reduce some under eye puffiness and dark circles that I had.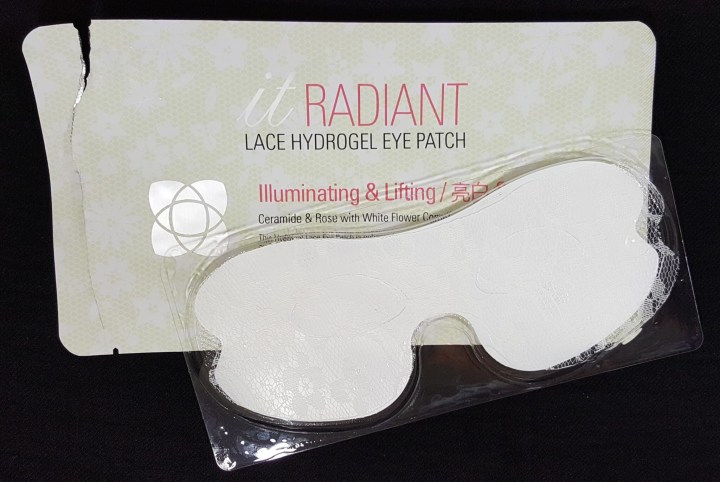 It's hard to see in my pictures, but there is a piece that covers the eyelid (like a tab).  It is connected to the mask where the bottom of the eye hole would be, and you can push that part down if you are multitasking and need to see.
This bag has a value of $23, just covering the monthly cost and shipping.  I tend to steer clear of moisturizing masks because they don't work well with my slightly oily skin.  However, most of the ones in this month's Mask Maven have antioxidant and astringent properties to keep blemishes at bay.  Plus, the fruit extracts in the masks I tried smelled so yummy (some were stronger than others) that they had me craving a fruit salad!  What did you think about the April Mask Maven?  Leave a comment below and let me know your thoughts.
 On a Side Note:  Before trying any Asian cosmetic subscription, expect that most information on the package will be in the native language.  That said, more and more brands are including directions/ingredients in English, and information can also be found in English on the majority of brands' websites (you may have to choose a brand's global or US site).  Secondly, a large number of products focus on brightening or whitening the skin.  As a person of color, I have not seen my skin color change.  Instead, I've experienced that my skin tone gets evened out after prolonged use.  However, your results may be different.  And lastly, many products contain ingredients which are animal-derived, so these may not be an option if you are vegan.  You can also check out cosDNA.com to see if the ingredients for the product are listed there.
What did you think about this month's Mask Maven?
Visit Beauteque Mask Maven to subscribe or find out more! Save 10% on the BB bag or Mask Maven with coupon code  CRATEJOY10.
The Subscription
:
Beauteque Mask Maven
The Description
: With a focus on K-Beauty, Mask Maven delivers 9-11 masks each month including sheet masks, foot masks, eye masks, and more!
The Price
: $18.95 per month