Genius Box is a STEM-focused activity and education subscription box for children ages 8-11.  Each month, your child will receive a box containing 3+ STEM activities that she can do by herself.  Each month's box has a different theme; previous themes have included sound, magnets, and circuits.  The April box's theme is "Be Green."  This box opens in one of the most fun ways I've seen:
I mean, what 8-year-old doesn't want to immediately tear into that?  Inside the fun green bubble wrap is all the materials your child will need, other than common items like a bowl, water, or scissors.
The April box contained the following:  a paperboard recycling wheel for coloring, a crayon pencil, a golf pencil, three starter seed pots, an aluminum can, stickers, orange paper, seed confetti, three peat wheels, bird seed, wildflower seeds, and a "surprise" for completing the tasks.  All of the materials were of reasonable quality for projects of this type.  The instruction packet contained information cards about "reducing, reusing, and recycling" with four activities included.
The cards are colorful and easy to read for the average 8-11 year old.  They are reasonably informative about the topic, though probably nothing a well-read 8-year-old hasn't already seen elsewhere.  The tasks are well-explained and the instructions are easy to follow.  This box's activities were definitely doable without adult help.
The first activity was making "seed bombs," which involved tearing up the paper, mixing it with water and the wildflower seeds, and then rolling up balls of wet goo to toss into the yard.  My 8-year-old was delighted with the idea of bombing the yard with flowers.  I'm not entirely sure how this illustrated "reducing," as the card said, but it was fun.
The second card, "reuse," had two activities on it.  The first was to make an "upcycled" bird feeder: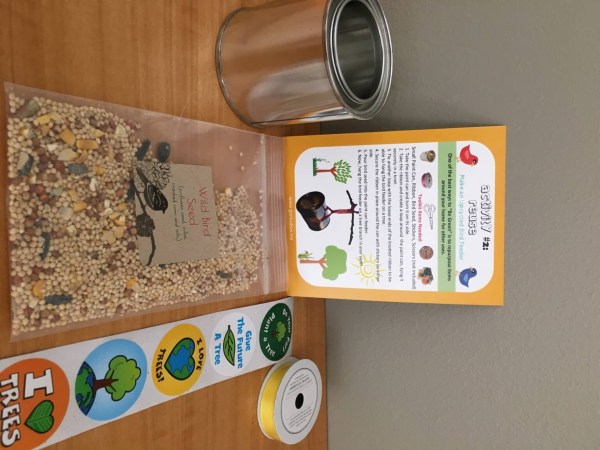 This task was quick, basically just tying the ribbon around the aluminum can and putting bird seed inside it.  I'm not sure how using all-new materials counts as "upcycling" or "reusing."  My 8-year-old declined to decorate the can with stickers.  She was a little ho-hum on this one, but she did like finding a tree and hanging it up for the squirrels birds.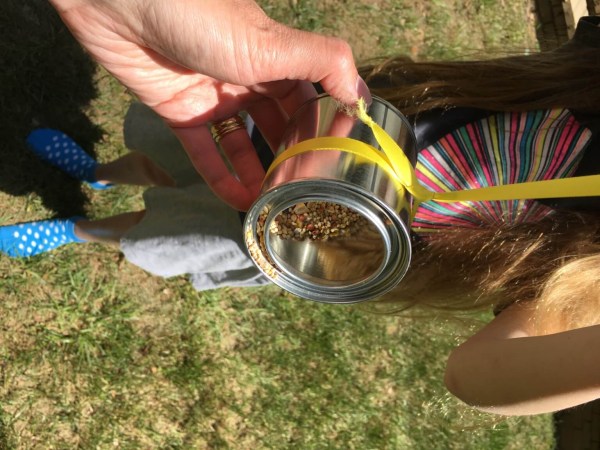 The second activity on the "reuse" card was planting paper confetti that we assume contains seeds, but this was a bit unclear.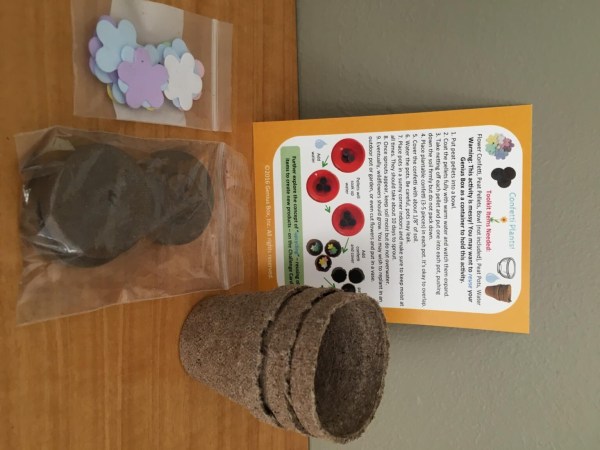 This activity was particularly fun because peat is super gross and messy.  That was fun to play with.  Otherwise, you just stick the peat pellets into the pots, add the confetti, and water.  I guess we'll see what grows! (Some grass for the yard would be nice. . .)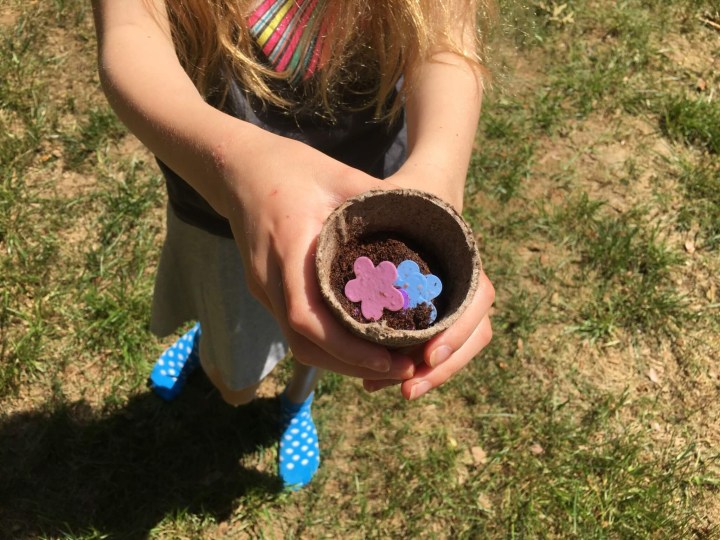 The last activity card was "recycling," and the task was coloring the included recycling wheel and posting it somewhere in the house.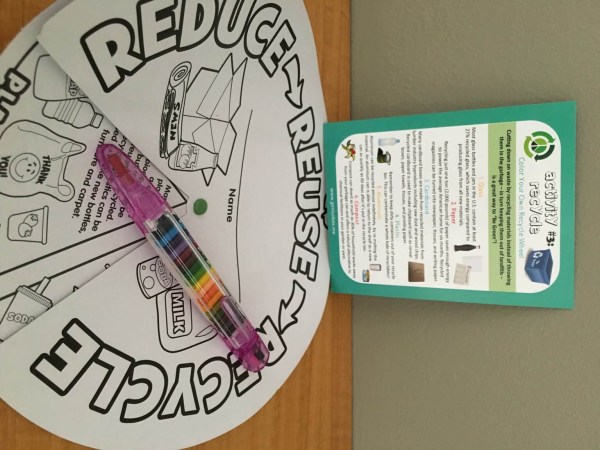 My girl liked the fun changeable crayon pencil (I remember those from when I was a kid!) but she's never been into coloring and wasn't about to start now.  For the sake of the review, we went ahead and opened the surprise "reward packet" for completing the tasks: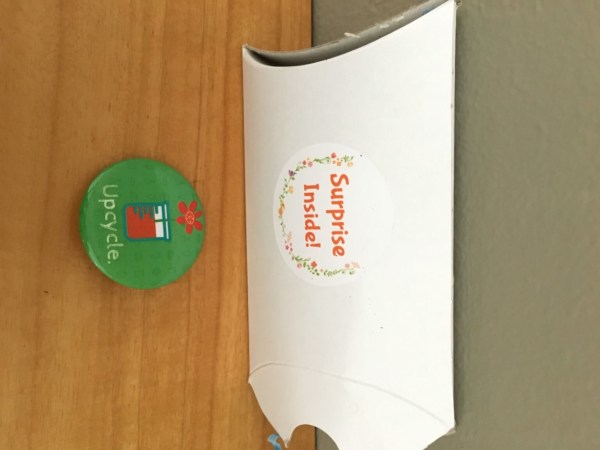 I was, personally, a bit perplexed by this button–is it a logo?  A statement of intention?  But the girl promptly pinned it on her shirt, so I guess it was an acceptable prize.
Overall, I LOVE the idea of this box.  We're big into STEM around here (#NerdFamily) and I like that kids are supposed to do these activities on their own and theoretically learn some things.  The tasks in this box, however, were more "craft project" than "science project."  That being said, my daughter got a solid 90 minutes of self-contained fun out of the box.  She liked that there were lots of different activities to do, and she enjoys a box full of craft activities as much as the next 8-year-old (girl, anyway).  I'd be interested to see if other themes, like circuits or sound, have more STEM-focused activities than the squishier "Be Green" topic of this box.
At $25 a box, this isn't cheap, but I can see it being a fun grandparent or aunt/uncle gift.  Everyone likes getting a box full of activities in the mail, after all, and you might as well get some science while you're at it.
Have you tried Genius Box with your kids?