Craft Beer Club is a monthly subscription that delivers a twelve pack of select microbrews right to your home.  Each selection has received acclaim and is very popular within its distribution area — CBC lets you enjoy them wherever you may be.
Shop for that perfect gift for Dad or your Grad and get $5 off AND FREE BONUS gifts! Use coupon code DADSBEER. Expires 06-20-2016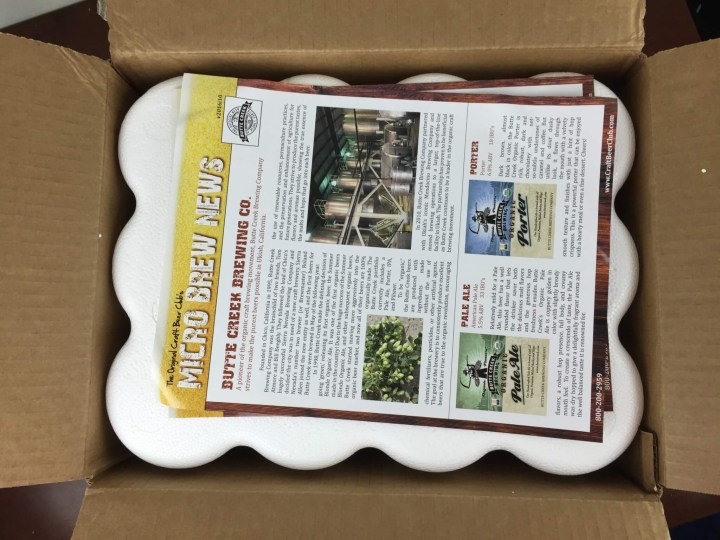 Every shipment includes relevant issues of the Micro Brew News.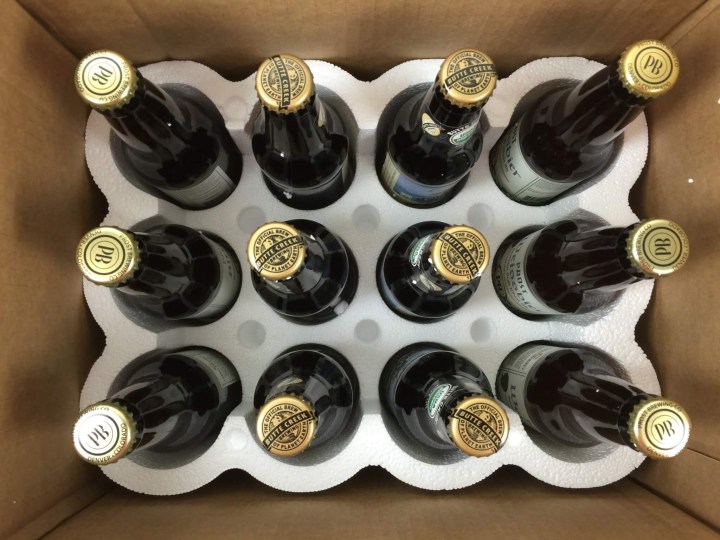 The Club delivers a mixed twelve pack each month.  We received three each of four varieties.  The selections have been a couple selections each from two featured micro breweries:  Denver, Colorado's Prost Brewing Company, and Ukiah, California's Butte Creek Brewing Co.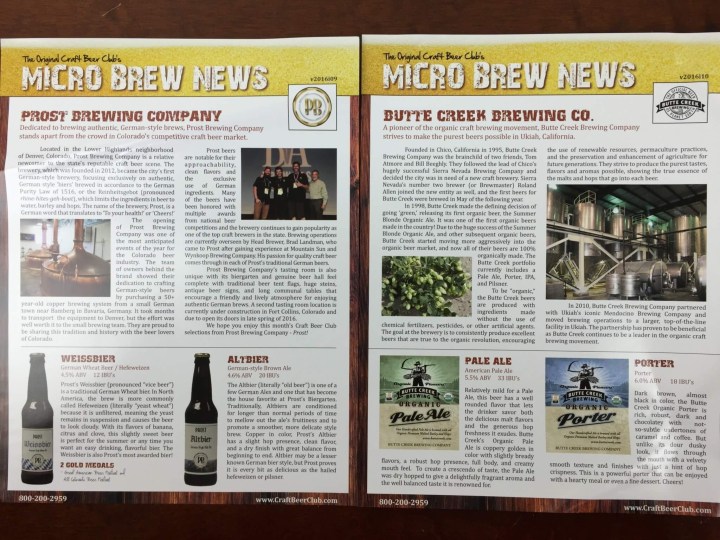 Two separate volumes of Micro Brew News were included, one for each pair of selections.  Each issue included information on the history and philosophy of the featured breweries, as well as details on the style, stats, and composition of each brew.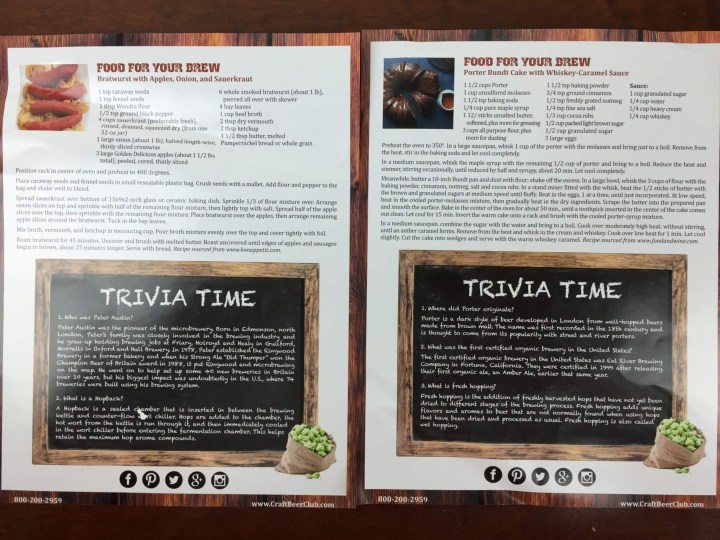 The back of each sheet had a recipe designed to pair well with the beer selections (or in the case of the Bundt cake, actually use the beer in the recipe!), as well as some beer-related trivia.
All the righteous bottles we received in this month's box!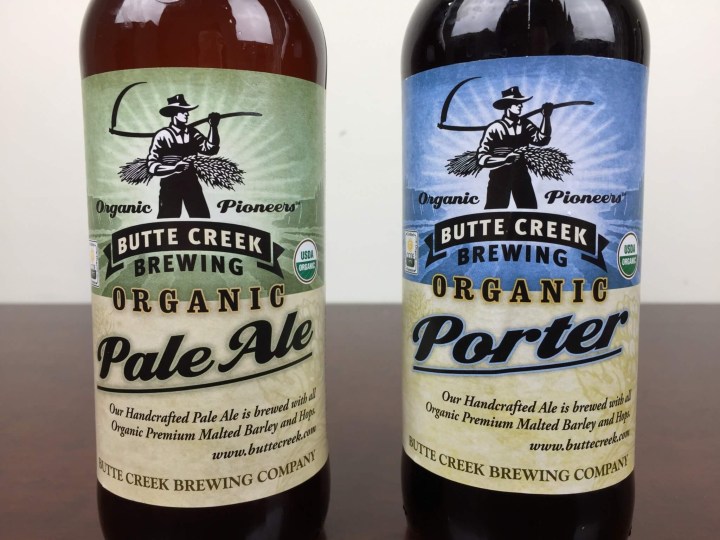 Butte Creek Brewing Co. Organic Pale Ale:  Butte Creek was one of the first breweries in the country to offer organic beers, and all their beers are now produced using solely organic ingredients.  The Pale Ale is an American style pale ale, less aggressive than the British IPA.  The hops is assertive, but balanced and straight down the middle — no skunky or piney notes emerged, just a touch of herbal crispness and slightly bitter bite.  The beer has a smooth, almost silken mouthfeel for a pale ale.
Butte Creek Brewing Co. Organic Porter:  The Porter shares the lovely texture of the Pale Ale, and it is somewhat lighter than one would expect.  The flavor is all there, though, with a rich chocolate, caramel, and coffee profile.  The beer avoids both bitterness and over-malting, maintaining a balanced drinkability.  Nicely hopped for a porter, giving it a crisp finish.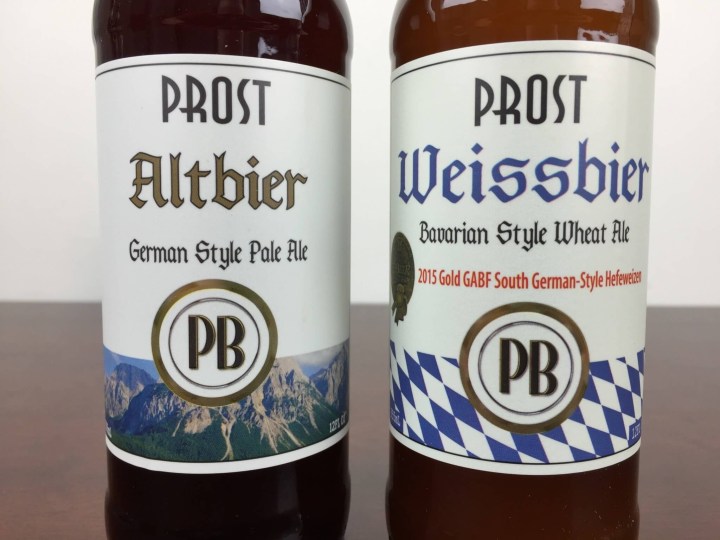 Prost Brewing Company Altbier:  Prost has their own peculiarity in sourcing their ingredients — apart from water, everything is sourced from Germany.  Their beers are all made in traditional German fashion, from German ingredients, and in accordance with the Reinheitsgebot (German Beer Purity Law of 1516, limiting permissible ingredients in a "beer" to water, barley, and hops — the reason Budweiser would need to be sold in Germany as the "King of Barley and Rice Malt Based Beverages.")  The Altbier, or "old beer" is a mellow copper ale subjected to an extended conditioning period.  The result is a mellow beer that has a surprisingly light attack — it tastes fresh, almost watery, at the tip of the tongue.  It beautifully envelops all other regions of the tongue, with a satiny texture and nuanced, sophisticated flavor.  The simultaneous intensity and subtlety made this my favorite of the batch.  That is, until I tasted the Weissbier.
Prost Brewing Company Weissbier:  Known popularly as Hefeweizen, or "yeast beer," this unfiltered wheat beer has a pronounced banana and clove flavor, as well as citrusy tingle.  The mouthfeel is off the charts, with the suspended yeast lending a thick and sumptuous texture.  Unfiltereds are popular way for micro breweries to virtue signal their respect for traditional beers, but the Prost offering really shows the high art of the style.  It is visibly and tactilely teeming with sediment, yet the beer reflects none of the sour or tangy off notes of the yeast, only a lovely, thick palate of flavor.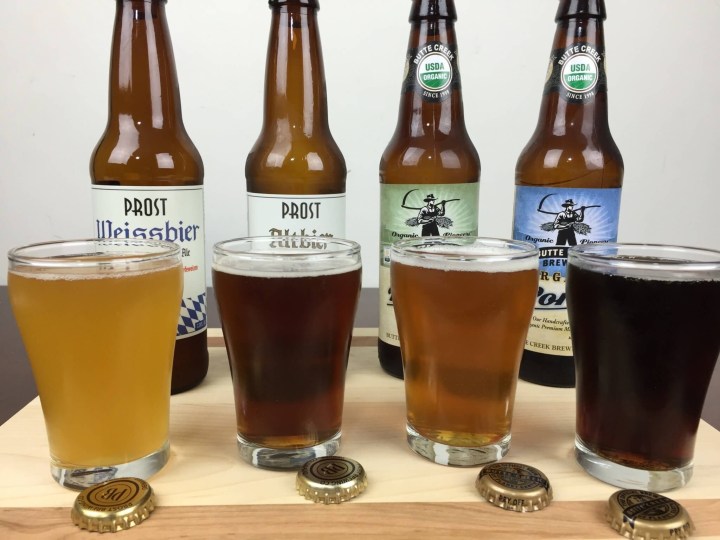 Taste the rainbow.  Left to right:  Prost Weissbier and Altbier, Butte Creek Pale Ale and Porter.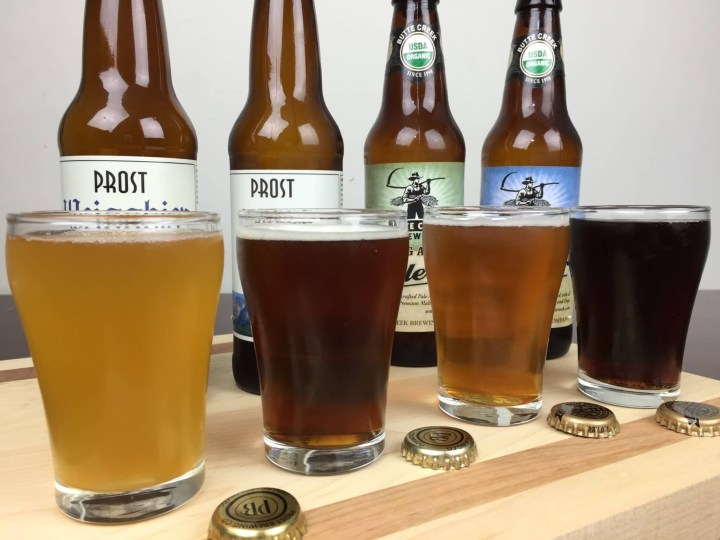 The glasses perspired a bit, making the beer appear more opaque than it actually is.  Only the Weiss, furthest left, had a cloudy look to it because of it's unfiltered nature.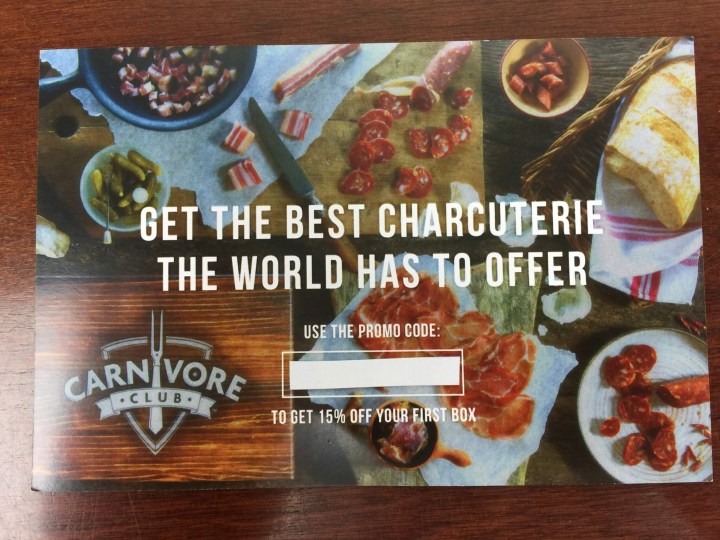 We also received a discount card to use for Carnivore Club, a curated charcuterie box.
May This was a beautiful bookend edition of CBC — it featured ardent adherents to the Reinheitsgebot, as well as pathfinders who've embraced the modern version thereof, the Organic movement.  Through purity of both concept and ingredients, this month's beers were head and shoulders above all comers.
I've enjoyed this subscription immensely, and I like that the selections include two beers from each featured brewery, as it allows you to appreciate their mastery of multiple styles.  They are all highly drinkable and appeal to a wide audience of beer lovers — none have been too dark or hoppy for my palate, with even this month's IPA displaying a great balance and drinkability.   This is a great subscription to split for boy's (or girl's) night, or just to have an ever-evolving selection of craft beers on hand for your own enjoyment.
If you'd like to subscribe, don't forget to use code DADSBEER to save $5! Coupons are rare for this subscription box!
Visit Craft Beer Club to subscribe or find out more! You can see the free items you'll get with an annual subscription in our first Craft Beer Club review!
The Subscription
:
Craft Beer Club
The Description
: 12 craft beers delivered each month! Exceptional craft brews from around the country produced by small-production, independent brewers who use only traditional brewing ingredients and time-honored brewing methods.
The Price
: $39.00 per month