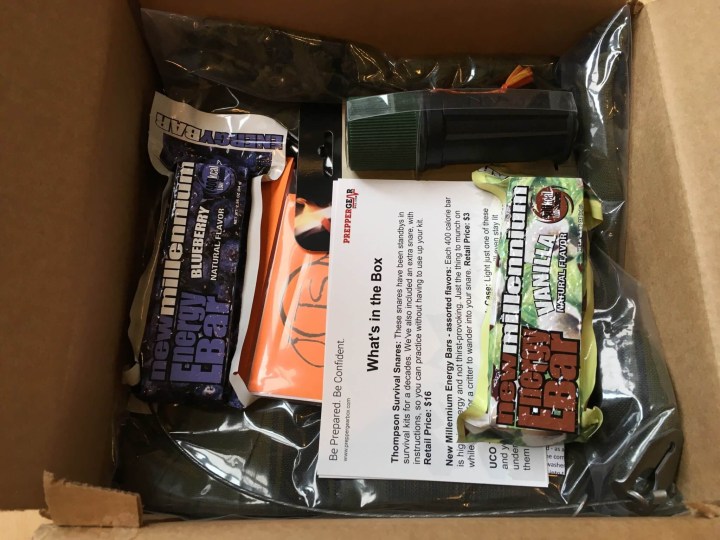 Prepper Gear Box is a subscription box that delivers, on average, 2-3 items of practical survival gear plus an information card to help you learn and practice new survival-related skills each month. Prepper Gear Box wants its subscribers to be prepared for any situation or emergency that may arise. As such, it's an ideal subscription for outdoor enthusiasts, hunters, hikers, campers, backpackers and survivalists. As a company, they try not to waste money on fancy packaging so that your money goes as far as it can into what matters most: gear and information.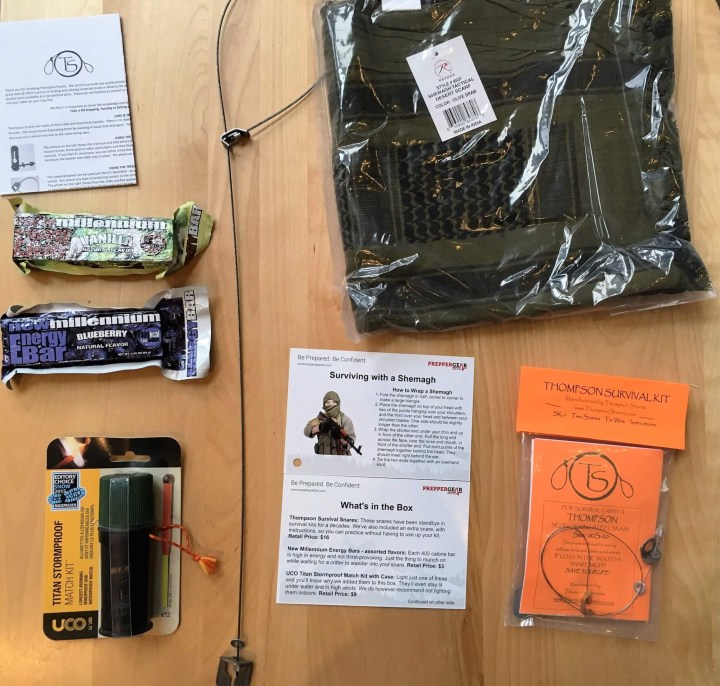 This month's box contained a traps, energy bars, a stormproof match kit, a scarf and information on how to use the scarf.
I love how the curators include notes as to the importance of each item in the box and why the item was included in this month's shipment.
The three enclosed Thompson snares ($16) would be a useful addition to a survival pack. Made in the USA from stainless steel, each snare comes with directions, which include information on how to use the traps, where to set them up and tricks to make your snares more successful. When using traps, it's especially useful to know how to trap legally. In Texas, for instance, you must check your trap at least once every 36 hours. If you've caught an animal, you must remove it immediately. Also, the diameter of your trap cannot exceed 10 inches. You may only trap on private land with the consent of the land owner. You may not trap in wildlife sanctuaries, on the sides of highways or their right of ways. There are additional regulations, but you get the idea. Check your local laws before using these.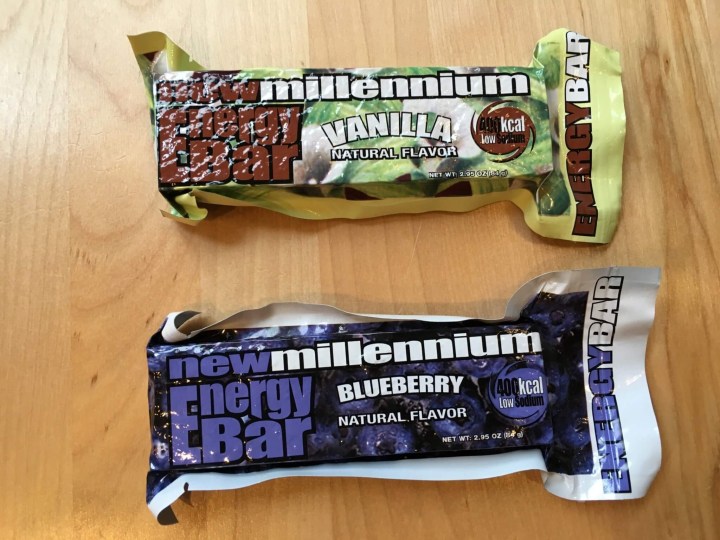 These New Millennium Energy Bars ($2.58) have the consistency of shortbread cookies. Containing a whopping 400 calories each, these sweet bars pack a punch. Although not the healthiest bars around, they taste great and would make good meal replacements in an emergency. Prepper Box encourages munching on these while waiting for an animal to step into your snare.
This Titan Stormproof Match Kit ($9) looks great! The matches themselves have a 25 second burn time and can relight, even after being submerged in water. Inside the floatable waterproof case are 12 matches and 3 replaceable strikers. The case comes with a cord that can attach to a lanyard. I'm putting these in my camping pack today.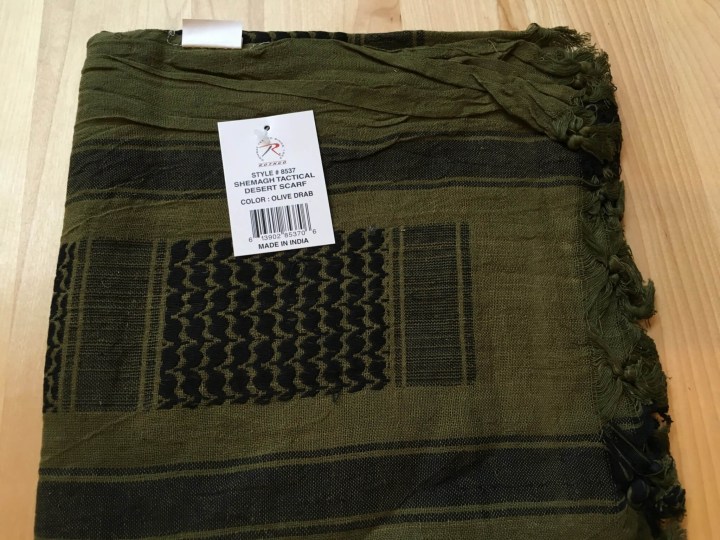 The Shemagh Tactical Scarf ($11)  is not only attractive (I love the olive green color!) and lightweight, but it would come in handy in a lot of different situations. Prepper Gear sent some suggestions for how to use this on the enclosed information card this month.
The Shemagh can be used for sun protection, for keeping cool, to collect water, and as a towel, weapon, bag, emergency bandage, pillow, water filter, signal flag, pot holder, tourniquet or ankle wrap. Whew! These are all great ideas!
This month's Prepper Gear Box included loads of helpful tips and a lots of cool gear at a value that's significantly higher than the cost of the box. I can't wait to see what they have in store next month!
What do you think of Prepper Gear Box? Save 10% on your first box with coupon code CRATE10
Visit Prepper Gear Box to subscribe or find out more!
The Subscription
:
Prepper Gear Box
The Description
: A new monthly subscription box service for those who like survival gear and
education.Every
Prepper Gear Box contains 2-3 (or one very cool) carefully selected, high quality survival gear and preparedness items. Plus each box will have helpful tips, instructions and challenges to grow your survival skills and confidence in any situation.
The Price
: $25.00 per month