Planner Girl Provisions is a monthly subscription box for all the planner loving scrapbooking snail-mailistas out there! The subscription costs $24.95 per month, and you'll get a box filled with a lot of stationery products you can use for your planner or papery projects like stickers, stamps, page flags, sticky notes, washi tape, note paper, pens, pencils, and other must haves!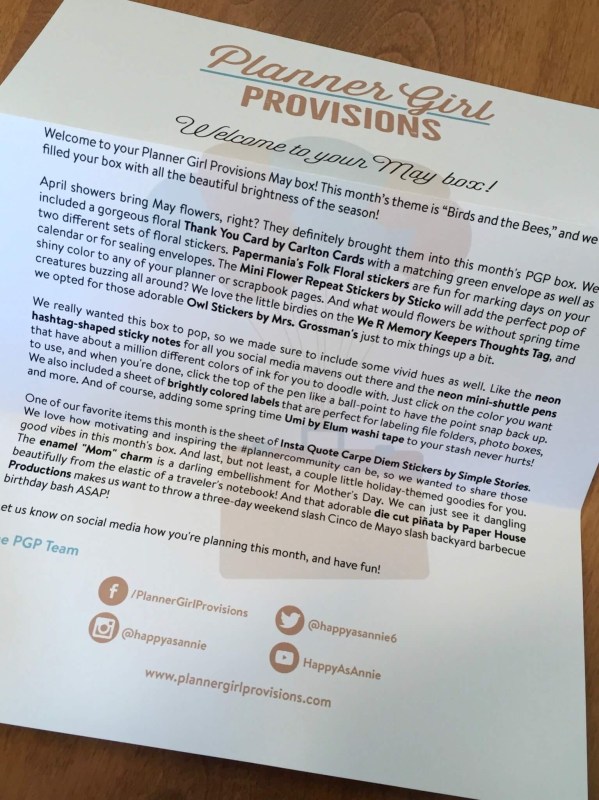 The information sheet provides all the details about the items included in the box. I love the theme: "Birds and the Bees."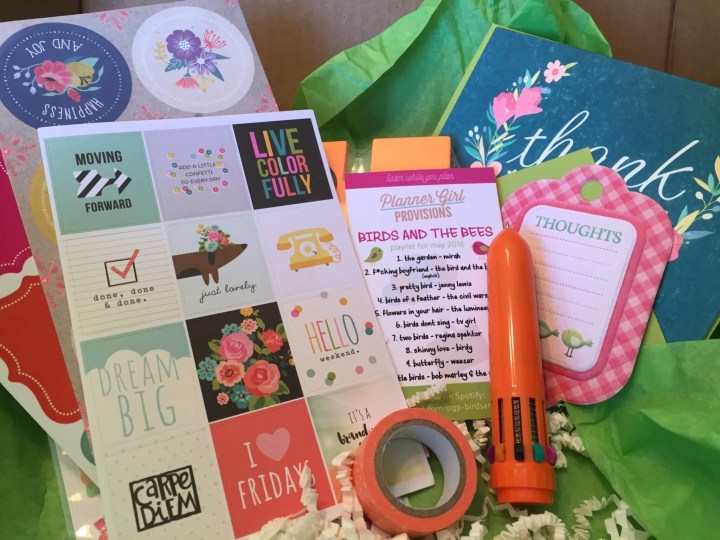 All of the items in the box!
The first thing I spotted was the Thank you Card by Carlton Cards. This comes in handy, because I just bought a new home, and have been getting housewarming gifts! I love the floral pattern! Pair this alongside the Umi by Elum Washi Tape and you have a wonderful looking Thank you card!
My favorite item in the box (yes the stickers were my favorite as well) was the Neon Hashtag-shaped sticky notes. I love a good hashtag, and these are too much! I can not wait to use them!
I love that they included a few tags and (We R Memory Keepers Thoughts Tag) and the adorable die cut Piñata by Paper House Products (OMG so cute!)
Since Mother's Day is in May, they added an adorable charm that says Mom. This really warmed my heart!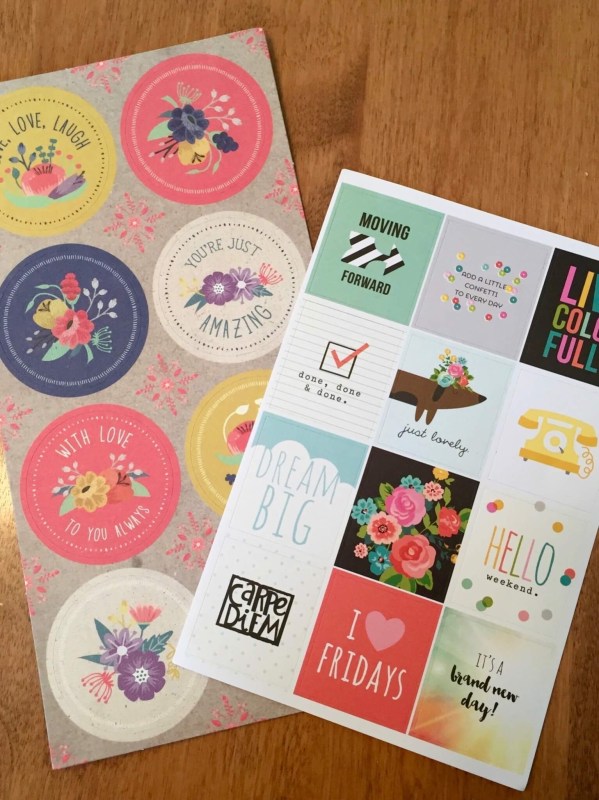 I just adore planner stickers, I think I may have over 100 sheets, and these Papermania Folk Floral Stickers ($1.19) are one of my favorites! I love that you can not only use these as planner stickers but also as stickers to seal an envelope or decorate a card or scrapbook! I am a huge floral girl!
The Simple Stories Insta Quote Carpe Diem Stickers are also adorable! These are perfect for my A5 planner (as it is bigger than a personal.) They are printed on nice thick paper, and will look adorable on my weekly spread!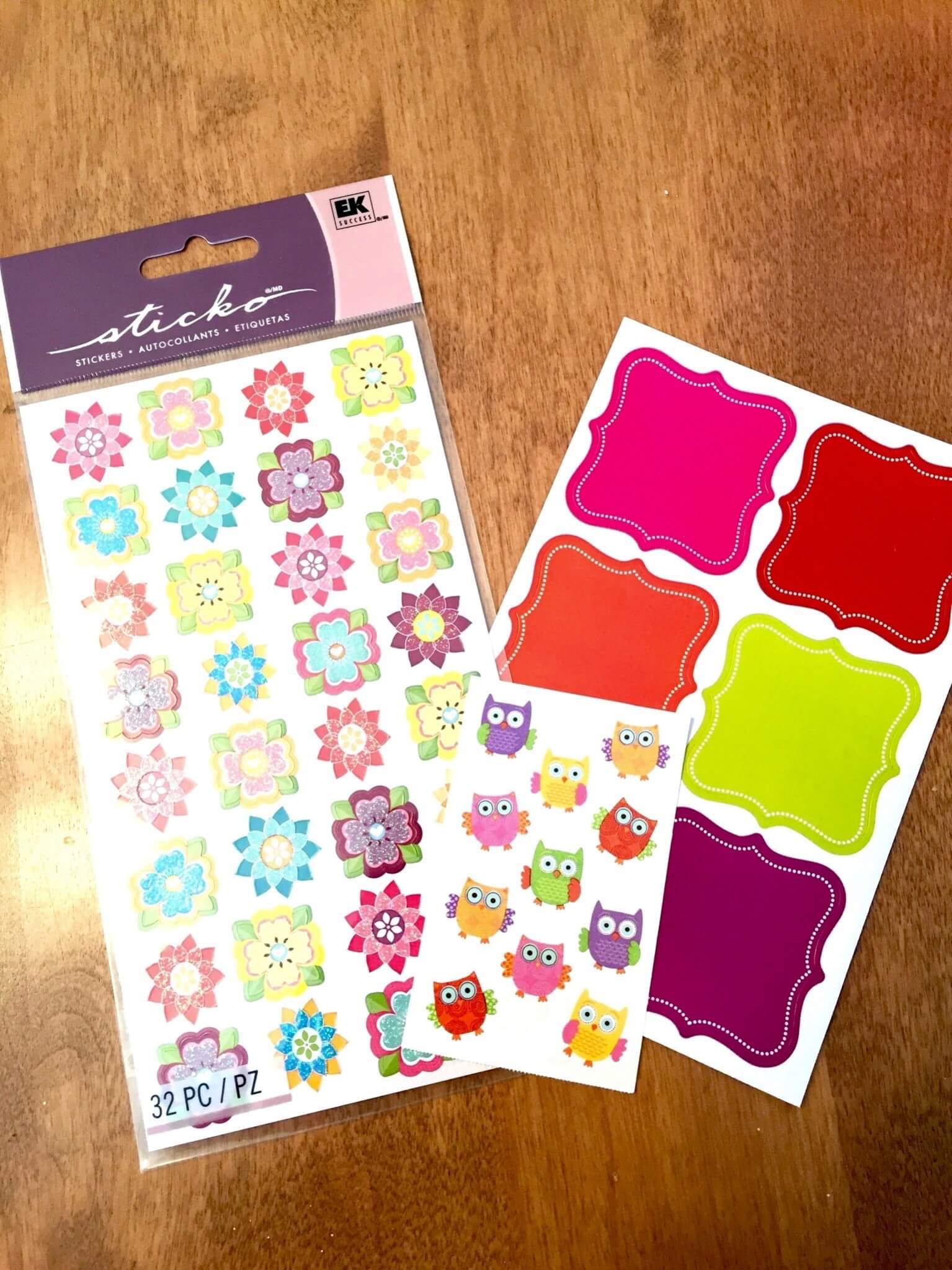 The Sticko Mini Flower Repeat Stickers were raised, and adorable! These are perfect for scrapbooking as well and the Mrs. Grossman Owl Stickers ($3.18) are just the cutest things I have ever seen. My daughter took these and ran (she loves owls!)
Last but not least the brightly colored labels were a perfect addition! These are great for pretty much anything! I used the green one to put the address on for my thank you card!
My overall impression of this box was FABULOUS! I love to plan, and I loved this box!
What did you think of Planner Girl Provisions?
Visit Planner Girl Provisions to subscribe or find out more!
The Subscription
:
Planner Girl Provisions
The Description
: Planner Girl Provisions is a monthly subscription box for the non-digital, snail-mailing, scrapbooking, paper-loving #plannergirl in all of us! Get a thoughtfully themed and expertly curated box each month filled with about a dozen stationery goodies, like stickers, stamps, washi tape, paper, sticky notes, labels, pens, cards, tags, and other planning, crafting, and stationery supplies.
The Price
: $24.94 per month