Aster Market is a monthly women's subscription box featuring small-batch handmade items. Every box will feature 2 or more products from categories like home décor, jewelry, accessories, paper goods, bath products and more, with a total retail value of at least $40.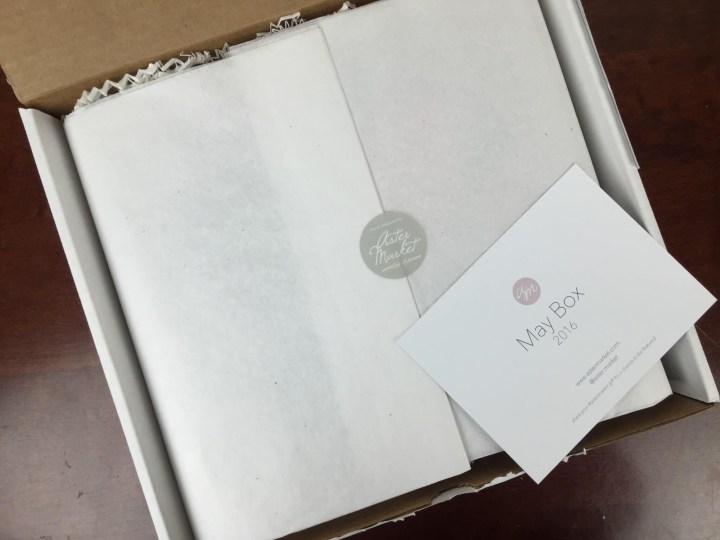 25% of the net proceeds of each month's box will be directed towards one of their supported charities – you choose at checkout.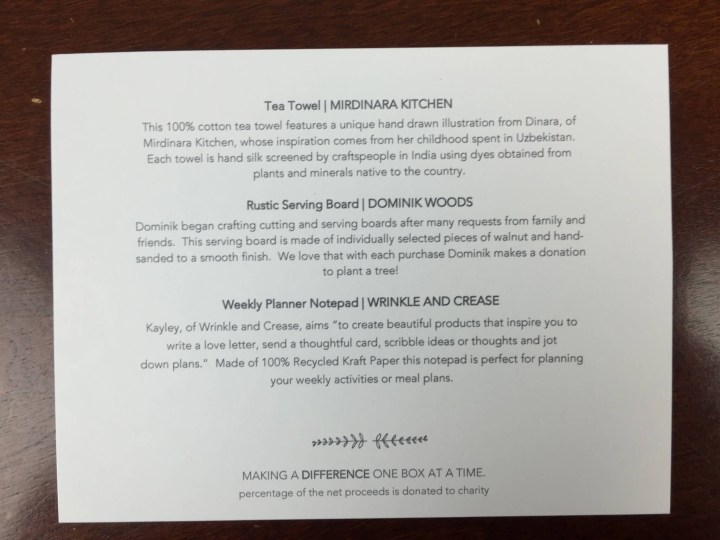 The information card has details on each item.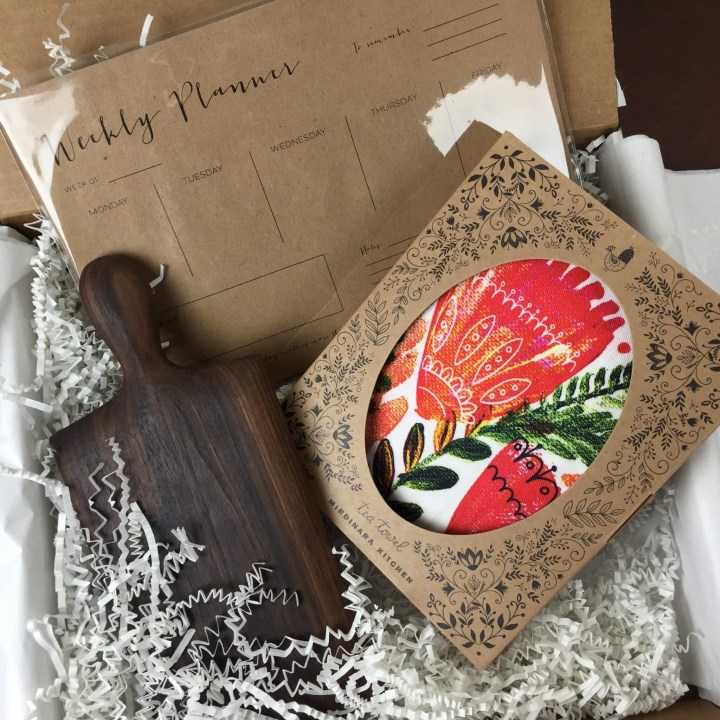 Everything in the May box!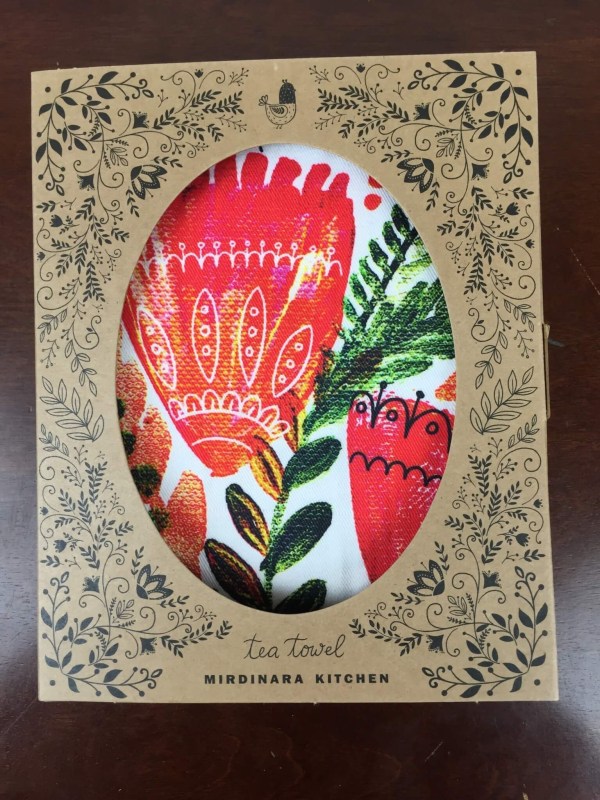 Mirdinara Kitchen Multicolor Flowers Tea Towel ($24) This is the most beautifully packaged tea towel ever!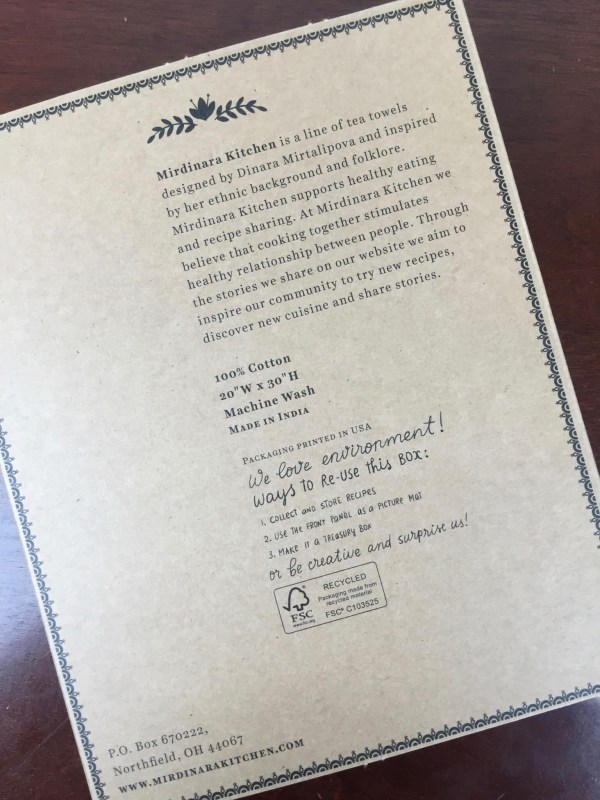 I loved everything about the package – including the fact that it had information about the maker, box reuse ideas, and extra details about the towel (20″x30″!).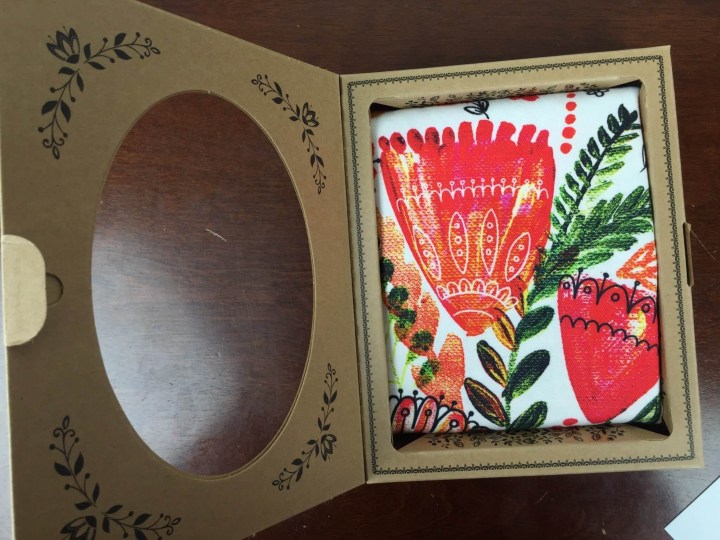 It was like opening a book!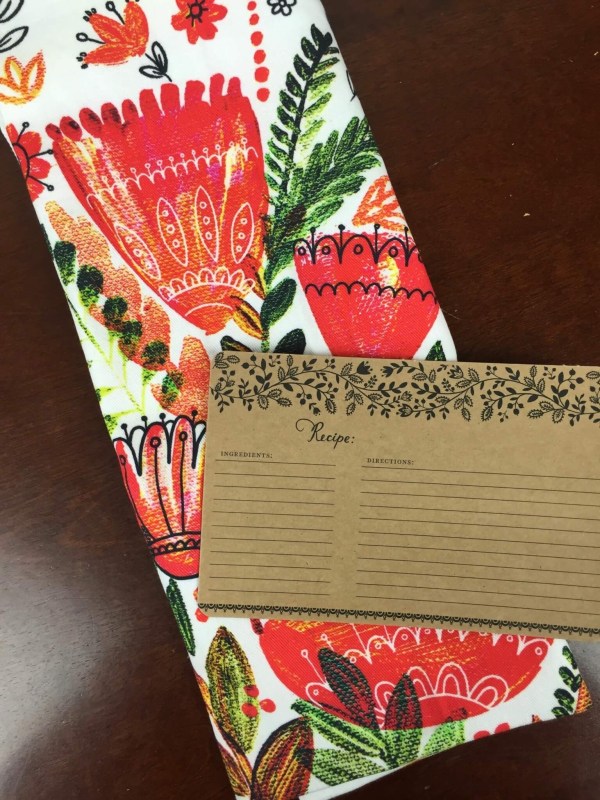 The towel is vibrant and gorgeous, and even came with a recipe card!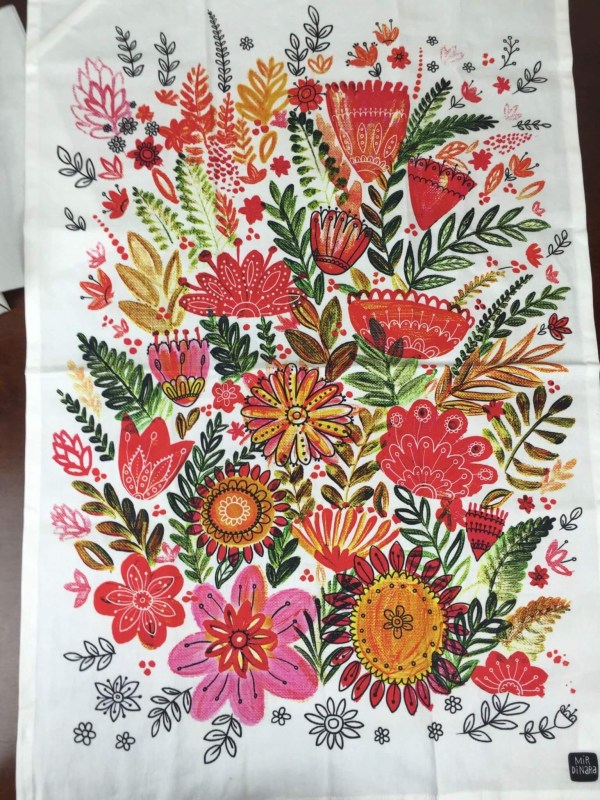 Look at this beautiful thing. I absolutely love it. It's screened by hand in India using native dyes and minerals.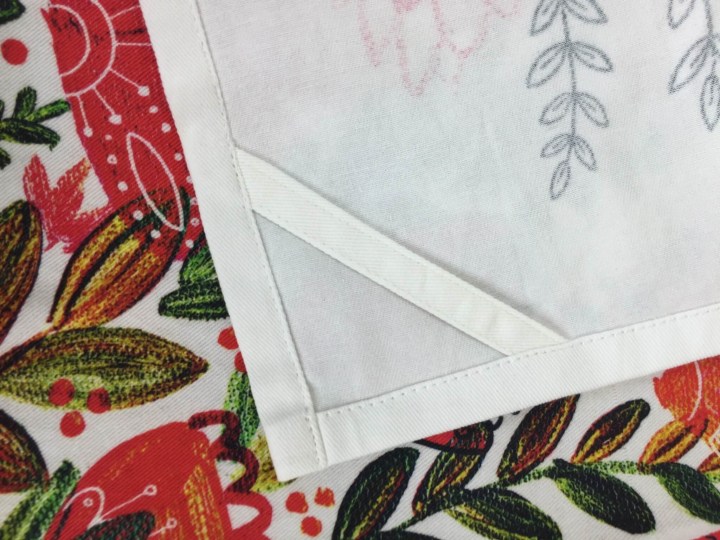 It's sturdy too, made out of nice cotton twill, with a towel loop sewn on the back.
Dominik Woods Rustic Serving Wood ($36) Another beautiful item. This small cheeseboard is perfect for entertaining, and I can just see it nestled against the draped tea towel.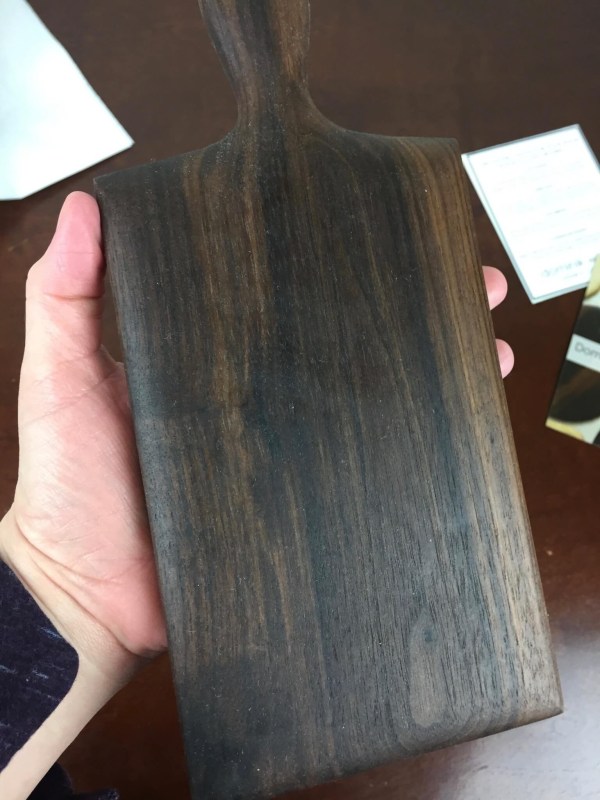 The serving board is about 9″x4″ and handmade with American hardwoods. I love the grain.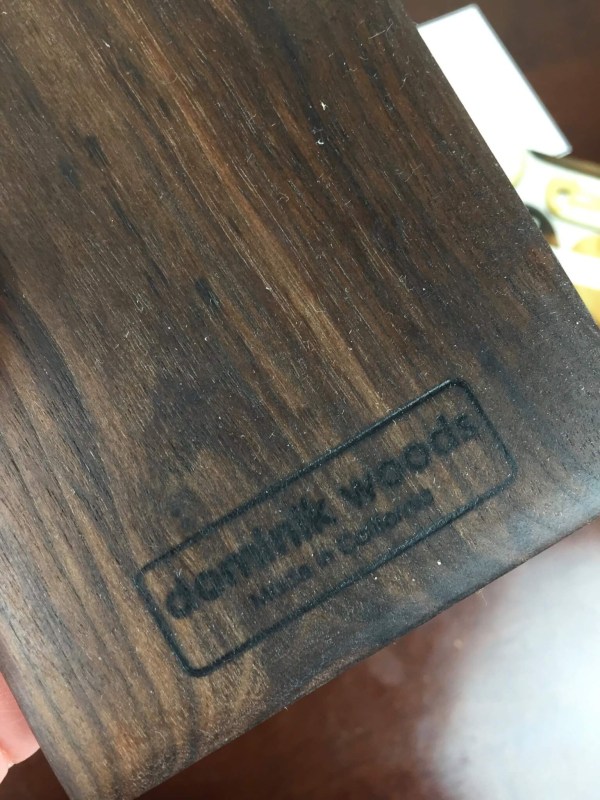 The back is stamped with the maker's mark – and it's made in California. Dominik Woods donates money to plant a tree with every piece sold!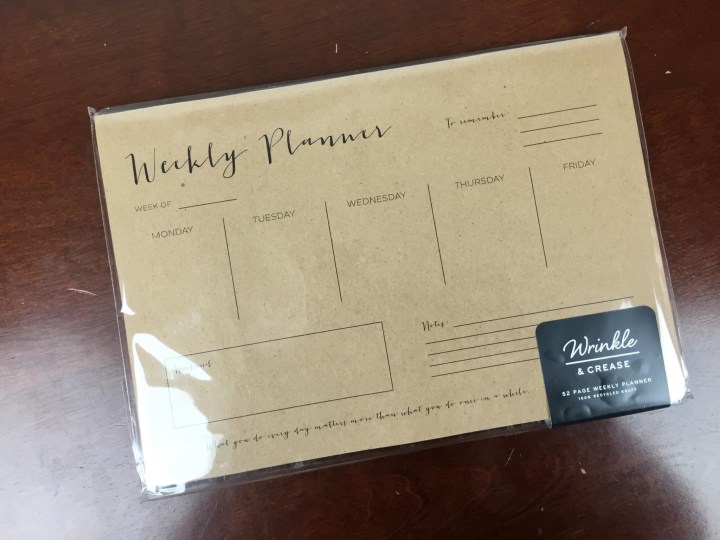 Wrinkle and Crease Weekly Planner Notepad ($14) This is perfect for my family. My husband & I use sheets similar to this already to help plan our focus for each day, which sounds really dorky and perhaps super type-A, but we do.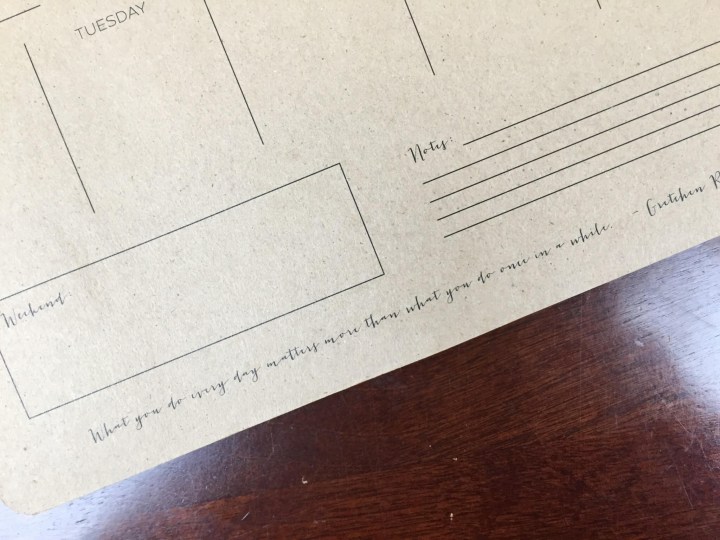 "What you do every day matters more than what you do once in a while."
This is a nice pad of lots of sheets – and all made from recycled kraft!
This was my favorite Aster Market box of all – loved all of it! The value of the box was about $54 this month, but since I'm hopelessly in love with all of it, I'm calling it a huge success!
What did you think of this month's box? Use coupon code SHARE20 to save 20% on your first month.
Visit Aster Market to find out more.
The Subscription
:
Aster Market
The Description
: Aster Market is a monthly delivered box of exceptionally made, small-batch products from around the world. We curate one-of-a-kind experiences that will ignite conversation and add that special touch to your life! We scour the globe for unique goods, ranging from the warmest home decor to the most exquisite paper goods, bath products, jewelry and more. Each subscription also makes a difference! Subscribers can choose a non-profit from six categories that will receive 25% of the proceeds.
The Price
: $39.95 per month plus $7 shipping (free shipping with 6+ month subscriptions)