Akibento is a monthly Anime subscription box! They promise an epic shirt monthly and $60 in value over 6-8 items, all perfect for anime fans!
The Japanese characters at the bottom of the box reads "tsuzuku" or "To Be Continued" in English.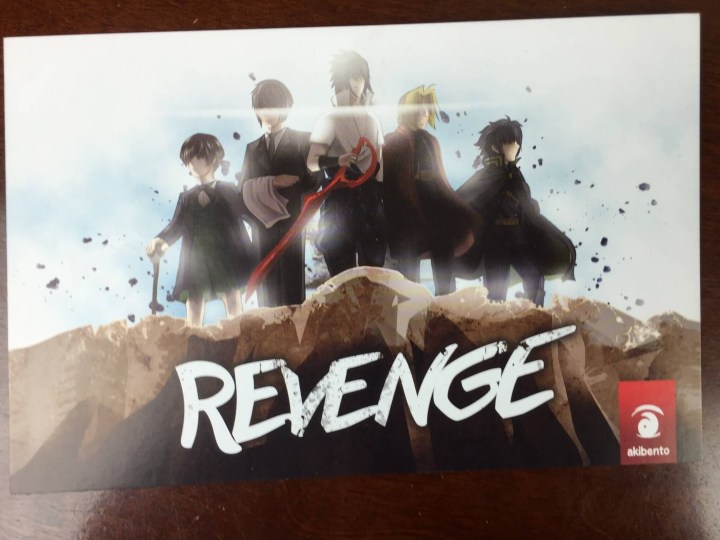 A driving theme in anime and manga is the idea of revenge.  Attempting to make right what was wrong has led many a protagonist and antagonist on interesting adventures- for better, or for worse.  Let's take a look at what Akibento has chosen to represent this theme.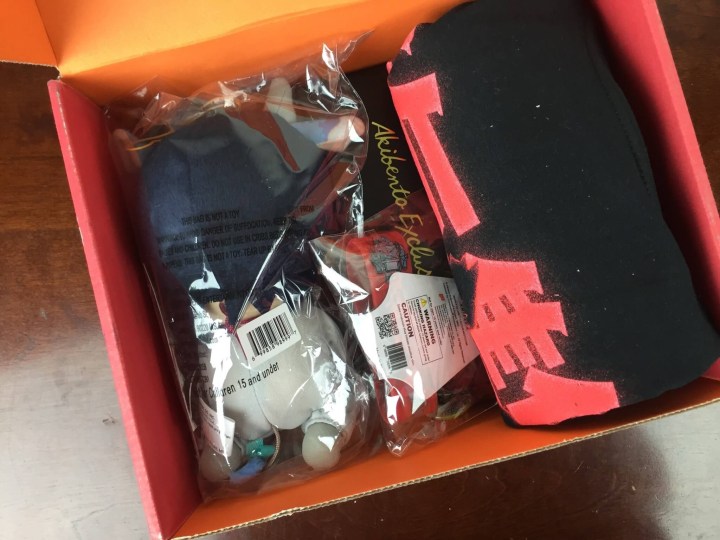 The theme of this month's box is another popular genre in anime and manga: Revenge.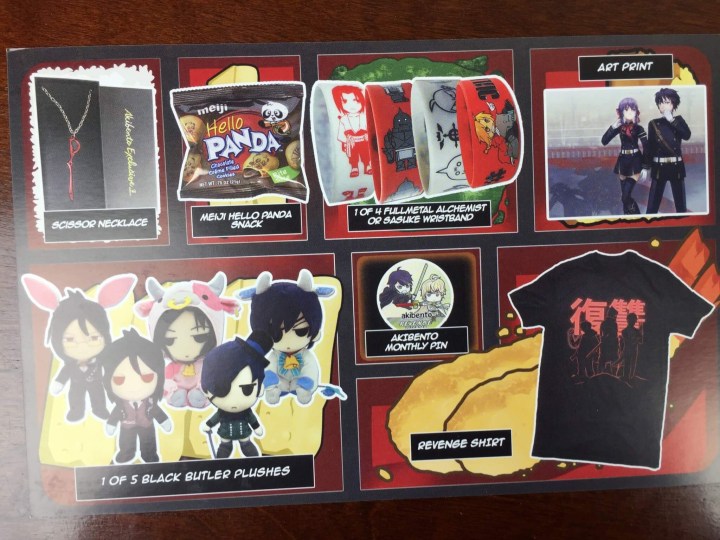 The information card lists the items in the box and their pictures.

Everything in our box!
Full Metal Alchemist Brotherhood PVC Wristband:     Unless the addition of this particular anime and manga to the box was a reference to vengeance against fate or an intangible target, I am a little confused as to why it was chosen.  Fullmetal Alchemist centers around the Elric brothers, Edward and Alphonse and takes place in a world where Alchemy is the highest science performed.  Alchemy allows one to transmute anything so long as something personal is offered in exchange.  The only exception to this is that humans may not be transmuted.  To try this is to physically loose a piece of yourself.  The two brothers of our story learn this the hard way when their mother dies and they attempt to bring her back to life.
Akibento Monthly Pin:  The themed pin shows two characters sword fighting.  I'm not quite sure if the characters are meant to represent a specific manga (they do kinda remind me of Ao no Exorcist a bit); if they do, I'm afraid that I do not recognize them. 
Meiji Hello Panda Snack:    I'm not sure what this has to do with revenge (unless you happen to have something against pandas and simply enjoy the thought of eating a cookie with a picture of one on it), but that hardly matters as these little bits of happiness are good!  The cookie is light and crunchy and houses a generous and rich chocolaty center.  Each as a picture of a panda on it, but how anyone could waste time looking at them instead of eating them is beyond me.  These are a nice snack addition to the box!
Out of four possible bands, ours was the one showing the form of Alphonse Elric.  His completely mechanical body, punishment for trying the forbidden transmutation of humans, is shown from different angles.  The band is thick and sturdy and the image does not crack when it is stretched.  It was a bit of a squeeze to get it over my hand, but when it was past that, it circled my wrist snugly.  Though not uncomfortable, I'd say that this band is probably best for children or those with wrists more narrow than mine.
Art print
The box included an original work of art by artist Carissa J.   It is well done and I personally like how the back ground appears to be foggy.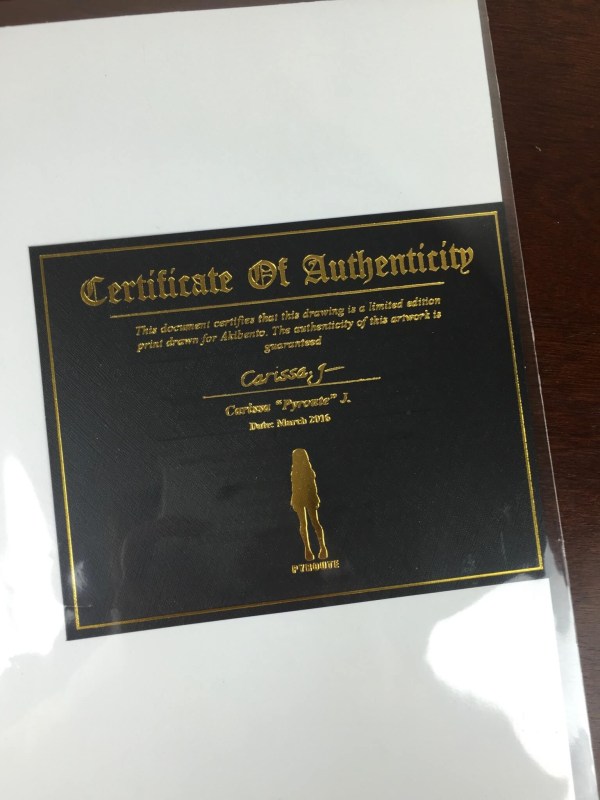 The print is on a heavier paper and comes with a small certificate of authenticity. 
Akibento Revenge Shirt: The shirt is probably my favorite piece in the box (aside from the uber cute Cow-Ciel of course).  It features from left to right, Edward Elric from Fullmetal Alchemist, Saske Uchiha from Naruto, and Sebastian Michaelis from Black Butler.  The word for revenge in Japanese (fukushyu) is written in glowing red kanji behind them.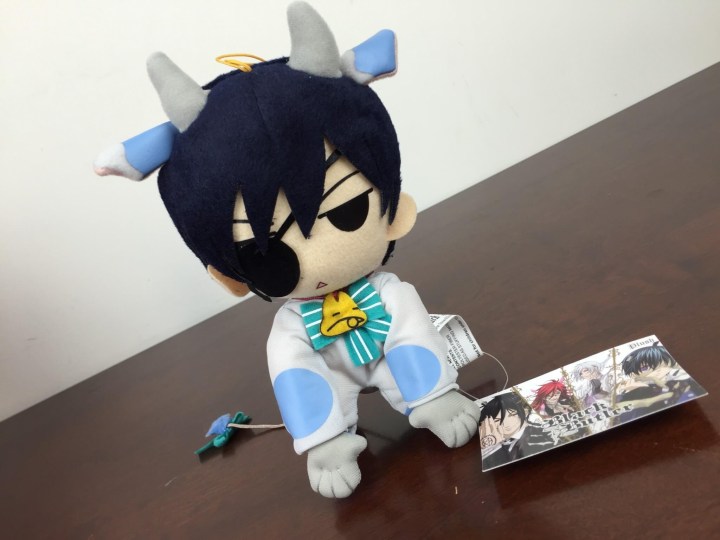 Kuroshitsuji (Black Butler) Ciel plushie
The idea of revenge and the ends to which some are willing to go to achieve it are sobering thoughts as it is, however those are hardly disturbing when compared to the story of a child so bent on vengeance that he accidentally summons a demon to aid him.  On the night of his tenth birthday, Ciel Phantomhive's parents were murdered, his home is burned to the ground, and he is kidnapped to an unknown location where, for an entire month, he endures torture and humiliation.  Sometime during that horrific month, it appears as though his captors are attempting to reach a demon themselves, however Ciel's blind hatred and paralyzing humiliation are louder and the demon that would come to be named Sebastian, answers to him instead.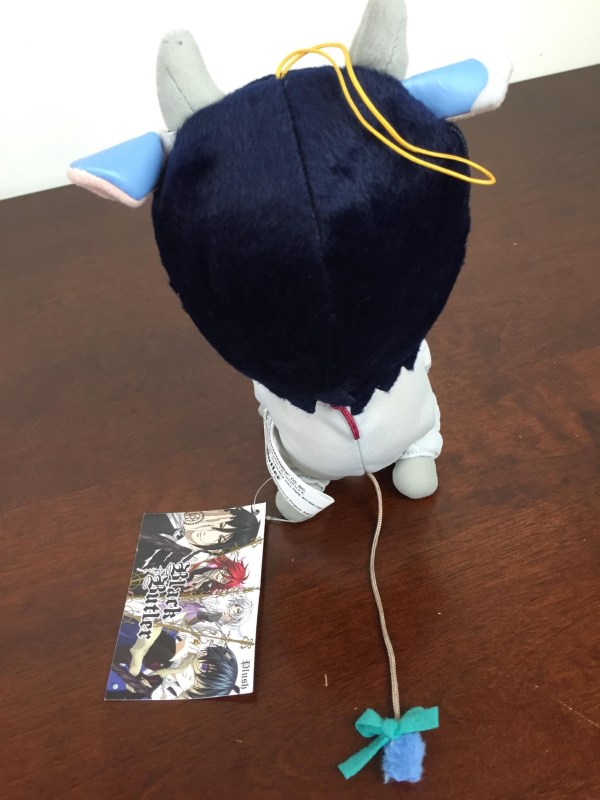 After making a contract that will require Sebastian to obey and help him exact revenge- all at the cost of his young soul- Ciel orders his captors killed and appears once again in the world of the living – old beyond his years and with a strange new butler in tow.  While the premise of the manga is dark, it does have its lighter and humorous moments and the quirky plush that we received in our box does a good job summing up that aspect.  Out of five possible plush dolls, we got the Ciel/cow doll.  This funny little figure features the young lord of Phantomhive dressed as a cow, complete with horns and ears atop a large head.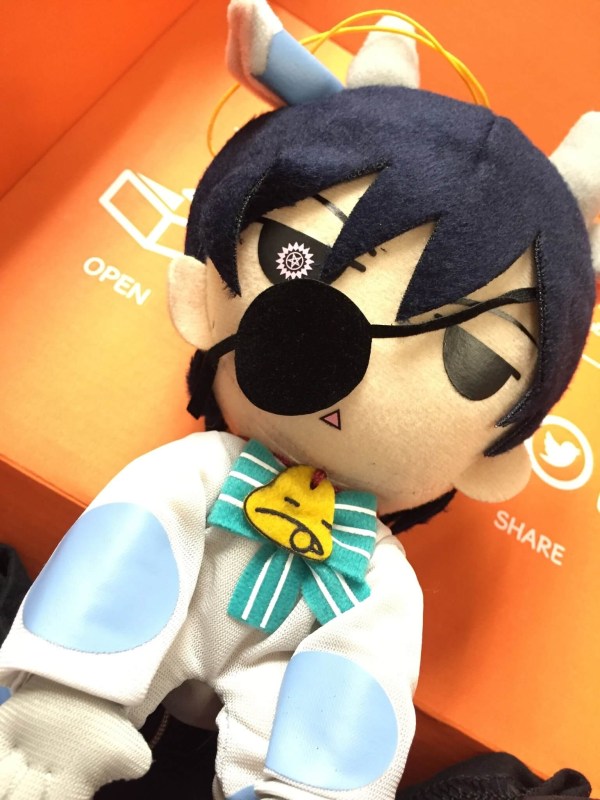 The eye patch can be moved to reveal the sign of Ciel's contract with Sebastian and an extra-long tail completes the comic figure.  The item is well-made and is a unique way of showing your appreciation for the manga.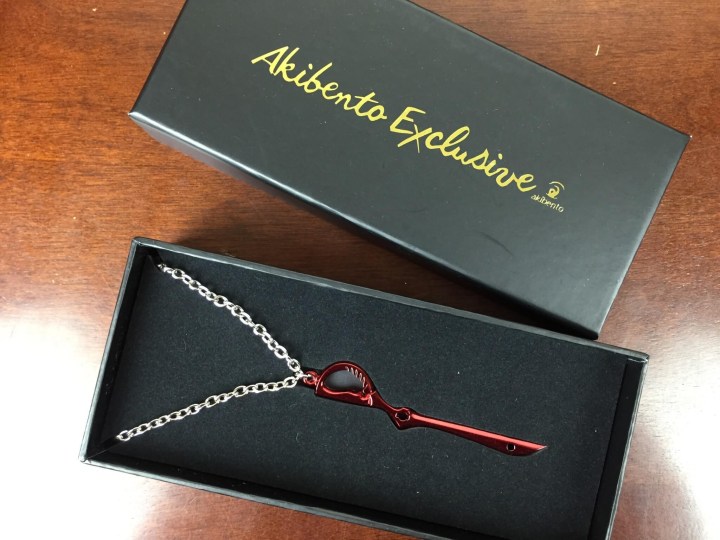 Akibento Exclusive Scissor Necklace: Last, but not least, is the necklace bearing one red scissor blade.  It reminds me of another manga where the character wields half of a scissor blade as a sword, and interestingly enough, that character was after the person who killed their father.  I don't believe that Akibento was trying to reference that show as nothing was mentioned on the card.  The scissor is substantial and strong and looks pretty cool in metallic red.
The chain is a silver color and longer than a traditional necklace. 
Do you subscribe to Akibento? What did you think about this month?
Visit Akibento to subscribe or find out more! Save $3 on your first month! Use coupon code  ANIME.
The Subscription
:
Akibento
The Description
: A monthly box of epic gear for Anime fans! Our goal is to bring the most authentic and original figures, collectibles, manga, apparel, accessories and more to our customers worldwide in our monthly subscription box.
The Price
: $29.95 per month