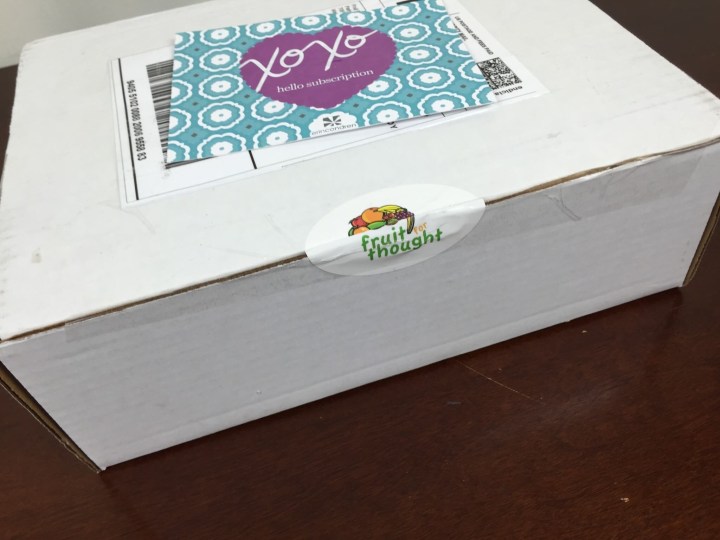 Fruit For Thought is a bi-monthly subscription box that brings cute gift items that follows a vegetable or fruit theme. You'll get an assortment of items like jewelry, bath and body products, stationery, yummy goodies, home accessories, and a lot more.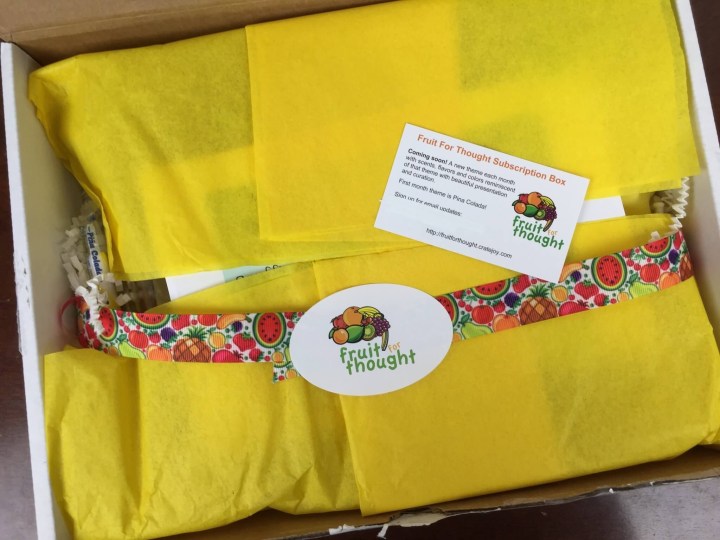 The items are neatly wrapped in a yellow tissue paper. I love the ribbon, which I totally saved!
The theme for the May-June 2016 Fruit For Thought Box is Pina Colada! The information card shows the items included in the box, as well as its prices.
It also teased the upcoming theme for July-August 2016, which will be Blueberry Peach Cobbler! This box is so fun, I love the theme ideas!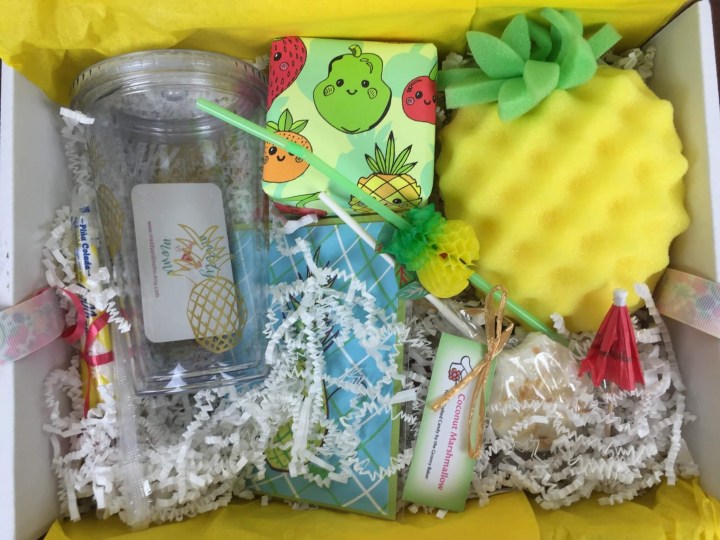 Opening this box was squeal-worthy. I love everything about pineapples, and it was just so cute!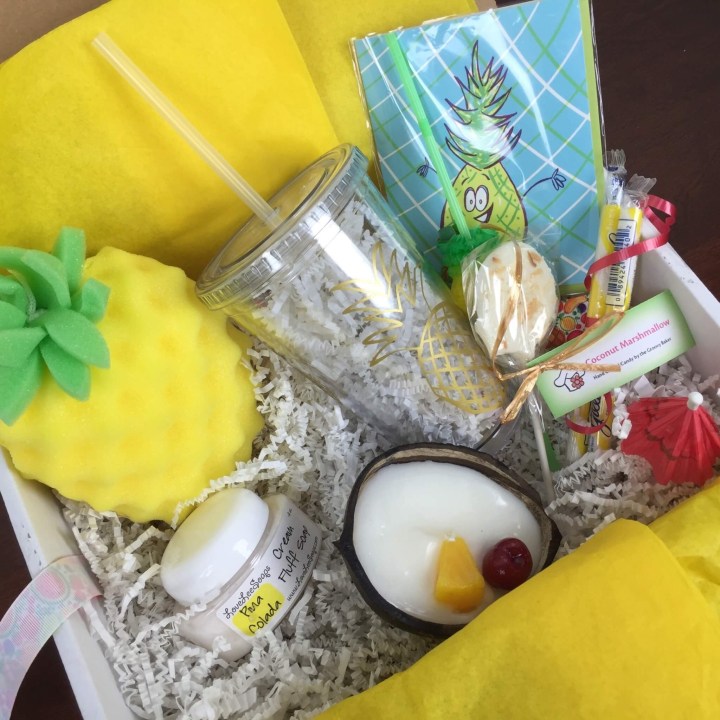 All the goodies in the box!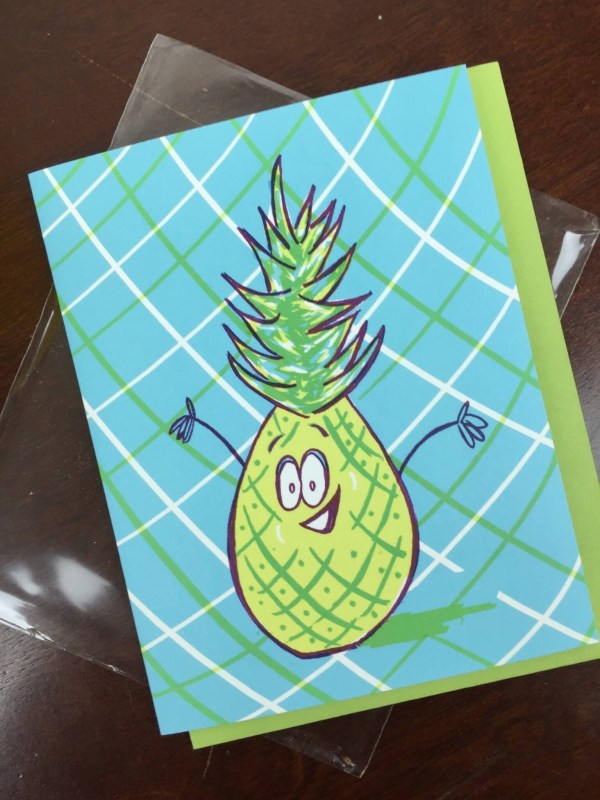 Silly Pineapple Birthday Card ($5.75) What a cute birthday card! Unusually, it wasn't blank on the inside. I love it when I get a card with a pre-written message, because I know exactly what to use it for, and I don't have to write a lot.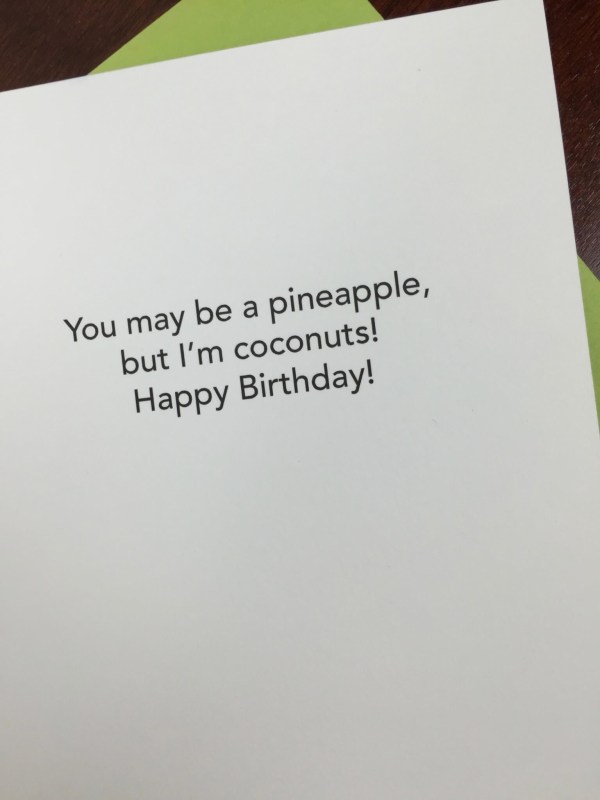 This card is perfect for me to send someone! I'm pretty coconuts.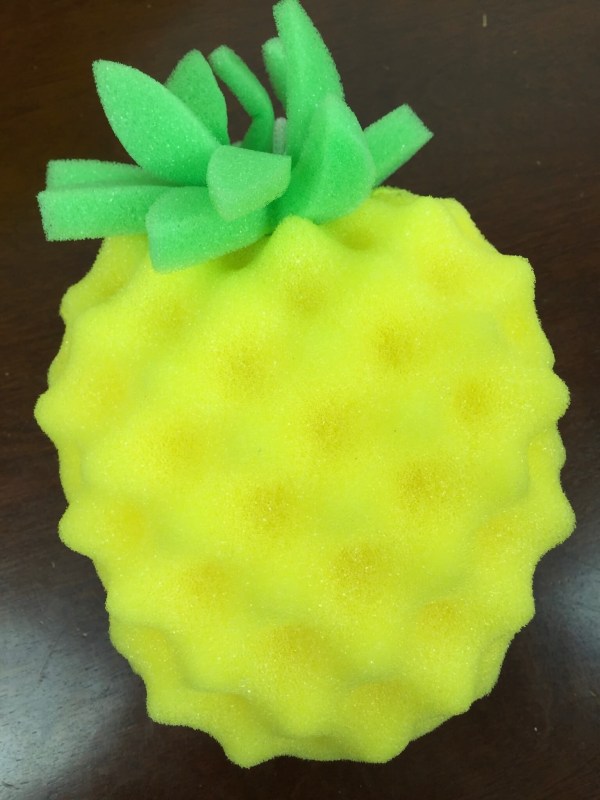 Pineapple-Shaped Bath Sponge ($5.75) This is just fun! I honestly can't decide whether to use it in the shower for a tropical escape, or display it in my bathroom with my other tropical and resort themed items for a witty punch of color.
Con Arte Pina Colada Coconut Shell Candle ($12) This is a pina colada candle poured right into a coconut shell. It smells fantastic!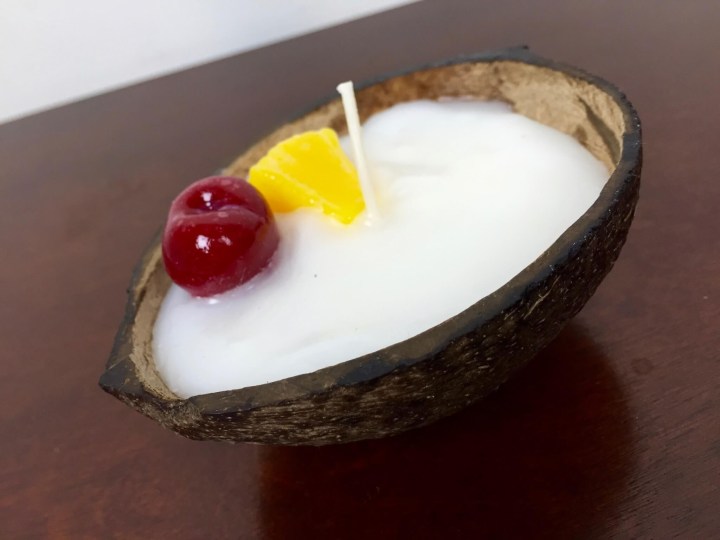 It's like your favorite tropical vacation in a candle!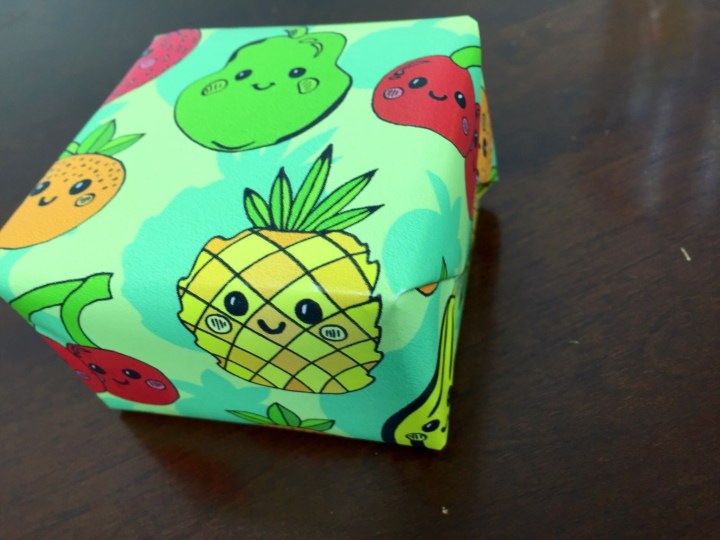 I was so excited by this little package. First of all, I love when subscriptions gift wrap anything – it really adds to this excitement. Second, where can I get more of this adorable kawaii gift wrap?!
LoveLee Soaps Pina Colada Moisturizing Fluffy Whipped Soap ($6) Inside the wrapped package (and further under some nice yellow tissue) was this Cream fluff soap. It's softening, smells great, and even came with a little soap pineapple. This box is the cutest.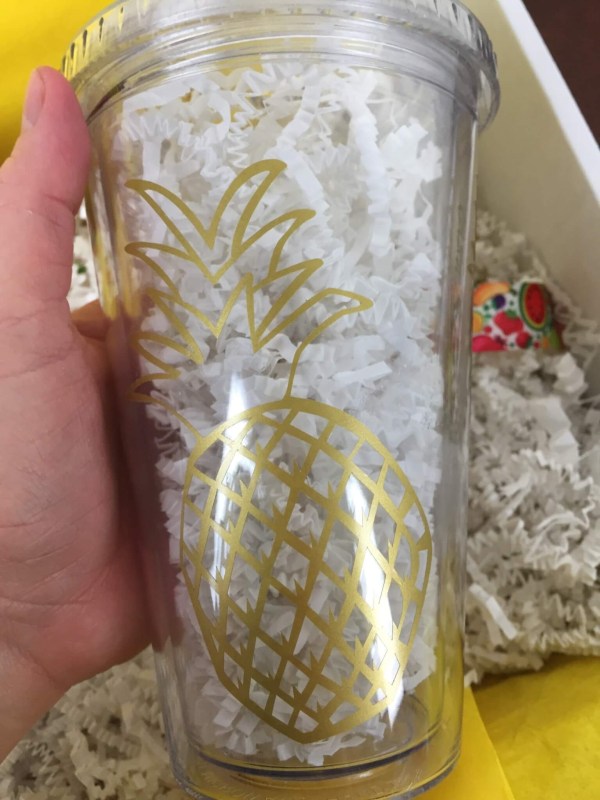 Maddy and Momo 16oz Gold Vinyl Pineapple Decal Tumbler ($20) I stuffed the tumbler with squiggles so you can see the designs better – this nice tumbler features gold pineapples on both sides.
This is darling, fun, and I love that the pineapples are gold metallic.
The tumbler came with a note to handwash your glass. I made sure my husband saw it so he doesn't mess up my pineapple cup!
Pina Colada Candy Sticks & Drink Umbrellas ($2.85)
The Groovy Baker Homemade Tropical Roasted Coconut Marshmallow Lollipop ($1.45)
Also nestled in the box were the items that made it so much fun to open the lid – a pineapple straw and drink umbrella, a delicious tropical coconut marshmallow lollipop, and some pina colada candy!
I think this is a great idea for a box – it was full of fun and functional items that totally tickled my fancy. I'd say that if you're a fan of fruit-flavored and -scented items this would be a great subscription for you.  I  love seeing a unique subscription concept executed perfectly!
What did you think of Fruit For Thought? FYI – this box is still available! If you order by May 16 you'll get it in May, order by June 16 to get the June shipment. Save 10% on your first month! Use coupon code  HELLO10.
Updated codes!
Get your first mini box for $20! Use coupon code  MINI20. Get either the candle/card/pina colada sticks/sponge OR tumbler/soap/pina colada sticks/lollipop. Get surprised or email after checking out for preference.

West Coast Shoppers: Get $10 flat shipping for the life of your subscription. Use coupon code  SHIPWEST. CAN be combined with other coupon codes!
Visit Fruit For Thought to subscribe or find out more!
The Subscription
:
Fruit For Thought
The Description
: Every other month you will receive a beautifully presented gift with a different fruit or vegetable theme. Included will be an assortment of scents, flavors and colors relating to that theme, which may include home accessories, jewelry, luxurious bath and body products, artisan products, stationery, yummy goodies and much more.
The Price
: $37.99 every other month plus shipping