Sock Club is a monthly sock subscription and is the brainchild of Noah and Dane, who wants to share their love of socks with the world. They have excellent quality control over the whole process of the socks from beginning to end. They source high quality American cotton, design the socks in Texas, and have them knitted with their partner facility in North Carolina.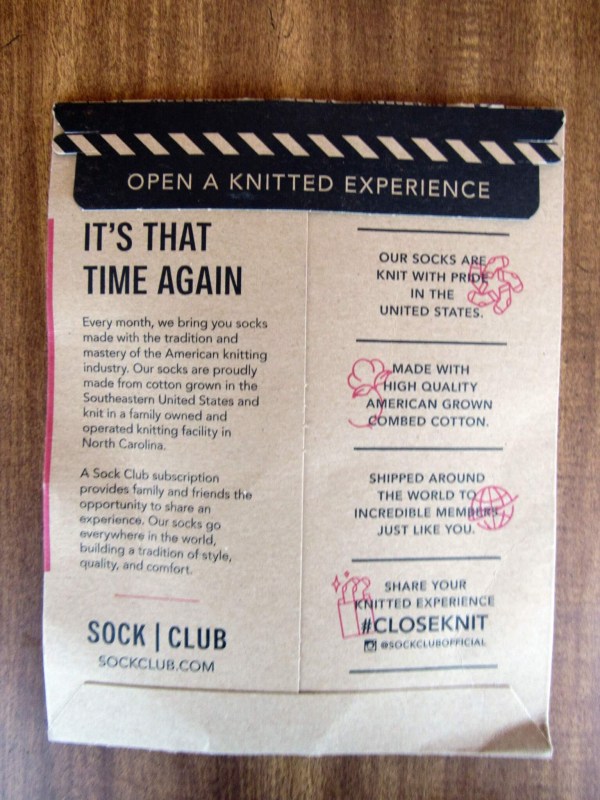 You know how there is that lull in the beginning of the month where you dream of boxes that are yet to arrive? The Sock Club ships around the 27th of the month and arrives at the beginning of the following month breaking up that tedious wait for boxes that come later in the month. The designs are gender neutral and are available in various sizes.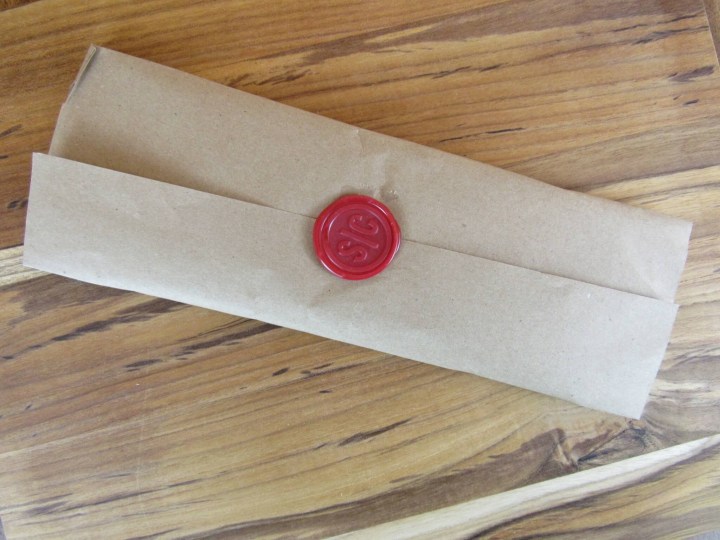 The socks arrived wrapped and sealed. A letter is also enclosed.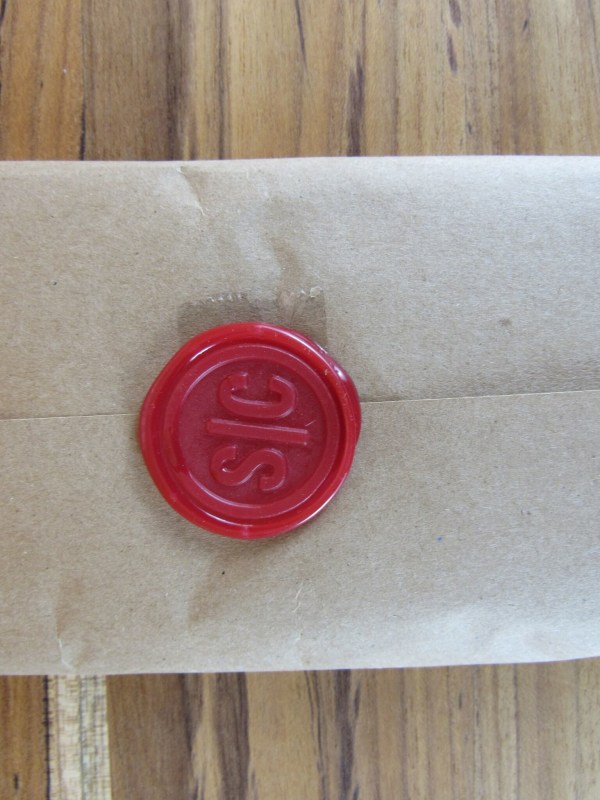 I am a fan of the Sock Club packaging. The designs and information on the mailer along with how the socks are wrapped appeals to me.
I read Sock Club's Haiku in the curator letter and decided to write a haiku too:
Where is the spring air?
Snow falling on the flowers
Cool socks for cold feet!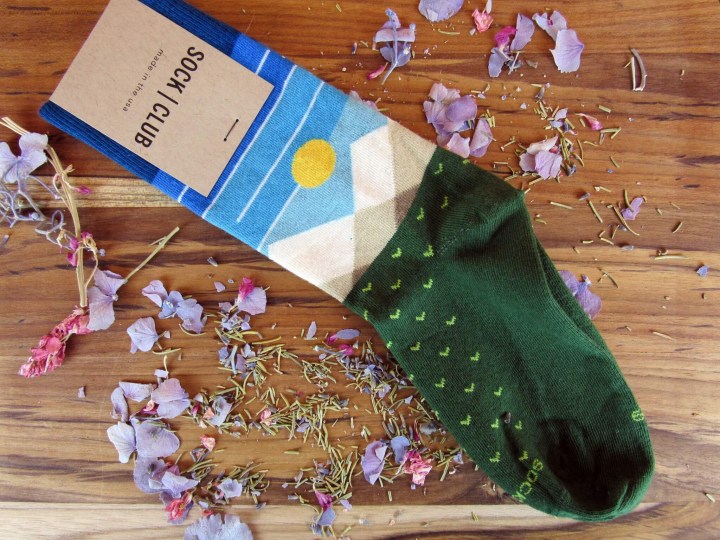 OK, the flowers don't quite match the socks but here's a bunny eating my dandelions. My eye is drawn to the green and I like the subtle nod to Earth Day. The socks are made out of comb cotton sourced in the Southeastern United States. Sock Club is sewn into the sock and is discreetly placed at the toe of the foot. Every month a new design is sent out, so no worries about repeats.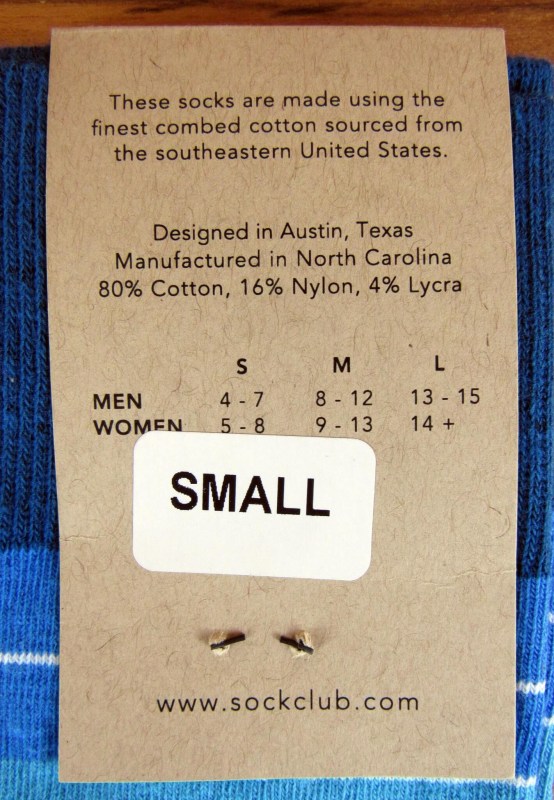 Select Small, Medium, or Large when you sign up for a subscription. You and your significant other can have matching socks!
Note from Brandy: This is why I love reading subscription box reviews – I would never have known there's a sockscription with actual sizes for women! I have tiny feet, so I'm impressed!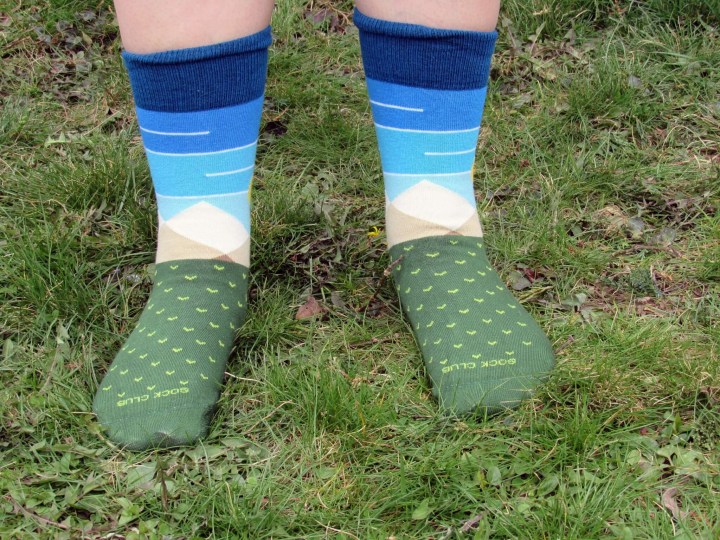 I can feel the difference in the quality of the socks as soon as I put them on my feet. They are soft and comfortable. I love the green and the mountain scene.
Sock Club is a hit! I like that the socks are made start to finish in the USA. The letter is a nice touch and makes for an excellent gift. There is room for a gift message on the letter. The design and colors make me happy. I prefer colors over neutrals. I also enjoyed the haiku. I think it is the first time I read an original poem in a curator letter. It's a wonderful way to start out the month and add some style to your sock drawer.
What do you think of the Sock Club? Share below and let us know!
Visit Sock Club to subscribe or find out more!
The Subscription
:
Sock Club
The Description
: Sock Club is a clothing service that delivers the finest American made socks once a month.
The Price
: $12.00 per month