LaRitzy is a monthly vegan beauty subscription box. You'll get 4-5 full and luxury size cruelty-free beauty products in every month's box.
This month's LaRitzy Box promises a hint of spring in every product!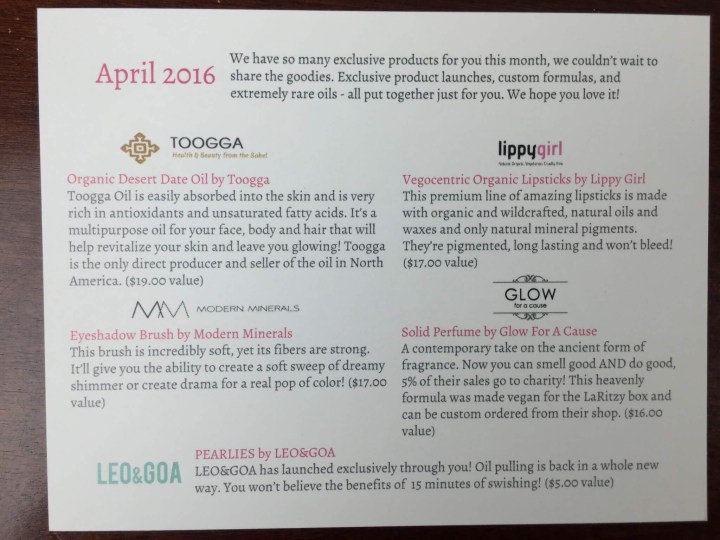 The information card gives more details about the items in the box.
All the items in the LaRitzy Box for April!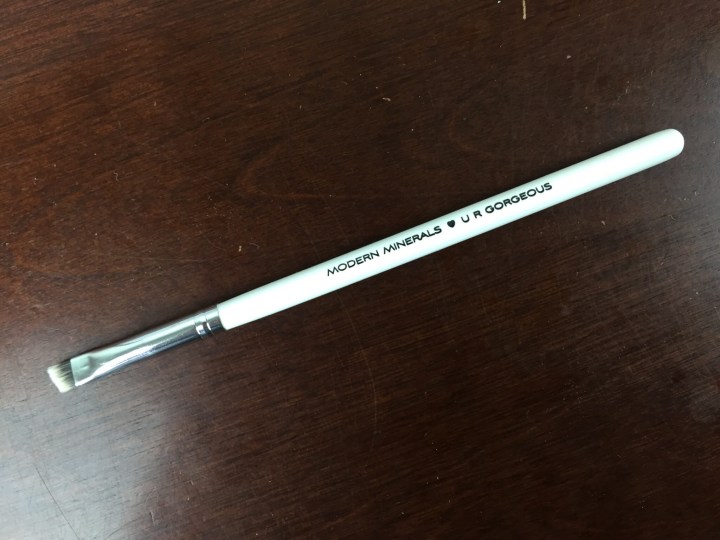 Eyeshadow Brush by Modern Minerals ($17) This is a great slanted eyeshadow brush that's perfect for using with the mineral shadow from last month! I'm going to try using it with some water to foil the shadow! The brush is nice and firm and should last a long while. I do love the message on the handle – and that fact that it's animal free – I hate animal hair brushes!
Pearlies by Leo & Goa This brand launched through LaRitzy this month. Neat. I haven't ever tried oil puling (you swish coconut oil around in your mouth, which is said to remove bacteria and create a whiter smile. The Leo & Goa site says that this is formulated coconut oil, and that the ingredients are "Organic coconut oil, organic essential oil mix." To be honest – I would have to know what those oils are before putting them in my mouth.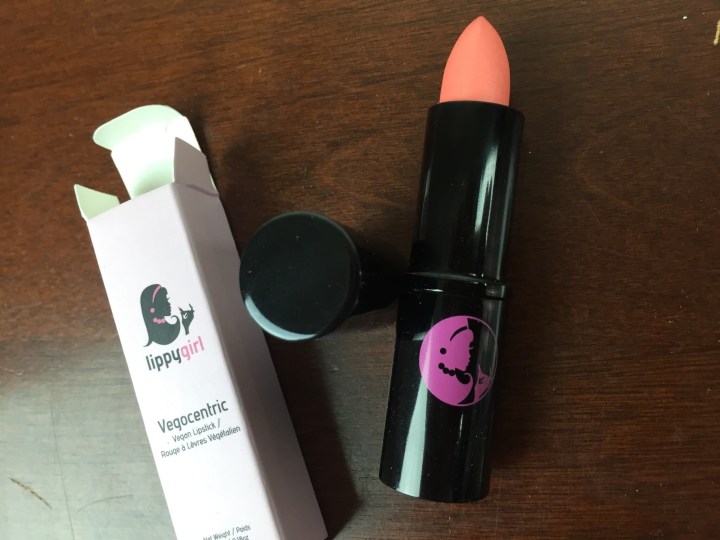 Vegocentric Organic Lipsticks by Lippy Girl ($19.99) This color – limited edition Hot-Diggity-Yam – is a bright orangey pearlescent.  The lipstick itself organic and wildcrafted, natural oils and waxes and only natural mineral pigments. It's quite firm and took many sweeps to achieve the swatch color. On the lip, it's a pretty mod sorta groovy color. The tube on this is aluminum and recyclable!
Toogga Organic Desert Date Oil ($16) This oil is crafted from desert dates from women-run and women-owned co-operations helping impoverished women in Mauritania . The oil absorbs easily and isn't oily or greasy feeling on the skin! It's full of antioxidants and unsaturated fatty acids and made from toogga nuts and kind of smells like vegan energy bars! Tooga is the only direct producer and seller of this oil in North America.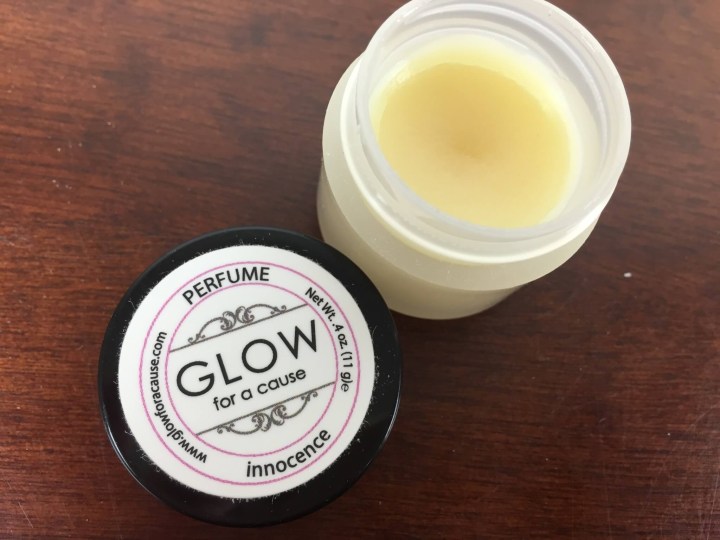 Solid Perfume by Glow for a Cause ($16) This "solid" perfume is actually semi-soft. The scent – innocence –  was really hard for me to place, but the main note is jasmine. The company describes it as "the essence of a modern, sensual and exotic journey. Bergamot and jasmine are grounded by spicy florals and an earthy undertone of sandalwood, incense and vanilla…." That's pretty accurate but it's not overpowering. I liked it! This company typically uses beeswax but formulated a bee-free version for LaRitzy! To me it smells like a candle I would love, I keep smelling myself, this one's a keeper.
This was a nice box but not my favorite from this subscription. It still had a total value of about $69 but I wish one more of the items had been a color cosmetic!  What did you think about the April box?
Visit LaRitzy to subscribe or find out more!
The Subscription
:
LaRitzy
The Description
: Pampering just got a lot easier! Receive 4-5 vegan products every month – everything from luxurious skincare to exceptional beauty products.
The Price
: $24.99 per month