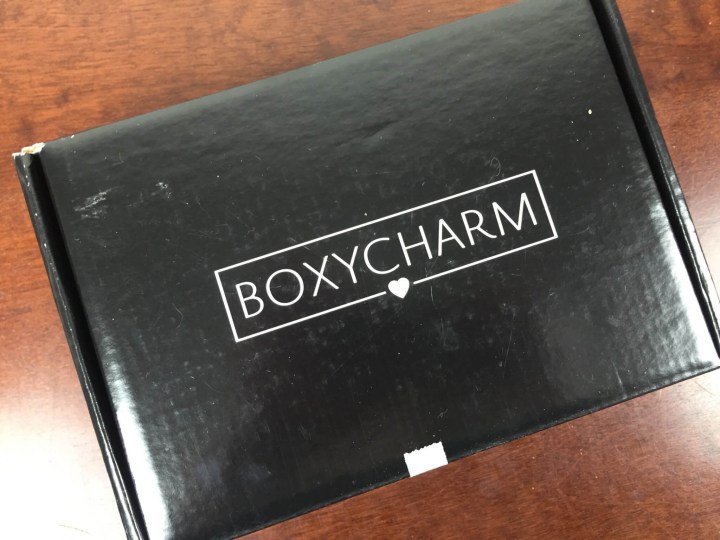 BOXYCHARM is a makeup and beauty subscription box that sends out 4-5 deluxe and full size samples every month. In the past the items have been mostly full-size products and the boxes have been able to maintain a high value.
The April theme was Cloudy with a Chance of Charms!
I was happy to see the item descriptions return to the card. Last month they tried not printing them and directed subscribers to their site -and they didn't post the box items! That didn't work. Never does.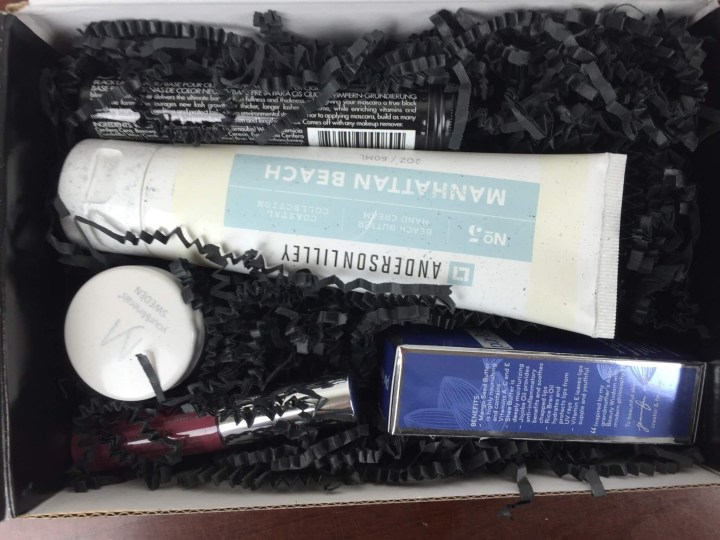 Everything in the April BOXYCHARM! The squigglies were extremely linty.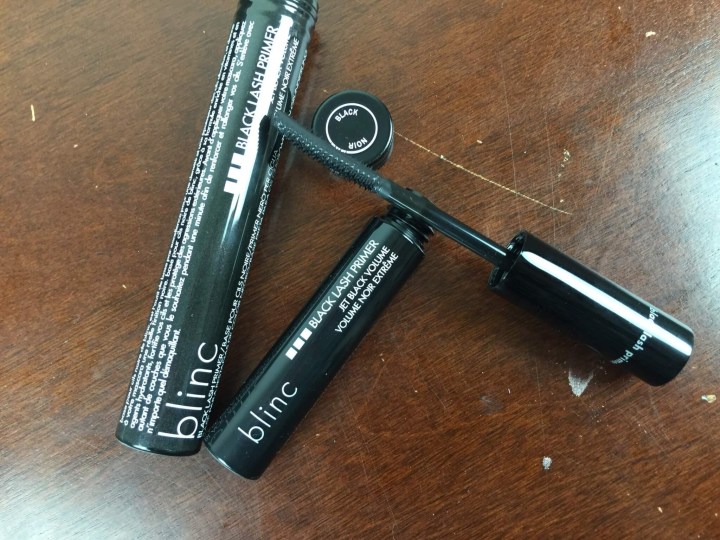 Blinc Black Lash Primer ($26) This is ok, but honestly I don't see much of a point to lash primer when I can just use more mascara! This one is black (their previous version was white) so you don't have to worry about covering it all up. It's difficult to remove and isn't worth the extra-product-step to me.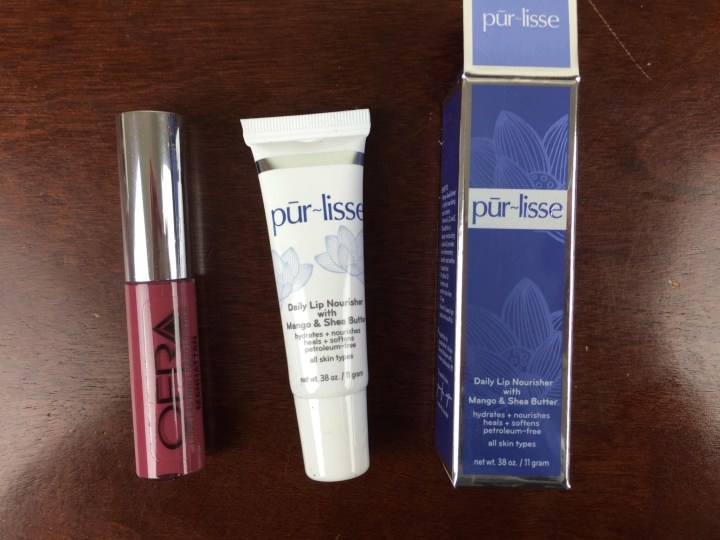 OFRA Long Lasting Lipstick in Manhattan ($19.90) This is a great color (swatch below). It's creamy and just a bit matte, not liquidy at all. I like this, but it's a frequent box item and in fact this brand appeared in the December, February, and March boxes – the exact same product (different shade) was in the December box. It's time to move on, unless this is the OFRA subscription.
Pur-lisse Daily Lip Nourisher ($16) Another frequent box item, I have 2 tubes of this open on my desk right now! I love its petroleum-free softening action but Boxycharm has paid frequent attention to pur-lisse lately.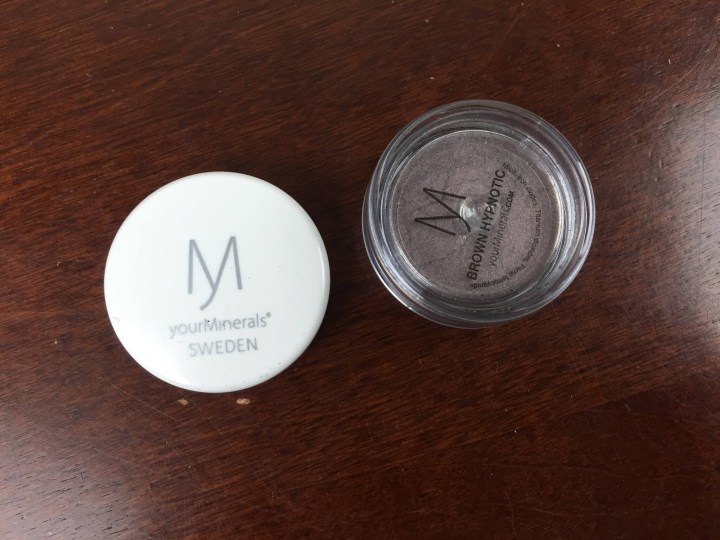 YourMinerals Eye Glimmer ($23) The shade I received was Brown Hypnotic, and it is SUPER gorgeous. 100% minerals with a glimmer effect. Easily my favorite item!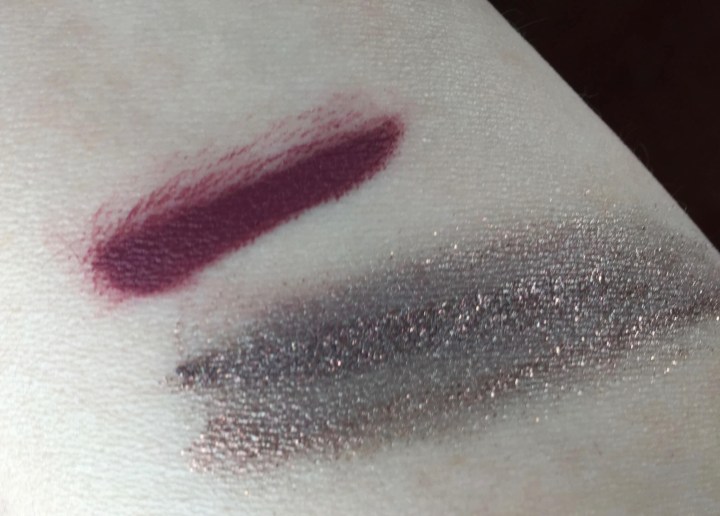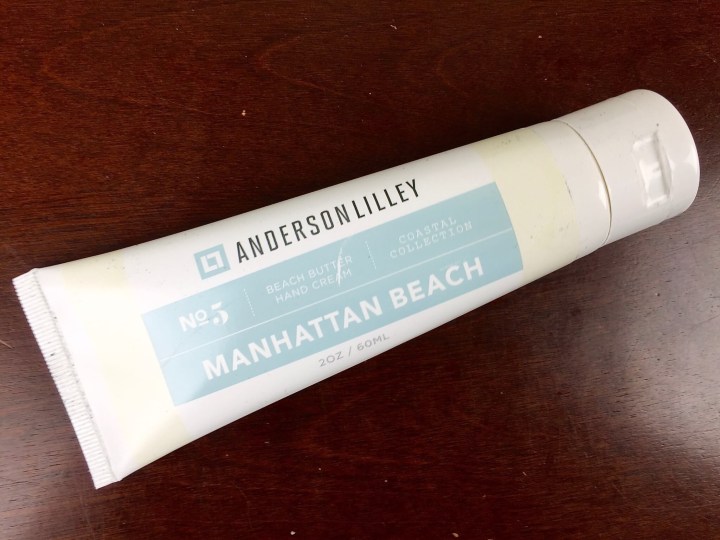 AndersonLilley Manhattan Beach Butter Hand Cream ($24) This is AndersonLilley's signature scent and includes notes of bergamot, citrus, white jasmine, Brazilian soft woods, heliotrope, and musk. It was extremely perfumey for a beachy scent and although the hand butter was nice and rich, this went directly into the pass it along pile, as I didn't care for the scent. FYI – This tube is only 2 oz. It's a big tube but definitely not full.
The value of this month's Boxycharm was about $109, which is fantastic, but I was left feeling that it was time for Boxycharm to step it up with their brand mix in order to retain long term subscribers. Still, for newer subscribers this box is likely a win!
Your first box will always be the current month's box, unless they say otherwise on their site, so if you want this box (remember there are significant variations this month), sign up before the end of the month!
Visit BoxyCharm to find out more about this box or subscribe.
The Subscription
:
BoxyCharm
The Description
: Charmers will receive 4 to 5 full-sized beauty products from well-known, popular, chic and up-and-coming brands. Our beauty experts carefully select each item based on current and emerging trends, so you're always in the know about the hottest shades and styles. At BOXYCHARM, we like to focus on makeup cosmetics but we also include nail care, skin care, hair care, fragrance and more.
The Price
: $21 per month