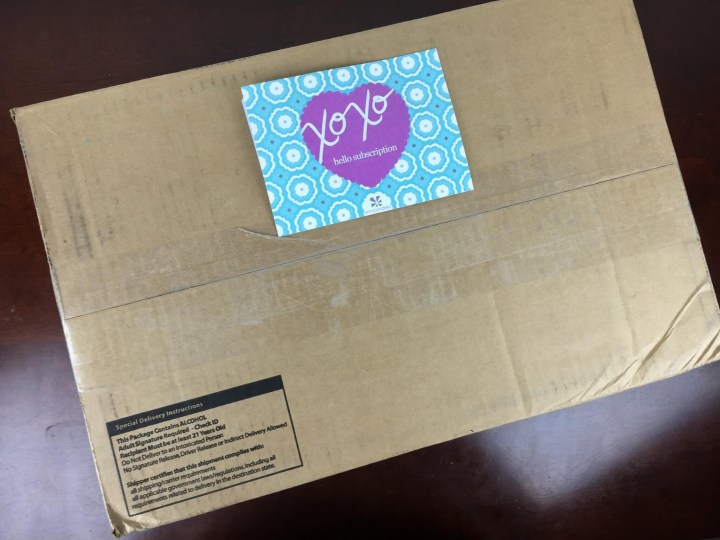 The March Wine Awesomeness took us on a tour of South American wines from Chile and Argentina! Wine Awesomeness is a wine club that's  like a subscription box  – the wines are really well curated around a cool theme. We had been subscribing to the 3 bottle box but we upgraded to the six bottle box. . Every month you'll get themed, wine-fueled adventure complete with 3 (or 6!) excellent wines and "The Back Label" mini-mag! You can choose reds, whites, or mixed. One of the things that we like about this subscription is that they include rosé in with the whites.

You'll get 3 (or 6, depending on your choice) wines every month or every quarter, depending on how often you'd like to receive it. The 3 bottle box costs $45, and the 6 bottle box is $75.
The six bottle box doesn't ship in the rad Wine Awesomeness boxes. Guess that's where the savings are! When you get a 3 bottle box this is what the box looks like – it's really neat!
The February Wine Awesomeness theme was South America: Chile and Argentina. Every month you don't just get 3 "really good" bottles of wine, you got 3 really good bottles curated around a specific theme along with an introduction to the theme, very readable educational materials about all the grapes in this region or the theme, and page by page introductions to each wine.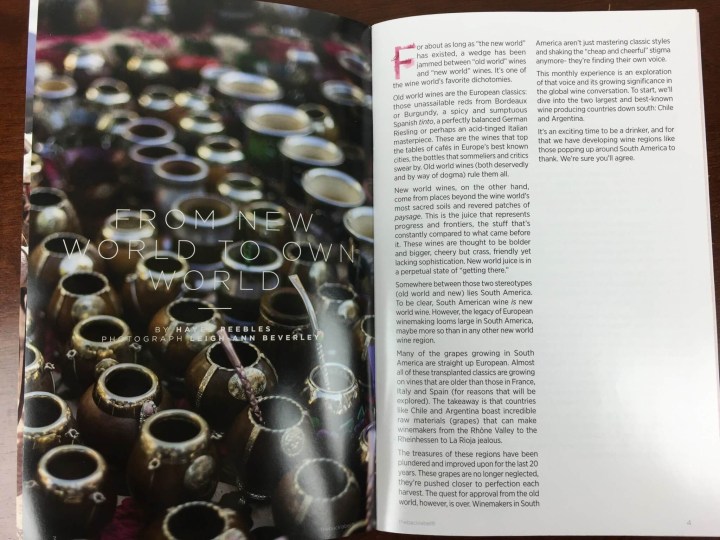 This is such a great, accessible mini-mag. This is my favorite wine subscription because of the theme and the magazine (and the great wine!). The Wine Editor's letter was about the traditions and characteristics of South American wine!
There are stories and other features in the magazine as well. This month included a brief article about the migration of grapes from Europe to different countries in South America.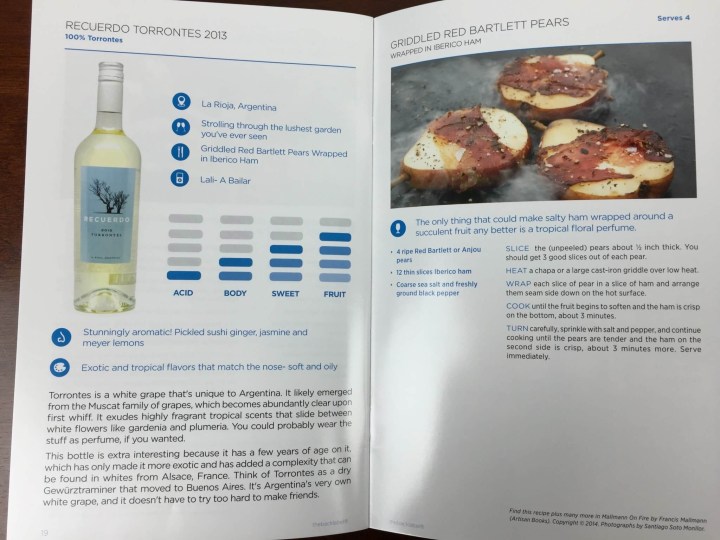 Each wine information page includes the following:
Wine Name
Grape
Location
What you should do while drinking this wine (many tongue in cheek)
What to eat with the wine
What to listen to while you drink the wine
A cool chart showing a visual on the Acid, Body, Tannin, and Fruit of the wine (this is new!)
Wine Bouquet
Tasting Notes
Description
The recipes appear facing the wines, which you can make to eat with, or use to guide your selections. We usually pick whatever is closest to what we're already eating!
Not only was this super informational, it helps you learn about wine in a really low key way.
Oh look, it's all the wines that come in my 6-bottle box!
March Wine Awesomeness: Whites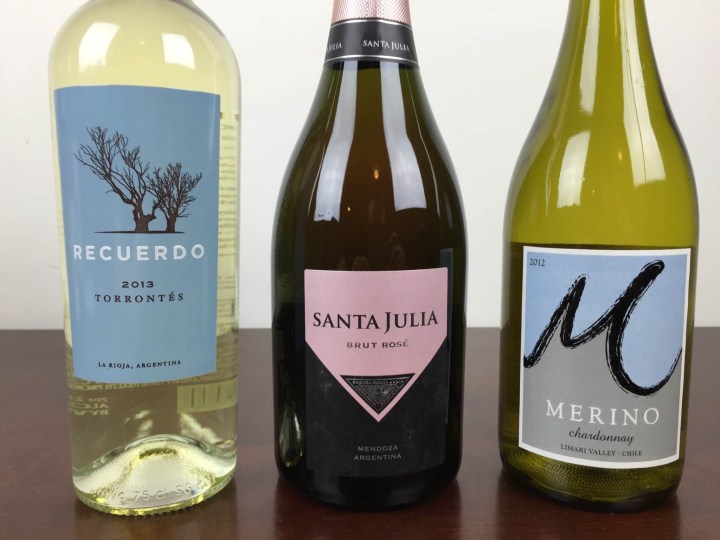 Recuerdo Torrontes 2013: An Argentinian white grape that's unique to Argentina, but likely from the muscat family. It's fairly sweet and fruity and highly aromatic. The booklet paired it with a griddled red bartlett pears recipe (wrapped in Iberico ham), but this wine screams to be paired with Chinese takeout! It's one of those exotic smelling and tasting wines that just goes with Asian cuisine.
Santa Julia Brut Rosé NV: Yay, bubbly from Argentina! This is acidic more than sweet and nicely crisp. I loved every sip! Perfect for brunch or for a party.
Merino Chardonnay Limari Valley 2012: This was a highly mineralized Chilean white, which I found to be a good thinking wine. The booklet paired it with charred mushrooms with thyme and garlic toast. I paired it with a cheese ball and toastettes!
March Wine Awesomeness: Reds

I was really excited about the reds in this box, because Argentina and Chile are both known for their beef – and obviously their reds have to pair amazingly well with it!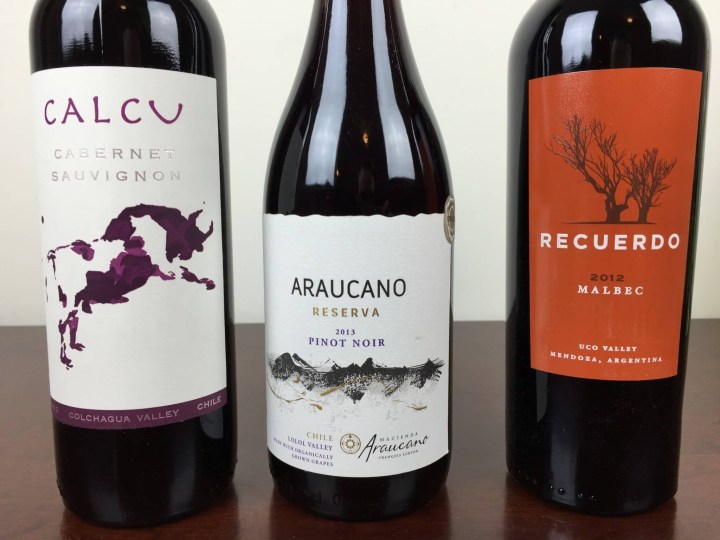 Calcu Cabernet Sauvignon Colchagua 2012: I love the label for this bottle! This wine is from Chile's top cabernet sauvignon region and full of deep smoky tastes, scented with peppercorns, and perfect with meat.  Or maybe a fire roasted tomato dish. Yum.
Hacienda Araucano Pinot Noir 2013: This fruity Chilean pinot noir is actually from a fifth generation French winemaker, François Lurton. He apparently started a wine consulting biz and then landed on Chile as an amazing place to grow grapes!
Recuerdo Malbec 2012: This was fun and fruity! The Recuerdo is a Malbec from Argentina and this bottle begs to be with meat. Like they're besties and can never be parted, and the booklet paired it with a plank grilled cowboy cut rib-eye. Which I did not eat with this bottle but should have!
I loved the geographic excursion this month to Chile and Argentina! While I've certainly had plenty of wine from each country, it wasn't all as part of a tasting experience (plus the excellent notes). This is just such a great subscription and I love that I can get it shipped to Pennsylvania – if you have trouble getting wines from another club, try this one out!
Visit Wine Awesomeness to find out more or to subscribe. You can get your first month (3 bottles) free, just pay $22.50 shipping and handling – click here to activate the offer – no code necessary!
The Subscription
:
Wine Awesomeness
The Description
: Get 3 or 6 bottles of red, white, or mixed, curated monthly. WA membership comes with tasting notes, recipes, and music suggestions. Awesomeness!
The Price
: $45 per month
The Coupon
: Get $10 off your first club 6-pack box!
Use this link
and coupon code
YAY10
to get the deal.
Ships to
: All states except Alaska, Hawaii, South Dakota, and Utah. Yep, this wine club ships to Pennsylvania.