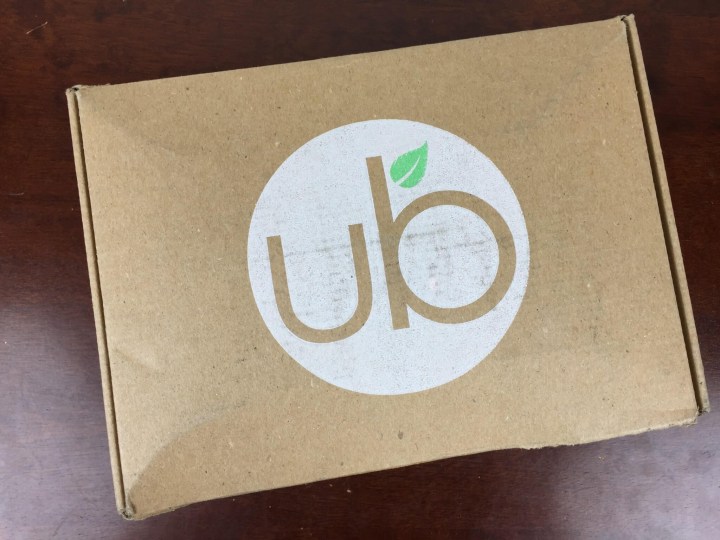 UrthBox is a healthy food subscription box. In this monthly box you get snacks, beverages, and other goodies with a focus on Non-GMO, Organic and All Natural items. Choose between classic, diet, vegan, and gluten-free, as well as between four sizes of box.
This is the SMALL CLASSIC and the box is $29.99 per month, down to $19.99 per month on a 6 month plan.  That is an awesome discount just for signing up for the half-year!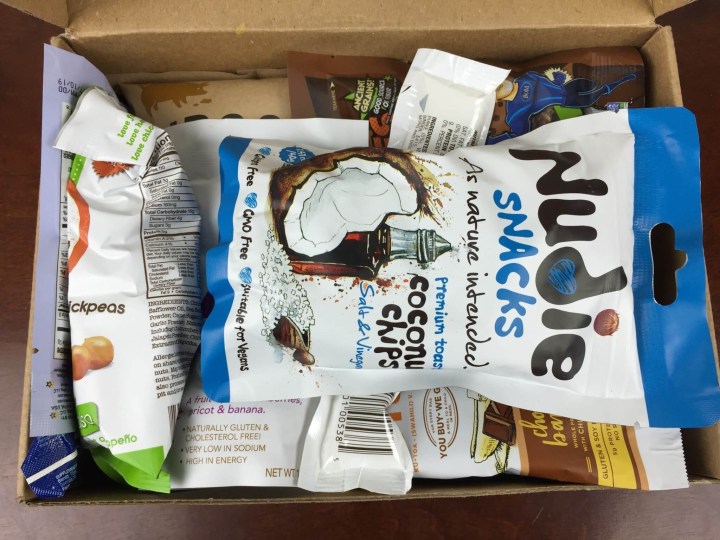 This box is definitely packed full!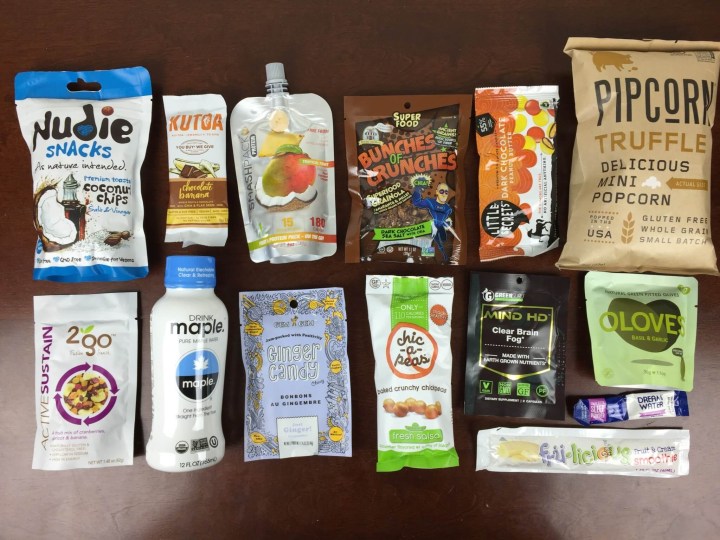 The contents of Urthbox March 2016.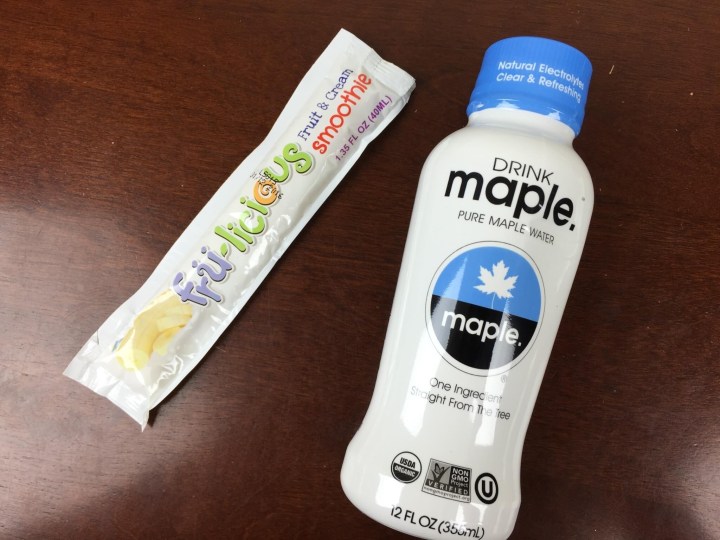 Fru-licious Fruit & Cream Smoothie:  This looks like a mix, but it is actually a ready-to-drink smoothie made with real banana and milk protein.  Gogurt for grown-ups!
DRINKmaple Pure Maple Water:  Maple water is the natural, un-concentrated sap of a maple tree.  It takes about 30 gallons of boiled sap to make a gallon of maple syrup — so don't expect a thick sugar-shock.  It is mostly water, but it has a high level of manganese and a sweet, subtly-maple flavor.
Gem Gem Ginger Candy:  These candies are soft and chewy and exactly like GinGins. Tasty!!  Absolutely one of my favorite minimalist candies.
2 GO Fusion Snack Active Sustain:  This lightly sweetened combination of real fruit is packed with natural energy and vitamins.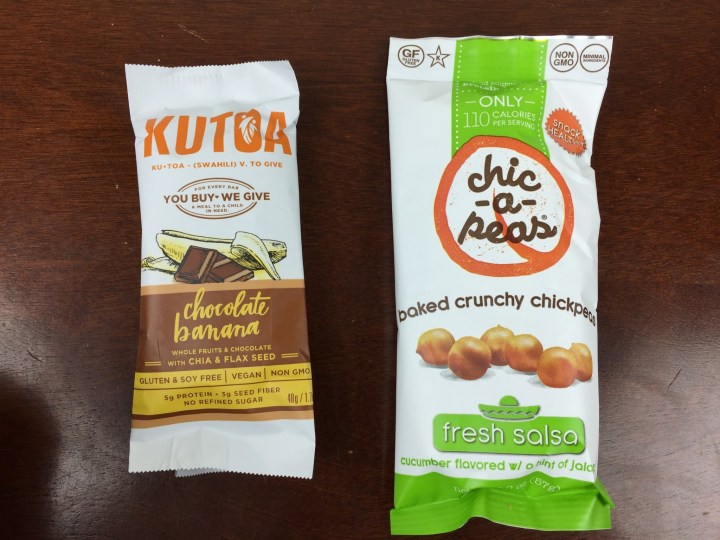 Kutoa Chocolate Banana:  This very dense and chewy bar combines the natural sweetness of dates and bananas with a touch of brown rice syrup and rich chocolate.  Crunchy pea crisps, chia, and flax up the protein and fiber while providing great textural contrast.
Chic-a-Peas Baked Crunchy Chickpeas Fresh Salsa:  Chick peas are naturally high in fiber and protein.  When baked, they also have an awesome crunch without being hard.  The fresh salsa flavor brightens up the peas with cucumber and a dash of jalapeno spice.
Bakery On Main Bunches of Crunches:  This tasty cocoa crunch combines rich, dark chocolate with a variety of ancient grains, like millet and amaranth, to create a sweet granola with a better balance of protein, fiber, and carbs.
Little Secrets Dark Chocolate Peanut Butter – From Brandy:  These were so good that I took them and ate the entire bag while Tom was at the park with the kids. A natural version of Reese's Pieces. Not my little secret anymore. But so good!
Oloves Basil & Garlic:  Olives are the perfect portable snack when they are in these little pouches. Despite the garlic breath they're a favorite around here.
Smash Pack Fruit & Protein Pack Tropical Fruit Flavor:  This is a super thick protein packed fruit squeeze — it is surprisingly dense when you give it a squeeze.  It was a giant hit with our kids and we loved that it included protein with all those fruit sugars!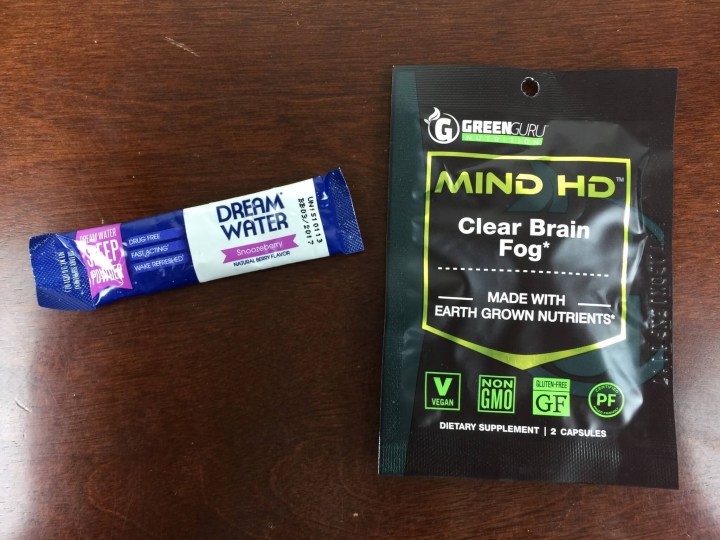 Dream Water Snoozeberry Sleep Powder:  Snoozeberries are a little known cousin of the Crunchberry.  This easy-mixing powder contains a blend of GABA, a form of tryptophan, and melatonin to aid relaxation and restful sleep.
Green Guru Mind HD Clear Brain Fog:  A blend of natural roots and leaves, such as ginseng and green tea, designed to boost concentration and mental alertness.  This sampler has one two-capsule dose.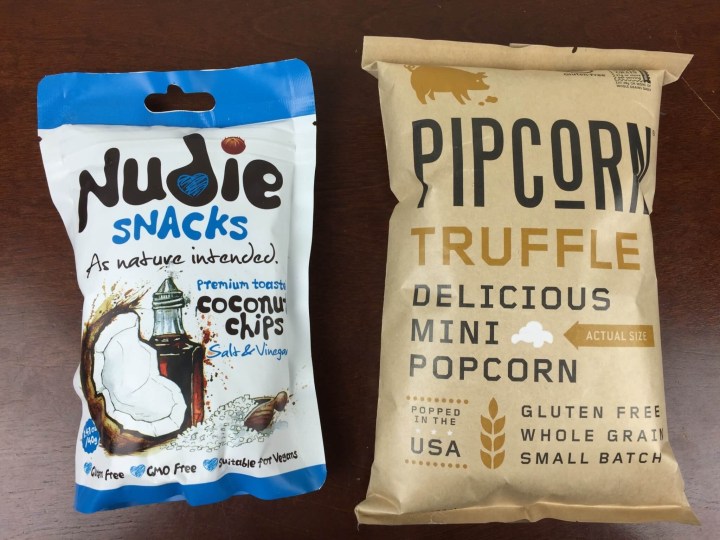 Nudie Snacks Premium Toasted Coconut Chips:  This innovative snack combines the fabulous, sweet crunch of toasted coconut slivers with an eye-opening dose of vinegar and salt.  Odd at first, but extremely addicting and yummy! [Brandy: I found this bag on the living room carpet last night – which means the kids munched on it too!]
Pipcorn Truffle:  Tiny, gourmet popcorn lovingly made in small batches and seasoned with olive oil, sea salt, and white truffles — that's it.  The tiny kernels have shells that essentially disintegrate upon popping, so no shells stuck between your teeth.  Hooray!
We love the Urthbox approach to snacking — the food is high-end and designed with taste and appeal as the main objective, but it is also a bit more wholesome than common snacks.  The great selection of snacks is tailored to common dietary restrictions.  This review covered the Classic Box, but the vast majority of items were also gluten free.  I love that everything can stand on its own merits, and the dietary mindfulness has no impact on flavor. The best value on this subscription is on a longer term.
Visit UrthBox to subscribe or find out more! Get $10 off your first box. Use coupon code  PROMO10. Expires 03-31-2016
The Subscription
:
UrthBox
The Description
: Every month get 12-15 fantastic full size products that must pass strict ingredient, sourcing, calorie, nutrition and manufacturing standards. Select from Classic, Gluten-Free, Vegan, or Diet Box Options.
The Price
: $24.99 per month