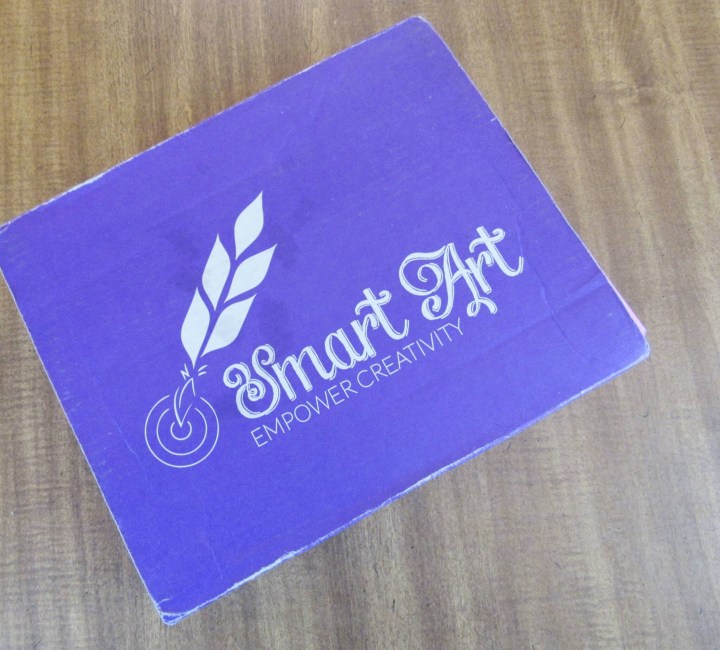 Smart Art Box is an ingenious way to exercise your creative juices. A new medium is introduced each month along with the tools needed to complete the project. A quick step by step is included along with tips for the new and seasoned. A You Tube Video is also posted on their Facebook page taking you through the project from the beginning to the end.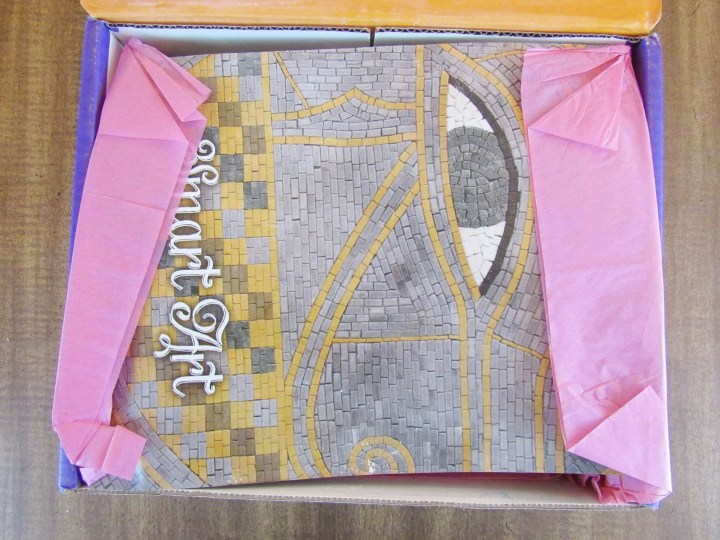 I am curious about March's medium. It looks tile related.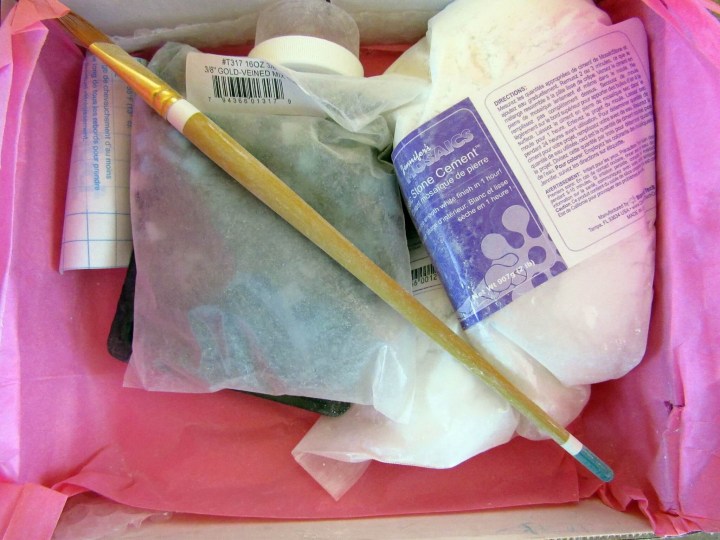 I see cement! This photo is the closest I can get to a group picture shot because the cement leaked into the box.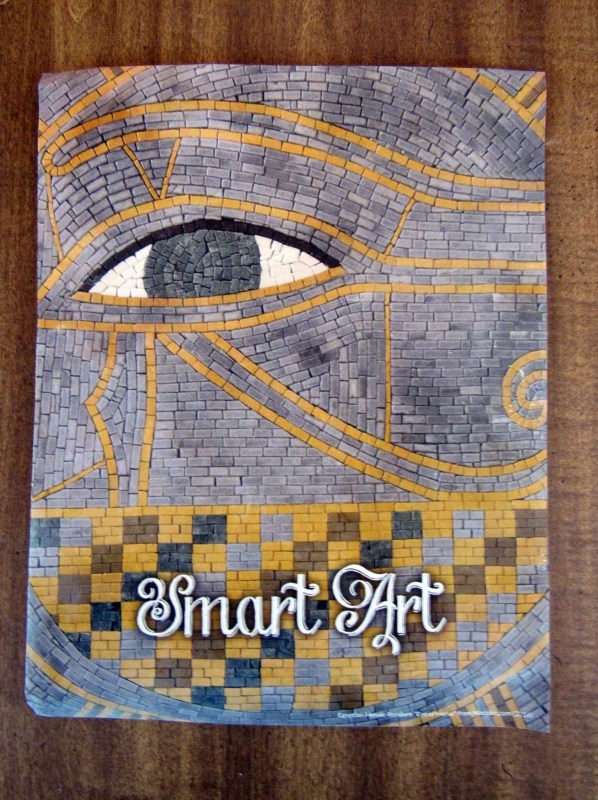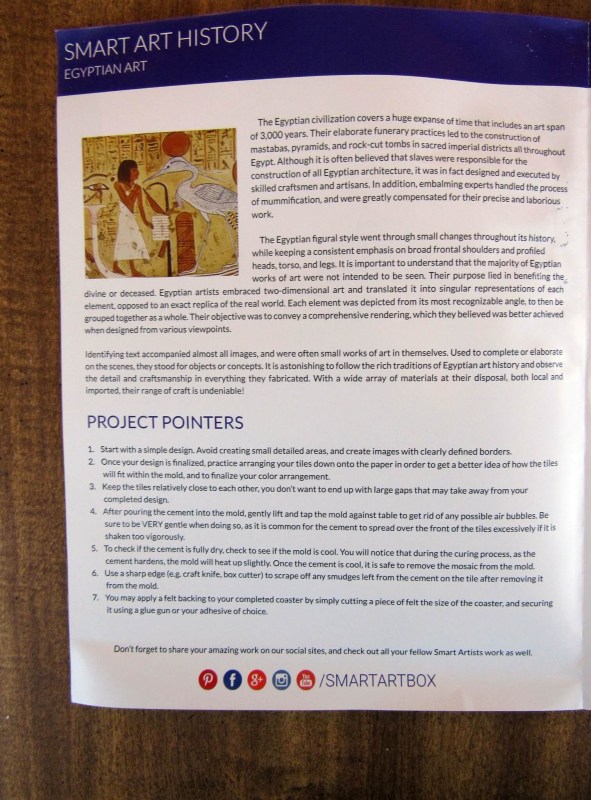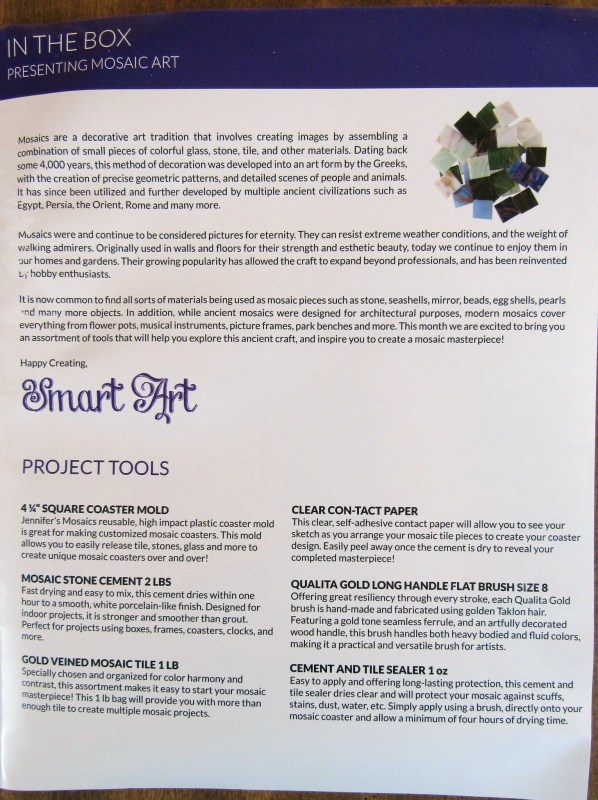 The theme is Mosaic Art! The project guide includes a great write-up on the art history, explaining how the project tools work, and step by step directions. My sister is still visiting and will be completing this project. You'll see what type of artist I am starting in April.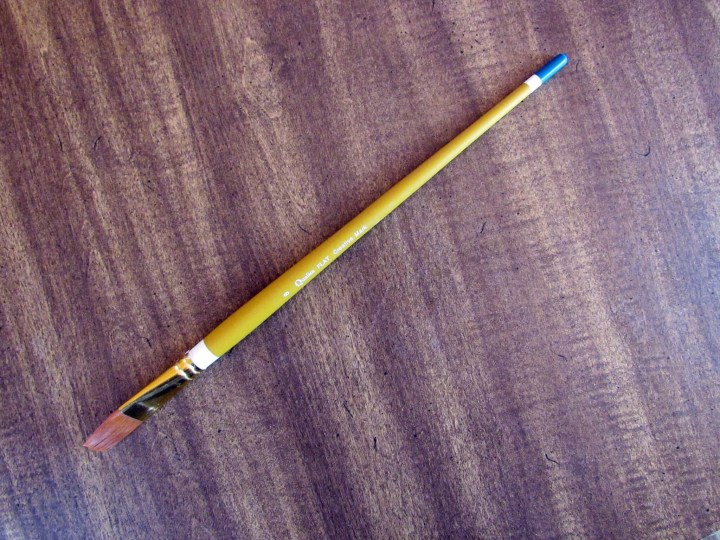 The Qualita Gold Long Handle Flat Brush Size 8 ($14.95/sale $3.95) is a beautiful handmade brush with golden Taklon hair. It is well suited for acrylics and watercolors so hold onto that brush after you completed the March project.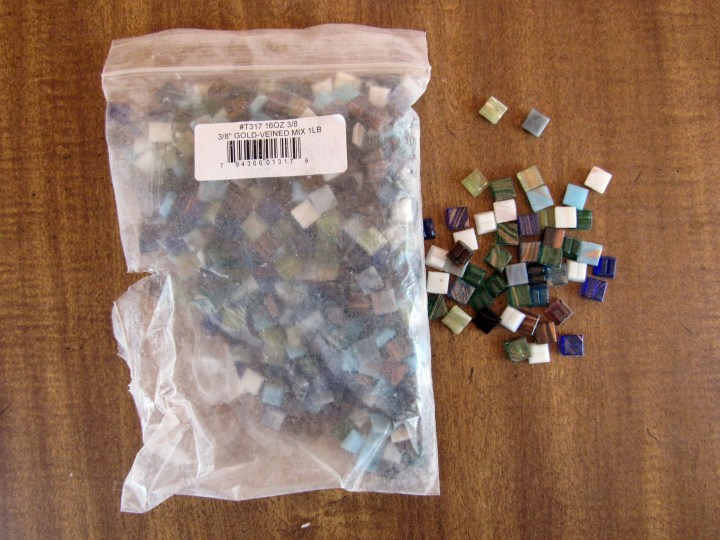 The Gold Veined Mosaic Tile 1 lb ($23.89) is enough for several projects. The colors are vibrant and varied. I am unsure if it is Jennifer's Mosaic brand which would make a difference in price.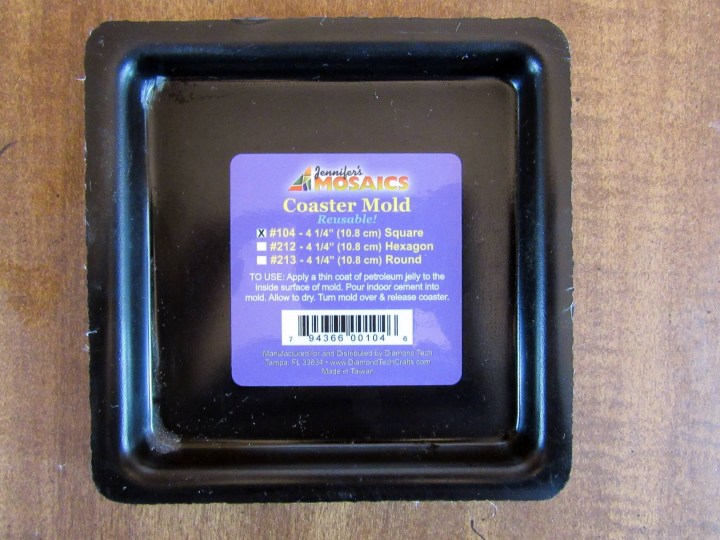 I am impressed with the 4 1/4″ Square Coaster Mold by Jennifer's Mosaics ($7.86).  It was easy to remove the tile from the mold.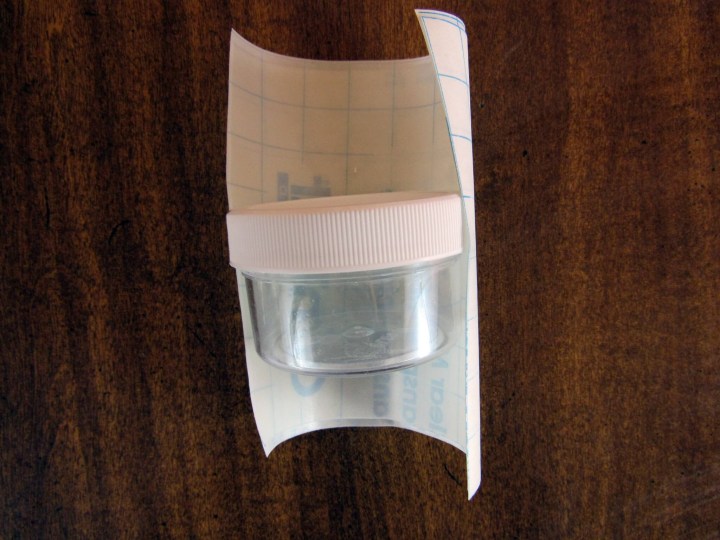 The 2 pieces of clear Con-Tact Paper was already sized to fit the mold. The 1 oz  cement and tile sealer dries clear and protects the tile from water, dust, scuffs, etc.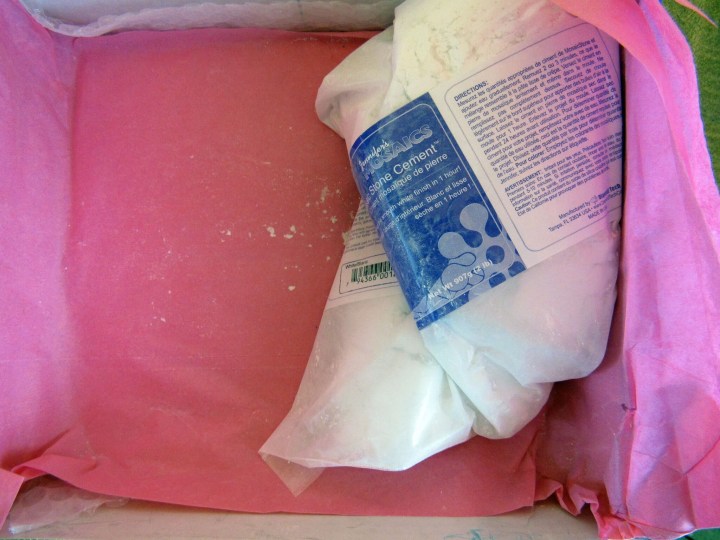 The Jennifer Mosaic Stone Cement 2lbs ($6.59) is easy to mix and dries quickly. The instructions suggest an hour drying time. We found it took about an hour and a half. There is enough cement in there to do several projects.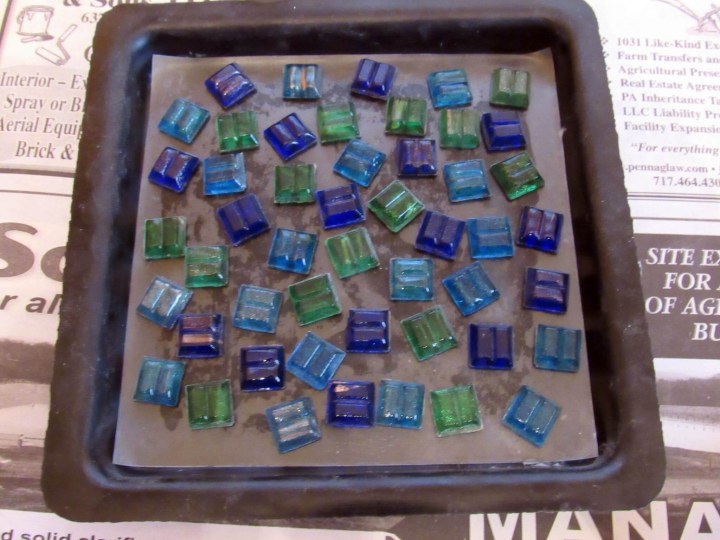 The suggested project is creating an Egyptian Mosiac. My sister envisioned something else. We found out there was a YouTube instruction video  on Smart Art's Facebook page when step 2 stated to use petroleum jelly on the inside of the mold. I don't own petroleum jelly. We watched the video and found out that body lotion or anything else that is greasy can be used. As as sub box enthusiast, I had no problem locating body lotion.
My sister greased the mold with body lotion, laid down the contact paper and created an abstract design.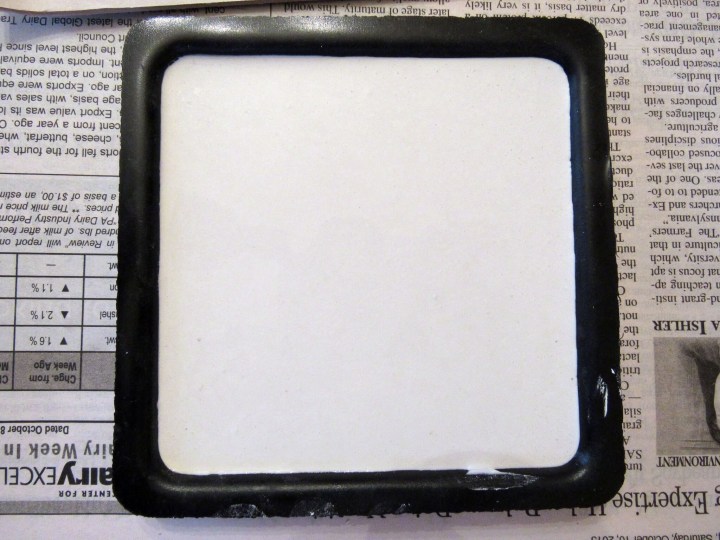 It was easy to create the cement mixture and pour it over the design. It needed one and a half hours to cure. Your drying time may be different.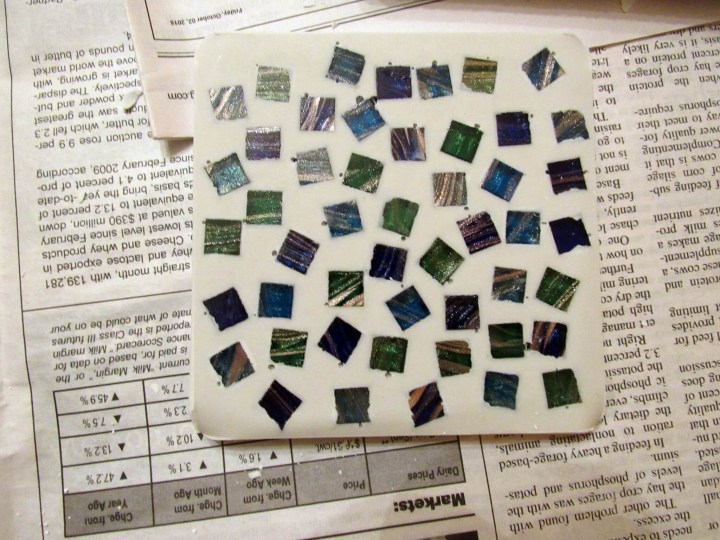 There are air bubbles because she forgot to tap gently the mold. It is listed under project pointers, but not under the step by step instructions. This picture was taken after the contact paper was removed.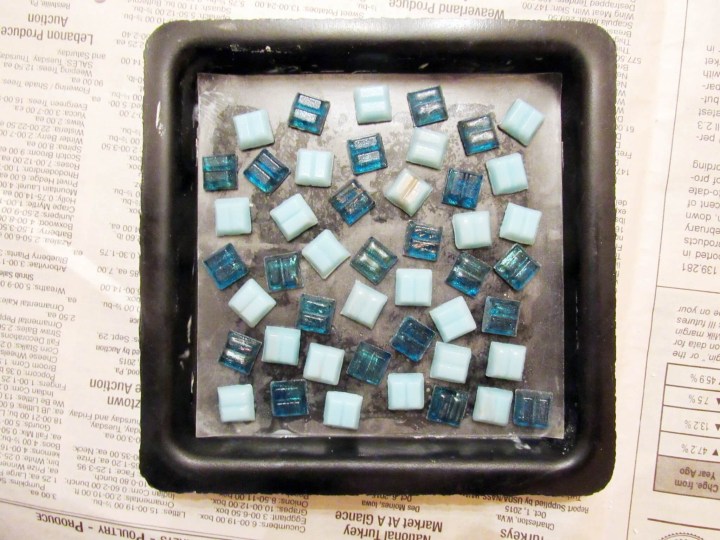 She went with a cool blue look for tile 2. She greased the mold, laid down the contact paper, and created an abstract design.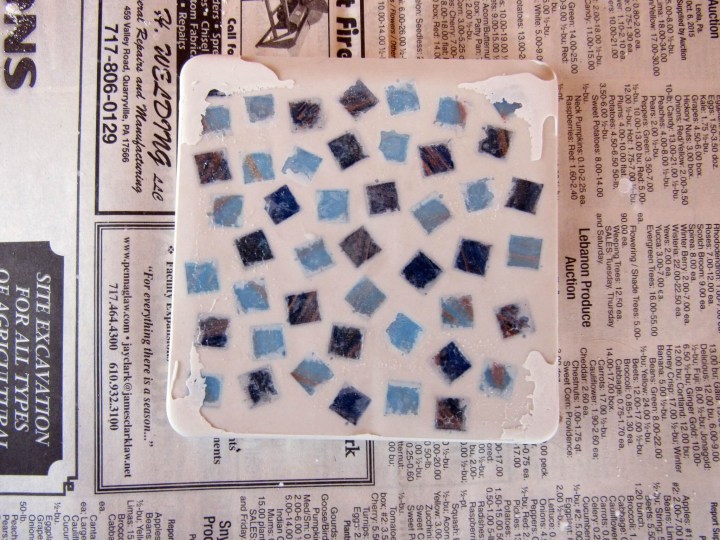 I included this photo of tile #2 to show what the tile looks like before removing the contact paper. The contact paper was easy to remove.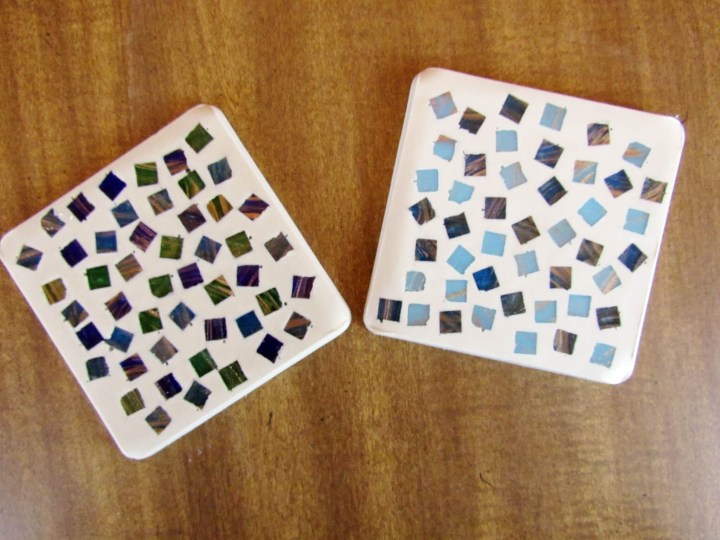 The coasters are completed! I took the picture while the cement sealer was drying. We are going to allow it to dry overnight because my house is on the cooler side. They look great!
The March 2016 Smart Art Box was a lot of fun. I was surprised by how easy it was to make a coaster. My sister enjoyed making the craft and has plans to make a few more. There are enough materials left over to make additional coasters or other projects. I can't wait to see what medium will be in April's box!
Visit Smart Art Box to subscribe or find out more! Save 10% off your first box. Use coupon code  CREATIVITY.
The Subscription
:
Smart Art Box
The Description
: Smart Art provides artists with diverse high quality materials that inspire and nourish creativity. Each month subscribers receive a new box featuring a different artist that highlights their time period, 8-11 trial/full sized art supplies, a suggested project and a detailed pamphlet introducing a new art medium.
The Price
: $49.95 per month