StupidCrate is a box that sends fun and stupid items to your door every month. We actually liked most of our items last month and couldn't wait to see what new stupid things they would send now.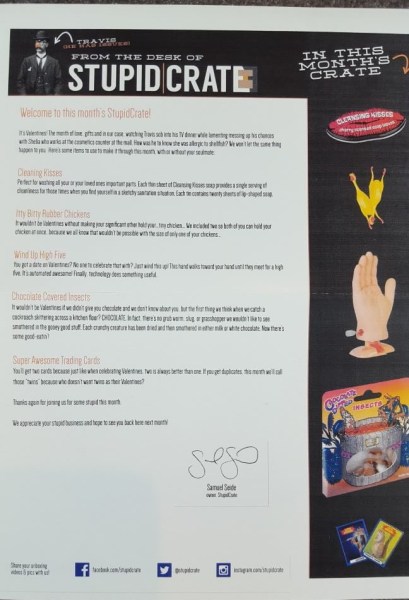 The list of contents in the box.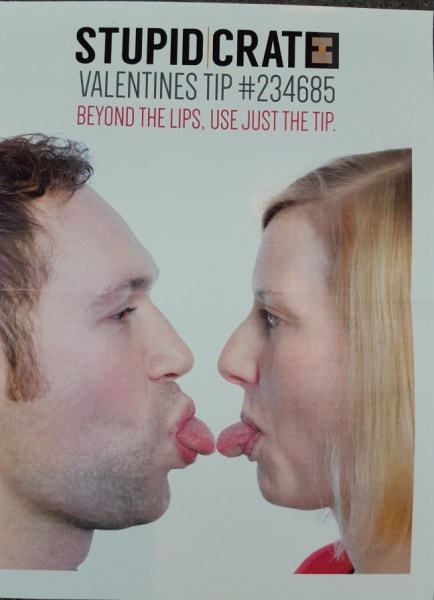 And if you didn't remember that Valentine's Day was in February this the funny ad on the back reminded you.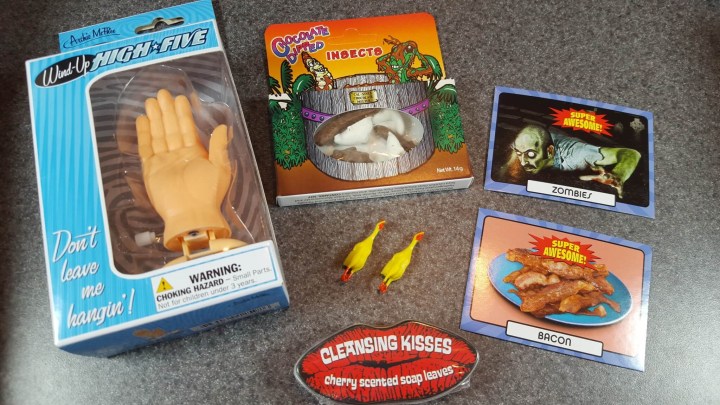 Everything in the box. This looked like a very interesting collection of stupid items.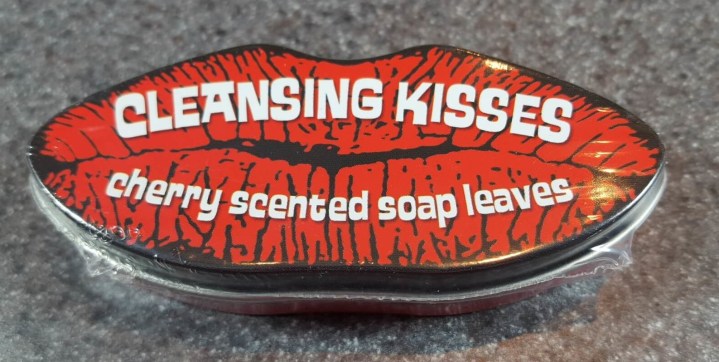 Cleaning Kisses Soap ($4.99) – This is soap you can carry with you for those times when you find yourself in those sketchy soap situations.  I usually have hand sanitizer for those but I can see tossing this in the travel bag too. You never know when you might need some soap.
Chocolate Dipped Insects ($4.83) – No, no, no, no I will not be eating these but my boys think they are hysterical and can't wait to make their dad try them.  We are keeping them for this weekend  so we can have a full on bugfest.
Itty Bitty Rubber Chickens ($1.23) – This might go as the stupidest item in the box.  Two tiny rubber chickens so that you and your significant other can both hold one in your hands.  Very stupid and silly item.
Wind-Up High Five ($8.10) – Sometimes you just need a little pick me up and can give yourself a little high five.  While a stupid item as promised we've been having fun having this walk around my desk and mowing over all the action figures the boys keep putting in its way.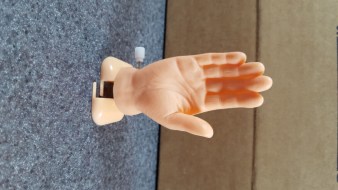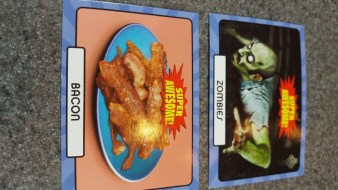 Super Awesome Trading Cards – Haha another two cards this month and for an even more stupid information check out the info card.
You'll get two cards because just like when celebrating Valentines, two is always better then one.  If you get duplicates, this month we'll call those "twins" because who doesn't want twins for Valentines?
Oh mylanta (Sorry I've been watching a ton of Fuller House recently)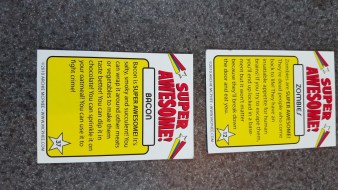 The back of the cards are full of super fun Super Awesome facts.
Overall this is a fun stupid box.  The guys must really have fun looking for the most fun and stupid items they can each month.
Visit StupidCrate to subscribe or find out more! Use coupon code STUPIDCODE to save $5 on your first month.
The Subscription
:
StupidCrate
The Description
: When you sign up for a StupidCrate, each month of your subscription you will receive a stupid box of items that will make you say, "I can't believe they found things this stupid. Way to go Travis." Really. That's all this is.
The Price
: $8.95 per month