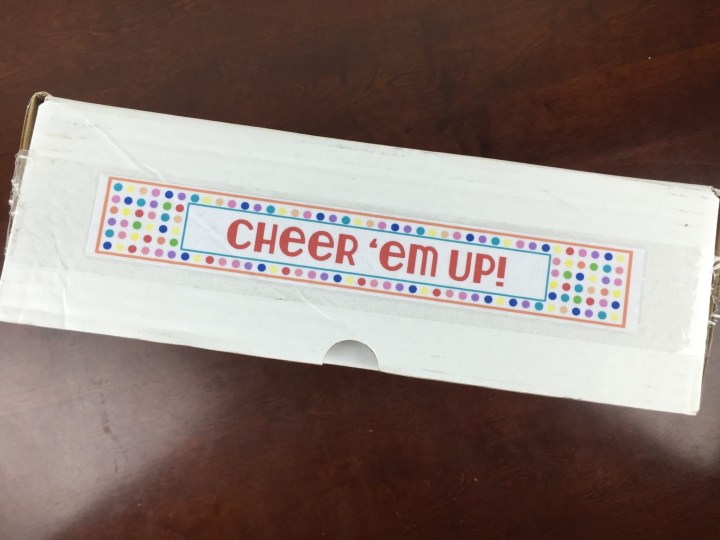 Cheer 'em Up is a monthly gift box service – subscribe to send your recipient a monthly gift of cheer! You can choose to ship your subscription to the same recipient, or to a different person every month! Cheer 'em Up promises at least $55 in value for the $35 box and targets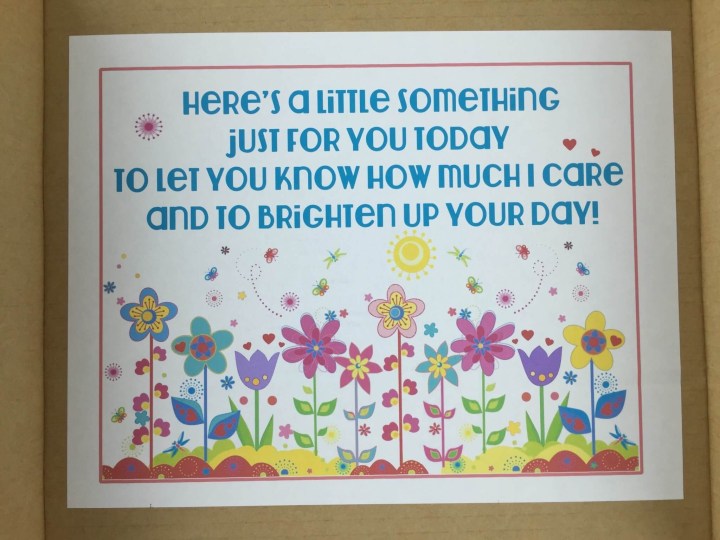 A cute message on the inside box the box lid. Cheer 'em Up is intended to have a broad appeal for adult women and each box must past the smile test!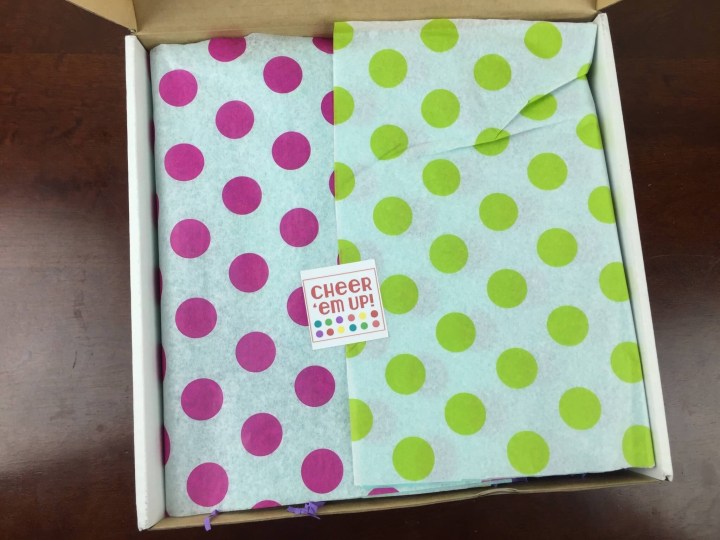 The packaging is super cute, and important for a gift box!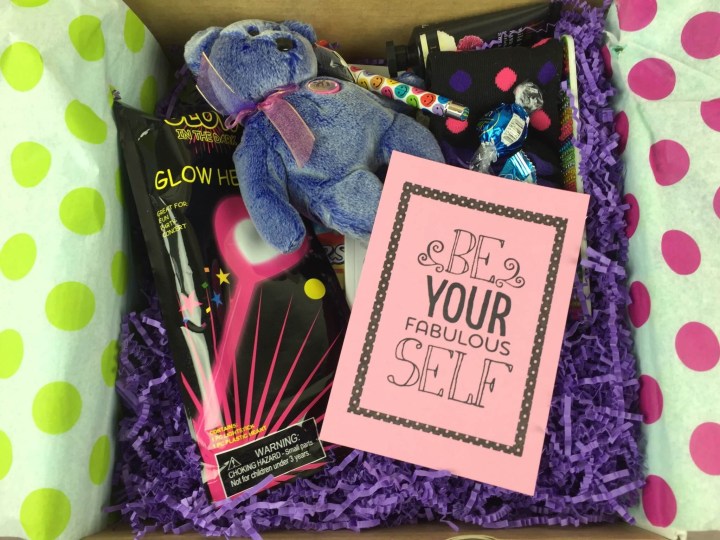 Everything is packed in colorful purple squiggles.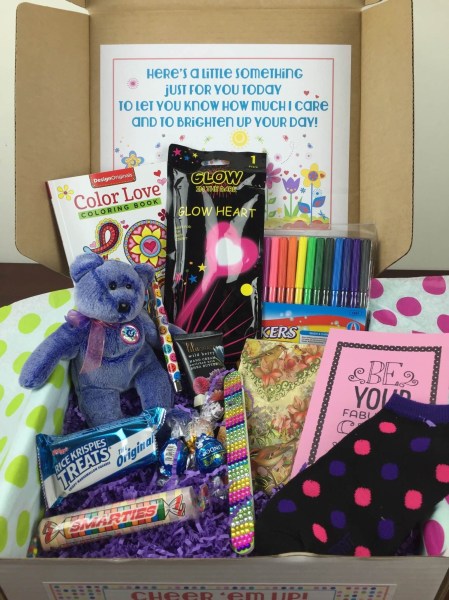 Everything in the box!
Bazic Washable Markers Set ($3): I really haven't tried the markers yet, but it like that these are washable. In a house full of kids, washable markers are your best friend.
Design Originals Color Love Coloring Book ($4.60): This adult coloring book goes together with the 18-piece set markers. It comes with a a pretty love theme! The coloring book is compact, which is great for travelling. The book has 28 designs, and has a helpful coloring guide, too.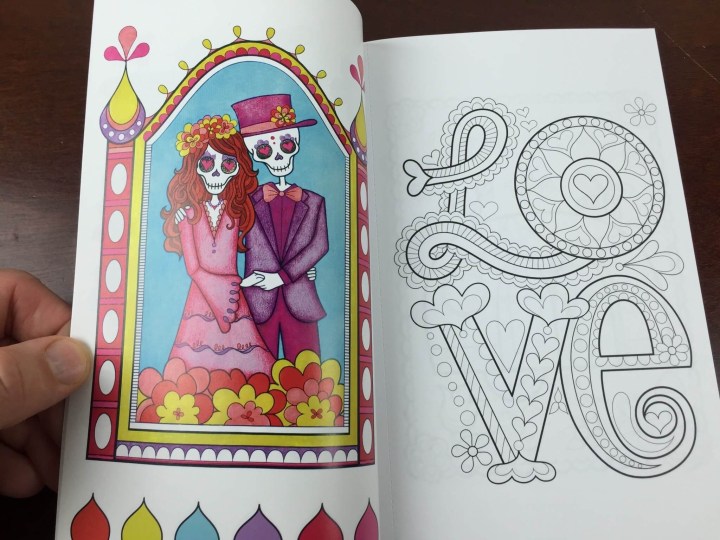 I love the illustrations in this book! The corpse bride and groom doesn't look that scary because of overall love theme of the coloring book.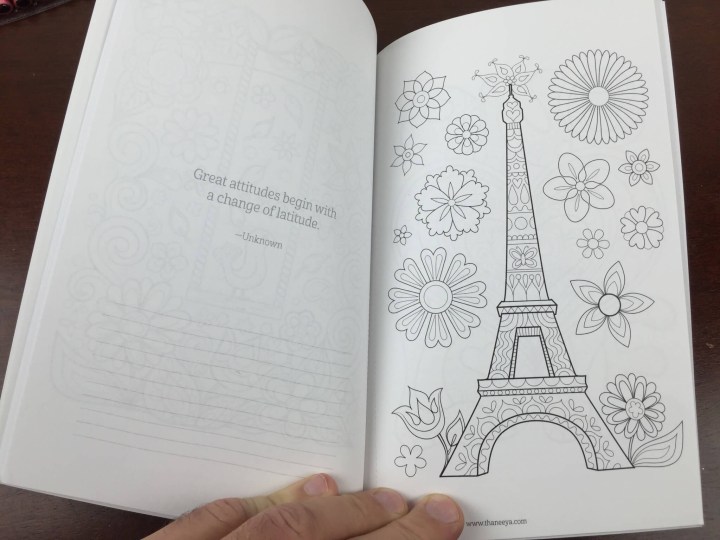 The back of the pages have fun quotes and a space where you can write your notes.
Bird & Flower Notepad ($3?) + Happy Face Pen ($3?).
I love how the notepad was design. It has a magnetic closure with a jewel attached on it. It's simple yet it's also elegant. I'd definitely use this the next time I need to write my errands or to write my grocery list. The pen is full of smiley faces and looks fun to use.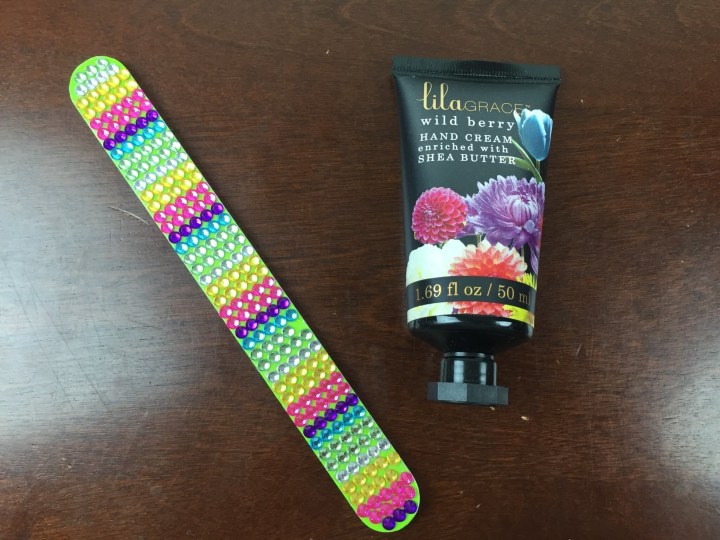 Jeweled Nail File ($4?): I like that the nail file is bling-ed out with multi-colored jewels on one side. However, it seems like those were not glued on with a heavy-duty adhesive since I noticed that there are rows missing some jewels.
Lila Grace Wild Berry Hand Cream ($2.40): Thistravel-size hand cream is perfect for those with dry skin since it is enriched with Shea Butter. Mine came in Wild Berry scent and it smells okay-ish.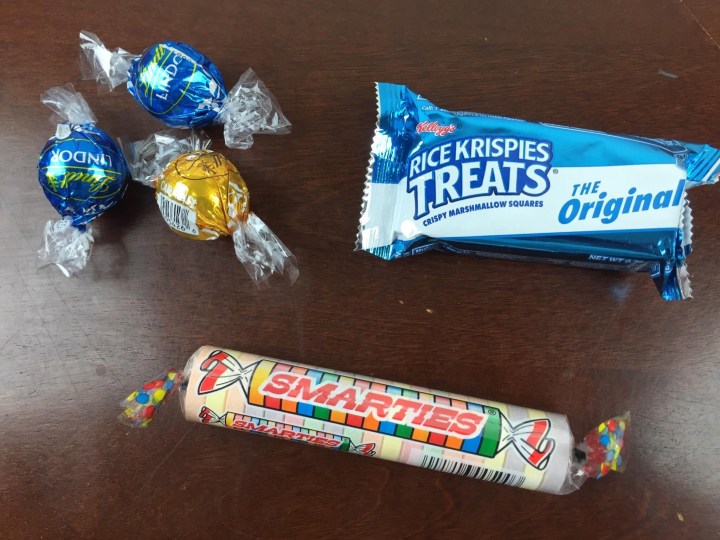 Lindor Truffles ($1): I guess everything goes well when there's chocolate involved and the box promise to cheer you up, so why not add it in the box.
Rice Krispies Treats (25¢): Another treat in this box included is a square/bar of rice crispies. I love anything with rice crispies on it and I'm happy it's in this month's box.
Jumbo Smarties ($1.05): You'll definitely have a sugar-high after eating this snacks, especially with this giant pack of candy.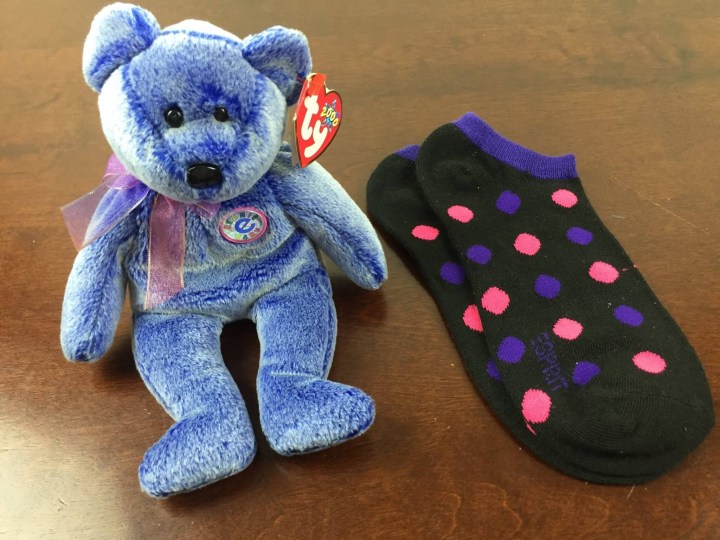 Beanie Baby – Periwinkle ($4.64): This Ty Beanie Baby is absolutely cute and cuddly. He's definitely someone who can cheer you up when you're feeling down.
Esprit Ankle Socks ($4.67): Almost every item in this box has colorful polka dots, and these socks are no different. Mine comes with pink and purple polka dots.
Glow in the Dark Glow Heart Wand ($1.05): Valentine's Day may be over, but this item is still a great addition to any party loot bags.
While I like the idea of a please-everyone box that can be gifted without my intervention in the gathering and shipping part of the process, this one missed the mark for me on promised value – I estimated about $33 in value in this box and was hoping for a bit more.
Visit Cheer 'em Up! to subscribe or find out more!
The Subscription
:
Cheer 'em Up!
The Description
: Our goal is recreating that same exhilarating feeling on both sides of either sending a surprise box of goodies or receiving one from someone who cares about us.Inside every Cheer box is a carefully curated mix of 10-12 assorted surprises, including fun novelties, quality bath or beauty products, edible treats and sweets, plus a little something or two that lasts well beyond when the box hits the recycling bin.
The Price
: $35.00 per month