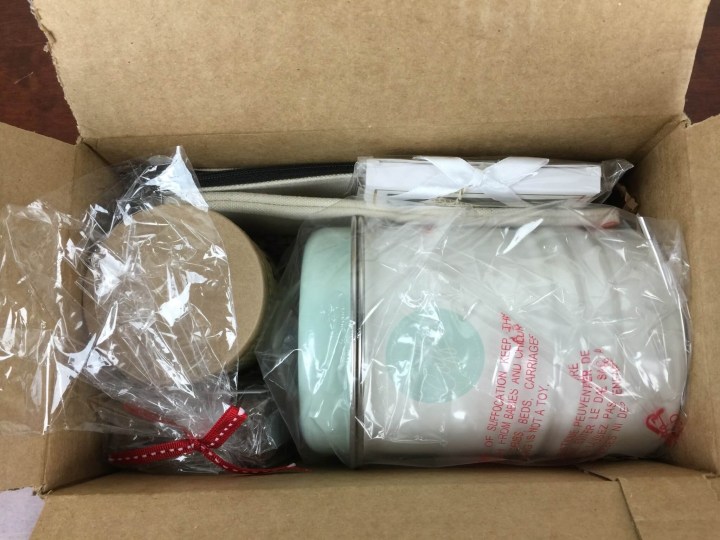 Another amazing Serendipity for just $10! I love it! Serendipity by LLB is a bi-monthly subscription that provides a little something extra in between the regular Little Lace Boxes, as well as a fun way to deliver serendipitous discoveries right to your door.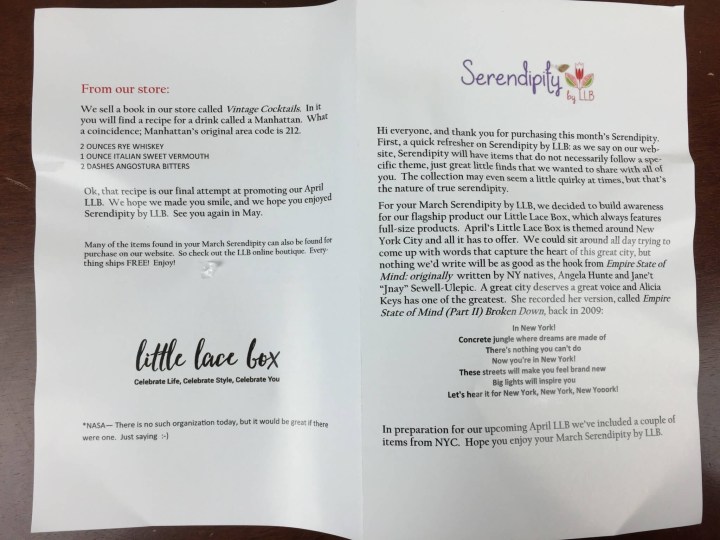 It's only $10 every other month – so it's a bit difficult to resist this small indulgence!  This subscription isn't meant to have a theme and is a box (or bag) of really fun surprises. This month LLB included some surprises from New York in anticipation of the April Little Lace Box!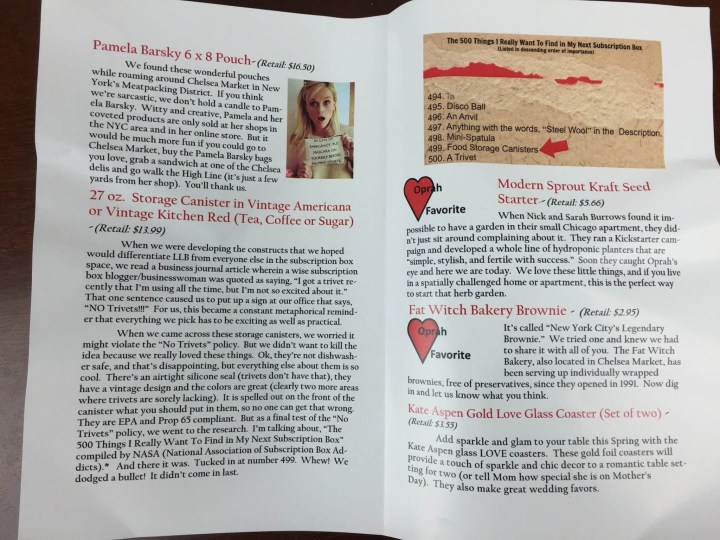 The information sheet gives quite a substantial amount of information for an inexpensive subscription, which is nice!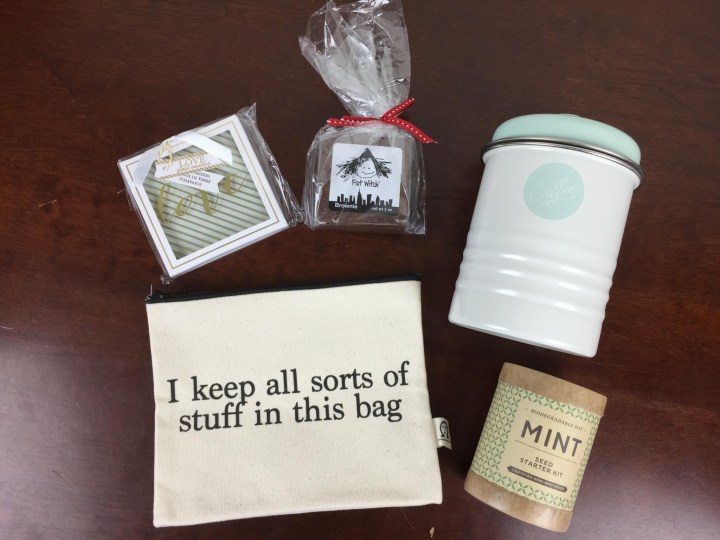 Everything in the March Serendipity by LLB!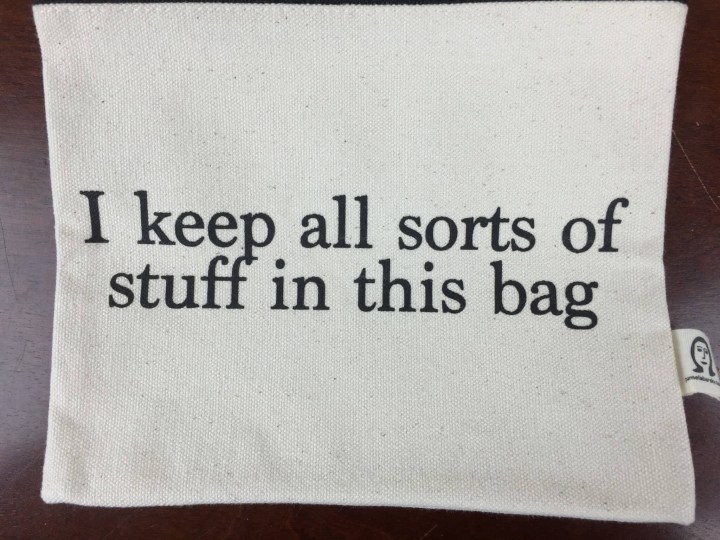 Pamela Barsky 6×8 Pouch ($16.50) I laughed out loud when I saw this! It's funny because it's totally something I would say. Ms. Barsky sells these pouches in Chelsea Market (NYC) and her online shop! Subscribers received various sayings. I can always use another pouch!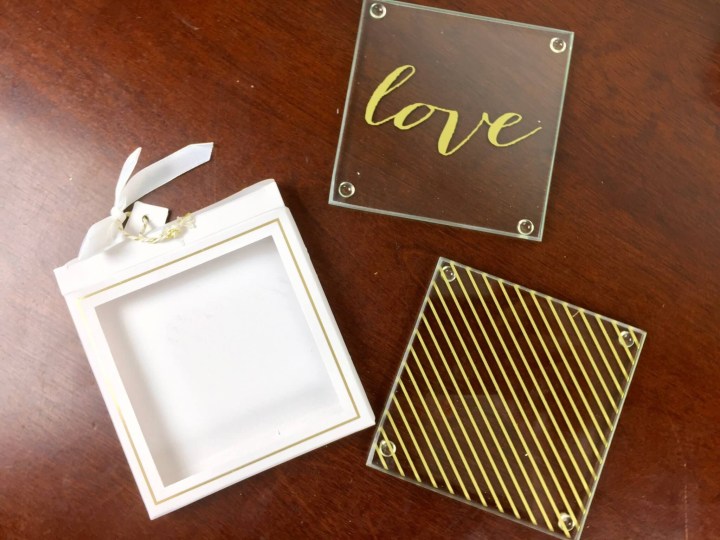 Kate Aspen Gold Love Glass Coaster Set ($3.55) I love this coaster set for the following reasons: 1) it's gold and pretty and goes with anything 2) it's clear, so non-distracting and I can still see my table (but see also #1 – I can still actually see the trivet) 3) they have little dots on the bottom and 4) they aren't paper and won't disintegrate with use! Nice item for a box (and a good wedding favor item to boot!).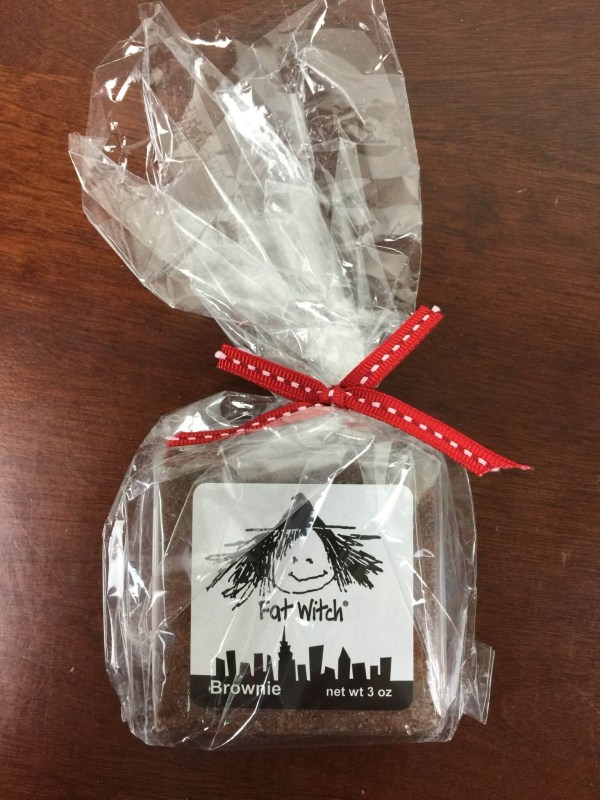 Fat Witch Bakery Brownie ($2.95) NYC's famous brownie delivered to me in a box no have eaten these before and they are very very good. 
I am saving this for an emergency that will likely occur directly after my little people are in bed and cannot witness me eating this!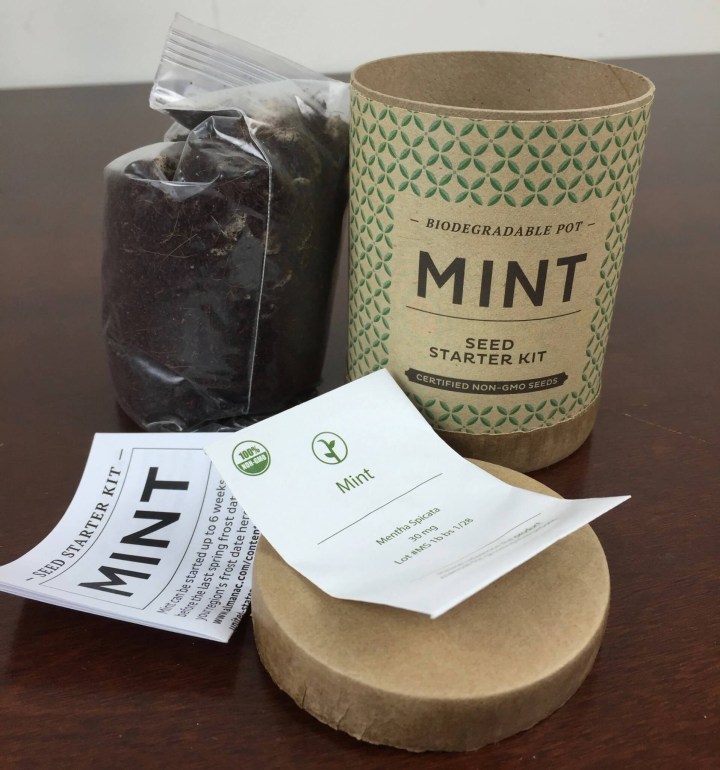 Modern Sprout Kraft Seed Starter ($5.66) I love seeds for spring! We got mint but other subscribers may have received other versions. You start the seeds right in the pot and transfer it after they are ready to transplant outdoors (either in a pot or the ground although for mint I would keep it in the pot because it spreads). Hello mojito!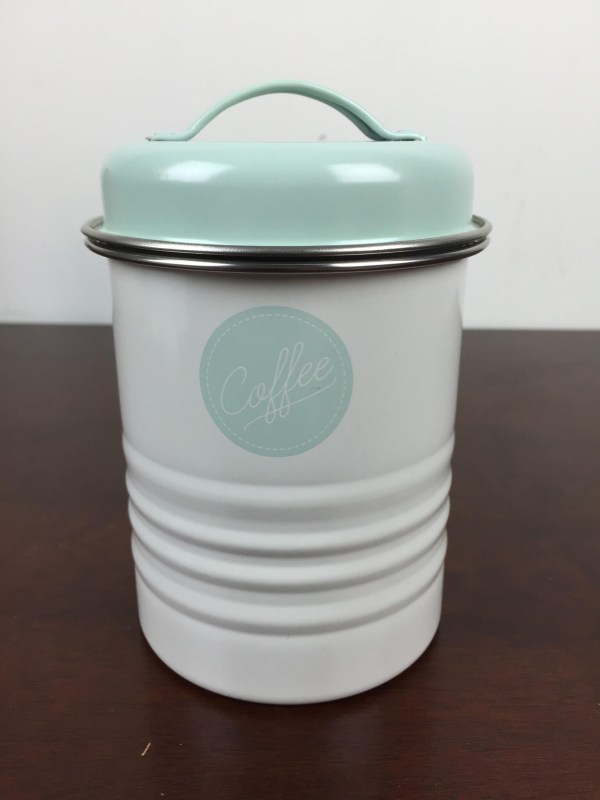 Typhoon Vintage 27oz. Storage Canister in Vintage Americana or Vintage Kitchen Red (Coffee, Tea or Sugar) ($13.99) omg I am so in love with this – and you guys know I don't drink coffee but my husband does and stores his coffee in this stupid ugly Tupperware on the counter. This is perfect for my new kitchen and I love the modern color paired with the vintage design!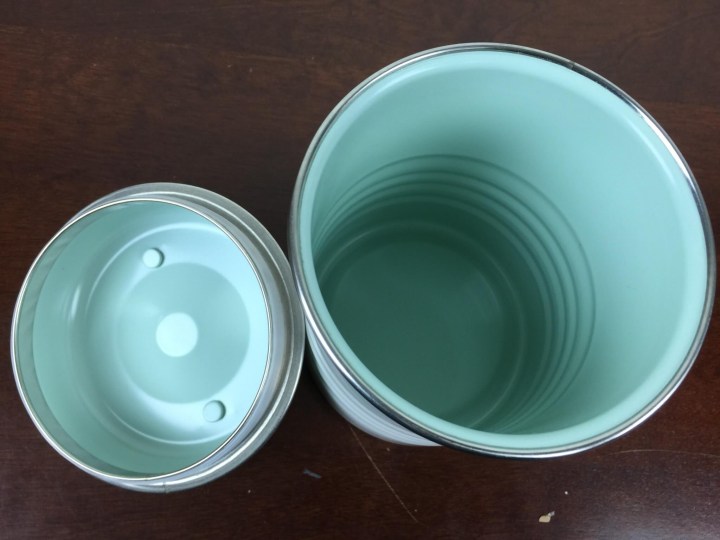 The deal is nice and tight and it should keep his extra coffee fresh! And my counter clean and pretty! Now that you're here you should go back up and read the hilarious description of this item!
This is a lifestyle subscription box that really delivers! For $10 the total value was about $43, and everything was so adorable AND useful. I could not possibly ask for more in an inexpensive subscription.
FYI – the May box is on sale NOW! There are only a limited number of spots available, and subscriptions will close again after they're sold out. Be sure to grab the annual subscription so you don't miss out but if you just want May, select that one here.
There are no coupons or deals on Serendipity (which is price-wise cheap!) but you can use these codes to save on the regular Little Lace Box subscription!
Save $15 on an 6 month subscription (3 boxes). Use coupon code HELLO15.

Save $30 on an annual subscription (6 boxes). Use coupon code HELLO30.

Take $10 off your first box. Use coupon code HELLO10.
Visit Serendipity by LLB to find out more or to subscribe!
The Subscription
: 
Serendipity by LLB
The Description
: Get a fun surprise of delightful odds and ends in the "off" months of Little Lace Box in a dazzling red pouch!
The Price
: $9.99 every other month