Energy Supply Company brings energy drinks to your door every month with many different flavors from different companies for a low monthly charge.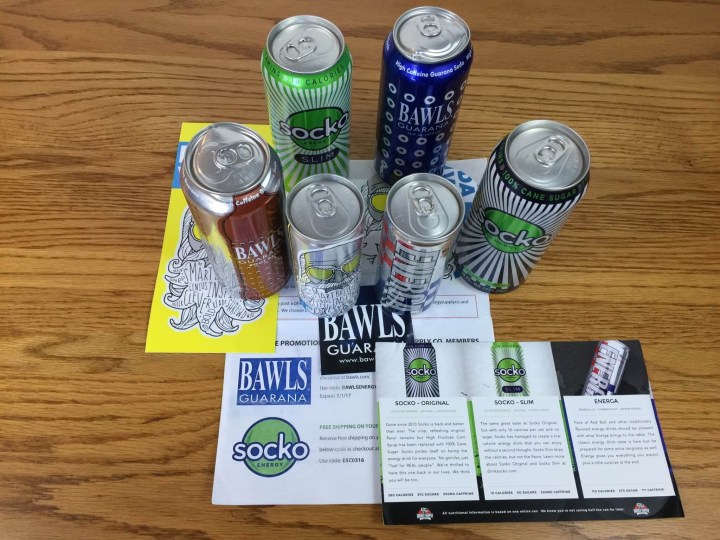 This month included 6 different flavors along with a couple other goodies.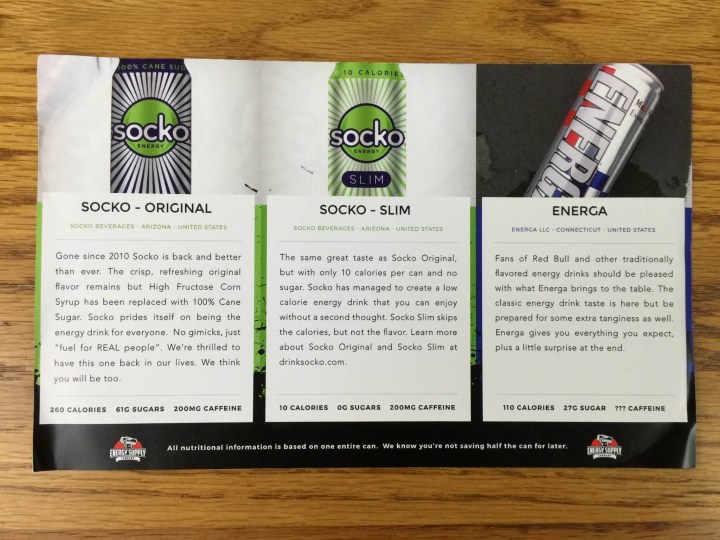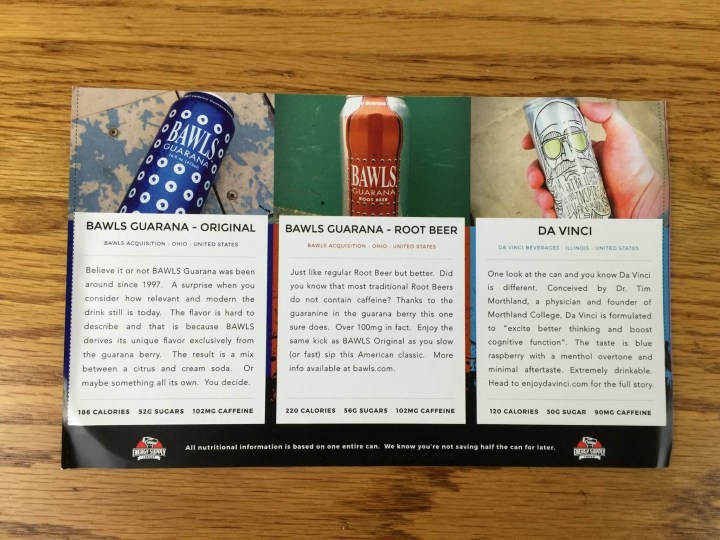 A description card that explains all of the energy drinks included in the box.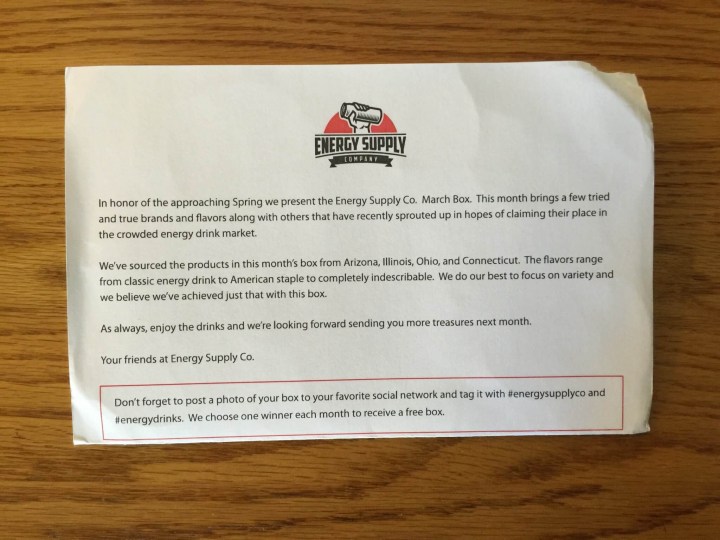 Energy Supply Co. encourages you to get involved with their social media pages and lets you know how with this insert.
Da Vinci included this insert to explain the advantages of consuming their beverage.
D Vinci sticker.  Show everyone your favorite energy drink logo by displaying this proudly.
Bawls sticker.  Another cool sticker from this awesome box.
Socko Original Energy Drink. 200mg of caffeine packed into each can of this tasty drink.  Gone are the days of high fructose corn syrup for Socko's Original Energy drink.  Now with 100% cane sugar.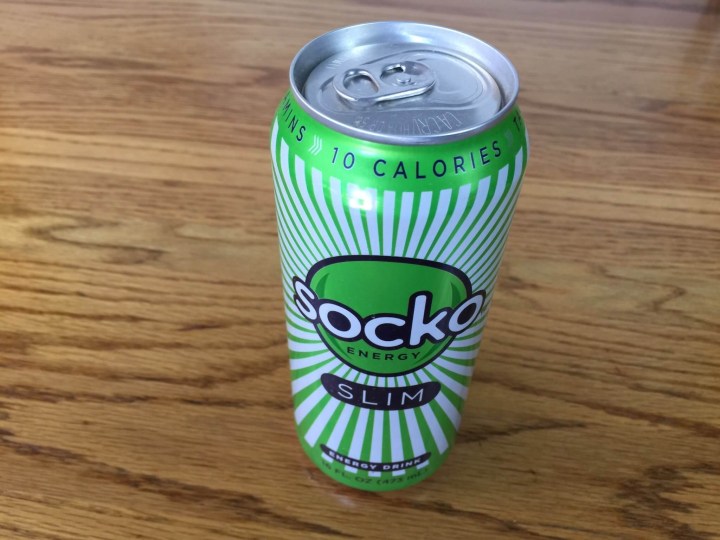 Socko Slim Energy drink has 200mg of caffeine but only 10 calories.  They still manage to keep the flavor however. It was great to compare the two beverages to see which version is best!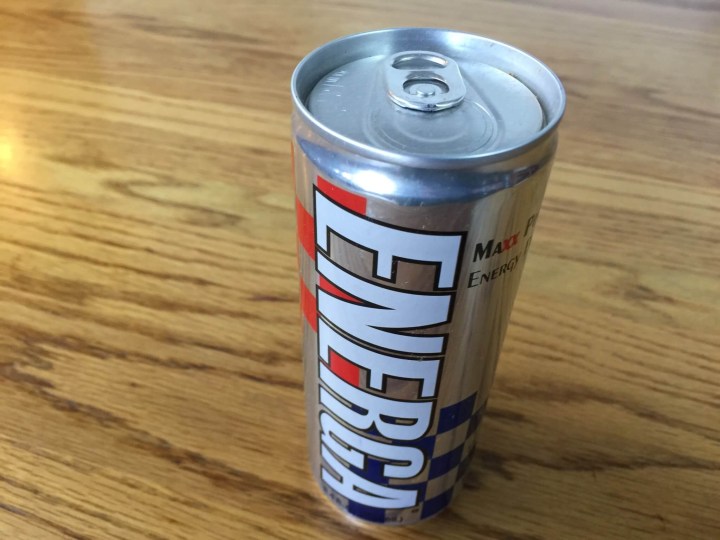 Energa is more along the lines of the traditionally flavored energy drinks.  The can has a classic look as well.
Bawls Guarana Energy Drink.  102 mg of caffeine with the flavor of the guarana berry.  Not sure why out of these six cans that the cans from Bawls were both protruding at the top of the cans.
Bawls Guarana Root Beer Energy Drink.  102mg of caffeine for a beverage that normally would not have caffeine!! Root beer for the caffeine addict!
We reached out to Energy Supply Co about the cans:
It doesn't happen often, but every once in a while we receive reports of damage and dings.  We never ship damaged cans, but temperature changes during shipping sometimes lead to the cans swelling (we've even seen this with the can bottom).  And of course, the random drop on the box corner or edge by the post(wo)man would result in something like this.
We are currently working a new box design that will help to protect the cans from accidental drops, but we're still a few months away from that.  Luckily, this sort of thing doesn't affect the drinkability of the the product!
There you have it, still ok to drink!
Da Vinci has 90 mg of caffeine and the coolest looking can in this box.  The flavor is blue raspberry with a bit of menthol.
Energy Supply Company does a remarkable job in including different flavors and different drink companies into one box.  It's super cool to know that you can taste all of these drinks in full can form to know what works best for you.  If you love energy drinks, this is a great way to give them an honest try.
The first box free deal expires Wednesday (March 23rd) at 12pm ET!
Visit Energy Supply Co. to subscribe or find out more! Get your first box free! Use coupon code FREEBOXHELLO. Pay $4.99 shipping & handling.
The Subscription
:
Energy Supply Co.
The Description
: Energy Supply Co. is the world's first and only Energy Drink Subscription Box. We find drinks from across the land and send you six of the best ones each month. Every monthly box means different brands. You will always receive something new and fresh. It doesn't get any better…or more simple.
The Price
: $24.95 per month