The Planner Addict Box is a monthly subscription box for planner nerds. The box is filled with planner products you can use for any type of planner. You can expect products from well-known designers such as Heidi Swapp, American Crafts, Amy Tangerine, and some Planner Addict Box exclusives. If you don't already know, decorating your planner is a "thing." It's sort of a cross between journaling, scrapbooking, and of course, keeping your schedule.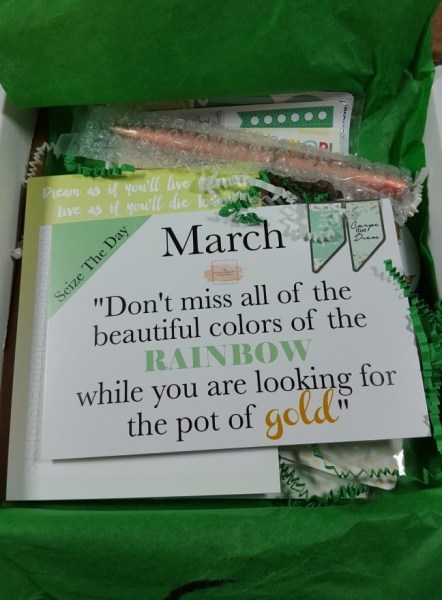 When you peel away the tissue paper you get to a little curator's note about the box.  I still love that they coordinate the tissue paper each month with the theme of the box.  March has a St Patrick's Day theme.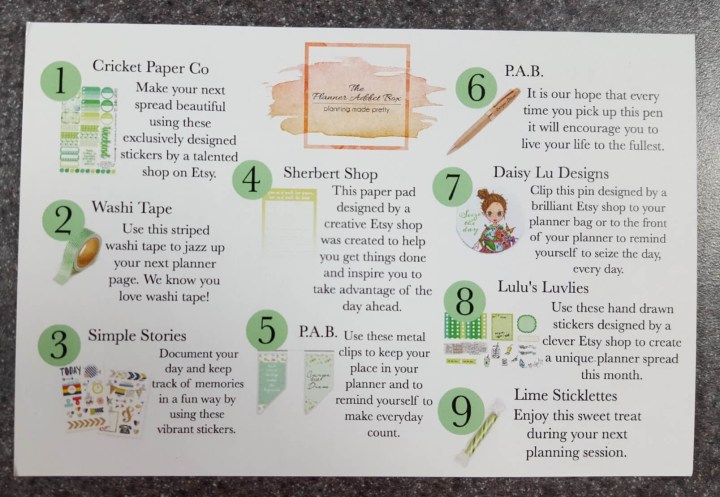 The information card has a collage of all the items in the box. The items themselves are very journal-ish or "memory planner." The information card will help you figure out how to use them in your planner, instead of just regular papercrafting – although scrapbookers and other paper crafters will enjoy this box too.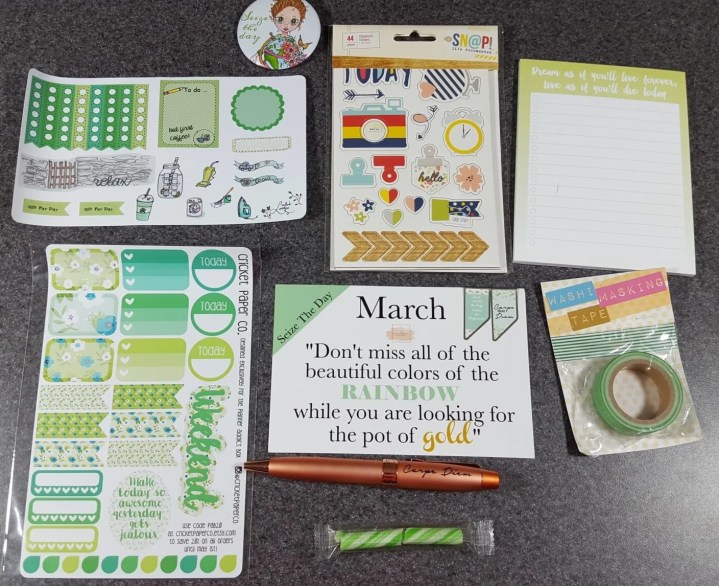 Everything included in this month's box.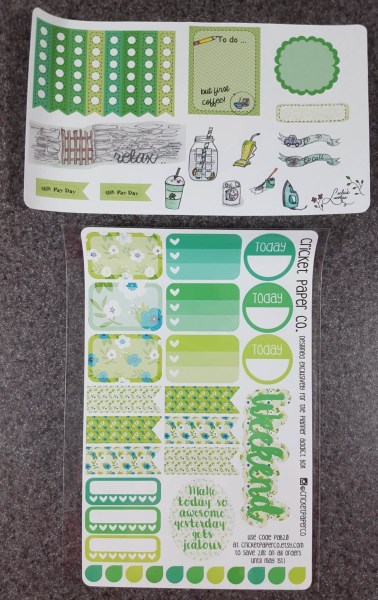 Lulus Luvlies stickers (These are exclusive to Planner Addict but similar ones go for about $4) I'm ready to use these in my planner already. I love that they are Valentines without being too over the top.  I also love the muted colors so they will blend better in my planner.
Cricket Paper Co stickers (This is also exclusive to Planner Addict but similar ones go for $6.00) More great green colored stickers for a March planner. I love the sticker and the quote "Make today so awesome yesterday gets jealous"  It is perfect for a planner and will be so cute when I get it added in.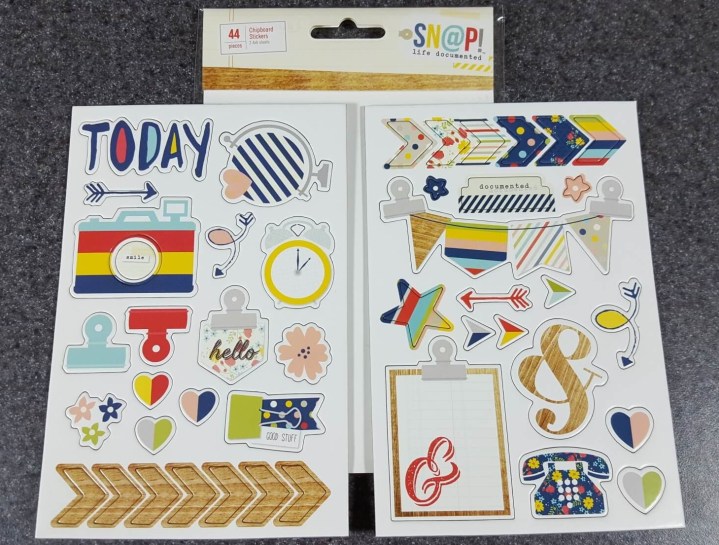 Simple Stories Chipboard Stickers ($2.85) I love Simple Stories and use them in my scrapbooking all the time.  I've never thought about using chipboard in my planner but I don't see the reason why I couldn't.  These are really cute and totally my style so I'm going to see about adding some to this month and then I can add the rest to my scrappy stuff.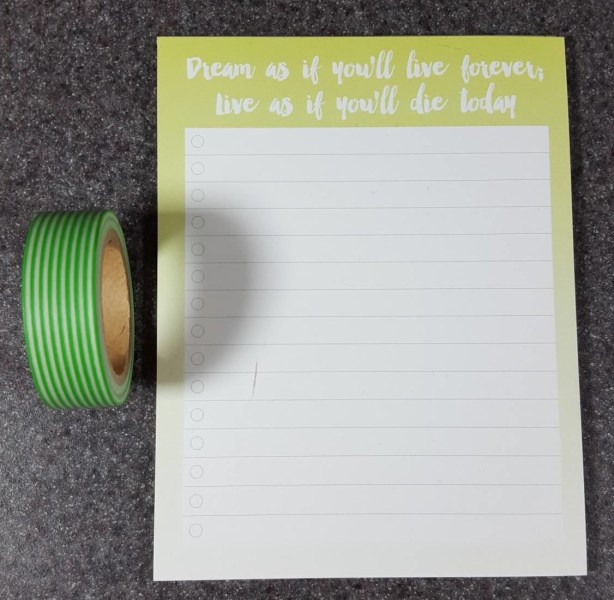 Green Stripe Washi:  I am firmly on the you can never have too much washi.  I use it for everything and my boys love to craft with it and decorate the subscription boxes once I'm done with them.  It is a very fun game over here and then we play post office.  This will be great to add to my stash.
Sherbert Shop Notepad ($10.00)- Another item with a great saying this month. I'm a huge notepad person and I keep them near me at all times since I'm always wanting to jot things down.  This is going right next to my laptop so I'm ready for anything.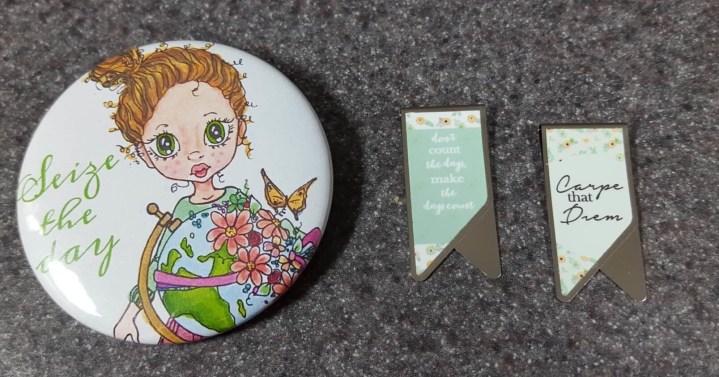 Daisy Lu Designs Pin: Planner Addict Box suggest that we add this pin your planner bag or your planner to remind yourself to seize the day everyday.  I'm on board with that and will be adding this to my bag.
Planner Addict Box Metal Clips: I had not really used many clips in my planner until I started getting them in this box but I'm pretty much hooked on them now. I keep adding them to my pages and they are cute and functional and the sayings are really with the theme of the box.

Planner Addict Box Pen: I like that they send a pen each month since I loose them frequently.  I'm betting there is a stash somewhere in my house that I just haven't found yet.
Lime Sticklettes: Our monthly sweet treat.  This is next to me now and I'm going to have it tonight.
Again I'm liking the box this month. I love that they use so many etsy shops and I find all sorts of new people I NEED to order goodies from.  The boxes are also themed really well and if you were into making sure your monthly planner was coordinated they would be great.  I'm more a bounce around and just use what I like hodge podge decorator and it works for that too.
Visit Planner Addict Box to subscribe or find out more.
The Subscription
:
The Planner Addict Box
The Description
:Get the fun of "planning made pretty and get handpicked planning supplies sent straight to your door every month for you to enjoy! You can expect products from well-known designers such as Heidi Swapp, American Crafts, Amy Tangerine, and some Planner Addict Box exclusives.
The Price
: $15 per month + 3.75 shipping