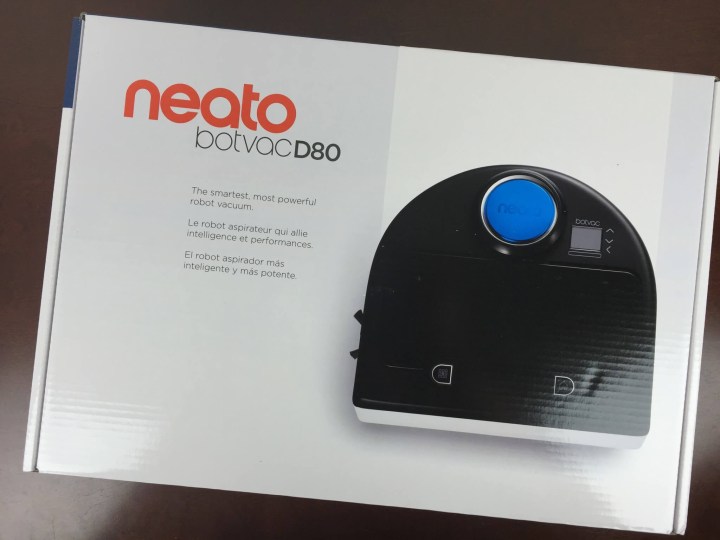 We purchased the Neato Botvac D80 a couple months ago and have been putting it through its paces.  We've owned and used a Neato XV-14 for a few years, and were excited to see if the newer model offered new features and improved performance.  For those completely unfamiliar with Neato robotic vacuums:  these guys start on a preprogrammed schedule, clean room-by-room, navigating by their self-generated map, and return to charge themselves.  They are the ultimate time saver and, for us at least, make the difference between having a floor that is vacuumed daily versus almost never.
The MSRP on this vacuum is $499, but the Amazon price on it is typically $449.99. We didn't spring for the Botvac Connected ($699.99), which is wi-fi connected. When the price comes down we'll probably replace our older Neato and give that one a whirl – we have two floors (and 3 kids and a dog, so there's plenty of vacuuming!). Ultimately we didn't think that we really need a wifi connected vacuum, and we still don't, because the D80 does such an amazing job.
The box highlighted several of the features that make Neato so popular. The bot uses Spinflow technology — a combination of a spinning brush head and powerful suction.   This technology delivers performance equivalent to, or better than, the carpet attachment for a full-size vacuum, even when vacuuming up hair and other tough to get debris.  Their navigation system has been upgraded to chart a more efficient path.   This bot still has the classic D-shape design that lets it get into corners while still maneuvering easily.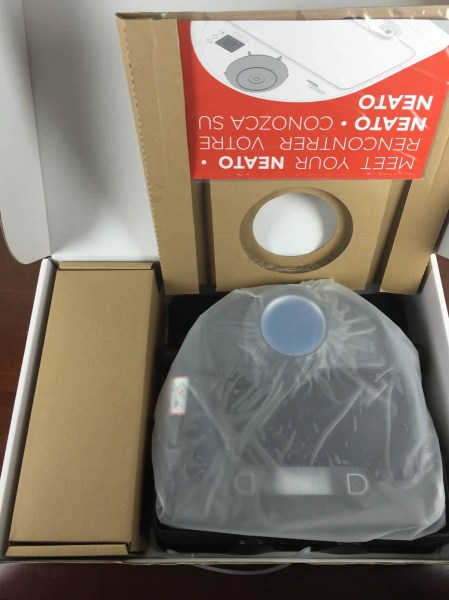 The bot arrived nicely packed and protected.
It included the full basic accessory pack, including upgraded filters (high-performance instead of regular).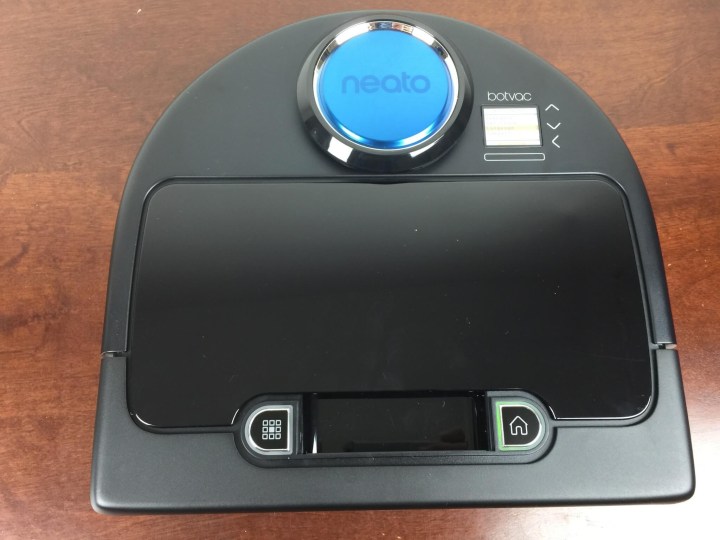 The basic shape of the D80 is the same D-shape as the XV-14, but the interface has been redesigned.  In addition to the text menu and menu navigation buttons, there are quick start buttons for commencing house cleaning or spot cleaning modes.  The lights around the buttons change color and flash to indicate various levels of charge and readiness.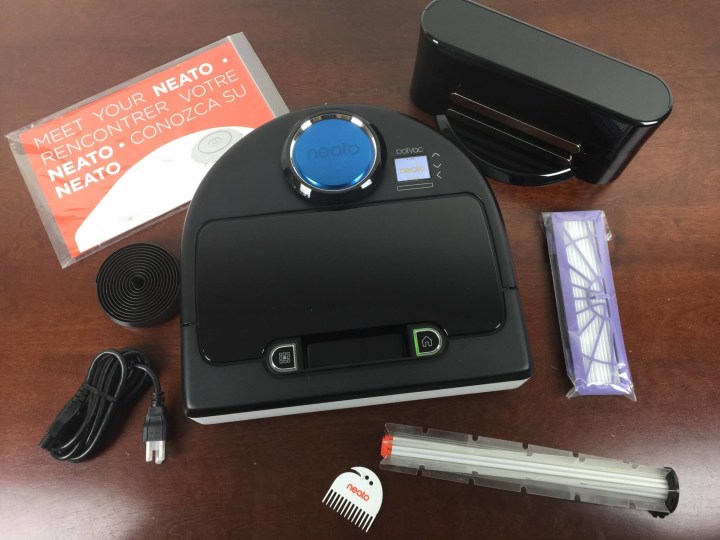 Everything in the box.  Ours came with the charger base and cord, a spiral replacement brush, a (purple) high-performance filter, a comb tool for cleaning the brush, a border tape, and the instruction booklet.  A second, combo brush and high-performance filter are in the machine, as well as a NiMH battery.
The high-performance filter captures fine dust particles including pet dander.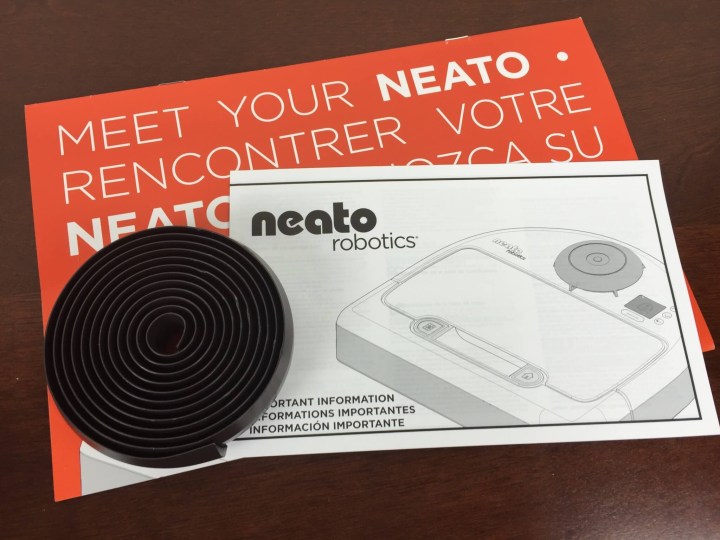 The border tape is useful for creating an artificial barrier, keeping the bot from crossing it.  You don't need to install a baby gate or lay a chair across the door!  The bot avoids stairs on its own, but this will keep him out of the baby's room during nap time or protect the house of cards you built from gentle nudging. We use this around our treadmill – Rogette tries to go underneath and can't get back out. They're not perfect, even though they are totally amazing!
FYI – when we got our first robotic vacuum our kids were really scared of it, so Brandy had them name it. They picked the name Roger. So our latest vacuum has been endowed with the name Rogette! The kids will correct Brandy if she accidentally calls her Roger. Naming the vacuum makes a world of difference!
The kit includes two high-performance filters, a spiral and combo brush, and a brush-cleaning tool.  The spiral brush is quieter on hard floors than the combo brush, which is designed for combination flooring and excels at collecting pet hair.
The electronic menu shows battery charge, cleaning time, and current cleaning options. You can schedule your cleanings or run your vacuum manually – we do a combo of both.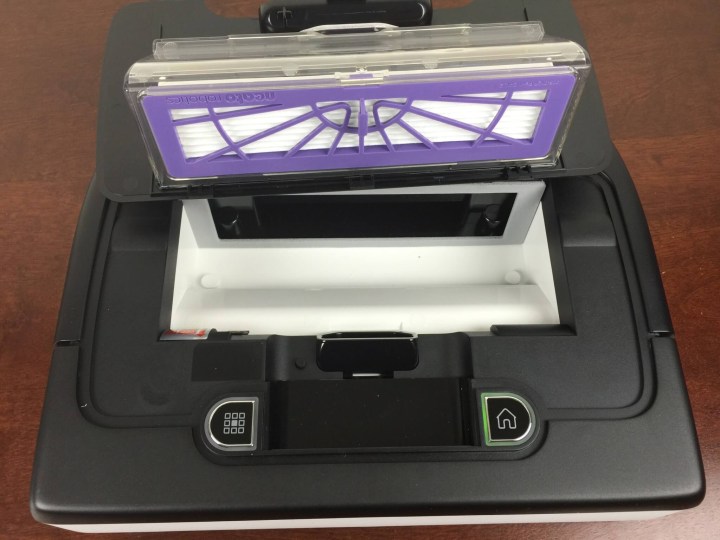 The filter and dirt basin remove easily for emptying.  This ease of removal is actually the biggest issue we have since our toddler loves to empty it himself (when he is not riding the vacuum)!
The bot navigates, brush first, using two main rubberized wheels and a couple rollers for balance. You can clean the rollers by removing the black part, and it's much easier to reassemble than previous versions.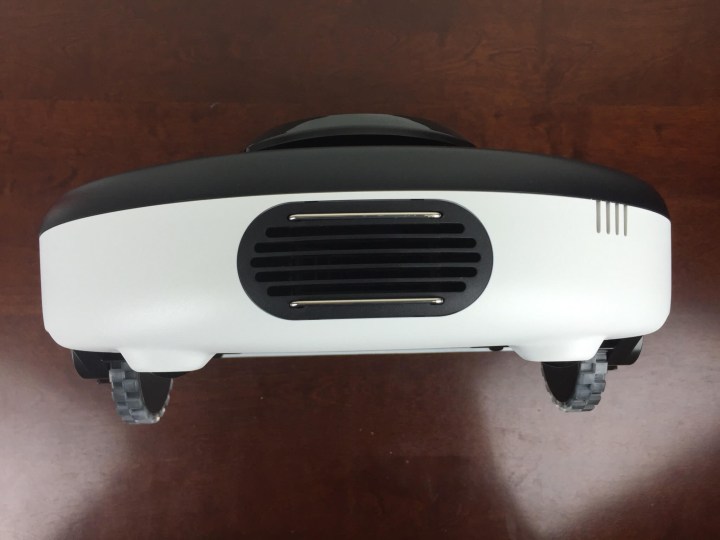 The rounded rear of the unit has the vent and metal contacts for connecting with the charging base.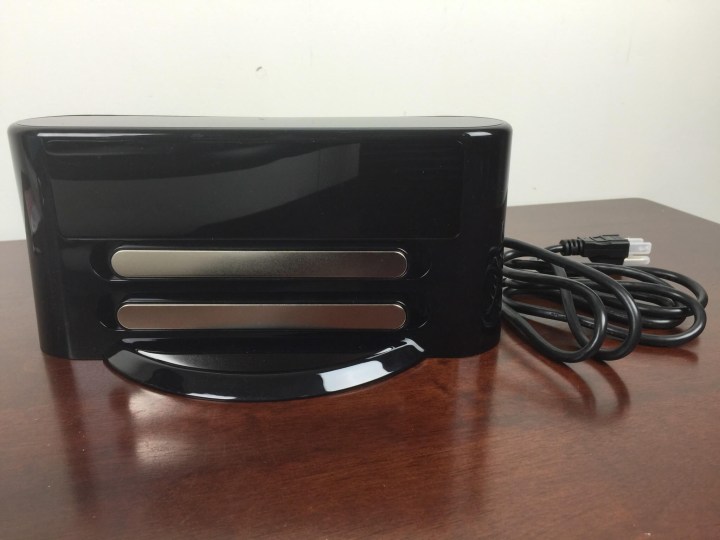 The charger is self-standing, and can be placed anywhere in the house with a few feet of clearance to the front and sides.   The bot will doc itself, backing gently into the charging unit until contact is made.
We have our base near the door, and our bot still nests himself quite well.  The amount of charge held by the D80 is amazing! We usually have him clean our carpeted upstairs, but we take him downstairs every once in a while, because he cleans so much better than our upright vacuum.  He did the entire floor of the house on a single charge!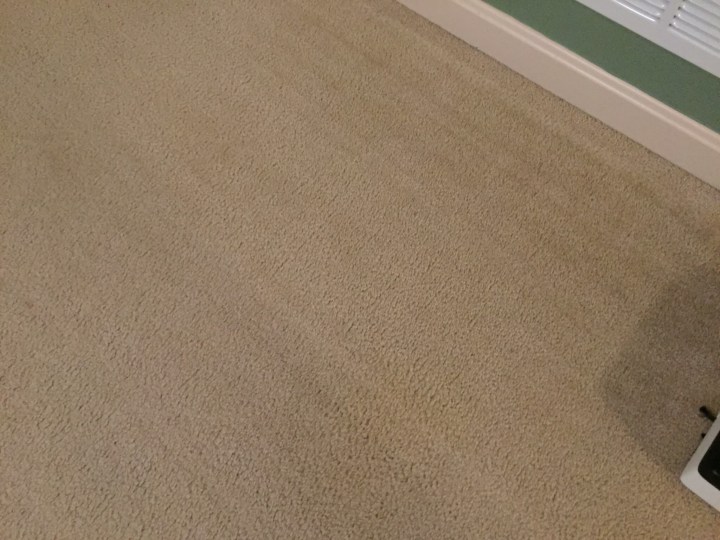 The bot does an incredible job on our floors.  It picks up just about anything, and leaves them noticeably cleaner.  Some of our rooms had gone without a good vacuuming in awhile, and the bot made the floors visibly brighter due to the dirt taken out of them.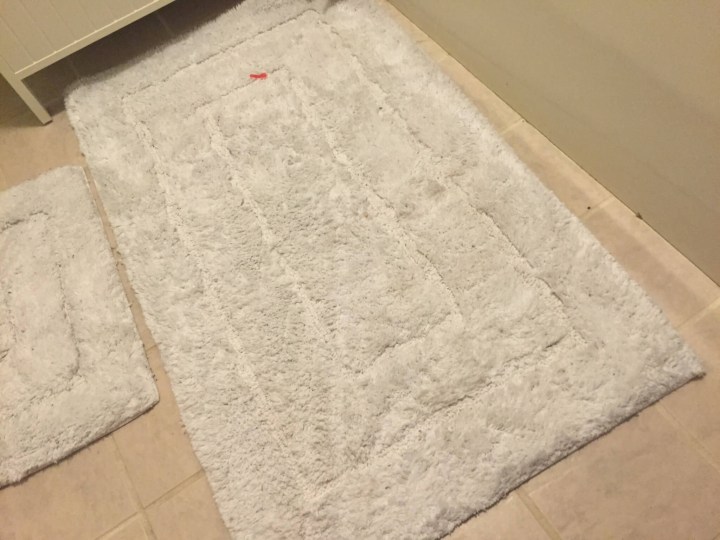 The D80 is really powerful, too.  It pushes around shoes and can power over even shaggy carpets and matts — somehow it seems to know (because it has lasers)  when it is up against an immovable object, as it reevaluates its route or instructs you to move the object with a gentle tone.  The only issue we've had is when it actually rolls up a bathmat and then runs aground atop it — it's that powerful! And no, it won't fall down the stairs! The Neato can sense when it's on a ledge and won't navigate further (at least in our home – if you had some sort of weird mirror that would confuse its laser guidance then I suppose it would be possible).
The bot picks up so much dirt.  After I had vacuumed the floor with an upright, it still picked up two trays of dirt and dust!  If we don't run the vacuum for awhile, we have to empty the tray with each cleaning — when it runs daily, have to change the tray less frequently.
We are super-impressed with the Neato Botvac D80.  Its battery life is lightyears beyond that of our aging XV-14 – it will clean for about 2 hours. If it's not done, it will return to its charging base and go back to where it left off 3 times.  Though a bit noisy when running on the tile upstairs (we use the louder, combo brush), the machine is much quieter than an upright.  It also cleans much better, and we have an expensive upright.  The best part is the amount of time we've saved using the Neato — we save 15 minutes a day, every day, and the self-timer and scheduling means we have a much cleaner floor than we would have if it were only cleaned manually when we thought to do it.
Neato Botvac D80 vs Roomba & Samsung
The square corners on the Neato really get into actual house corners, and this is a real benefit over the Roomba. We've honestly never tried out a Roomba – when Brandy did the initial research on robot vacuums about 4 years ago, she decided that the Roomba is a sweeper and not an actual vacuum.  There's probably less difference in machines now, but we can't argue with the Neato's cleaning power, enormous dirt storage, and usefulness in our home.  There's also a Samsung robotic vacuum now – the VR9000 will put you back $799.99! The Samsung operates similarly to the Neato – it doesn't ram into your furniture to find its path, but instead relies on laser guidance technology.
Ultimately the price points make a real difference. While you can justify a $450 vacuum based on hours saved (whether your own or a hired housecleaner), it's a lot harder to justify a $900 vacuum that doesn't do much more (if anything) than the $450 vacuum.
We're thrilled with the performance of our Neato Botvac D80 and our clean floors! You can find the D80 on Amazon ($449.99), Walmart ($499.99), Bed Bath & Beyond ($499.99 for the D85), Target ($499.99) and Best Buy ($499.99, sometimes on sale for $449.99). [This is to say that Amazon is the best place to buy this vacuum!]
If you have a robotic vacuum, let us know what brand and model and why you love it!
Hello Happies is where we review things that aren't in subscriptions, make subscriptions more useful, or otherwise make us happy!