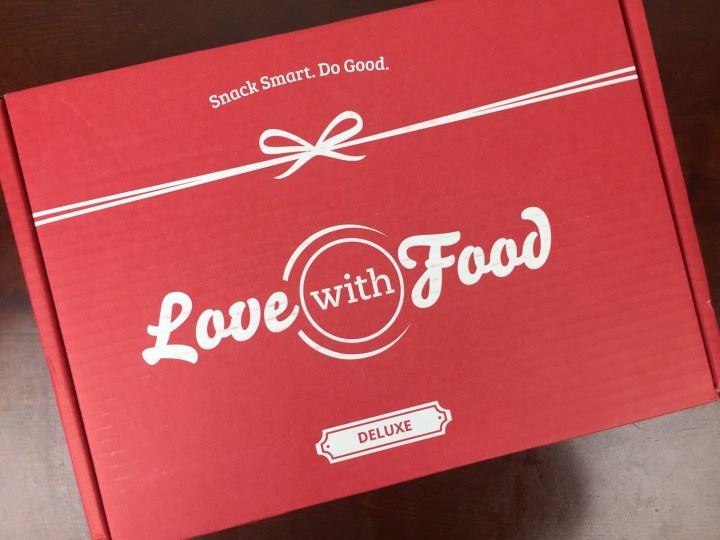 Love with Food's theme for February was Love Is You! Love With Food is a fun snack discovery subscription available in three versions: classic tasting box, deluxe/family size, and gluten-free. We purchase the Deluxe box, because we have a big family and more snacks = more fun!
This month we're calling out all of Love With Food's loyal snack lovers. Why? Because you've helped us donate 1 million meals to food banks! Take a moment to stop and savor these snacks and be proud of everything your support has done to fight hunger. Think of this box as a way to take a little "you" time. You deserve it!
For 2016, each month of Love With Food will feature a "Love Is…" theme! FYI, you can see our review of the February Gluten-Free box here.
The Deluxe Box,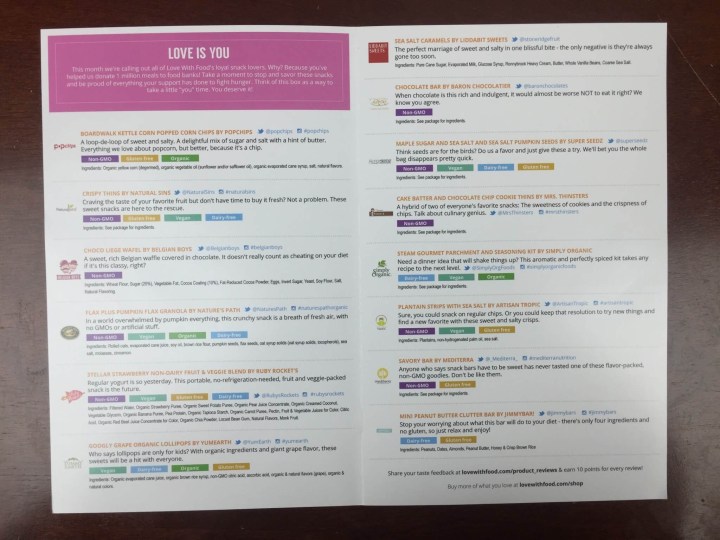 The information booklet contains both the ingredients for each item plus color-coded keys indicating which are non-GMO, gluten-free, and vegan!  Though they offer a Gluten-free box, it's nice to have this kind of info handily starred for households with mixed dietary profiles.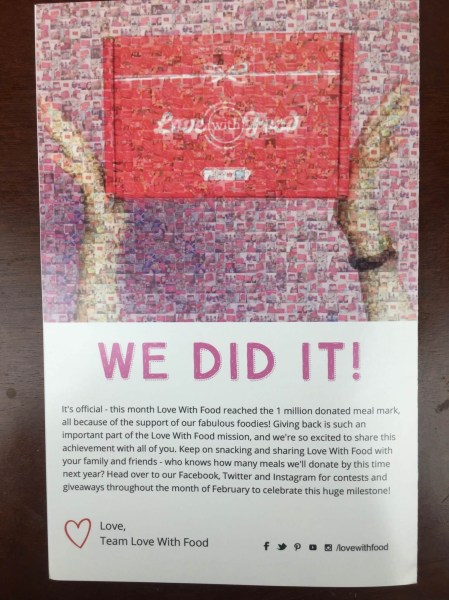 Love With Food donates meals with every box purchased – this month they reached 1 million, which is an amazing milestone!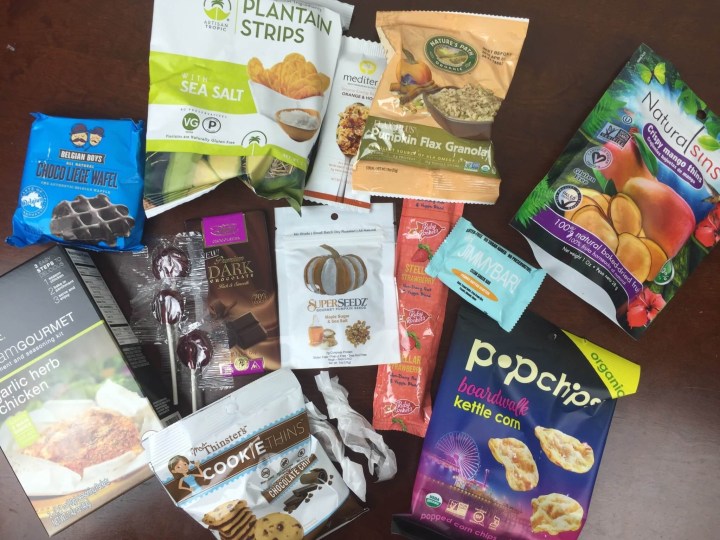 Everything in the February Deluxe box!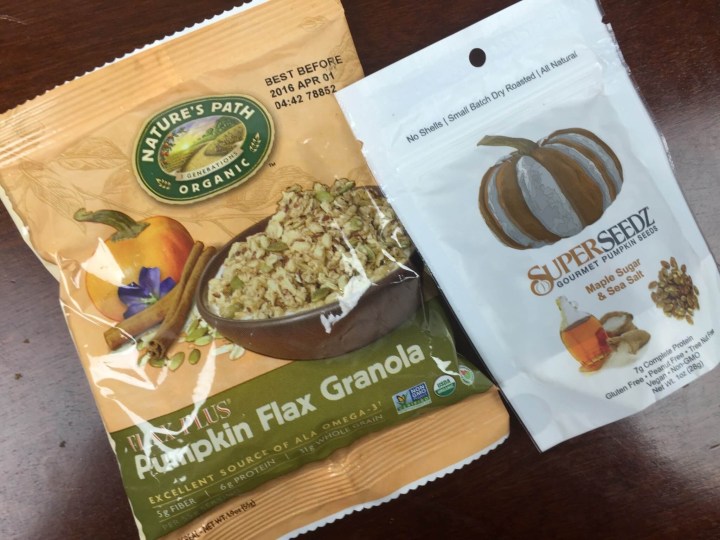 Maple Sugar and Sea Salt and Sea Salt Pumpkin Seeds by Super Seedz
Flax Plus Pumpkin Flax Granola by Nature's Path
Pumpkin seeds are so healthy and we were happy to find these two products in our box! We have tried them both and loved them! I eat the seeds on cottage cheese and would do the same with the granola, but the kids will probably grab it first.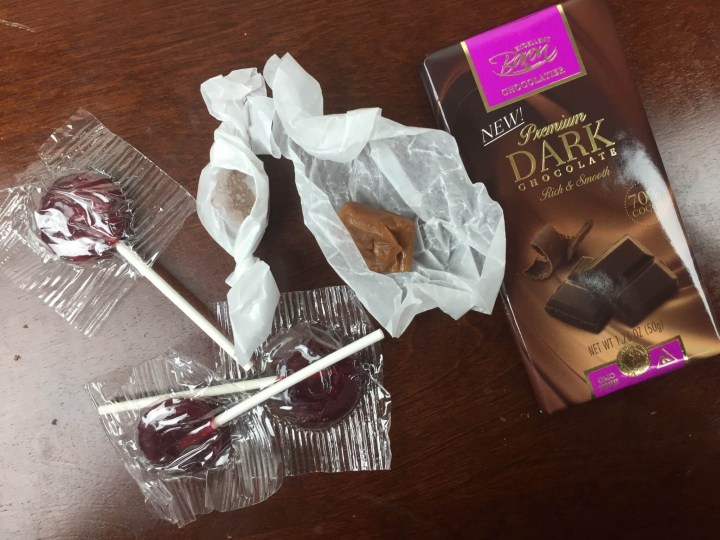 Googly Grape Organic Lollipops by YumEarth: No worries lollipops for the kids. We don't give them a lot of candy but we are happy to let them sample whatever comes in Love With Food – they are always natural with no eyes b
Sea Salt Caramels by Liddabit Sweets: very good caramels with just the right balance!
Chocolate Bar by Baron Chocolatier: An entire bar of dark chocolate. It was quite good – and I really appreciated the very small rectangles so I could attempt to moderate my intake.
Savory Bar by Mediterra
Mini Peanut Butter Clutter Bar by Jimmybar!
This subscription tends to send great bars – only this morning I had a snack of the savory Sheffa bar they sent out a few months ago (I bought more – I tend to do that with quite a few of the items in this subscription!). This savory bar has orange and honey in a sesame base and would be awesome with cheese. I've had the Jimmybar before and it's fantastic.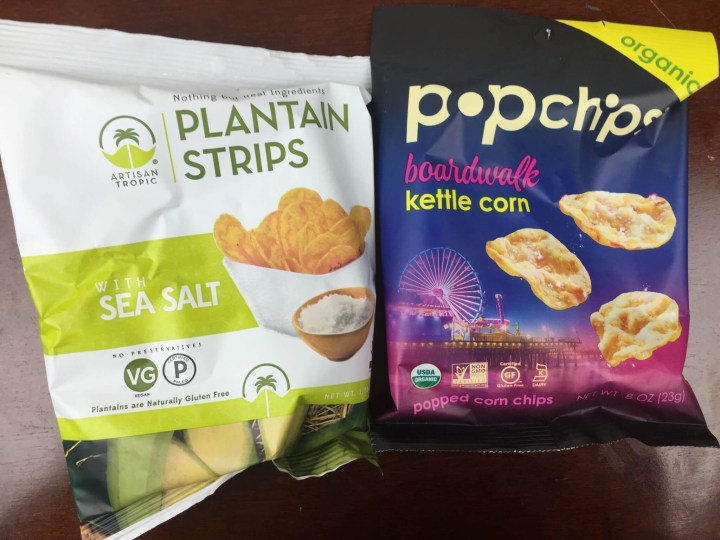 Plantain Strips with Sea Salt by Artisan Tropic
Boardwalk Kettle Corn Popped Corn Chips by Popchips 
These plantain chips are tasty and great with salsa or hummus – and a great alternative to corn.  I don't care for kettle corn, so I'll let my family dig in to those!
Stellar Strawberry Non-Dairy Fruit & Veggie Blend by Ruby Rocket's – we weren't fans of this portable fruit product, but thank goodness we got to sample it instead of buying an entire box, because this is the kind of product we'd buy.
Steam Gourmet Parchment and Seasoning Kit by Simply Organic – we have used this brand's dinner kits before and our family members are such fans they steal them from the pantry! Makes it easy to get dinner together and everything is organic and delicious.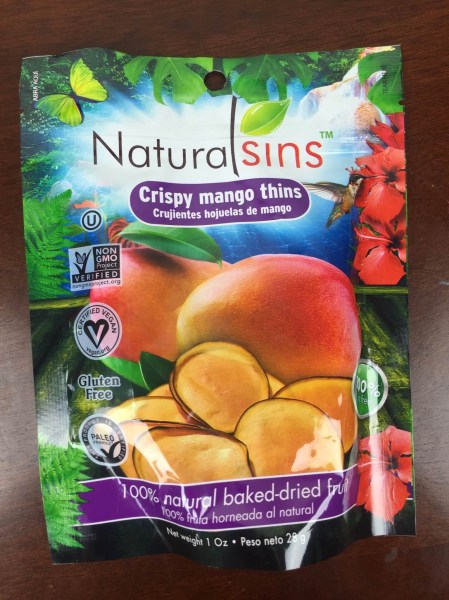 Crispy Thins by Natural Sins – baked and dried mango, these turn out crunchy and not chewy. They are s delicious way to eat more fruit instead of junk.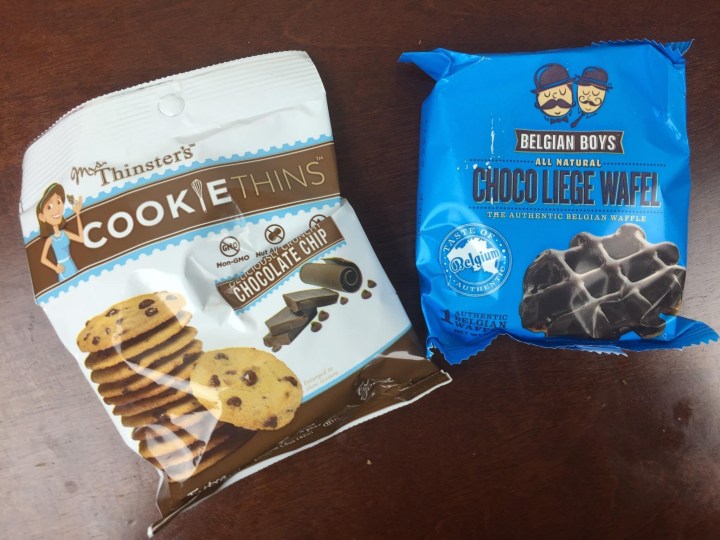 But if we are going to have junk, we choose these!
Chocolate Chip Cookie Thins by Mrs. Thinsters – delicious crispy cookies. Some members received cake batter, which I really need to try.
Choco Liege Wafel by Belgian Boys – these waffles so fantastic that we bought a case of the plain after trying them. Chocolate coated is something else and totally amazing!
As always, the box came with a pile of coupons for the included items!
For a limited (unknown length of) time, get a 3 month Tasting subscription for $17.98 with code BUY2GET1FREE – $5.99 per box! Or get a 3 month Gluten-Free Subscription for $45.98 with code GFBUY2GET1FREE – $15.33 per box!
You can try out Love With Food by using this link to get your first Classic Size Box 40% off . You can also save 50% on your first Gluten-Free box by using this link. If you're looking for a longer subscription, use coupon code HELLOSUB20 to save $20 off any 12 month plan! (That's $6.32/box for tasting, $14.83/box for deluxe, and $18.32/box for gluten-free). As always, Love With Food donates meals to charity with each box purchased.
Visit Love with Food to subscribe or find out more.
The Subscription
:
Love With Food
The Description
: Love with Food is a gourmet sampling and discovery subscription box filled with 8+ gourmet treasures centered around a monthly theme. The deluxe box contains 16-20 items.
The Price
: $9.99 (regular) or $19.95 (deluxe) per month