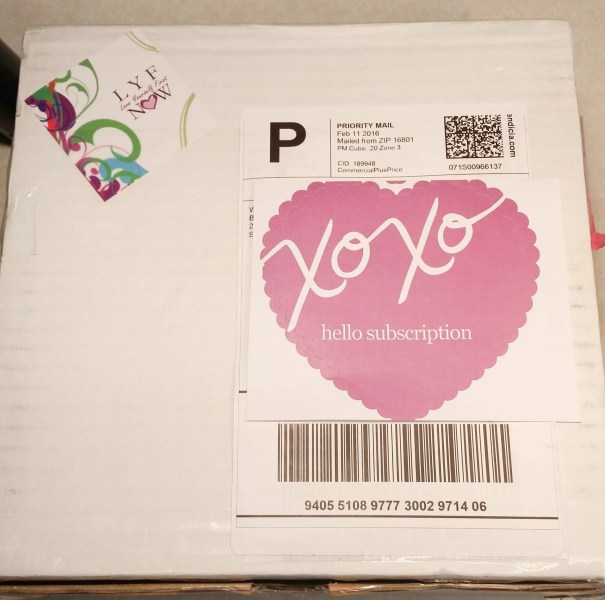 LYFnow (Love Yourself First now) is a monthly subscription box aimed at young women (14+), providing a "fun and inspiring monthly reminder to love yourself first."  Each box will contain 4-6 fun, exciting, and functional items that will "inspire and guide young women to be the best they can" by loving themselves first.  The subscription cost is $29/month, with discounts for prepaying for multiple months.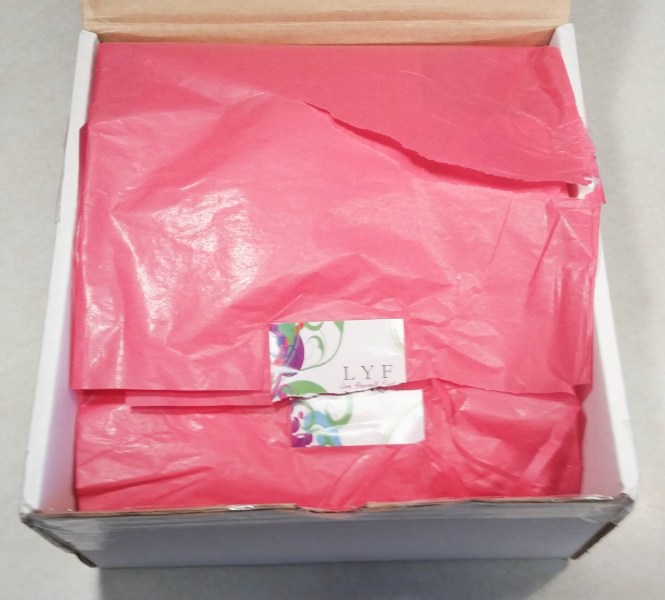 I reviewed this box with the help of my teen and tween daughters (aged 11 and 14).  Although the site focuses on teenagers (14+), I think the message of this month's box at least, and the company's message overall, are perfectly appropriate for my younger daughter, who is already facing some of that teenage-type peer pressure.  I love the idea of a box to boost their self-confidence.  So what's in the box?  First of all, pink wrapping!  Very cute (although we didn't get a picture until we tore into it…)
The theme for February's box was, not surprisingly, love – specifically "Love Yourself."  Opening the tissue paper was like opening a giant Valentine…all pink and red and sparkly.  My girls were super excited to see what goodies were inside.  As you can see below, the "Love Yourself" theme was all over the items in the box.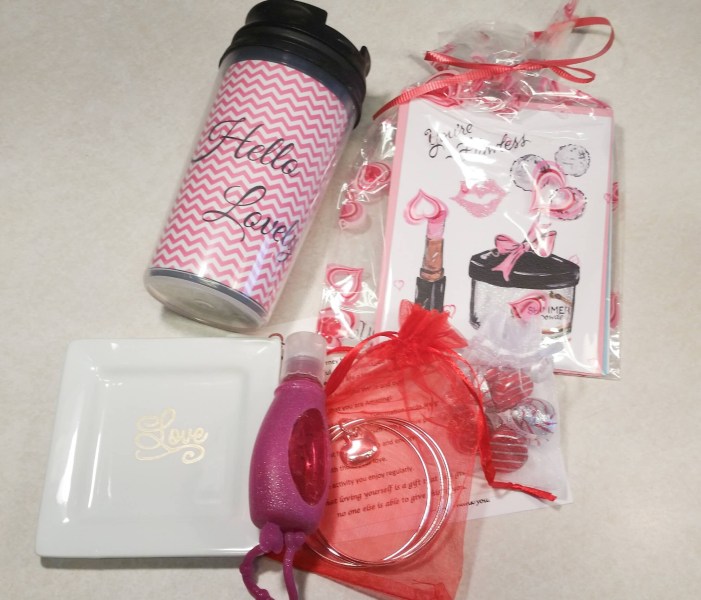 Before we get to all the goodies, there were two cards inside the box.  The first provided a list of box contents, along with some suggestions on their use.  The second card provided some self-esteem building tips, like reminding yourself that you are amazing, surrounding yourself with positive people, and spending time with those you love.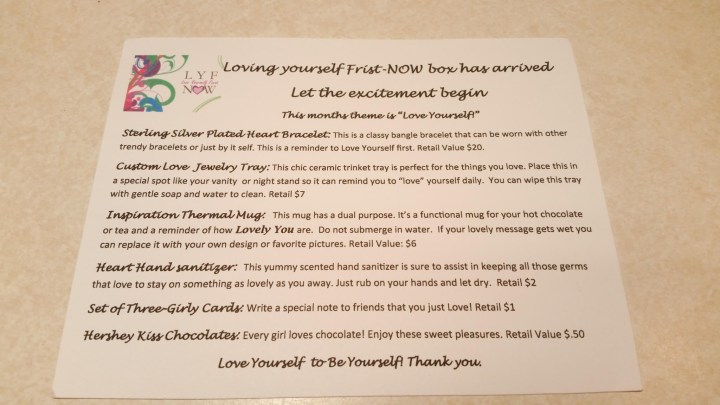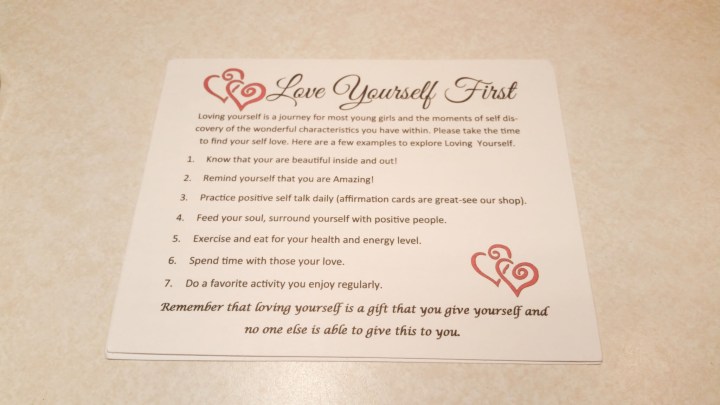 On to the goodies…
Sterling Silver Plated Heart Bracelet:  My older daughter grabbed this first when the girls were divvying up the box – clearly the favorite item.  This bracelet is super trendy and she will definitely wear it.  The heart pendant is a nice reminder, as the card states, to "Love Yourself."  I liked that this bracelet is right in style for teens and that the message, although present, is very subtle…meaning my daughter will actually wear the bracelet!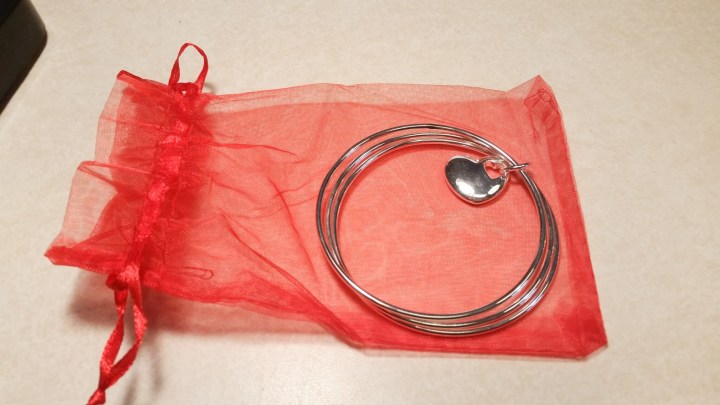 Custom Love Jewelry Tray:  This is a little hard to see – no matter how I situated my lights, something would glare – sorry.  Anyway, this is a small ceramic tray that has "Love" painted on it in gold, cursive lettering.  It is the perfect size for dropping off earrings or rings.  My younger daughter picked this as her first choice – she usually leaves her earrings laying on her nightstand, so I'm happy that this appealed to her. And again, I appreciate the message.  It doesn't hurt for her to see the word "Love" every night as she drops off to sleep.  
Inspiration Thermal Mug:  As the card states, this is a functional mug to drink from but also a reminder of how lovely you are.  My older daughter chose this item – she loved the pink chevron background and the saying "Hello Lovely."  The mug also disassembles so you can change out the message with another or with pictures.  My daughter's only complaint was that the mug is rather small…I guess it's possible they may have inherited my coffee habit, although they don't drink coffee yet.  It is small, but it probably will slip into her school backpack easily and make a good water bottle.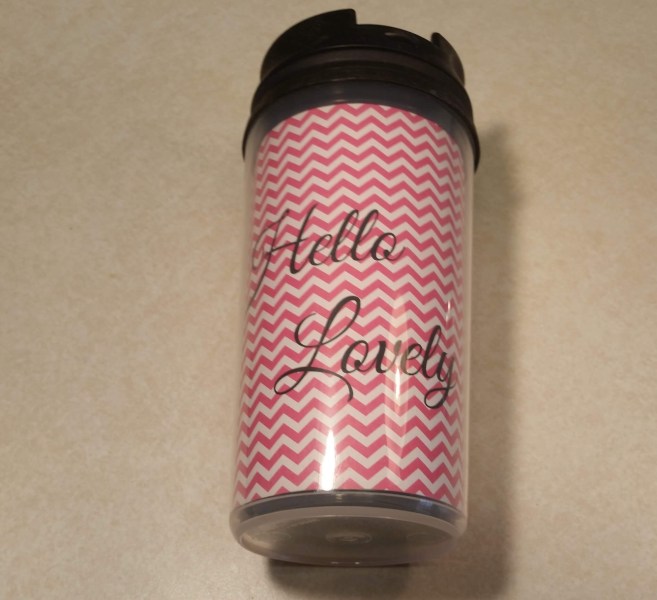 Heart Hand Sanitizer:  I don't know about older teens, but my tween LOVES hand sanitizer.  This was a big favorite of hers…yummy scent plus the cute little heart design, and it's pink, so right up her alley.  I have no idea if she actually uses this stuff, but she and her friends collect the little bottles and buy them for each other as gifts, so she did feel loved to get this in the box.
Set of Three Girly Cards:  Sometimes kids surprise you.  My kids are texters.  Or instant messengers.  Or whatever kids these days do to communicate.  But when my older daughter saw these cute cards, she went nuts and had to have them.  And I have to admit – these are super cool cards.  The designs are very modern and "grown-up" but still sweet.  I'm not sure who she'll actually send cards to, but these were a big hit.  I like the idea of kids learning that cards can be for anytime, not just for holidays and birthdays.  I grew up sending and receiving "anytime" cards – if adding cards like these to teen subscription boxes brings back that trend, I would be thrilled.  And these cards are just too neat not to like.  (I'd love to see them in a grown up box!)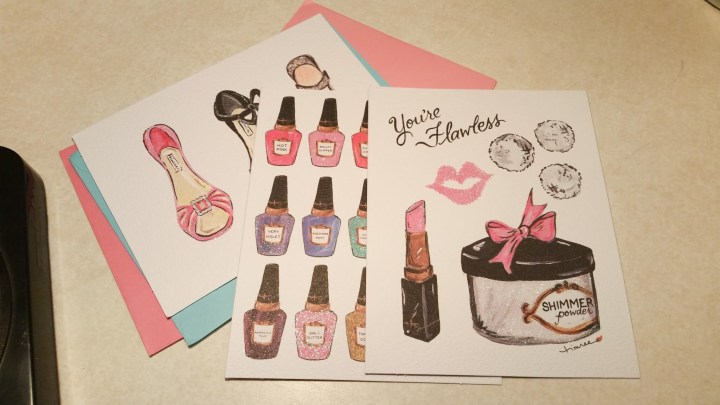 Hershey Kiss Chocolates:  Last, but never least, chocolates.  The way to my kids' hearts is definitely through their stomach.  The Hershey Kisses (especially the red-wrapped Hug versions) are a nice addition to the box and a sweet treat to show yourself some love.  Both girls were excited to see these because the love chocolate.  On a side note, I will say, my older daughter got into the photo-arranging business with this one…after an earlier picture I took, she insisted that this one below that she arranged was much more artful.  You can tell we had fun with this!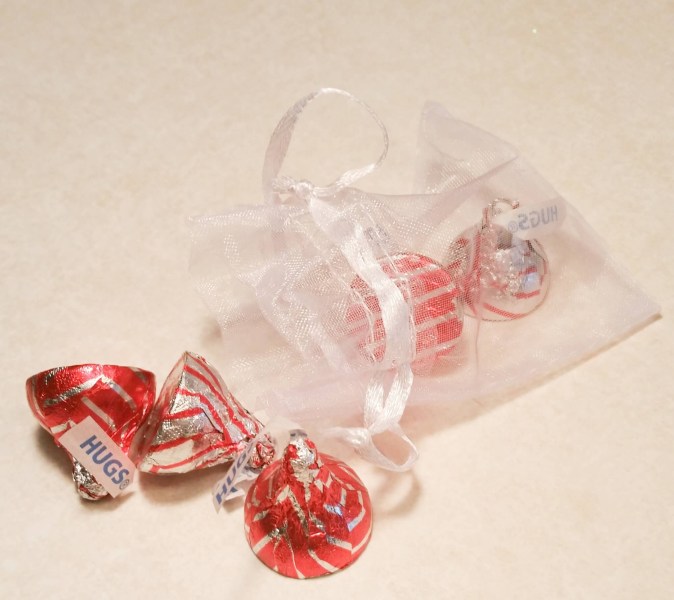 As a mom, I'm a big fan of LYFnow (Love Yourself First) – the items in the box were just right for my girls and I liked the message.  Even if my daughters don't openly embrace the "Love Yourself" theme — because they're teen girls and you can't tell them what to do! — the items all provide a little subtle nudge that may get through to them on some level, and that's all I would hope for.   Plus even though the message was clear, it wasn't too "in your face."  We had a lot of fun opening this box (and then taking pictures) and the girls loved what was inside.  LYFnow promises functional items, and I know that my girls will definitely make use of the contents.  I think this would be a subscription box that most teen girls would be happy to get!
Visit LYFnow to subscribe or find out more! Save 20% on your first box! Use coupon code HELLOLYF
The Subscription
:
LYFnow
The Description
: This fun and exciting box is filled with functional products like jewelry, makeup and inspiration to LOVE YOURSELF FIRST-now. This box will equip you with the tools that will remind you how AMAZING you really are within on a daily basis and for a life time.
The Price
: $29.00 per month