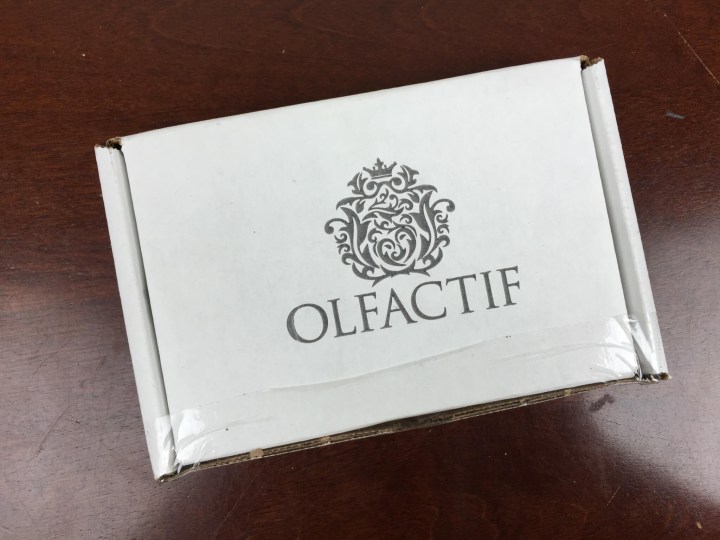 Olfactif for Men is a monthly fragrance discovery subscription box featuring more distinctly masculine scents than their unisex flagship subscription.  You'll get 3 samples in your box, each containing 15-20 "wears" of an independently designed cologne or eau de perfume. With every box, your account will be credited with an $18 voucher to use on fragrances from the store.  Olfactif for Men prides itself in selecting niche offerings incorporating higher quality and hard-to-find ingredients.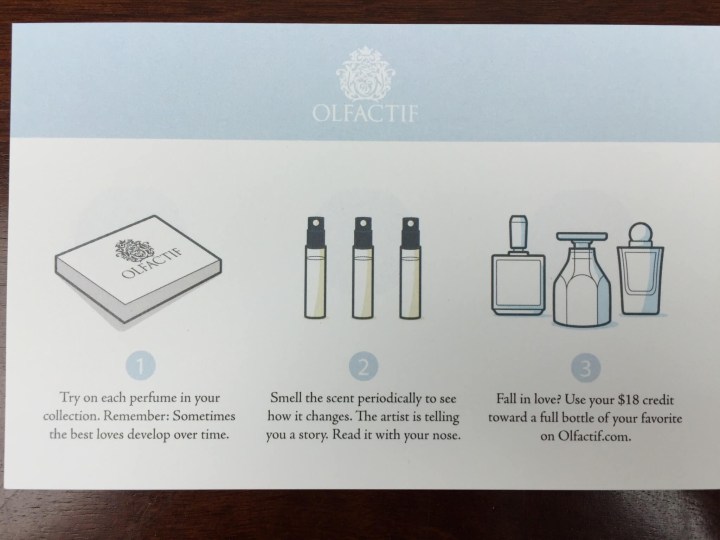 The regular Olfactif box is unisex and meant to be worn by women and men who enjoy niche fragrances.  Because it features fragrances intended to be wearable by both sexes, it only occasionally indulges in the heartier scents typically associated with Men's fragrance.  The Men's box is centered around traditionally masculine fragrances, all from the niche world.  You will still see the same creative spirit and defiance of convention, but the focus will be on the yang.
Olfactif Men's comes in the same cool packaging as their flagship subscription.  It is attractive and the flap retracts within the box when you pull the ribbon.  The information card for the fragrances is tucked inside.
Fragrances are often inspired by characters, real or imagined. And when we wear them, we get the chance to try on a different identity for a while.

In this collection, we have the scent of an aristocrat with a rather sensational backstory that encompasses Paris, WWII, JFK, and deep mystery. We have a scent inspired by the perfumer's father—"always a gentleman." We end with the scent of sensual pleasure inspired by one of history's most controversial figures.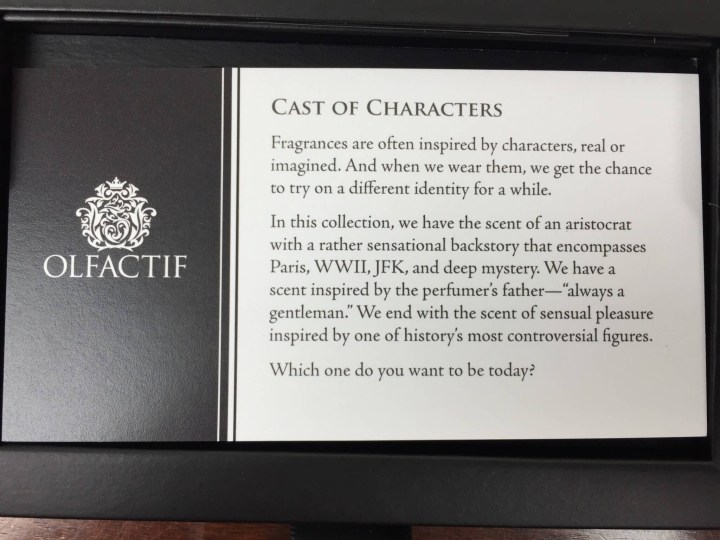 The theme for this ensemble of men's fragrances is "Cast of Characters."  Each fragrance evokes a distinct personality and essence.
The three fragrances come tucked neatly within the very cool case.  The bottles are testers, but with up to 20 wears each, they are perfect for keeping around for a change of pace well into the future (but make sure to take advantage of the subscription credit toward purchase, and pick up a full size of your favorites!).
The fragrance notes give detail on the composition of the fragrances, but the prominence of each element changes as the scent ages on your body.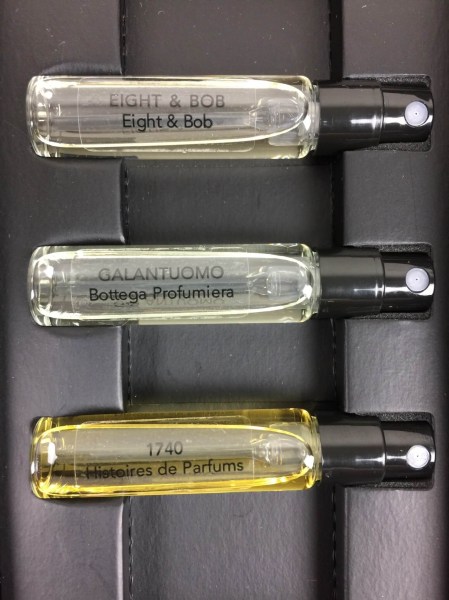 Cast of Characters
Eight & Bob from Eight & Bob:  Evoking the idealism and noble exuberance of Bobby Kennedy, this fragrance begins with a bright, floral presence and evolves into a spicy and balanced collection of woody notes.
Galantuomo by Bottega Profumiera:  A great personal tribute to the perfumer's father and grandfather, this fragrance has strong opening notes of nutmeg and licorice.  A sweet and spicy finish lingers for the duration.
1740 by Histoires de Parfums:  Intensely smoky and dark, cardamom and coriander quickly yield to mysterious and deep tones, giving a very intimate, yet clean and sweet finish. Inspired by the Marquis de Sade.
This is a great collection, with each fragrance presenting a very distinct, yet wearable profile.  Perfect, respectively, for a garden party, a family luncheon, and an evening hanging in your red room.
Visit Olfactif to subscribe to the Men's box or find out more!
The Subscription
:
Olfactif
The Description
: Get 3 niche, unique fragrances curated around a theme. Purchase a full bottle that month and credit your box price against the cost of the fragrance.
The Price
: $18 per month