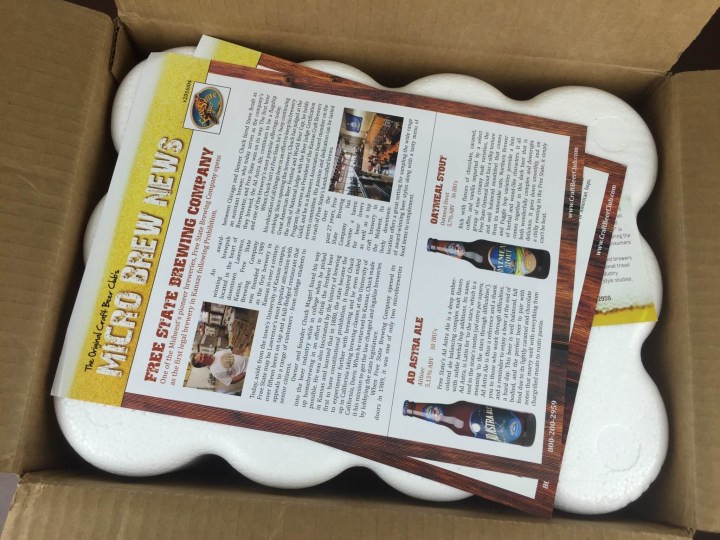 Craft Beer Club is a monthly subscription that delivers a twelve pack of select microbrews right to your home.  Each selection has received acclaim and is very popular within its distribution area — CBC lets you enjoy them wherever you may be.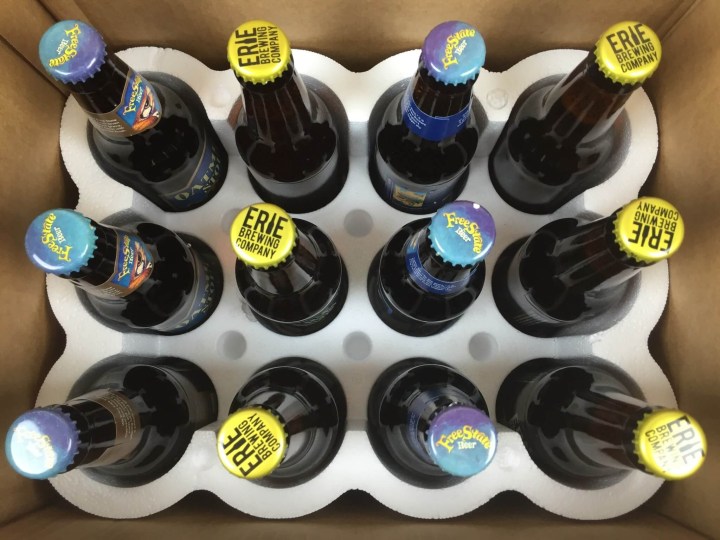 The Club delivers a mixed twelve pack each month.  We received three each of four varieties.  The selections have been a couple selections each from two featured micro breweries.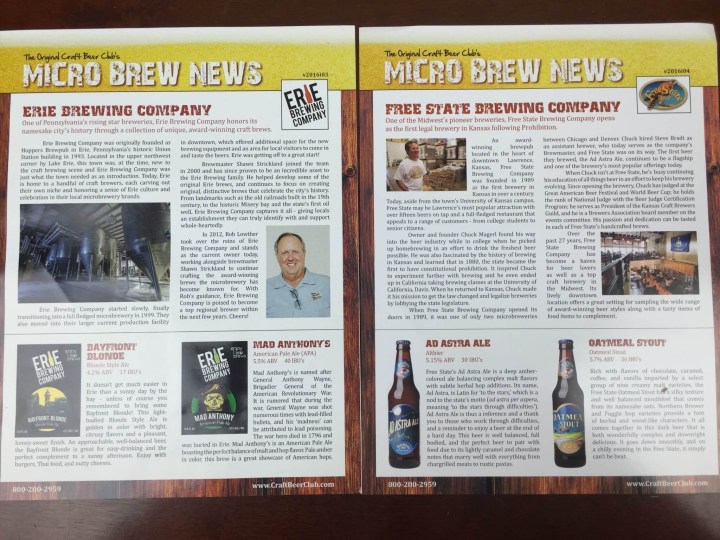 Two separate volumes of Micro Brew News were included, one for each pair of selections.  Each issue included information on the history and philosophy of the featured breweries, as well as details on the style, stats, and composition of each brew.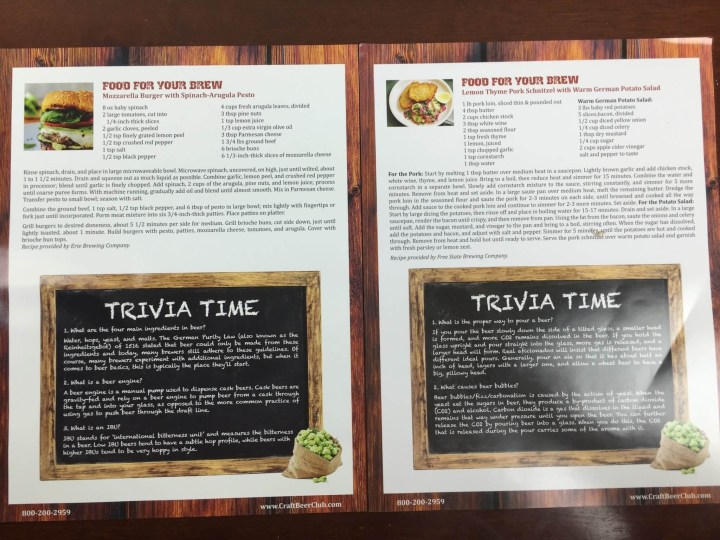 The back of each sheet had a recipe designed to pair well with the beer selections, as well as some beer-related trivia.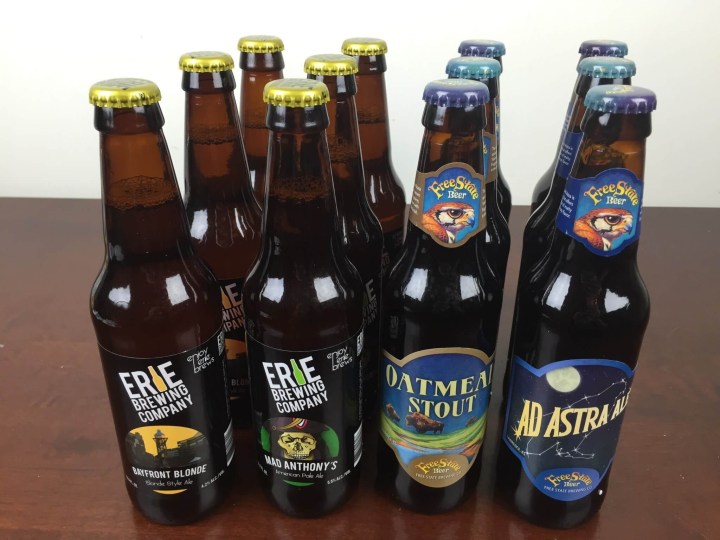 The pack included three each of four great ales from two renowned breweries — Erie Brewing Company from NW Pennsylvania and Free State Brewing Company from Kansas.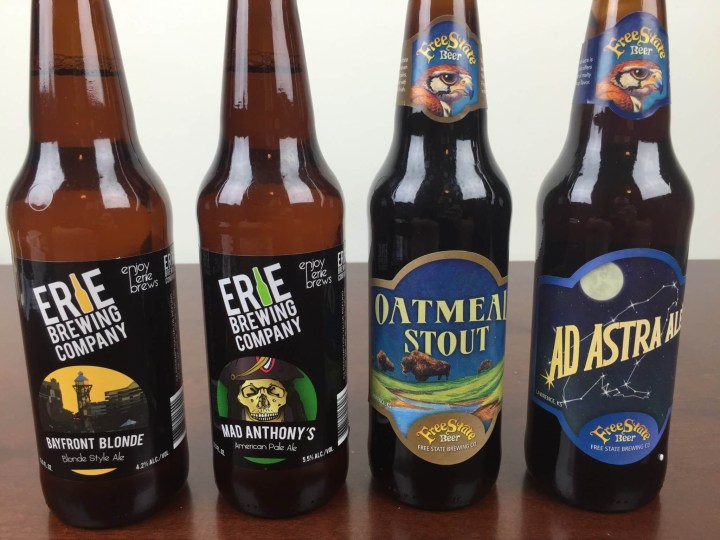 Each beer comes in its original commercial bottle, so you get to see the label artwork and experience the beer as intended by the brewer.
The box included a code for a one year subscription to The Beer Connoisseur Premium Web Magazine.
From left to Right, the Bayfront Blonde, Mad Anthony's, Ad Astra, and the Oatmeal Stout.  They are displayed in the set of four pony glasses that came in our first month's CBC box.  The two offerings from Erie Brewing are indistinguishable other than the slight difference in the head.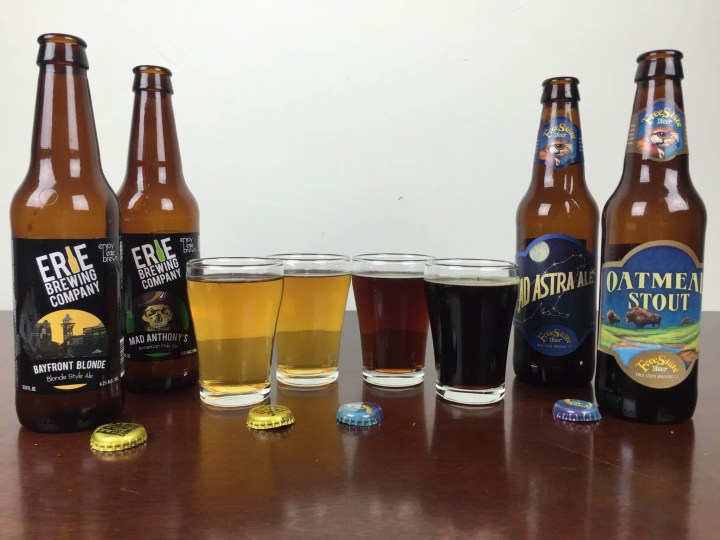 Erie Brewing Company Bayfront Blonde:  This light-bodied ale has a pleasant honeyed quality with a touch of citrusy brightness.  The hops has just enough presence to offer proper balance and a hint of floral aroma.   A good choice for those that like a fairly sweet beer that is neither heavy, nor cloying.
Erie Brewing Company Mad Anthony's American Pale Ale:  The well-balanced hops in this beer add a bit of piney-ness to the nose, but they offer a restrained and mellow flavor note.  The sustained presence of the hops will please IPA fans, but even those wary of highly-hopped beers would enjoy this well-proportioned take on the American Pale Ale genre — it has an nicely assertive hops without presenting any outright bitterness.
FreeState Brewing Company Ad Astra Ale: A rich, deep brown ale with heavy caramel notes and the slightest touch of sour.   Malty and velvety smooth, this is a wonderful dessert beer.
Freestate Brewing Company Oatmeal Stout:  Silky and shy of sweet, this oatmeal stout has some woodiness from the hops and a dark, creamy flavor and mouthfeel.  A beautiful stout with all the dark character, yet retaining a sweet and caramel aspect.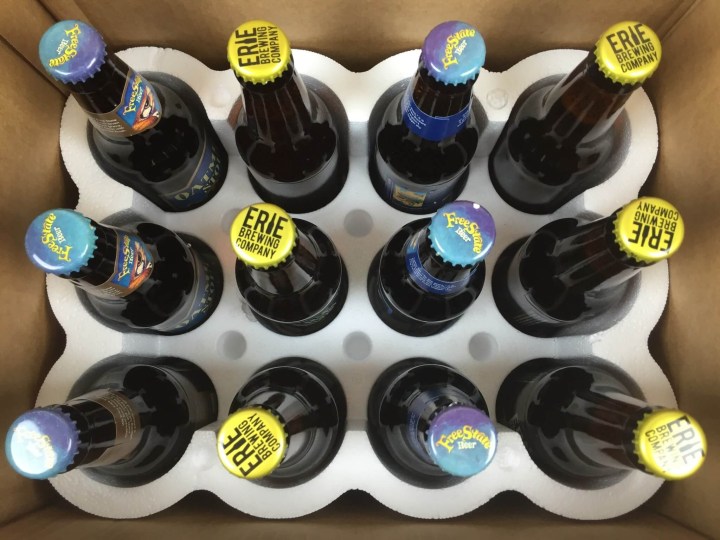 I've enjoyed this subscription immensely.  I like that the selections include two beers from each featured brewery, as it allows you to appreciate their mastery of multiple styles.  They are all highly drinkable and appeal to a wide audience of beer lovers — none have been too dark or hoppy for my palate.  This is a great subscription to split for boy's (or girl's) night, or just to have an ever-evolving selection of craft beers on hand for your own enjoyment.
Visit Craft Beer Club to subscribe or find out more! You can see the free items you'll get with an annual subscription in our first Craft Beer Club review!
The Subscription
:
Craft Beer Club
The Description
: 12 craft beers delivered each month! Exceptional craft brews from around the country produced by small-production, independent brewers who use only traditional brewing ingredients and time-honored brewing methods.
The Price
: $39.00 per month