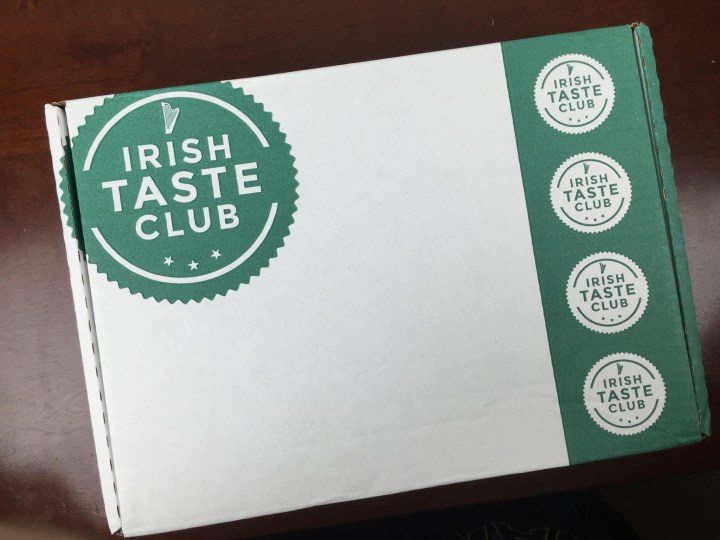 Irish Taste Club is a monthly subscription box provided the best in Irish artisan food products.  Each month, subscribers receive 6-7 full size products, all from award-winning cottage and small-batch producers.  Selections include everything from snacks and desserts, to baking mixes, condiments, and cooking oils.
Everything in the box is Irish-made and ships directly from the Emerald Isle to anywhere in the continental U.S., included in the cost of the subscription.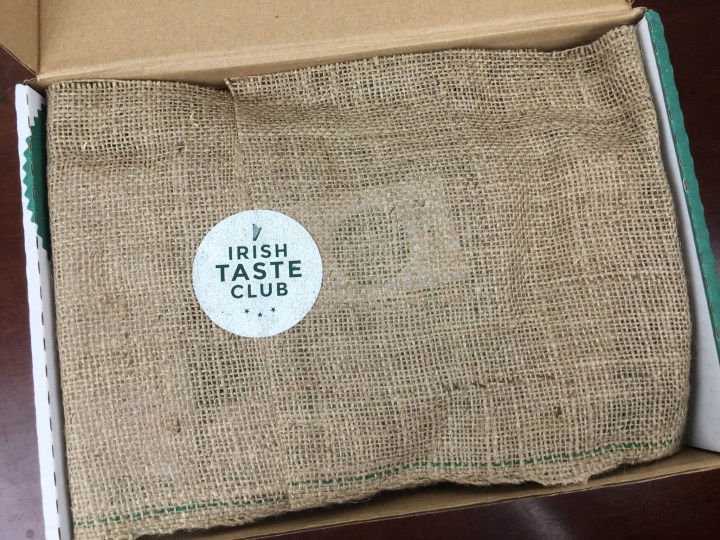 The packaging had a wonderfully cottage feel to it.  The two-tone box contains a length of burlap, with all the items resting safely inside.
The information sheet provides some wonderful insight into the background of the fine products, and the artisans that produce them.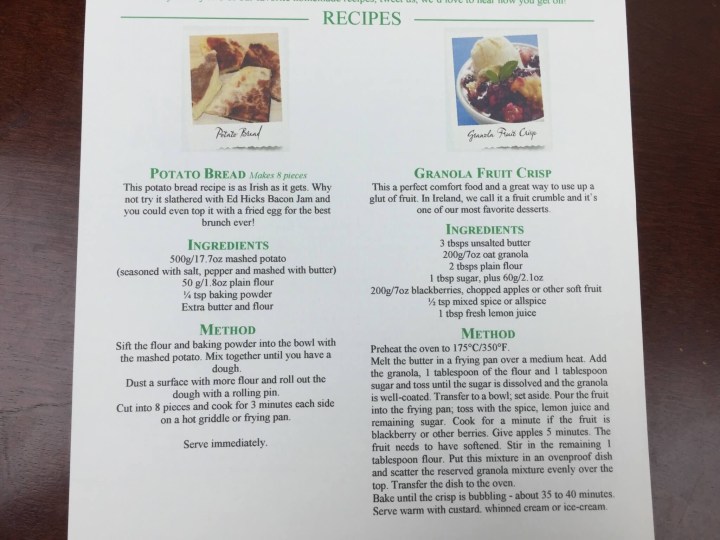 The reverse side even included two Irish recipes.  We are crazy about potato bread, so our eyes widened when we saw that recipe!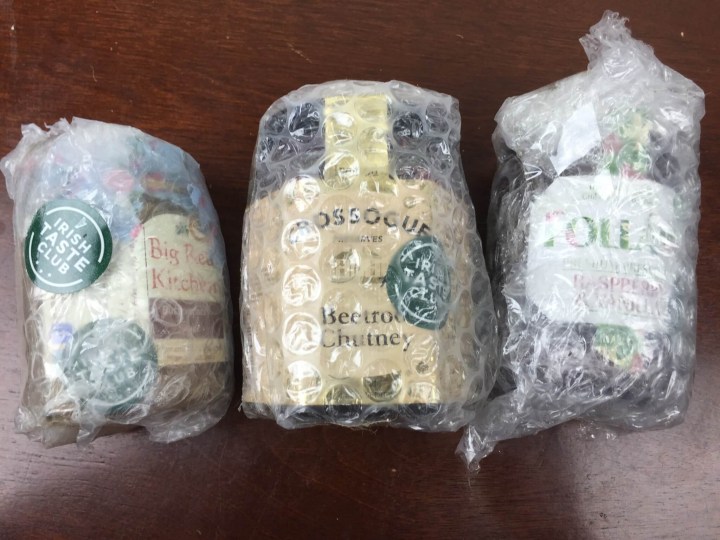 The jarred goods were careful wrapped in a layer of bubble wrap to prevent breakage.  Everything we received was in wonderful condition.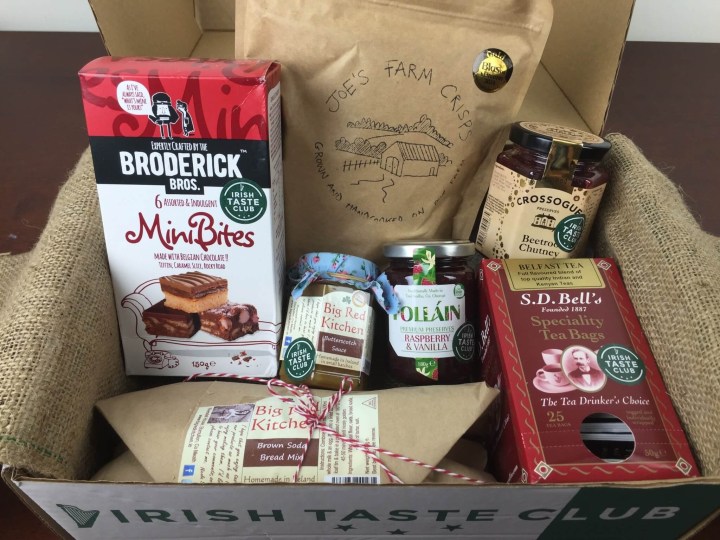 Everything in the March box.  The box contained some classically Irish selections, as well as some treats that were just too good to not include.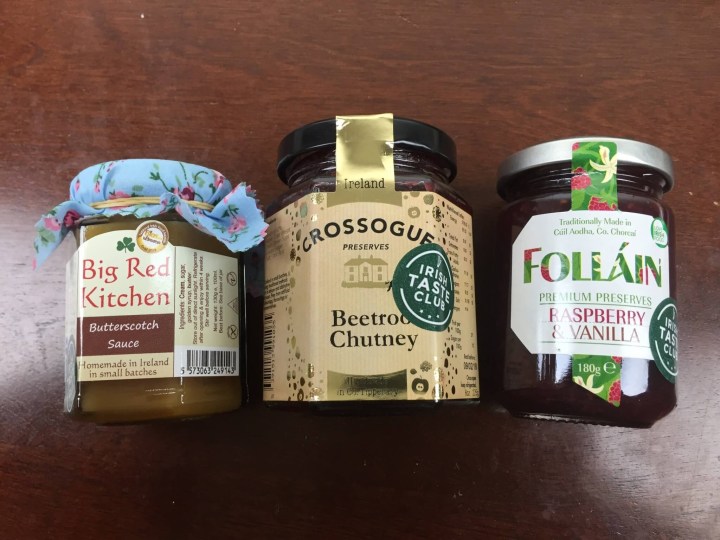 Big Red Kitchen Butterscotch Sauce:  Real cream and butter makes this sweet, golden sauce the perfect accompaniment for any dessert.
Crossogue Preserves Beetroot Chutney:  Ginger, brown sugar, and onion complement beetroot to make a distinctive and flavorful, all-natural chutney.
Follain Premium Preserves Raspberry & Vanilla:  Nothing goes into these pure preserves except raspberries, sugar, vanilla, and fruit pectin.  These are great on common toast, but I think the vanilla makes this the perfect preserve for ice cream or atop cookies.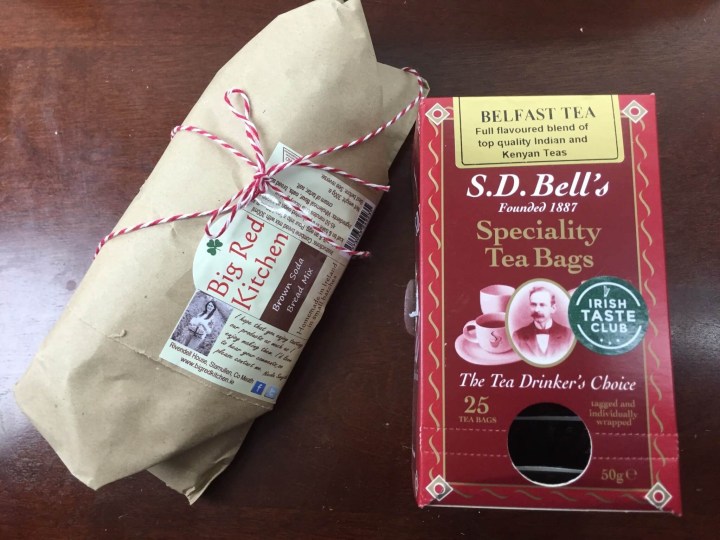 Big Red Kitchen Brown Soda Bread Mix:  You need only add an egg and some milk to create a traditional soda bread.  Made using wholemeal flour, this bread is not only healthier than the more common white flour version, but it is heartier and probably more closely resembles soda bread as originally created.
S.D. Bell's Specialty Tea Bags Belfast Tea:  S.D. Bell is Ireland's oldest teamaker.  Founded in 1887, they supplied the tea and other dry goods for the sailing of the Titanic a quarter decade later.  This Belfast Blend is made of Indian and Kenyan teas.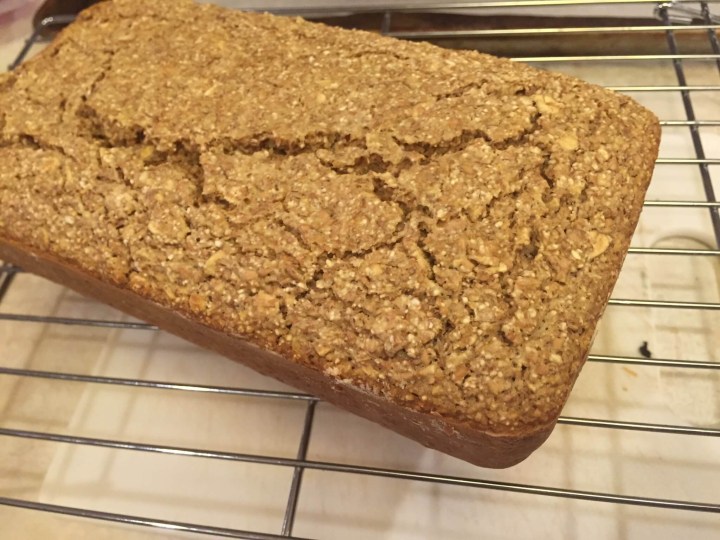 It was delicious – we ate it with soup for a warm, hearty meal!
Joe's Farm Crisps:  Deliciously roasted carrots, beets, and parsnips.  The veggies are sliced incredibly thin and fried right at their farm of origin.  They have a delicious roasted flavor that is absent from most commercial brands.  A pinch of Irish sea salt makes them delicious straight from the bag.
All the items are award winners — this one display's it's Best in Ireland 2014 seal.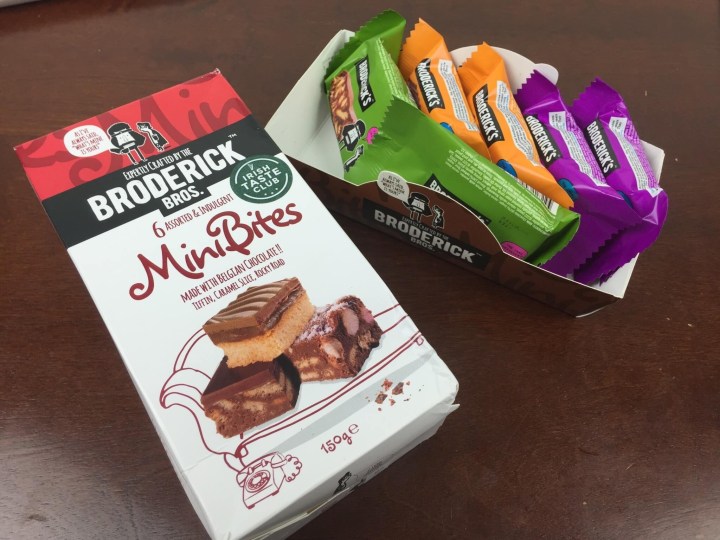 Broderick Bros. Superstars of Choc N' Roll MiniBites:  These are stupendously delicious.  Like, really good.  If I make it to Dublin, I'm throwing out my clothes and bringing home a suitcase crammed full with these.  I only wish there were more of them.  Each is covered with a thick layer of creamy Belgian chocolate.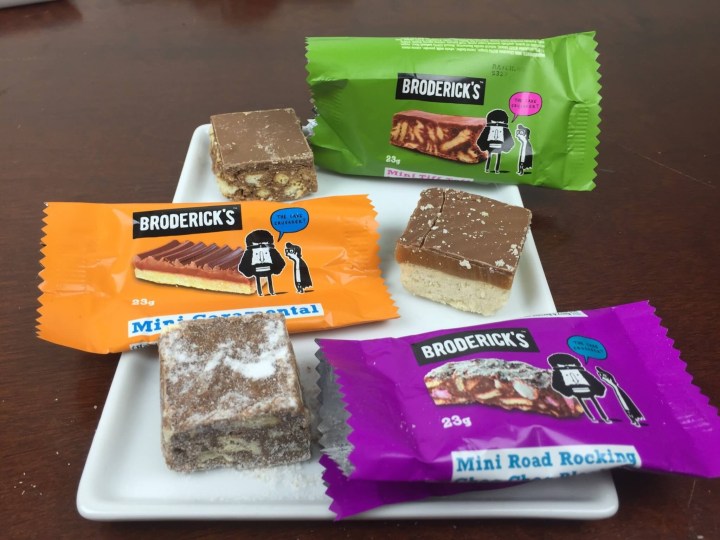 Pictured, from top, are the Tiffin (a crunchy cookie/chocolate casserole), Caramel (a big slab of caramel on soft shortbread), and Rocky Road (marshmallow-infused chocolate and hunks of biscuit) varieties.
This box is a wonderful way to celebrate St. Patrick's Day.  Every item was very high quality, and care was taken to select products that showcased Irish ingredients and local culinary tradition.  With every item an award winner, it is hard to go wrong. The O'Grady Family approves of this box!
Visit Irish Taste Club to subscribe or find out more! Save 10% with coupon code ITC10
The Subscription
:
Irish Taste Club
The Description
: Irish Taste Club is a monthly subscription service that sends our members 6-7 full sized Irish artisan food products. Each product is made by an award winning Irish cottage producer in small batches and is imported exclusively for our members. These products may include jams, infused oils, relishes, chutneys, dressings, vinegars, spices, condiments, baking mixes, confectionery, gourmet snacks etc. Shipping is free to anywhere in continental USA.
The Price
: $49.00 per month