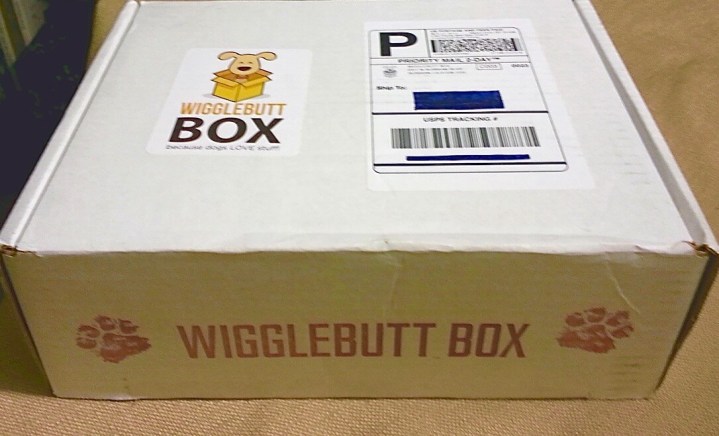 Wigglebutt Box is a subscription box of "yummy and fun surprises for you and your dog that are delivered right to your door every month". Each box contains a seasonal kerchief, a roll of poop bags, and a combination of 3-5 toys/treats/accessories.  Boxes are tailored to your pet's size and toy treatment.  Pet parents are not forgotten either; there's a gift included for you too!  Plans start at $35/month, but you can increase your savings by choosing a longer subscription option (3 mo., 6 mo., and annual plans available).  Plus, a portion of the proceeds from every box sold go toward an animal charity.  I got the small dog/average play Wigglebutt box for my fur babies, Lily and Lexi.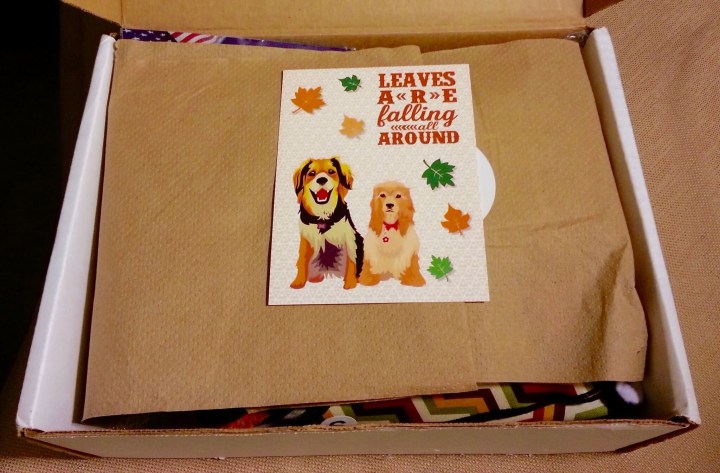 The box came nicely wrapped and with a fall themed information card featuring the original Wigglebutts, Mia and April.  You can keep up with the girls by following them on social media.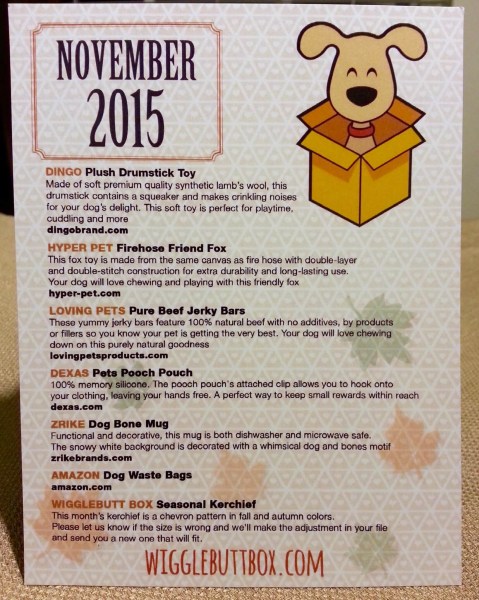 How cute is this card?  There were brief descriptions of each item and web addresses on where to find products.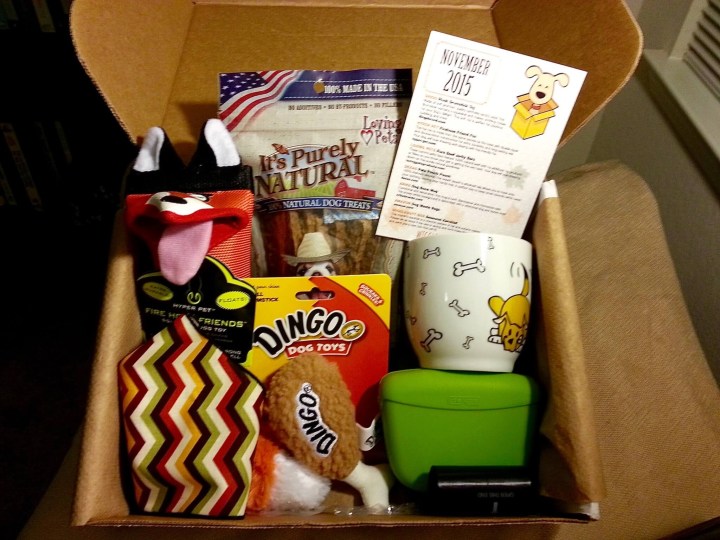 Everything in this month's box!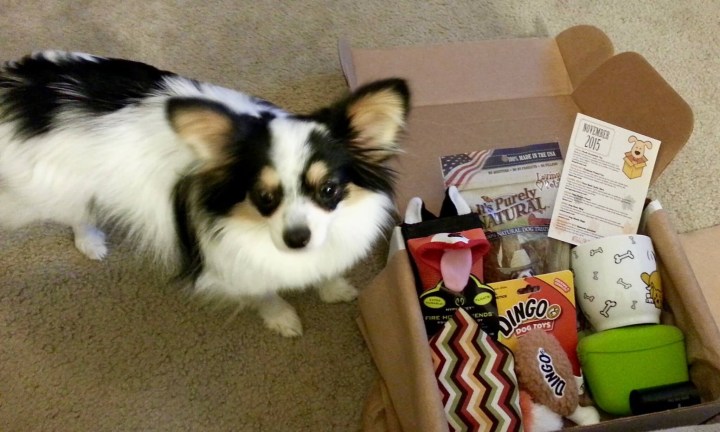 And here's Lily checking out the haul.  Such a curious girl!
Dingo Plush Drumstick Toy ($3.60)  Made of synthetic lambs wool, this drumstick contains a squeaker and makes crinkling noises.  It is my girls' favorite toy of the moment.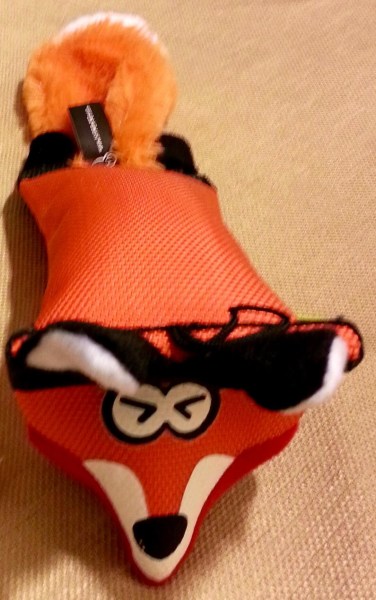 Hyper Pet Firehose Friend Fox ($9.99)  This fox has a squeaker and is made from the same canvas as fire hose.  Its construction should help it survive the fierce tug-o-war battles my girls have.  I had to show the adorable face on this fox –  couldn't get a good shot while it was on its back.
I wasn't able to get to the toys using the web links on the information card, so these are alternate sites where they can be purchased.
Loving Pets Pure Beef Jerky Bars ($7.99)  Made from 100% beef, these treats are free of additives or fillers.  I wasn't sure how my girls were going to respond to these.  They're a little picky when it comes to treats, especially all natural ones, but they LOVED these.  I had to break the bars into smaller portions, as my dogs are under 10 lbs. and a whole bar was way too much.
Dexas Pets Pooch Pouch ($9.99)  Made, from 100% silicone, this pouch will not absorb odors and oils left by treats.  It is also dishwasher safe.  Just fill and clip it on when you and your pet(s) are ready for a training session or to go out.
Amazon Dog Waste Bags ($0.25)  These are a nice addition.  Living in an apartment community, bags are essential when taking Lily and Lexi out and on walks.
Wigglebutt Box  Seasonal Kerchief ($5?)  This month's kerchief is a cute chevron pattern in fall colors. I think it has a bit of a retro feel and someone will be very stylish in it.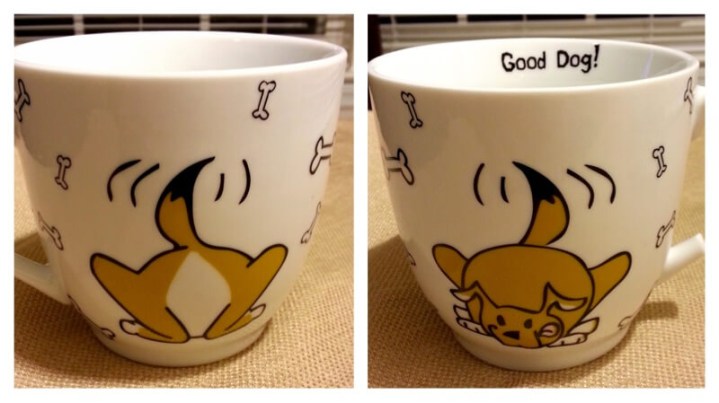 Zrike Dog Bone Mug ($7)  And finally, a gift for mommy.  This white porcelain mug features a dog wagging its tail with a "Good Dog!" inside tagline.  It is dishwasher and microwave safe.  I was really excited for this mug.  But, in spite of the solid packing, my mug arrived broken.  I emailed Wigglebutt Box, and they are able to replace it for me.  Can't wait for it to arrive!
This box had about $44 in value.  Each item was a hit in our household, which has not always been the case with some other boxes.  Maybe next time, I'll get a picture of the elusive Lexi (she vanishes like a ninja when the camera comes out).
Visit Wigglebutt Box to subscribe or find out more!
The Subscription
:
Wigglebutt Box
The Description
: Wigglebutt Box is a canine subscription box of 5-7 yummy and fun surprises. You and your dog will receive a monthly box carefully tailored to your dogs size and playing temperament. We strive to procure good quality edibles; no soy, corn or wheat. You can feel good knowing that a portion of the proceeds from each box sold will be donated to a deserving animal charity.
The Price
: $35.00 per month