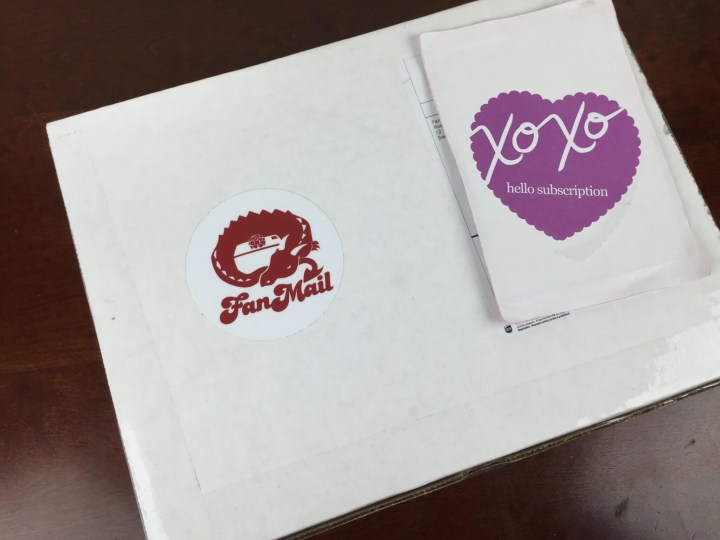 For 2015 FanMail offered limited edition holiday boxes – FanMail Favorites! I ordered the Supernatural Box ($50 + shipping), because I'm a fan!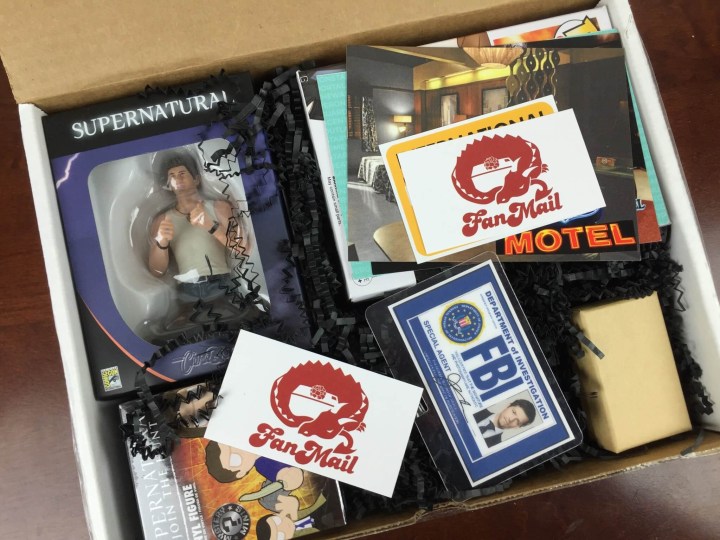 Here's what the box promised:
This holiday season, you can get a limited edition Supernatural FanMail box that will be full of items from your favorite show about two brothers doing what they do best: hunting monsters and having angsty conversations in the Impala.
The box will be filled to the brim with Winchester goodies, including two Funko vinyl figures (at least one a recent Pop! exclusive) as well as other items that are readable, displayable and blingable!
Get this gift for yourself or the Supernatural fan in your life – featuring $100 worth of items – for only $50.
Everything in the box!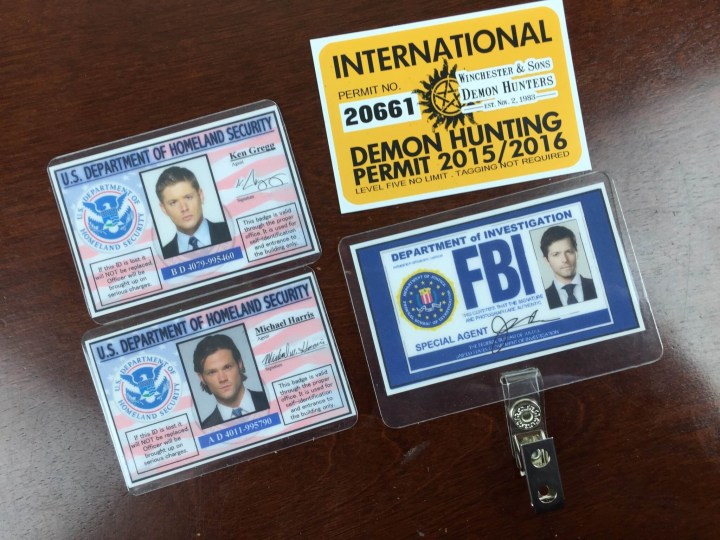 First off, Sam and Dean's Homeland Badges as Ken Gregg and Michael Harris. I also got an International Demon Hunting Permit for the year (a sticker), and Castiel's upside down FBI Badge!
https://youtu.be/AgLosAMxTtQ&rel=0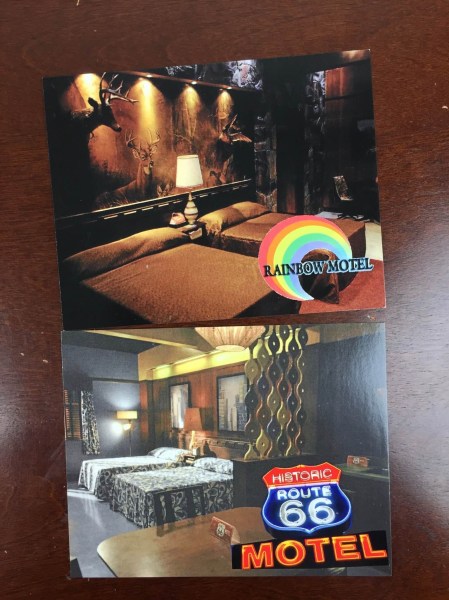 Motel Postcards! The brothers always stay at a wild and wonderful motel!
The back of the card shows the episode and location!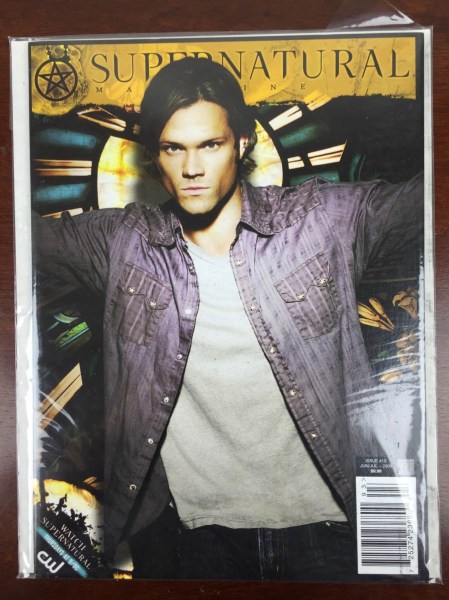 Supernatural Magazine Issue #10 ($26) Wow! This is a variant photo cover of the magazine that goes for $26! This is quite a score for collectors!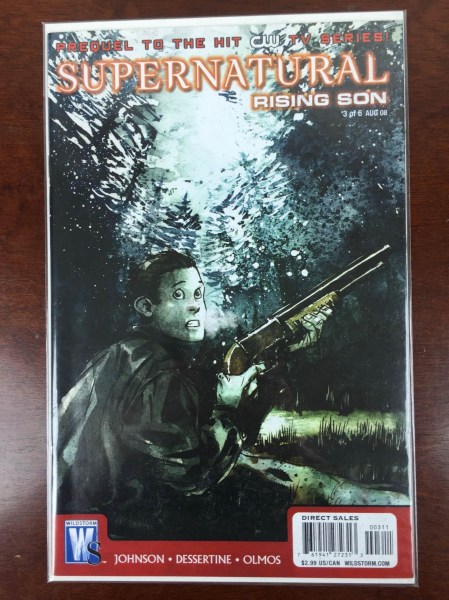 Supernatural Rising Son #3 ($6 aftermarket)
The sacrifices John Winchester has made for the "greater good" of hunting are tremendous, but he finally takes the biggest step of all: arranging a first "hunt" for his older son Dean. Is the young man ready for the horrors his father has hunted for years? Will he finally "connect" with an emotionally distant father in the only way possible?
I'm really excited to read this one because it's a prequel!
Supernatural Join the Hunt Funko POP! Crowley Vinyl Figure – Hot Topic Exclusive! ($22.98 on Amazon). I love it! I'm super excited by this one!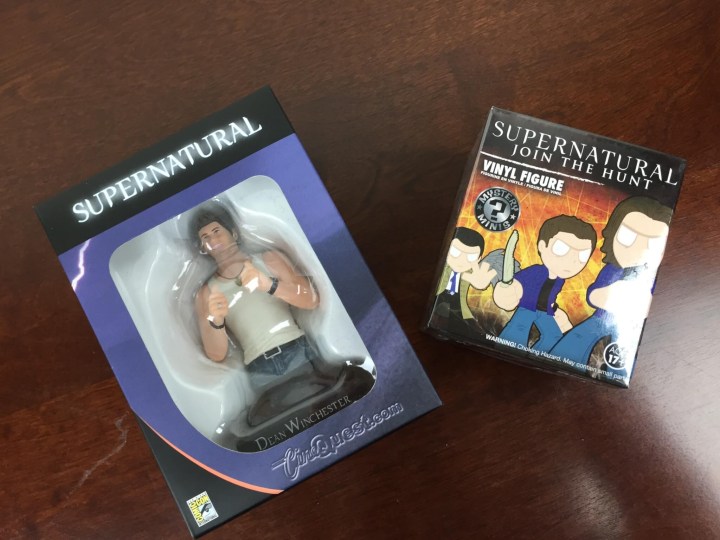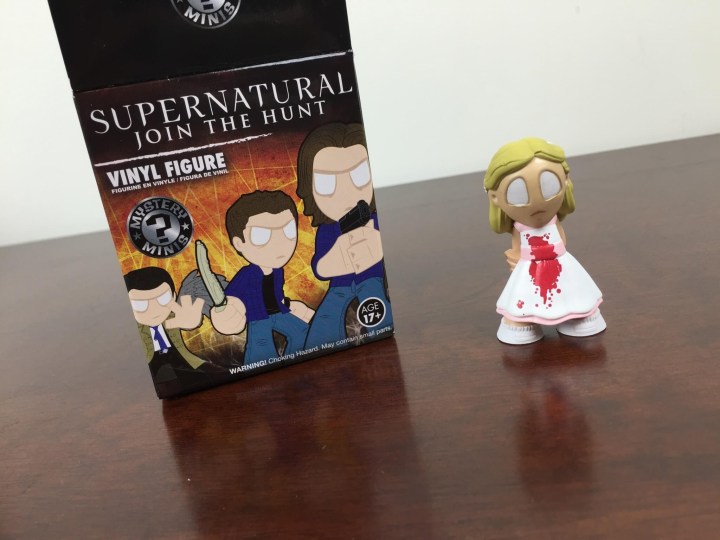 Funko Mystery Minis Supernatural Join the Hunt ($5.99) This is my third, I'm psyched! I got Lilith!
I just need a few more boxes so I can collect them all!
Cinequest Supernatural Dean Winchester Micro Bust – From "The Magnificent Seven" ($30) I'm not going to lie – I think this is pretty weird.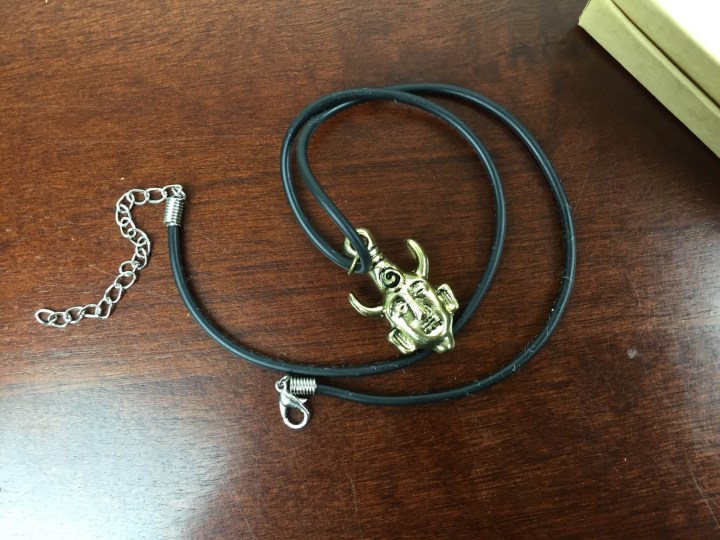 Dean's Amulet (also shown on the bust!) – Sam gave this protective amulet to Dean (it was originally intended as a present for their dad).  It will burn hot in God's presence. DEAR LORD WILL THIS BE THE SEASON OF HIS RETURN?? 🙂
I had really wished for a wearable from this box but it was a great collection of items and perfect for Supernatural superfans! My husband is sitting behind me sorting through everything excitedly too!
This box is no longer available, but you can subscribe to FanMail's monthly box. See the December 2015 Fanmail box spoilers here!
Visit FanMail to subscribe or find out more! Get $2 off your first box on any subscription level with code: GOTMYFANMAIL
The Subscription
:
FanMail
The Description
: FanMail is a mystery box designed for lady geeks (by lady geeks!), which means that each box is filled with amazing products from the fandoms you love!
The Price
: $21.99 + $6 shipping (to me)
The Coupon
: Get a pop culture t-shirt in your first box when you sign up for a 6-month or 1-year subscription