Tuft and Needle is an online mattress purveyor that ships a mattress-by-mail directly to you.  No waiting for the moving truck full of guys, hassling friends with trucks, or hanging onto a mattress on the roof of your car.  Your mattress arrives hermetically sealed and rolled, so one dude can get it set up unassisted (but having help is recommended).  I was so excited for this to arrive — you'll see why shortly.  I told Brandy that I thought the mattress was here:  there was a giant ampersand in front of the garage. Hooray!
We thought it was adorable that the huge box had a cute little card inside so we could do a proper unboxing! We have a king size bed, so we ordered a king mattress ($750)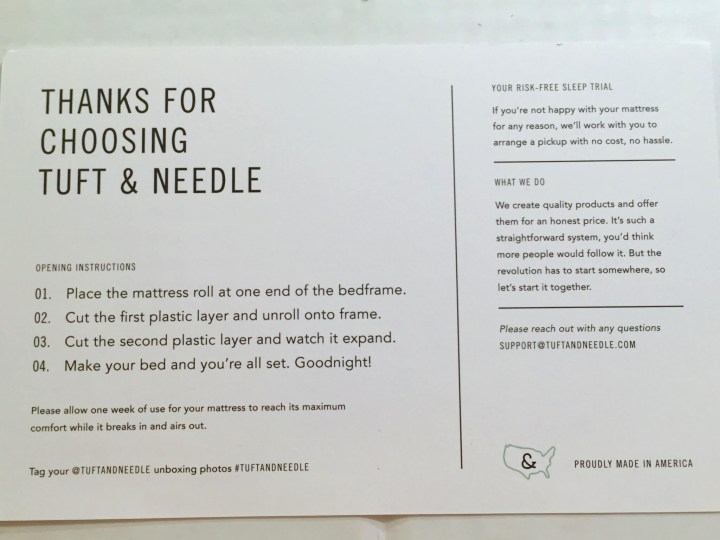 The instructions are really simple, but we nevertheless managed to unfurl our mattress 90 degrees from the proper orientation.  We placed ours at the bottom and unrolled toward the headboard — I think unrolling across the foot of the bed would have resulted in a perfect placement.  The mattress is light enough that reorienting it was not an issue.  Note the hassle-free sleep trial. Tuft & Needle mattresses have a 100-day sleep trial policy, and if it's not for you, you can donate it to charity and have the purchase price refunded (just follow their instructions – don't go donating it first!).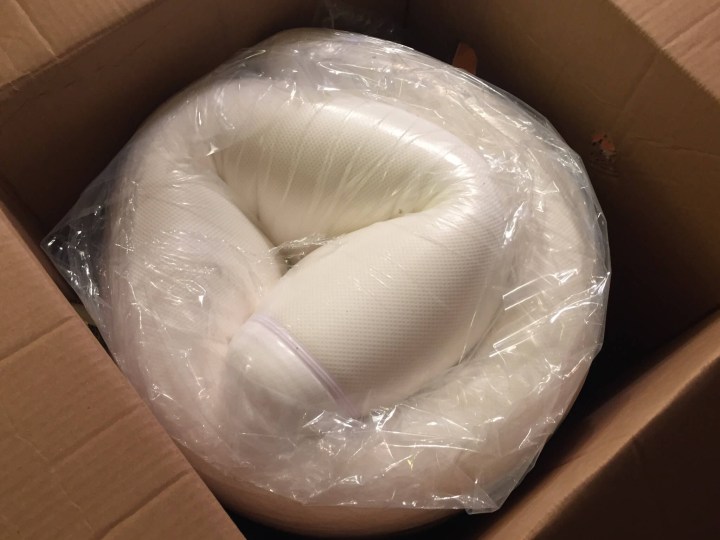 The mattress was "deflated" and vacuum packed in a neat roll.  It was still huge and unwieldy, but I was able to put it on my shoulder with a little effort, which allowed me to maneuver up stairs and through doors with relative ease.  Except for the stairs, which are actually easier done by a single, mighty person, the roll could be fairly easily hauled around by a couple of mere mortals.
Our old bed was in need of replacement.  The mattress was a pillow top Sealy Posturepedic, but it felt like the lunar surface with all the craters and dips.  I had been sleeping in bizarre orientations to avoid the pits.
The old mattress was literally falling apart — it had separated into its component layers, bulged out at the sides, and was shedding staples everywhere (you can see one hanging off just below dead center of the pic).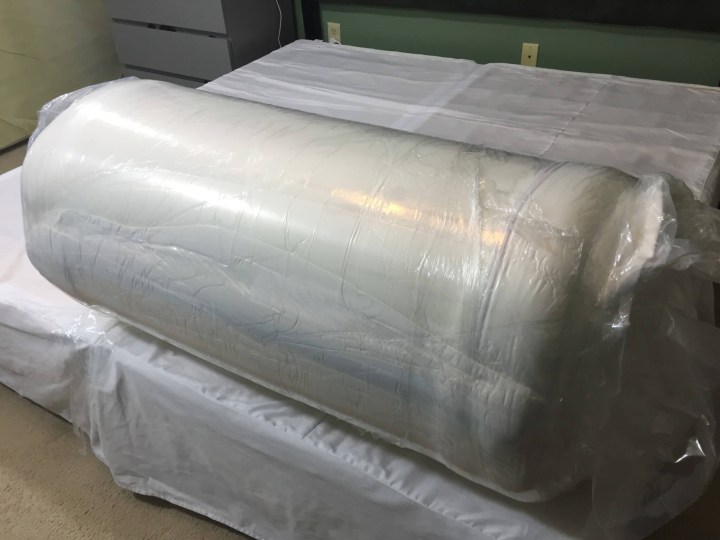 The new mattress was pretty hefty, but the hermetically-sealed roll made it dense enough to grip and compact enough to get in place with minimal effort. We used our existing boxspring for the platform.
Cutting the outer layer of plastic allowed the mattress to be unrolled.  It broke easily by hand if you, like me, are a little nervous cutting so close to an as-of-yet unopened mattress.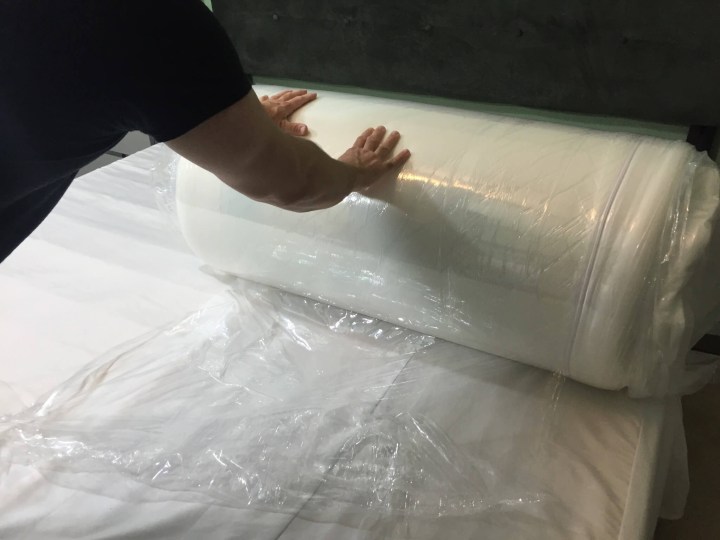 Unrolling the length of the bed.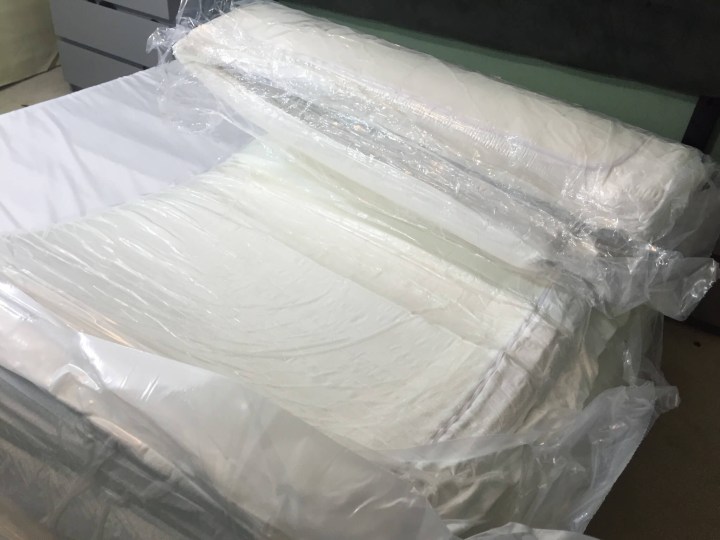 The seal remains intact until you pierce the inner wrapping.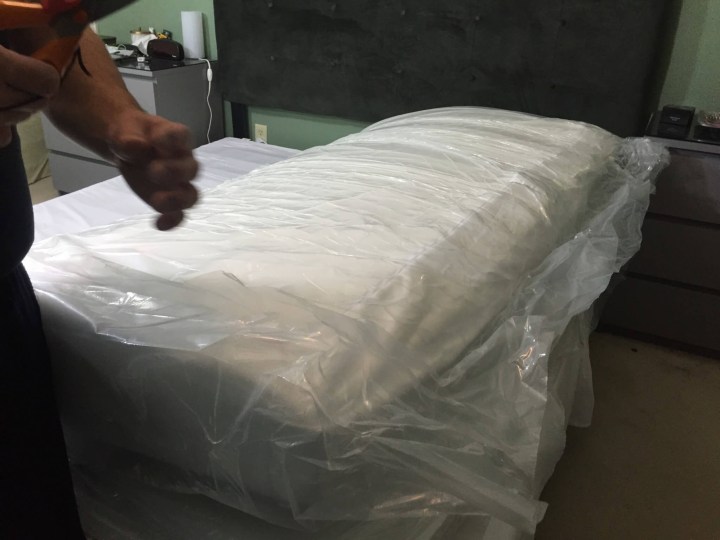 Once the inner seal is broken, the mattress inflate and can readily be flopped open to its full width.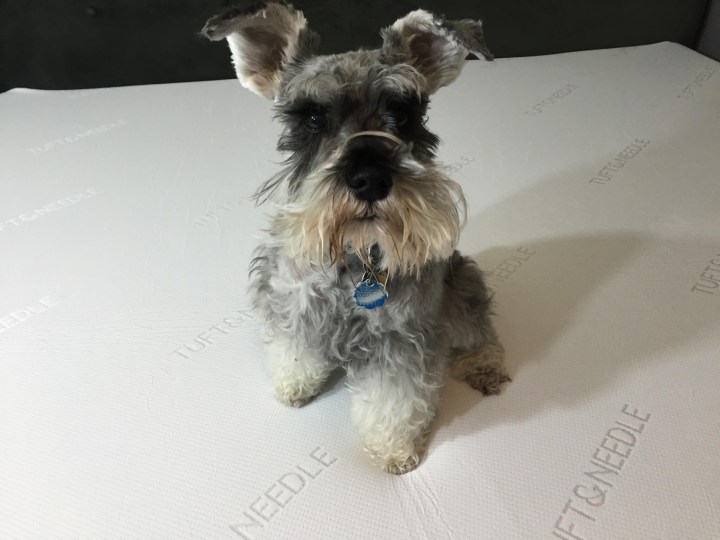 Lindy approved of the new bed.  So far, we agree.  Brandy told me I fell asleep immediately the first night we used it.  I don't have a clear recollection, but I do know that it is very supportive, yet soft to the touch.  It is very much like a Tempurpedic foam, and it has a similar resilient quality.
Tuft & Needle uses a proprietary "adaptive foam" (not memory foam or latex) for pressure relief, support, and breathability.  It is very comfortable to lay on — I have shifted from being a side-sleeper with a ton of pillows molded about me for support to being a flat-on-back sleeper because of the support and comfort.  It supports my back while letting my heavier areas sink slightly, resulting in a straighter posture.  Having slept with a foam topper before, we also noticed the cooler feel of this mattress — the surface has a soft, foam cushioning, but it stays cool and doesn't become unbearably hot like a topper.  So far, we are very pleased with our bed!  It was super-easy to setup (and there was no assembly fee), and it is pleasantly comfy.
Brandy: This is near the top of the list for "we don't have time for that" items. And we really truly did not have time to go find a new bed! As you can see, ours was terrible! Tom had been sleeping *upside down*, which was ludicrous, so I did a little internet research and settled on this bed! Two factors weighed heavily in my decision – this is supposedly the coolest temperature wise out of all the mattresses in a box (and it's not cold – just not overly hot), and I saw over and over that people purchased multiple mattresses from this company (for different beds). It's extremely comfortable and I've noticed we don't need nearly as many pillows! You can definitely feel the other person move in bed, but Tom is a thrasher. I tend to stay in one place when I sleep.
Tuft & Needle says that you can take up to 2 weeks to acclimate to your new mattress, but we had zero need of that, and have been sleeping soundly!
FYI – There are NO coupons or promo codes for Tuft & Needle mattresses!
Visit Tuft and Needle to find out about their mattresses and get your own to unbox!