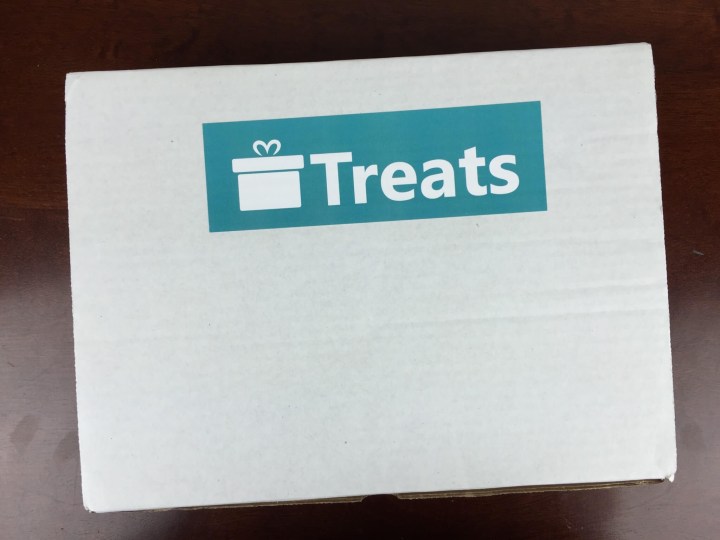 Treats is a monthly snack subscription full of snacks from around the world. You can expect to receive eclectic and interesting snacks that you've never sampled before! The Standard Pack offers 4-5 snacks, while the Premium box offers 8-10. You'll get your first box within a few days when you subscribe.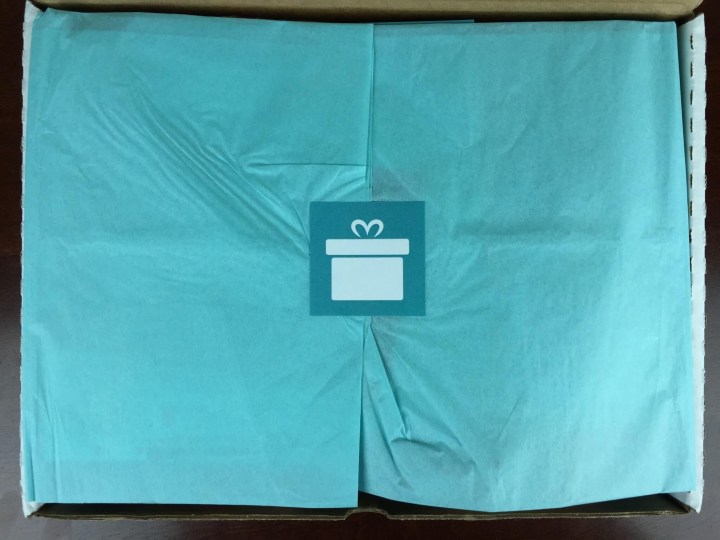 The snacks are carefully packed and neatly wrapped in tissue.  It looks beautiful, and due to the careful manner in which the box is packed, we've had everything survive shipping in pristine condition so far.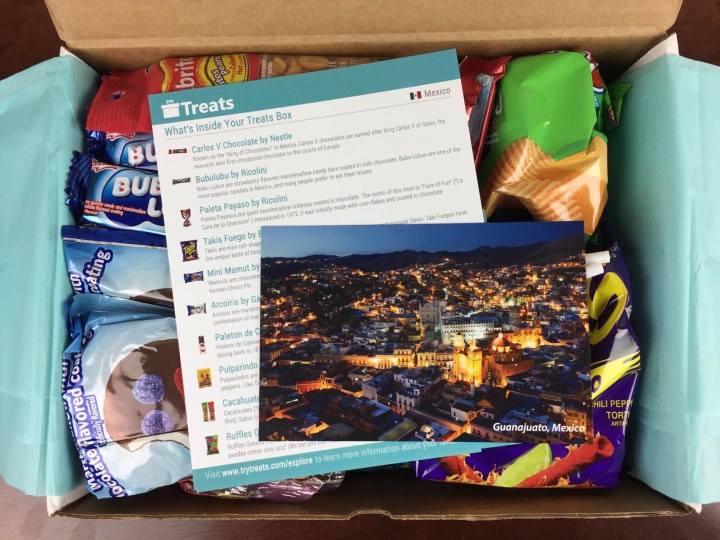 This edition of Treats brought us to Mexico.  The box included a nice welcome card with an arial view of Guanajuato.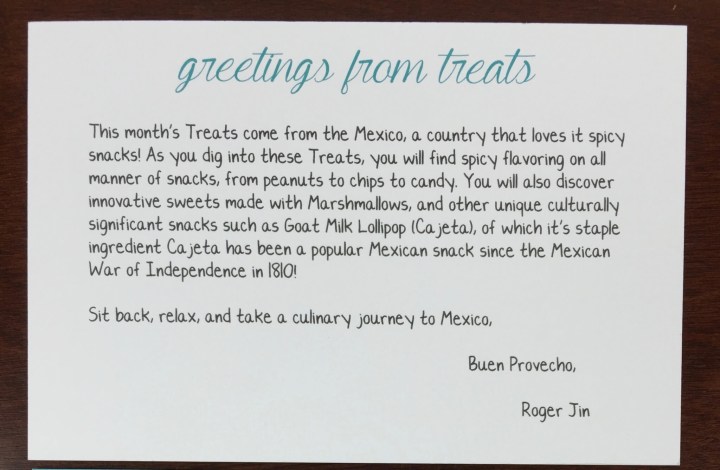 In addition to the classic spicy snacks, this box invites us to explore Cajeta and some marshmallow treats, too!
As you dig into these Treats, you will find spicy flavoring on all manner of snacks, from peanuts to chips to candy.  You will also discover innovative sweets made with Marshmallows, and other unique culturally significant snacks such as Goat Milk Lollipops (Cajeta), of which its staple ingredient Cajeta has been a popular Mexican snack since the Mexican War of Independence in 1810.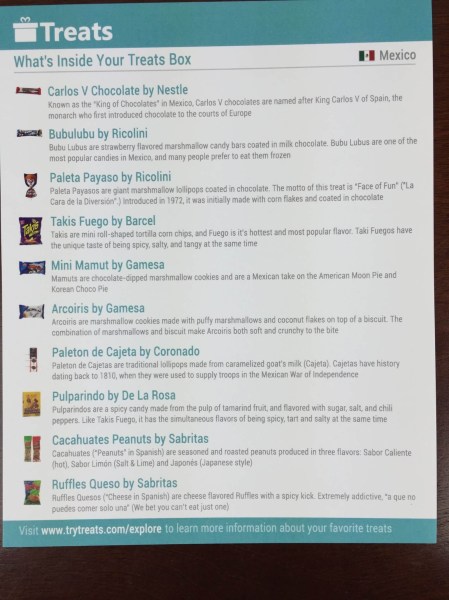 The handy card give gives the name and maker of each treat, translated to English where necessary.  A short description of each snack is also given.  Take the link to the Treats site to learn more about each item.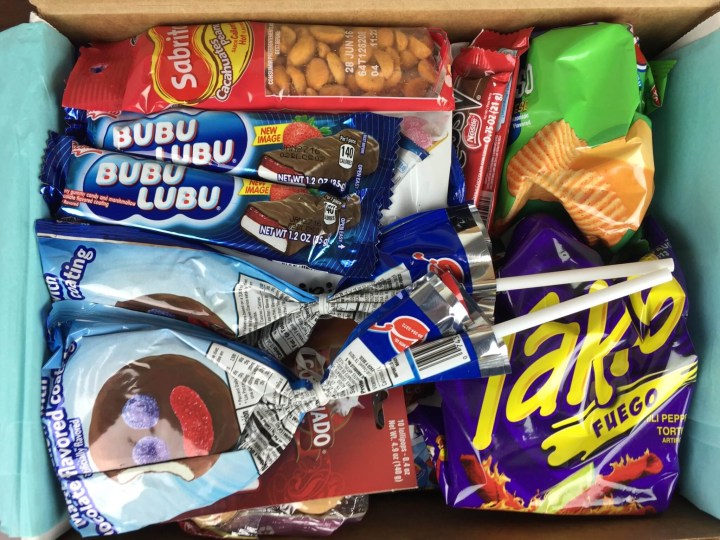 The first layer of goodies…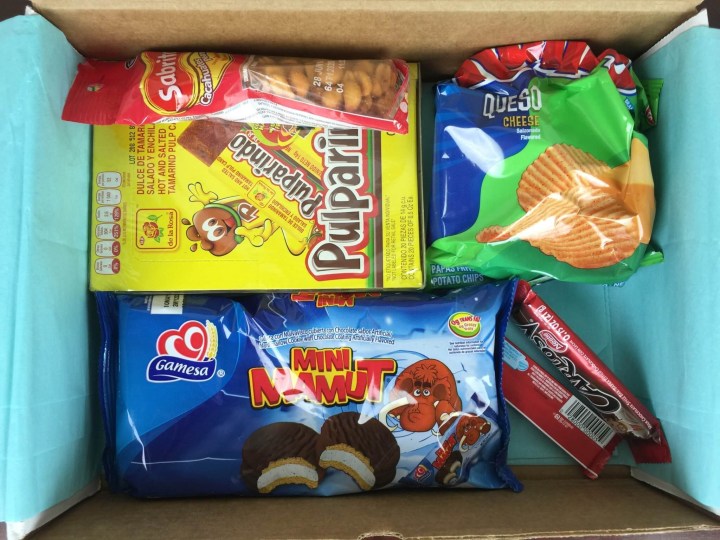 …And the second layer.   There is really a lot in here!  The careful packing extends beyond the tissue.  All the contents are arranged in the box in a very meticulous fashion.  The box is packed absolutely full which means you get as many treats as can fit, and they don't shift around, so the treats are better protected from shipping damage.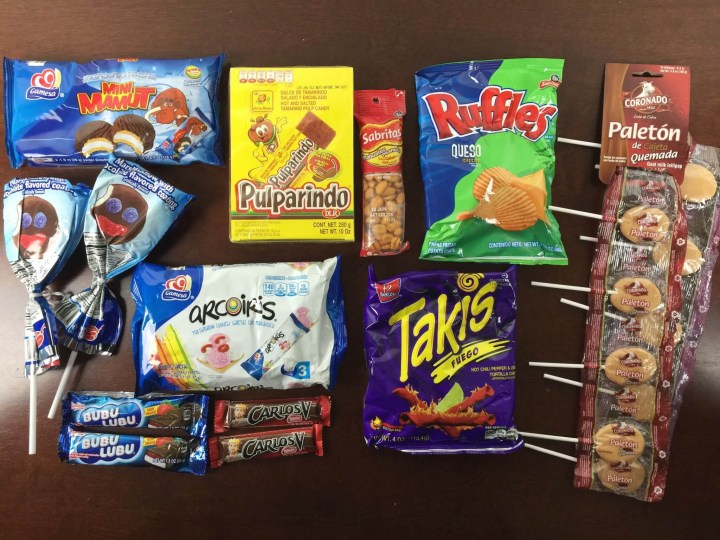 Everything in the box.  A veritable bounty of Treats!  Each Treats box has a slightly different balance of items, depending on what kind of snacks the locals like.   I was surprised that three selections had marshmallow as a main component despite the note.   Though marshmallow is not my go-to indulgence, I appreciate the preconception-smashing composition of the box.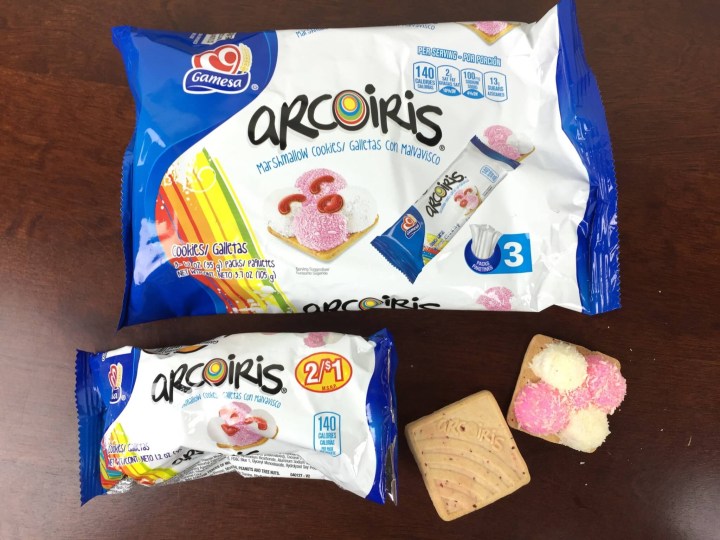 Arcoiris by Gamesa:  These reminded me of Snowballs a bit, but the little coconut decorated marshmallow balls were smaller and sat atop little cookies.  We got a lot of these — the big bag had three packs, each of which had four cookies.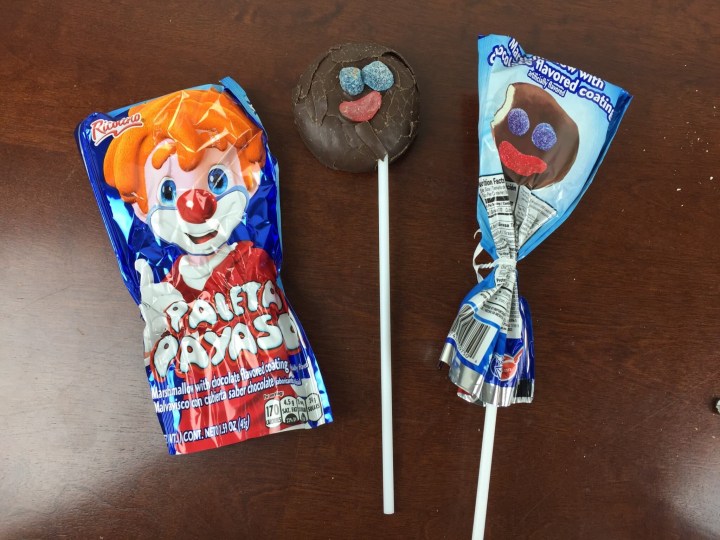 Paleta Payaso by Ricolini:  The actual pop is never as neat as the picture, but all his features were there — a big marshmallow puff coated with a thin chocolate flavored icing, and decorated with a gumdrop face.  The kids like these, because they are big 'lollipops' with a face.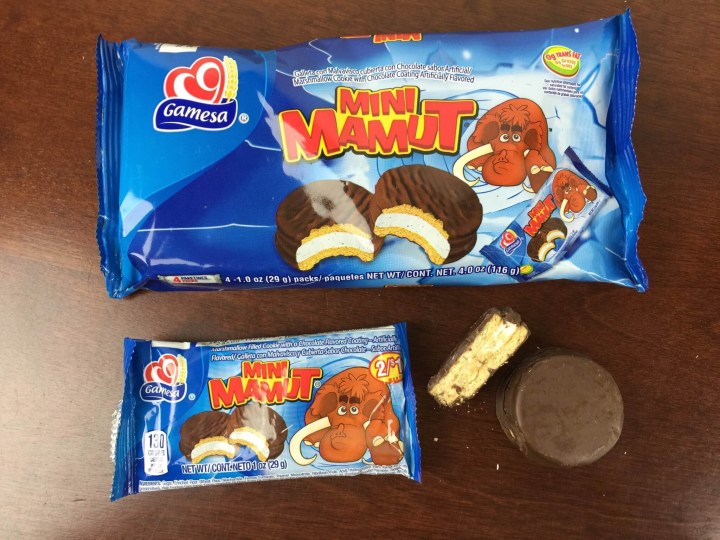 Mini Mamut by Gamesa:  As stated in the note, the marshmallow cookie appears in the snack canon of many cultures.  This version is actually very good, the cookie being a graham cracker style cookie.  Each pack has two cookies, and the big bag has four of the individual packs.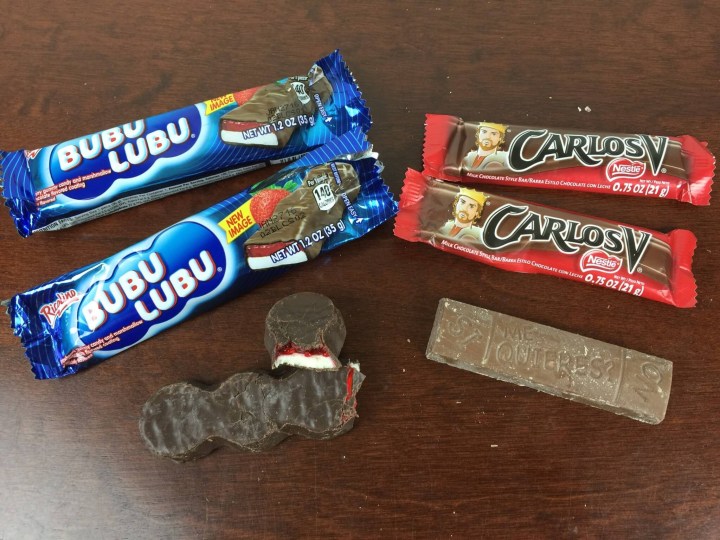 Bubu Lubu by Ricolino:  This is one of those candies that doesn't really exist as a stand-alone bar north of the border.  A marshmallow nougat ribbon is topped with fruit jelly and coated in chocolate flavored icing.  They remind me a lot of half the candies in a Whitman's Sampler, about the only place in the U.S. you find this jelly and nougat combo.
Carlos V Chocolate by Nestle:  Carlos is credited with being the monarch to introduce chocolate to Europeans.  This is a straightforward milk chocolate bar.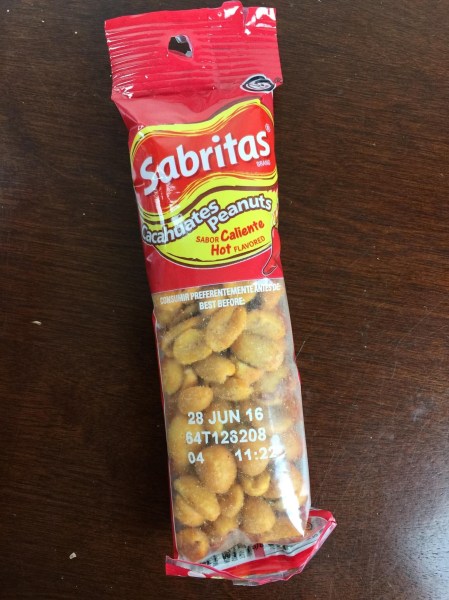 Cacahuates Peanuts by Sabritas:  Sabritas is the Mexican version of Lays, and they also make, you guessed it, potato chips.  These peanuts are fairly spicy, and they seem to be your standard salted peanuts, adjusted in heat to cater to Mexican preference.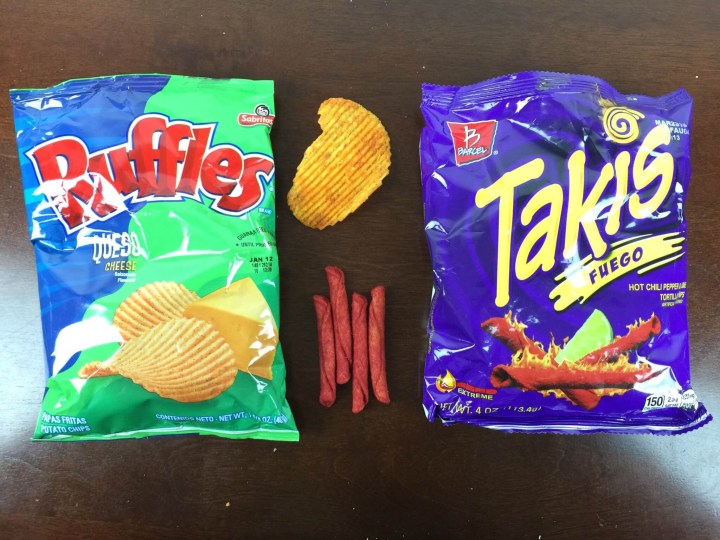 Ruffles Quesco by Sabritas:  These are actually a unique flavor, and not just a rebranding of another Ruffles flavor for the Mexican market.  The queso is creamy and cheesy (of course), similar to the cheddar and sour cream flavor Ruffles (sans the sharpness), with a touch of Parmesan.
Takis Fuego by Barcel:  My favorite.  They are shaped like a taquito (not really sure if that's a real thing, but they sell them in the U.S.), and they have a sharper snap than a Dorito or other corn chip, the roll being less puffy in texture.  The flavor is spicy and wonderful, full of chili and lime.  Plus they have lots of red food coloring, which is key.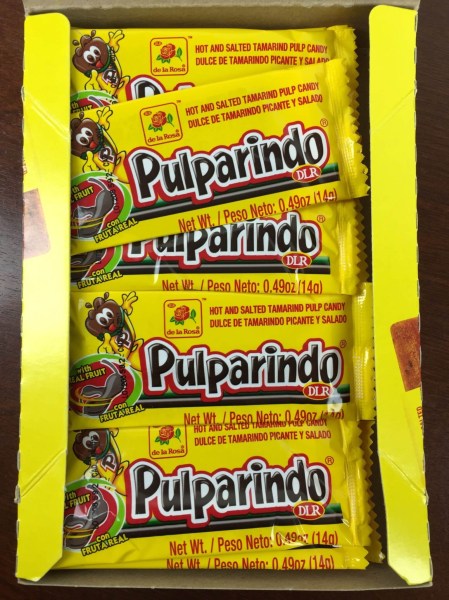 Pulparindo by De La Rosa:  Mexicans enjoy their fruit based candies, particularly guava, mango, and tamarind.  This huge carton has 20 Pulparindo strips, a salty and chili-infused chewy tamarind bar.  I enjoyed this, but it will take a while to go through all of them!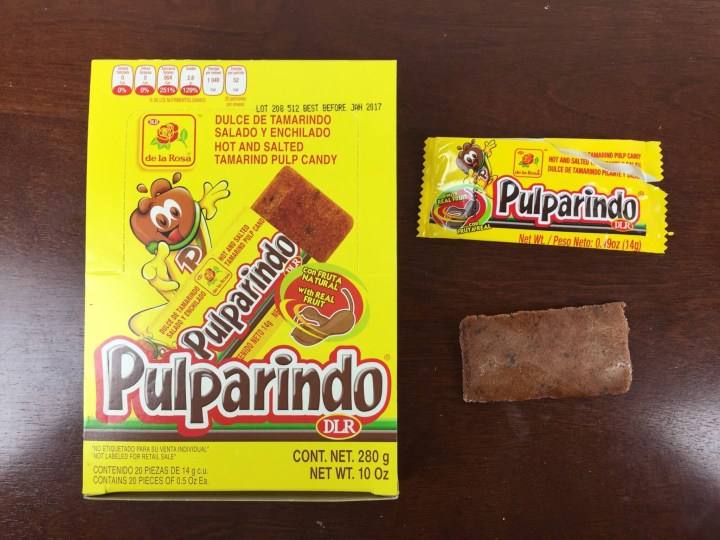 Sweet, salty, and spicy — chewy, but with a much softer texture than an Airhead.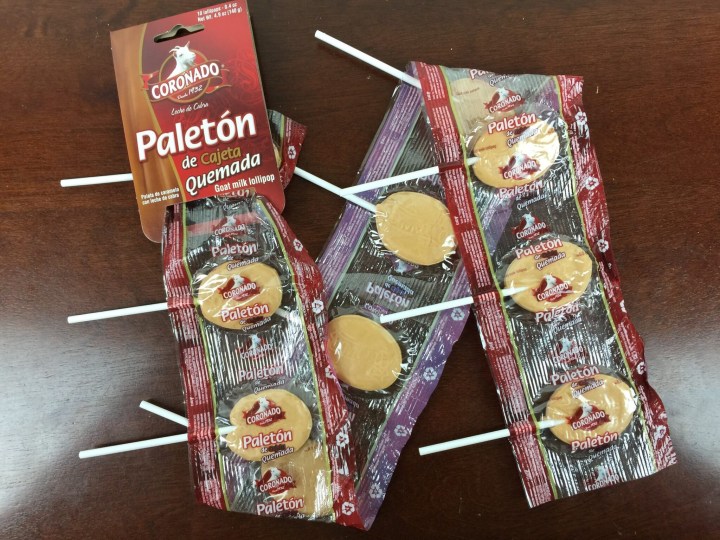 Paleton de Cajeta by Coronado:  Goats milk lollipops.  These are great — goat's milk confections are one of Mexico's hidden culinary gems.  Creamy, with the characteristic sour and mouthfeel of goat's milk, these are like a sophisticated and indulgent spin on dulce de leche.  I was psyched that we received a strip of ten of these!
Treats has always treated us well.   The snack selections always cover a bit of story along with the sweets, and the curator does a great job of including the stuff people eat all the time, not just the signature items.  The quality of the treats is good, and the value is great, as there is usually (at least in the premium pack) a couple huge multipacks.
Visit Treats to subscribe or find out more. You can save 15% on your first month with coupon code HELLO15.
The Subscription
:
Treats
The Description
: Treats is a subscription service for international snacks. Every month they will prepare a box of snacks from other countries and ship it straight to your door. Explore the world through food, a new country every month!
The Price
: $12.95 per month for the standard pack, $24.95 per month for the premium pack
The Coupon
: Save 15% on your first month with coupon code
HELLO15
.