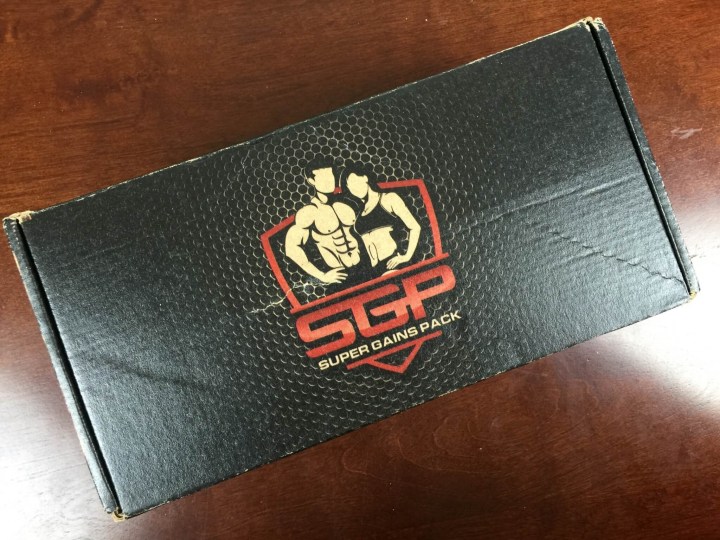 Super Gains Pack is a monthly subscription box for weightlifters and other fitness fanatics. Every month you'll get a giant assortment of supplements, energy goos and gels, protein bars and snacks, and more.  The target audience is body-builders (and anyone bent on achieving greater strength and muscle mass), and most products focus on getting amped, getting big, and getting cut. There are three sizes of this box available: Gains Pack for $12, the Big Gains Pack for $20, or the Super Gains Pack for $28. This is the Super Gains Pack.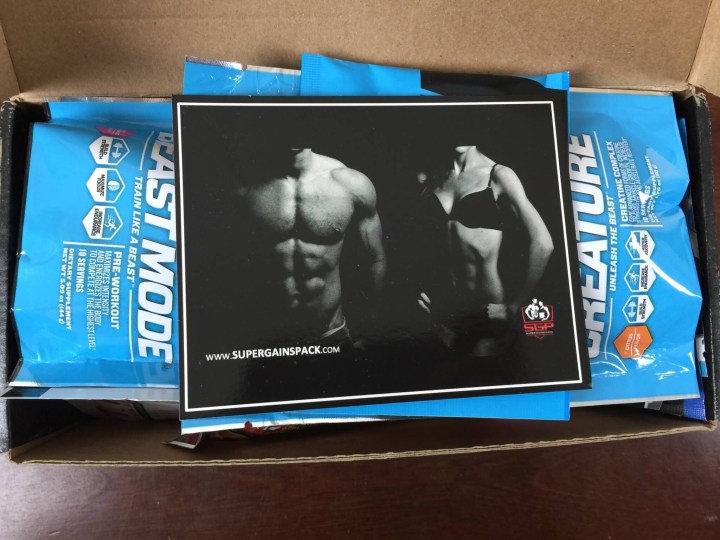 The box is chock full of packets of all kinds — all are trial size.  For most supplements, this means single serving samples; for some  of the items, this meant 10 servings!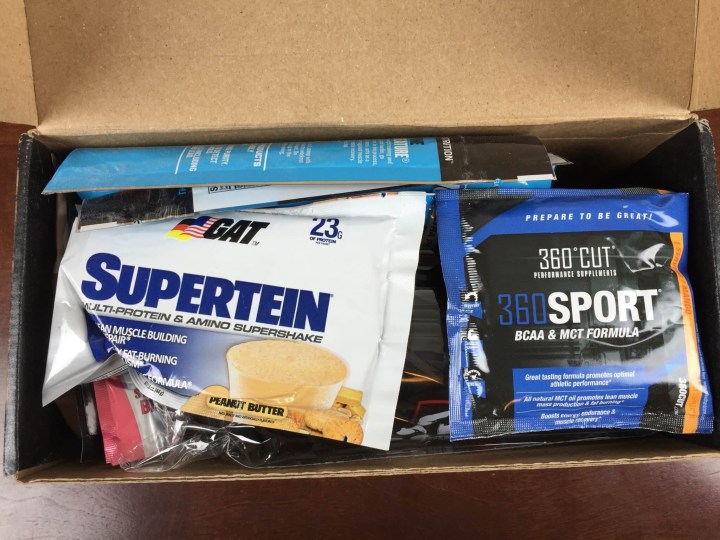 The number of items was impressive, and the pack included items covering the spectrum of a builder's needs.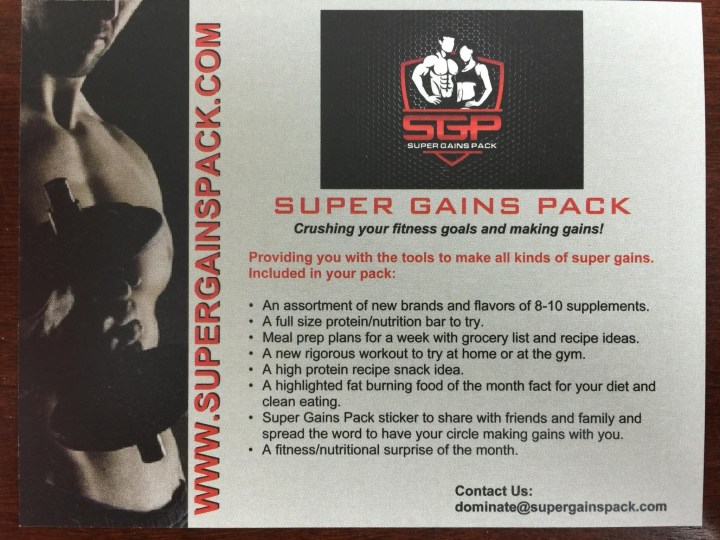 The card is kind of non-informative.  It lets you know the general scope of what you can expect:  8-10 supplements, a full-size protein or bar, a surprise item, and a bunch of workout, diet, and fitness suggestions.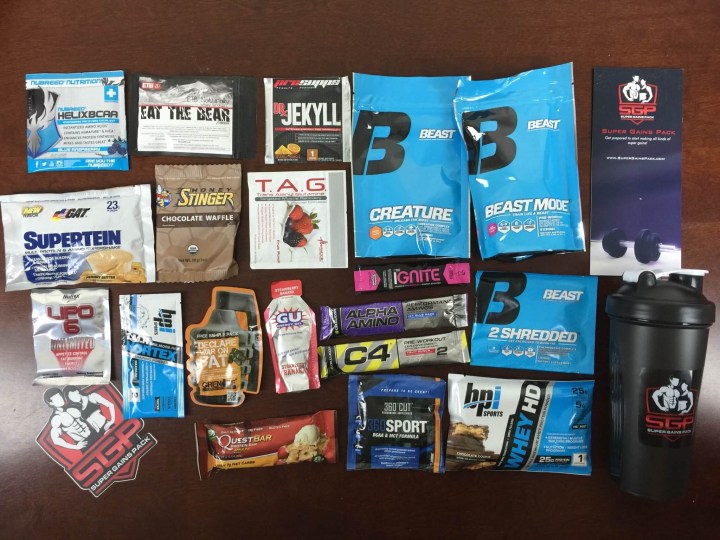 The entire contents of the box.  I'm not sure how they managed to fit all that in there!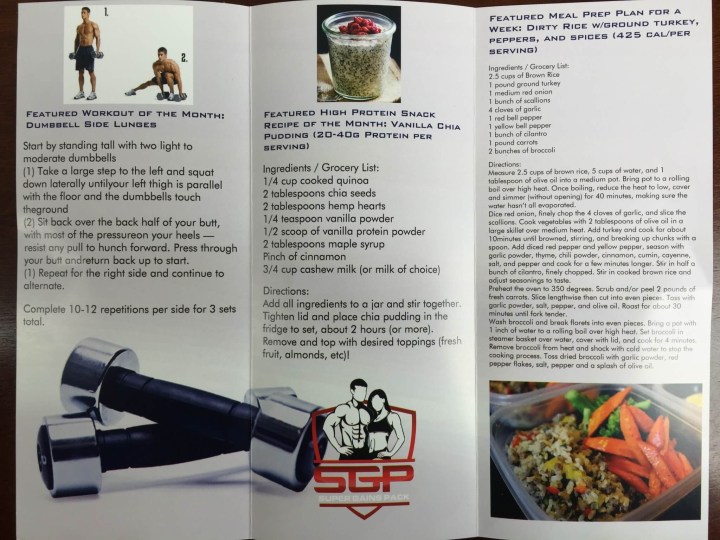 The booklet includes a high-intensity exercise suggestion, a high-protein recipe, and a meal planning idea (including full recipe) for a quick meal for the week.  If you are trying to put on muscle mass you are going to be eating a lot of protein, and often you'll find yourself needing an extra small meal — it is always helpful to have a quick nutritionally-appropriate meal ready-made to avoid grabbing all the wrong stuff when you are beat and starving.
I think this is the surprise item.  A wire-ball shaker jar is essential — this one is really big, too.  You also get the SGP logo sticker and exercise/recipe/meal-plan pamphlet.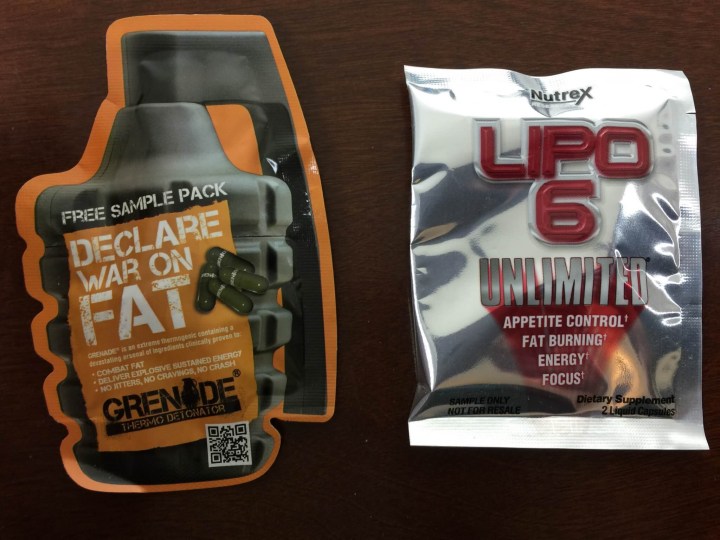 Grenade Declare War on Fat:  This thermogenic cranks up your metabolism to kick-start fat burning and get you amped.  Not for the faint of heart — literally — it has caffeine from multiple sources, yohimbe, herba mate, and should not be combined with any other stimulant.
Nutrex Lipo 6 Unlimited:  Yohimbine and caffeine are the primary stimulants in this appetite control and fat-burning supplement.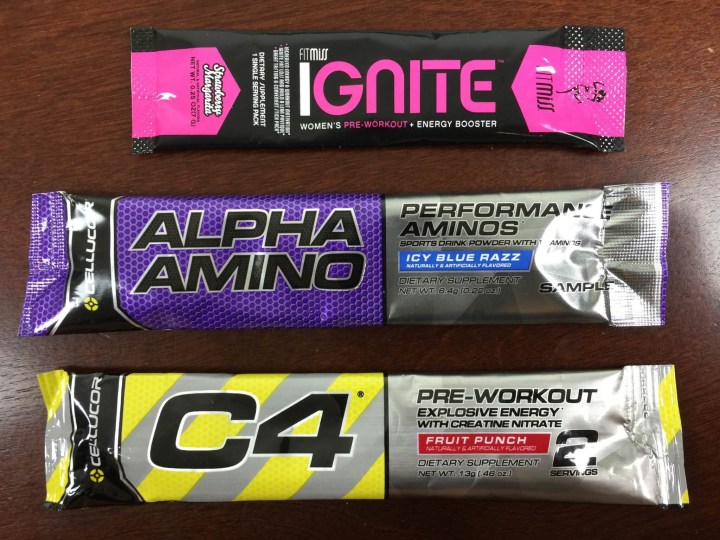 FitMiss Ignite Women's Pre-Workout Energy Booster – Strawberry Margarita:  It's not clear what makes this a women's pre-workout supplement, but caffeine is the primary source of boost, and nitrates and aminos are also provided.
Cellucor Alpha Amino Performance Aminos – Icy Blue Razz:  BCAA and essential metabolism-supporting minerals like potassium and magnesium are the main performance enhancers in here.
Cellucor c4 APre-Workout Explosive Energy with Creatine Nitrate – Fruit Punch:  This will get you moving.  B vitamins, creatine, and stimulants abound.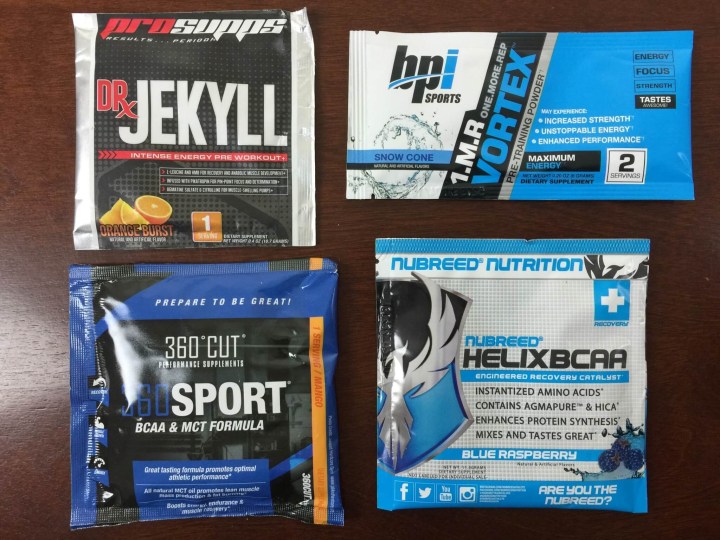 Dr Jekyll Intense Energy Pre-Workout Orange Burst:  While caffeine is in the mix, this supplement promises endurance and muscle swell, and focus.
BPI Sports 1.M.R (One More Rep) Vortex Pre-Training Powder:  powered by caffeine, yohimbe, and securinega ( a central nervous system stimulant).
360 Degrees Cut 360 Sport BCAA & MCT Formula:  BCAAs, medium-chain triglycerides, and citrulline promote fat burning and lean muscle.
Nubreed HelixBCAA:  BCAAs are paired with magnesium, potassium, and B vitamins to enhance recovery function.
GAT Supertein Multi-Protein & Aminio Supershake:  whey, milk, and casein protein isolates are blended to provide 23 grams of protein per serving, supported by crystalline, free-form aminos and inulin fiber.
ETB Eat The Bear Chocolate Whey Protein:  Whey protein from non rbgh-treated grass-fed cows' milk.  Sweetened with fructose and stevia.
BPI Whey HD Ultra Premium Protein Powder – Chocolate Cookie:  Whey protein blend powder with the bpi patented enzyme blend for aid in digestion.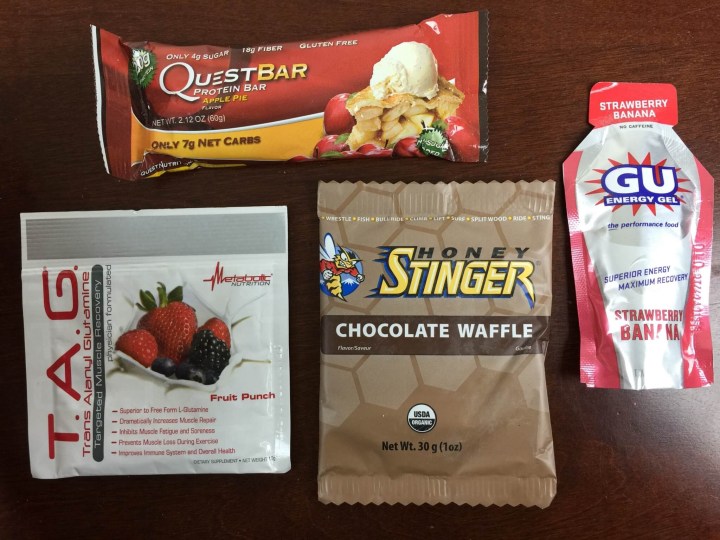 Quest Bar Protein Bar – Applie Pie:  Quest bar has one of the best protein to carb ratios among protein bars.
Metabolic Nutrition TAG – Fruit Punch:  muscle repair and recovery supplement.
Honey Stinger Chocolate Waffle:  a delicious chocolate strupwafel with all natural ingredients.
GU Energy Gel Strawberry Banana:  Fructose-based energy gel.  Caffeine free!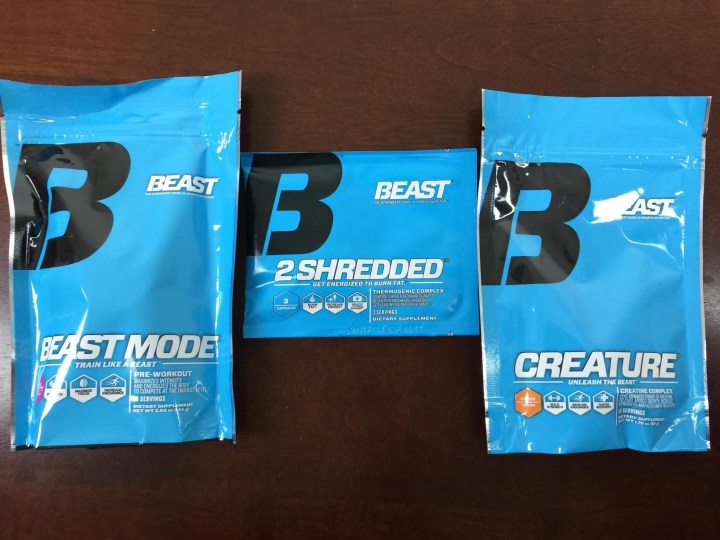 Beast Mode Pre-Workout Powder:  10 big servings of B vitamins, caffeine, and volumizing agents.
Beast 2 Shredded Thermogenic Complex: chromium, a thermogenic blend, and diuretic to get lean.
Beast Creature Creatine Complex: 10 servings of creatine to stimulate lean muscle mass growth and recovery.
There was a ridiculous amount of stuff for bodybuilders and weight lifters in this box – way too much to even write about every item. If you're into protein and supplements and want to test out new products before taking the plunge on a big back, this is a great subscription.
Visit Super Gains Pack to subscribe or find out more! Save half on your first box! Use coupon code SGAINSP50.
The Subscription
:
Super Gains Pack
The Description
: Up to 15 supplement samples, trial size bags of supplements, full size protein/nutrition bar/endurance gel or recovery snack, meal prep plan with grocery list, high protein snack recipe with grocery list, featured food fact information, new workout idea to try out.
The Price
: Get the Gains Pack for $12, the Big Gains Pack for $20, or the Super Gains Pack for $28.
The Coupon
: Save half on your first box! Use coupon code
SGAINSP50
.