Pupjoy is a monthly subscription box for dogs that finds the healthiest dog treats with clear ingredient labeling, well-crafted dog toys, and artisan accessories for the discerning pup. It's customized for your dog's needs so you can find the right mix of high-quality products right for you and your dog (or dogs! They offer a larger size box for multiple or big dog families.).
You can select toys, treats, or mixed boxes, grain free or training specific only treats, and tailor your toy preferences.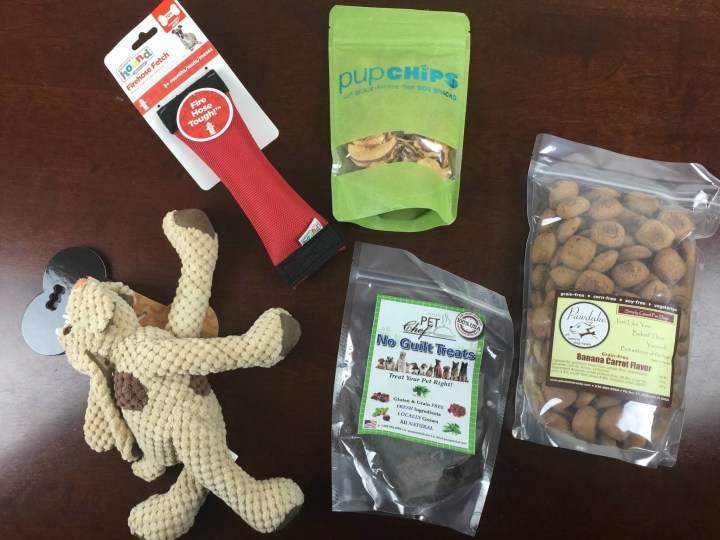 Everything in the box.  This month Pupjoy sent a mix of toys and treats. We feel that sending toys every other month is a great schedule for our dog – she isn't a destructive dog. For big chewers and dogs that tend to go through toys, you can get more toys in your box!
Your Pet Chef No Guilt Treats ($10):  Lamb, carrots, cucumber, and kale are the only ingredients, which means they are gluten and grain free!  The lamb was enough to keep my dog's interest.  The dried treat is like a biscuit-jerky hybrid — meaty, but easily breakable.
Pup Chips – Apple ($5.95):  Apple is the only ingredient. Though dogs should primarily eat meat, they do love some fruits and veggies in their diet.  My dog is crazy about sweet potato and squash, but the way she gobbled these up, I will have to add apples to the list.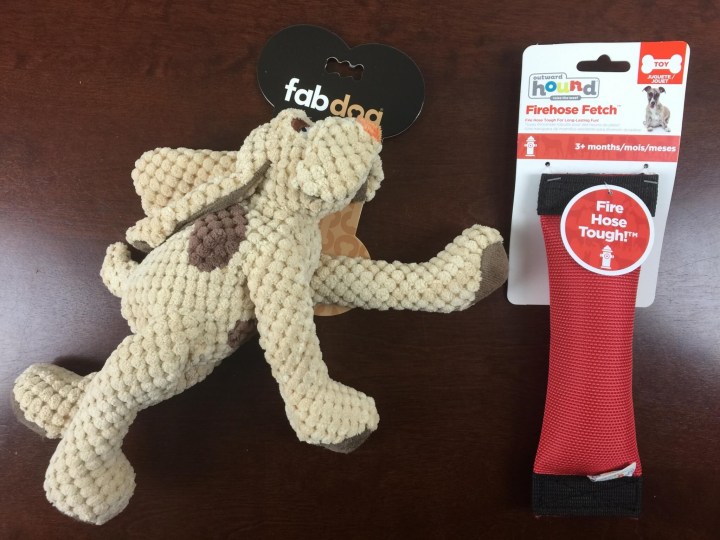 Fab Dog Floppy Dog Toy ($12):  Soft fur and floppy limbs make this guy frumpy and fun.  Smaller dogs would have a great time with this one, but I think a larger dog would make short work of it.  The ears and jowls attached along narrow strips of the body and don't appear impervious to a large, determined dog bent on prying them loose.
Outward Hound Firehose Fetch ($7.49):  This is a VERY tough toy!  The main body is made of woven firehose material, and the seams have multiple stitches on similar material.  Very simple, but very durable.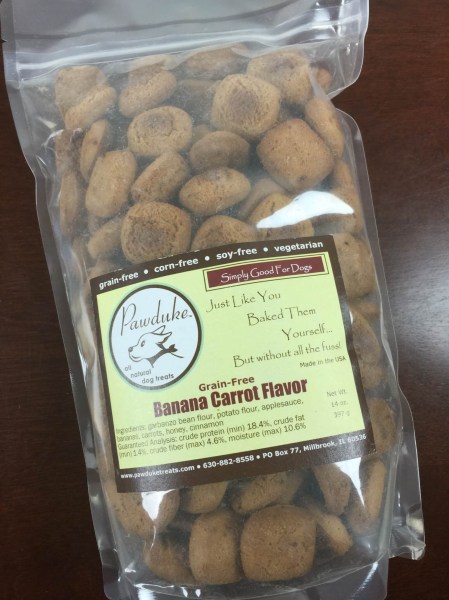 Pawduke Grain-Free Banana Carrot Flavor ($9):  This giant bag will last my small dog awhile — not too long, though, because she really likes them.  Crunchy, but not overly dense, these are grain-free, relying on garbanzo beans and veggies instead of grain, corn, or soy.
We like Pupjoy quite a bit.  The treats come in big packs, and our dog has liked all of them.  They seem to find selections that are appealing to dogs without adding artificial flavors.  The treats are high-quality, filled with healthy meat and veggies, and tend to come from small to mid-size producers instead of the big conglomerates.  Our dog has her favorite toys already — she shows interest in Pupjoy toys, but she hasn't gone wild over them.  The toys are well-made and great for dogs that are into toys, but we prefer a subscription tailored to favor the treats, since our dog loves them so much.
Visit Pupjoy to subscribe or find out more. Use code HELLOSUBSCRIPTION to save 10% on any subscription!
The Subscription
:
Pupjoy
The Description
: PupJoy resets the bar for dog subscription services, with fully customized ordering, concierge service and free home delivery. 4-6 healthy and high-quality products customized to your dog's preferences and dietary needs!
The Price
: $29 per month
The Coupon
: Use code
HELLOSUBSCRIPTION
to save 10% on any subscription!