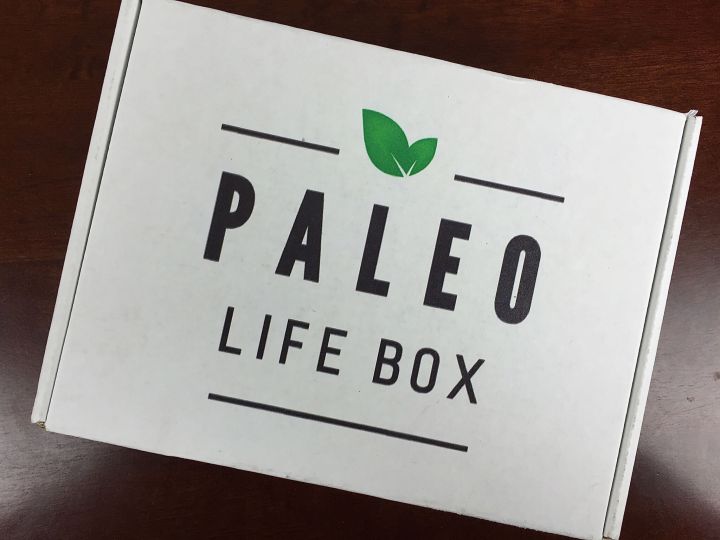 Paleo Life Box is a monthly subscription box full of great-tasting paleo snacks every month. Each month they'll send 8 to 10 snacks – a few new and other returning favorites, so you can be sure to get the snacks you want on a regular monthly schedule. You can expect a mix of meat snacks, bars, cookies, veggie chips, granola, chocolate treats, seed and nut mixes, dried fruit and more – but never grain, gluten, legumes, or artificial ingredients.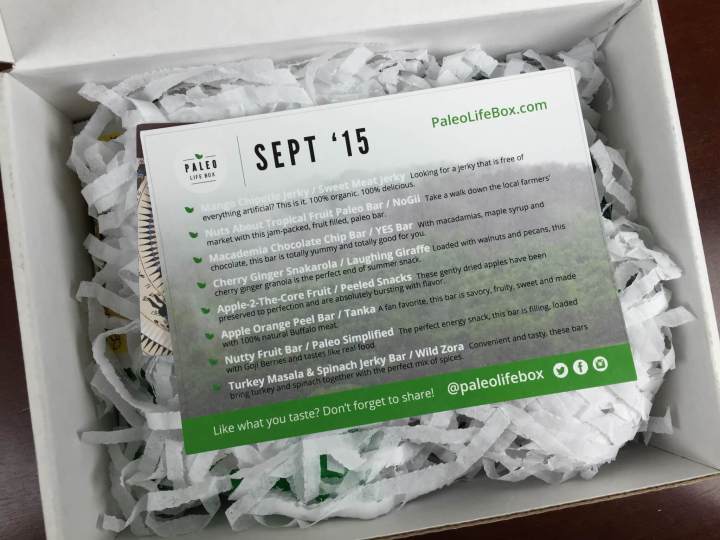 The box is no frills (Frills? No. Squiggles? Yes.), but it comes with discount codes and an info card.  Each snack is described briefly on the information card.  This box featured a lot of fruit and nut combos, as well as some meat items, not unusual for paleo.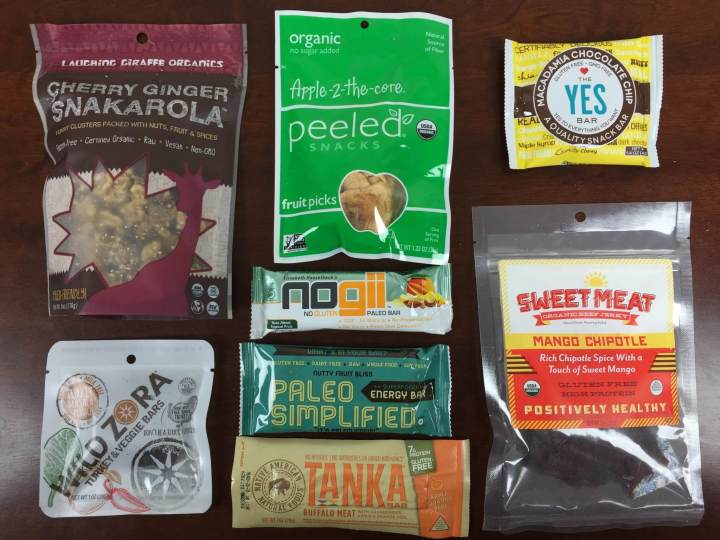 Everything in the September Paleo Life Box!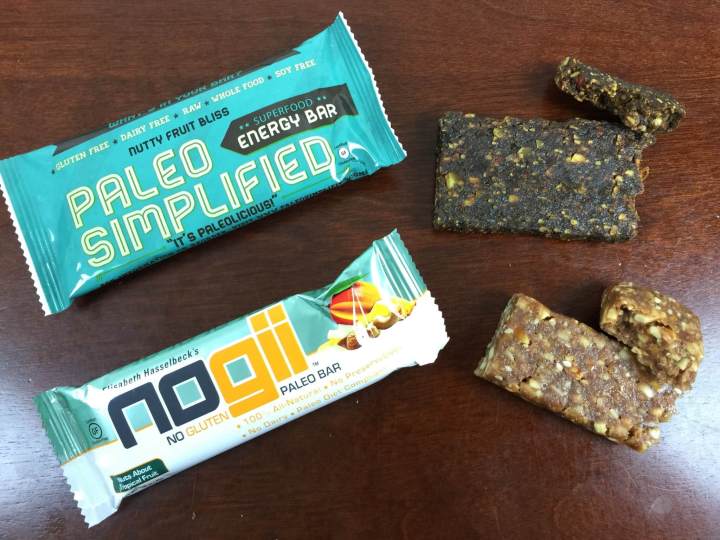 Paleo Simplified Superfood Energy Bar:  This is a moderately sweet, chewy and filling bar with a totally "paleo" texture and ingredient list.  Composed of cashews, cherries, dates, goji, coconut, and apricot, it has the characteristics you would expect from that ingredient list — it's dairy/soy/gluten free, raw, and very tasty.
Elisabeth Hasselbeck's NoGii Nuts About Tropical Fruit Paleo Bar:  This yummy bar comprises dates, cashews, honey, almonds, sunflower and sesame seeds,  mango, coconut, banana, pineapple, and apple powder.  The nuts are a little more prominent as a texture element than the PS bar, and the nogii bar is less dense.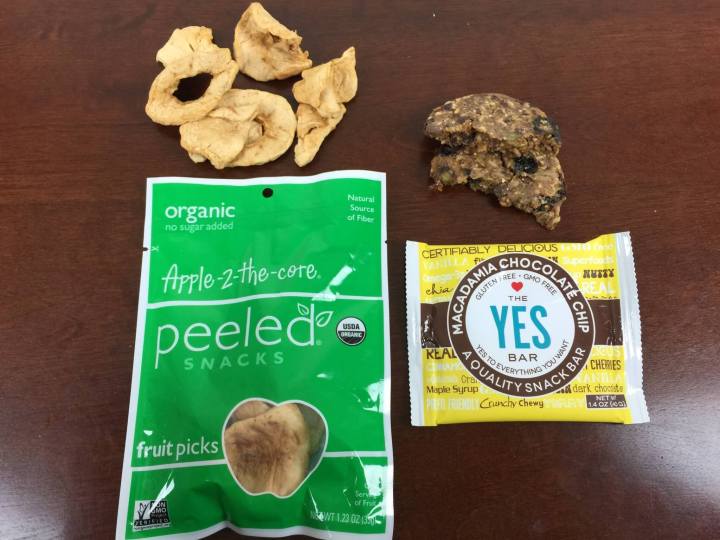 Peeled Snacks Apple-2-the-core Organic Fruit Picks:  Only organic apples go into this chewy snack.  All-natural and unadulterated fruit.
YES Bar Macadamia Chocolate Chip Bar:  This bar surprised me with how delicious it was.  Less gooey than the typical paleo texture, it was like a normal oatmeal cookie (but a little more delicate).  The chocolate chips were big chunks of tasty chocolate, and the other ingredients were really well balanced to create a sweet, crunchy, chewy bar that blends the characteristics of a cookie and a really good granola.  Each bar has over 20 REAL food ingredients (i.e. fruits, nuts, seeds, natural sweeteners).
Laughing Giraffe Organics Cherry Ginger Snakarola:  A little different than normal granola — walnut halves pair with clumps of gently sweet ground fruit, spice, and nuts.  GF, organic, raw,  vegan, non-GMO, and delicious.  The slight bitterness of the big walnut pieces is well-matched with the ground mixture.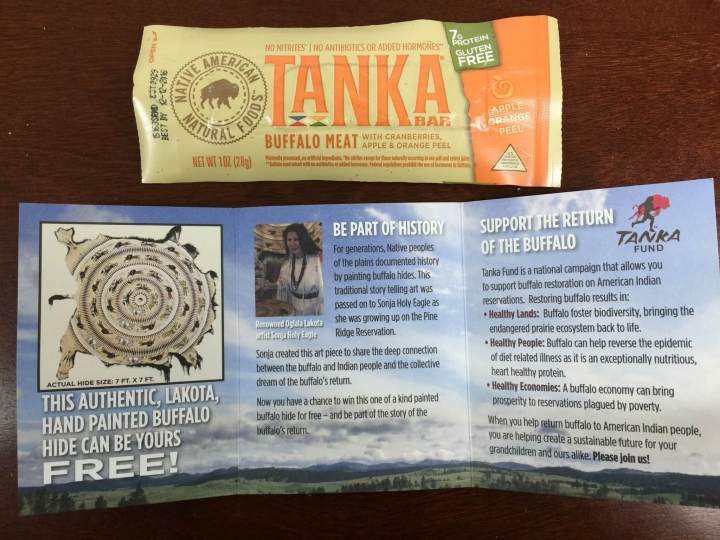 Tanka Apple Orange Peel Bar:  Buffalo is a really great alternative meat — it has the high protein of beef, with a similar flavor, but it is much leaner.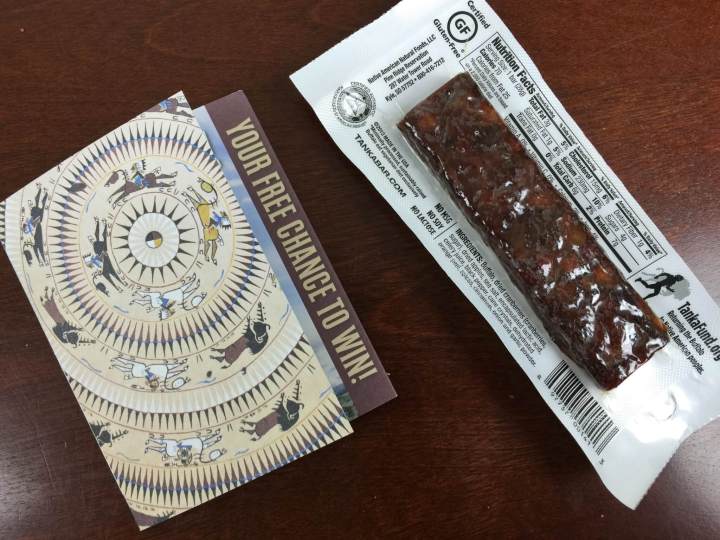 The Tanka Bar adds some orange and apple to the buffalo for flavor, sweetness, and fiber.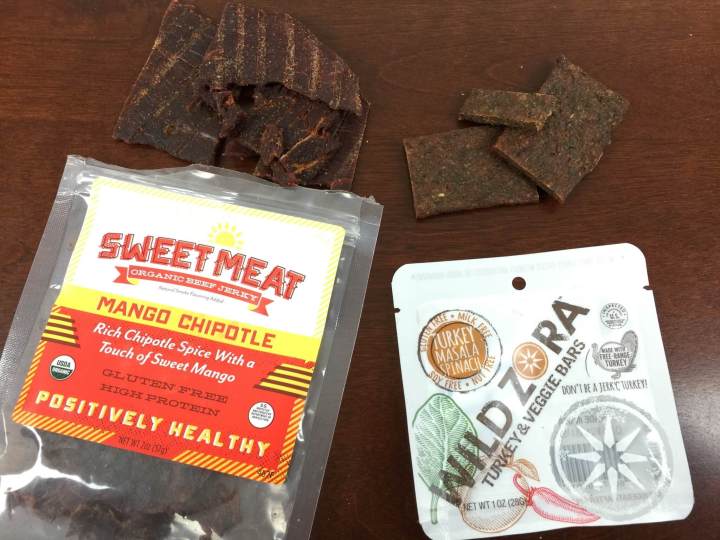 Sweet Meat Jerky Mango Chipotle Jerky:  Organic beef is treated to a healthy dose of spice and a drizzle of mango sweetness.  I really enjoyed this jerky — the heat level is nice and spicy (but comfortably below pain-inducing), and the mango is not overpowering.  Very tender, too.
Wild Zora Turkey Masala & Spinach Jerky Bar:  The Indian-style spice is just right, bursting with cumin, turmeric, and coriander (judging from the taste, as the ingredients merely state "spice").  Very tender little bars with a nice turkey, veggie, and spice balance.  A good option for those that don't want red meat or nuts.
The samples were nicely sized, too — each was good for at least one full serving. The Wild Zora Jerky bars were a really awesome new discovery too. I think anyone who follows a fairly strict paleo diet would enjoy this subscription as a way to increase variety and discover new non-paleofied treats.  The variety was nice, as we had a bit of jerky, traditional fruit and nut bars, as well as granola and dried fruit.
Visit Paleo Life Box to subscribe or find out more. Use coupon code HS15 for 15% off your first box.
The Subscription
:
Paleo Life Box
The Description
: Paleo Life Box is a convenient box of paleo snacks! We deliver the best snack products to your door each month to give you a unique tasting experience that fits within the confines of your diet and is still a great bang for your buck. We ship on the 1st of each month, so join today and fuel your body with the good stuff!
The Price
: $35 per month
The Coupon
: Use coupon code
HS15
for 15% off your first box!