For the Faithful is a monthly subscription box full of Christian products delivered right to your door. You may receive items like books, DVDs, items for the house (or even garden), something brilliantly inspirational, or things for the kids.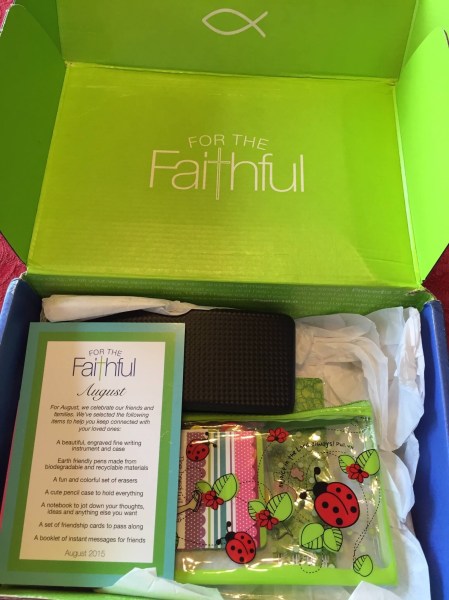 For August, we celebrate our friends and families. We've selected the following items to help you keep connected with your loved ones.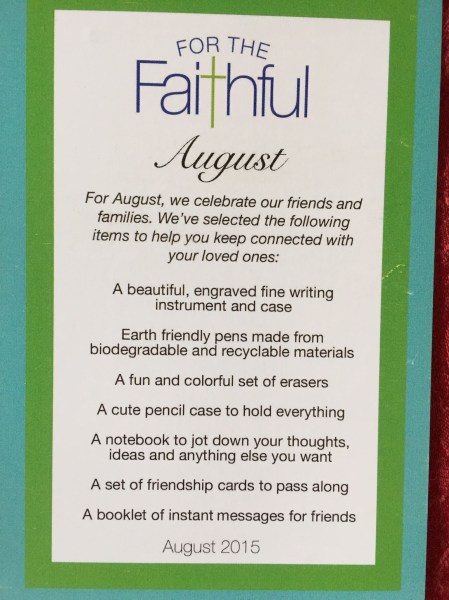 The information card lets you know what's in the box and what the item is for.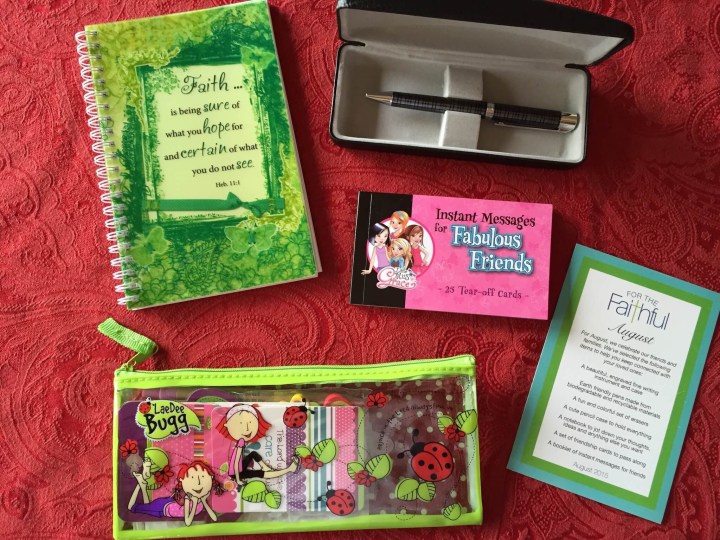 Everything in the August 2015 For the Faithful Box. All the items were perfect to encourage connection and communication with the people you love.
I have to admit I figured there would be something somewhat boring about this box but boy was I wrong.  When I first peeked in the box I saw ladybugs.  Ladybugs!  Now I am a retired special needs teacher who still teaches special needs students at my church when there is need for one on one teaching.  I am currently teaching a middle school girl and when I saw ladybugs I knew I would be sharing whatever it was with her.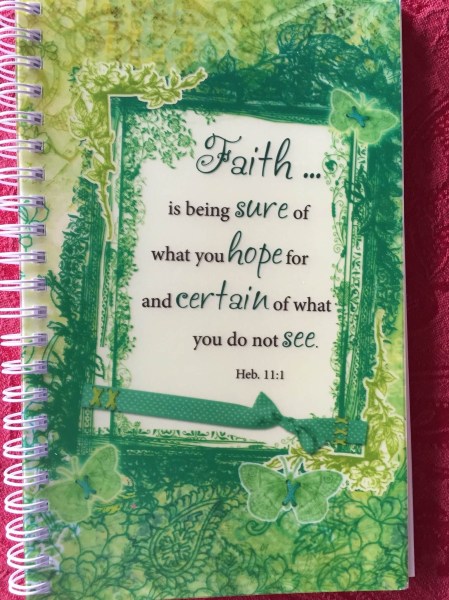 I'm also in charge of a large ladies group at my church.  We have several projects coming up that I just can't wait to share the other items in this box.  We're starting a new ministry project for the local Air Force base.  There are male and female GI's that don't get to go home for Christmas and go to the on-base mental health clinic to fight depression.  We're going to donate boxes filled with items that, hopefully, will lift their spirits.  The journal and pen with case are perfect.
The pen was engraved with the word "Trust" and contained Romans 15:13 on the box lid.
The Instant Messages for Fabulous Friends will definitely be donated to our Life Teen group.   These are cute little tear-off cards with uplifting messages and a bible verse to share with a friend (maybe when you don't have the words yourself!).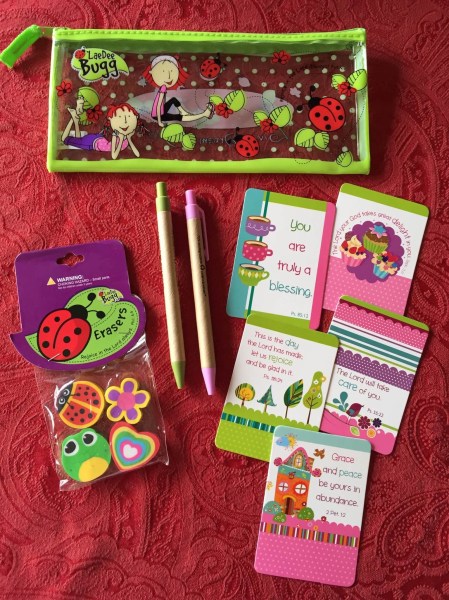 And the gift cards, well they are just so uplifting in color and message, I might actually keep those for myself to use when I give a gift to my friends! It is truly "more blessed to give than to receive."  I'm just so excited and feeling happy thinking about sharing these items with others.  This box was a blessing and I'll be paying it forward.
Visit For the Faithful to subscribe or find out more. Use coupon code hello$ave to save $5 off your first box.
The Subscription
: 
For the Faithful
The Description
: For the Faithful is the monthly subscription box for today's Christian family. Each month, we hand-curate a gift box filled with great Christian and family friendly products from world-class brands and deliver it right to your doorstep
The Price
: $21.99