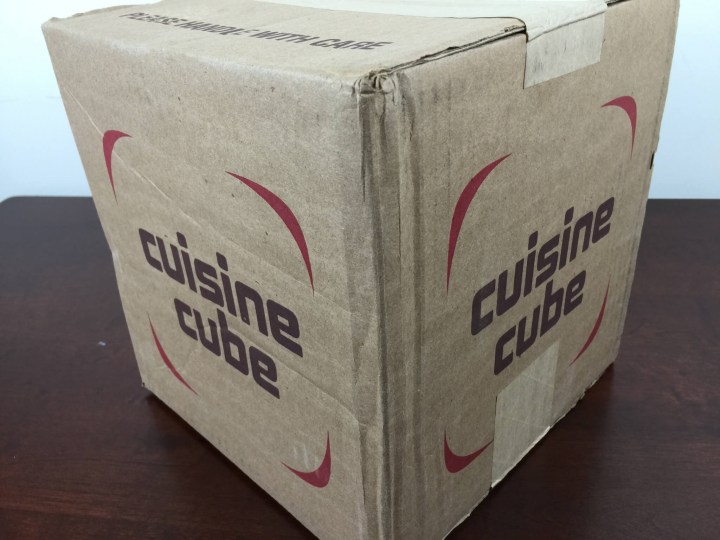 Cuisine Cube is a gourmet subscription box delivering either artisan, vegan, or gluten-free groceries every month!  Cuisine Cube was created by a team of enthusiastic eaters, food professionals, and allergy sufferers from New York City who came together to create a new kind of gluten-free delivery service and to share their experience in the hunt for great gluten-free food. Recently Cuisine Cube started expanding their offerings to vegan and artisan boxes too.
Here is everything in the box.  Pretty substantial portions of everything.  This is definitely a pantry-style box rather than a sample box, and you would have to be pretty hungry to finish any of the items in one sitting, even with a little help.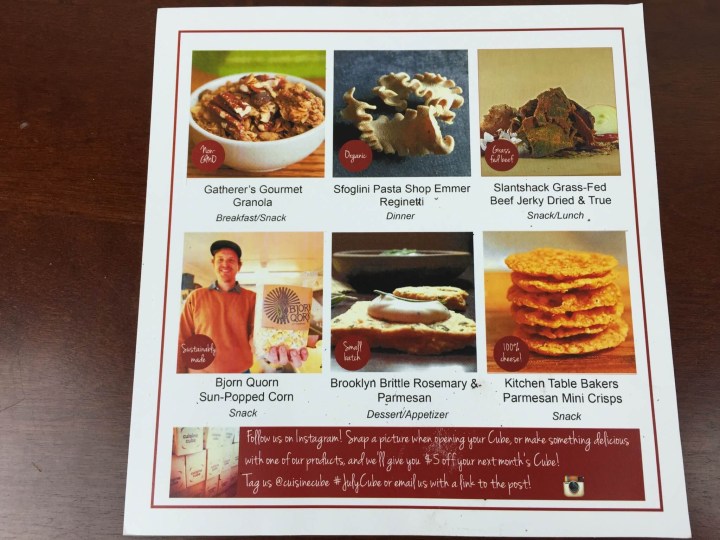 A word on the cards — we received two cards because our box was a mix of the items on the two cards.  I'm not sure if this was a custom selection, or if there were some supply issues that required a swap.  We like to review boxes just as they would be received by any subscriber, so I will assume that the latter is the case, and any subscriber might receive substitute items on occasion.    The Brooklyn Brittle and Slantshack Jerky were not in this box.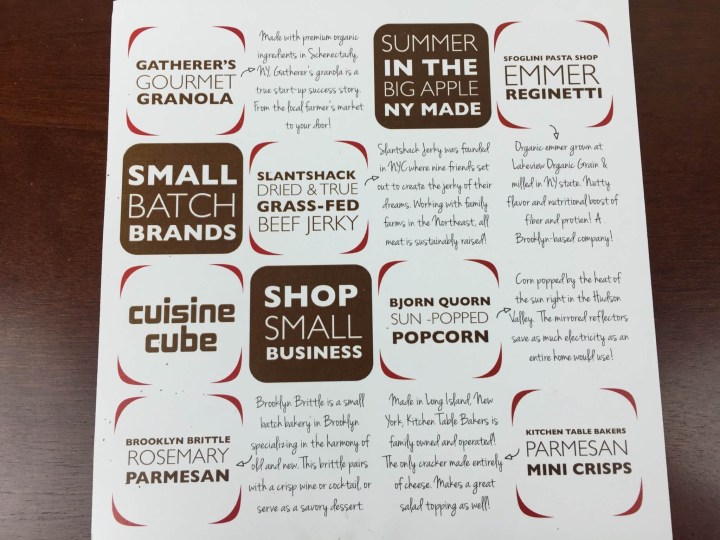 Some info on the items — the theme for this batch was NY, so everything in the Cuisine Cube was produced somewhere in the Empire State.  It appears that everything is from the Hudson Valley, the Catskills (which is only "Upstate" if you live in NYC), or NYC itself, so it's really a New York City / Southeastern NY regional box.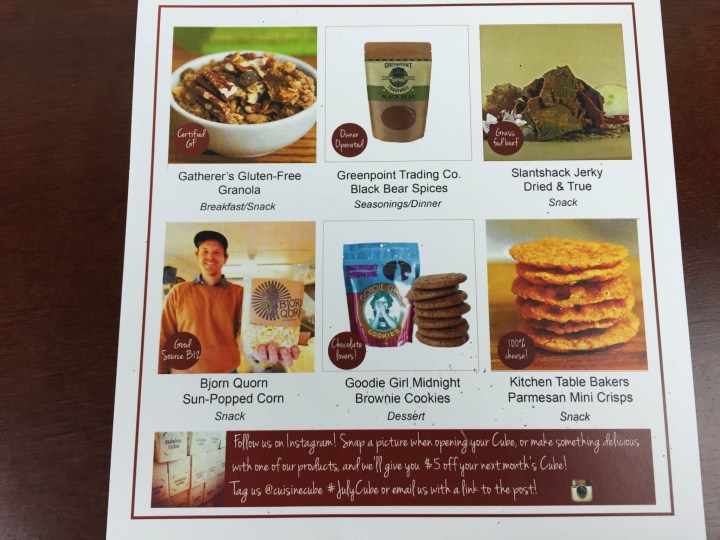 The Slantshack Jerky is the only item on this card not appearing in the box.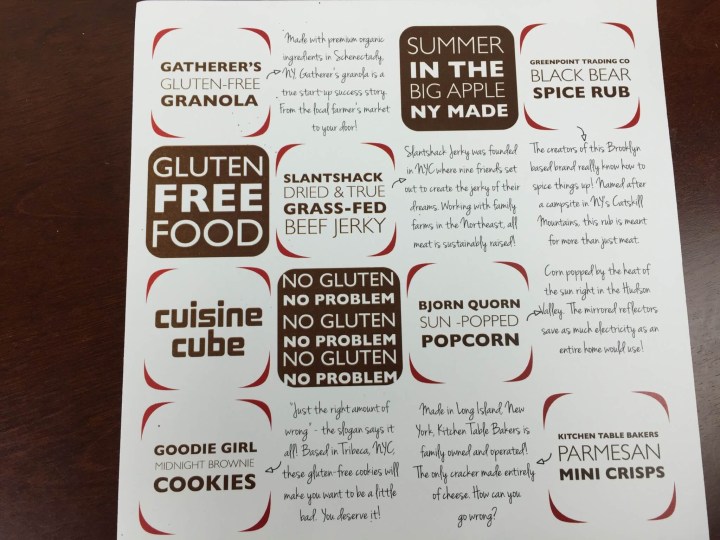 The Gatherer's Granolas from Schenectady, stretching the geographic reach a little further.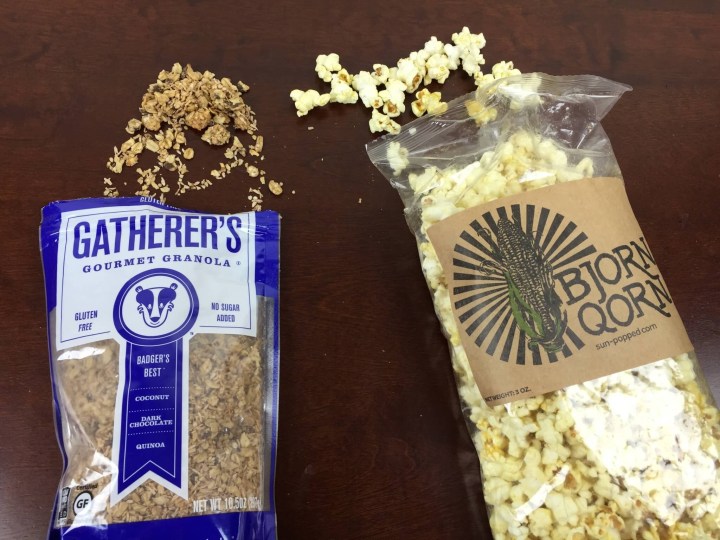 Gatherer's Gourmet Granola – Badger's Best ($6):  Thankfully, a real granola!  Quinoa is in there, and no extra sugar is added, but this granola stays pretty true to the classic formulation.  Some coconut and dark chocolate are scattered throughout (in tiny bits, don't expect chunks), but classic toasted oats do the heavy lifting.  This is a good all-purpose granola with nice crunch, mild sweetness, and no fruit.
Bjorn Qorn ($6):  A truly interesting and enjoyable product.  "Nutritional yeast" is added to this sun-popped corn, adding a nutty and cheesy flavor — someone blind-taste-testing this would likely guess that it had a cheddar/parm coating.  The sprinkle is very visible, and very tasty.  Definitely a must try.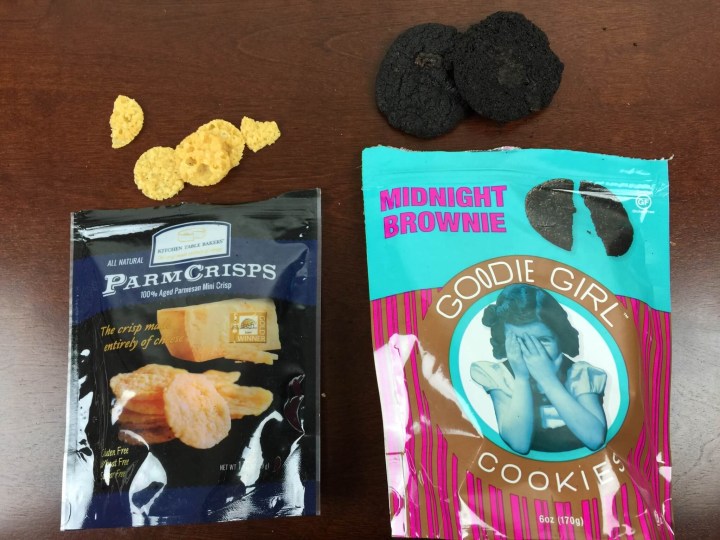 Kitchen Table Bakers' ParmCrisps ($4):  Salty and very crispy, these are potent and packed with flavor.  Made of nothing but real Parmesan cheese.
Goodie Girl Cookies Midnight Brownie ($7-9):  These have a very, very light texture to them.  Crispy and slightly oily in texture (pretty typical for GF), they have a very rich cocoa flavor and generous sprinkling of chocolate chips inside.  The darkest cookie I have seen — these are Oreo-dark.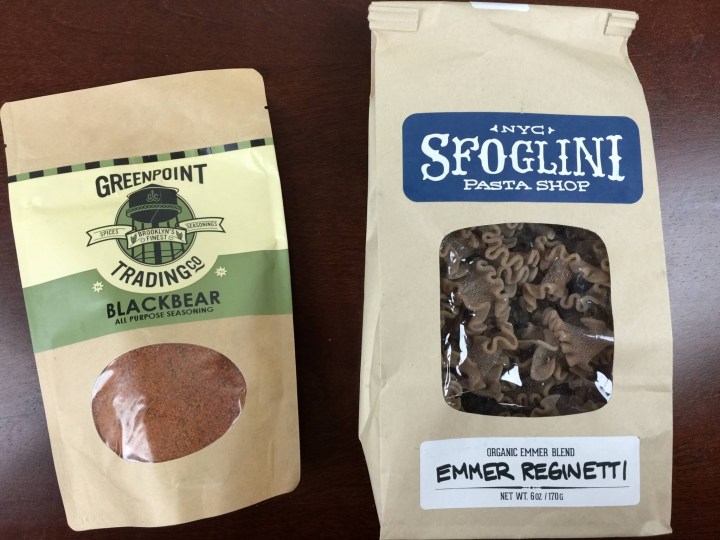 GreenPoint Trading Co. Blackbear All Purpose Seasoning ($9):  I had to chuckle looking at this bag (a big, 8 oz, BTW), as it is GF and Vegan, and the back suggests it is great for tofu and veggie burgers.  My first thought was how good this would be on Carnitas or a brisket!  Nothing too odd in here, this is paprika-centric, and this huge bag means you can smother just about anything (you could literally do a whole pig if you wanted).
Sfoglini Pasta Shop Emmer Reginetti ($9-10):  Old-fashioned copper dyes give the pasta a sauce-gripping texture.  Made of an emmer (farro) and durum semolina blend, this cut is in the shape of the meat from a cooked lobster tail.  The dark color suggests they use a whole or near-whole wheat, as there are no added colors.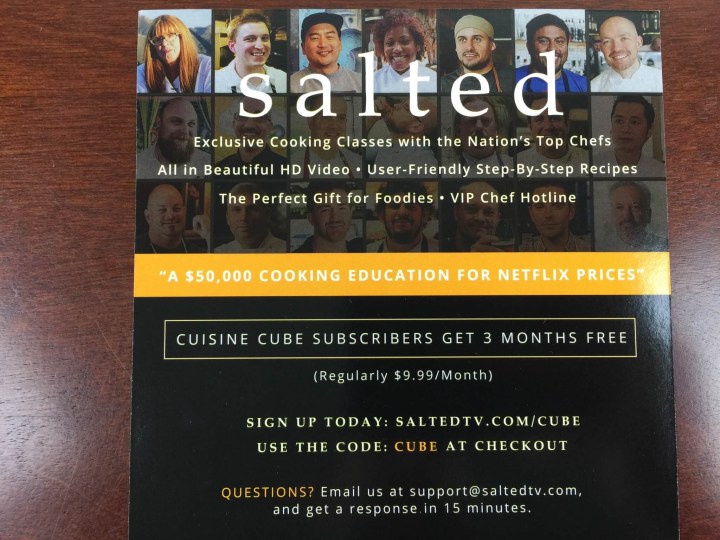 Salted subscription:  This innovative program grants access to a library of cooking classes featuring some of the nation's top chefs.  Each episode is in full HD, and they even have a Chef Hotline for cooking help.  The box includes a 3 month subscription ($30 in value)!
Cuisine Cube definitely follows through on the full-size promise.  The items were all extremely high-quality, artisan-style products, and the value is pretty good.  Even if you were to ignore the $30 Salted subscription, that would mean the products would have to be $6 average retail value, which I can see these items fetching if bought in-store, plus you have the curation (I noticed before even looking at the cards that each product was made in New York) as well as the shipping savings – almost all of these items would require a hefty shipping fee to purchase individually.  Boxes are available in Artisan, Vegan, or Gluten-Free collections.
Visit Cuisine Cube to subscribe or find out more! Use coupon code 10OFFHELLOSUB to save $10 on your first box.
The Subscription
:
Cuisine Cube
The Description
: A monthly gourmet subscription box delivering either artisan, vegan, or gluten-free groceries every month! Choose either Artisan (no food restrictions), Vegan, or Gluten-free and get 6-7 full-sized artisan products at a lower price than you'd pay at specialty markets, with free shipping, all curated around a fun theme!
The Price
: $39.99