Rag Tag Box is a new monthly subscription box from Spot Colors, which features fun, unique, & colorful stationery, gifts, cross stitch kits, and more.  This is a very hard to define box, but each month contains 1 set of paper craft items to DIY (which could include note cards, stickers, paper clips, & more),  1 cross stitch, embroidery, or plastic canvas DIY designed by spot colors, and 1-2 fun misc items (which could include handmade or non handmade jewelry,hair clips/ties, finished stitchy items, & more.). None of you know this because I have never mentioned it, but I used to be a hard core cross stitcher and embroiderer. Like binders of floss everywhere on my Lo-Ran cards, that sort of level of obsession. I always had the idea that I had to buy the individual products instead of a kit or have all the things but in my advanced age (*cough*) I have learned that kits and subscription boxes are so much better and easier to manage with a busy life! Anyways, the theme on this was super cute, so I had to pick it up!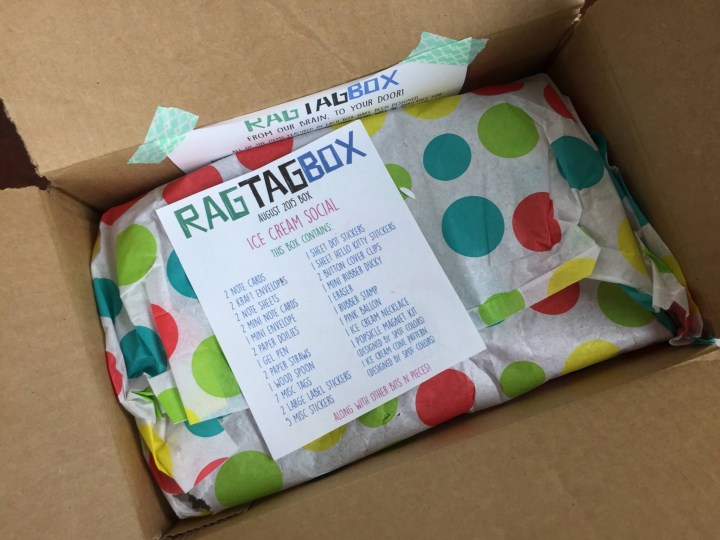 The August Theme was Ice Cream Social! It contains a packing list and is neatly wrapped in fun paper. Every month has a different theme – you can see September's at the bottom of this post.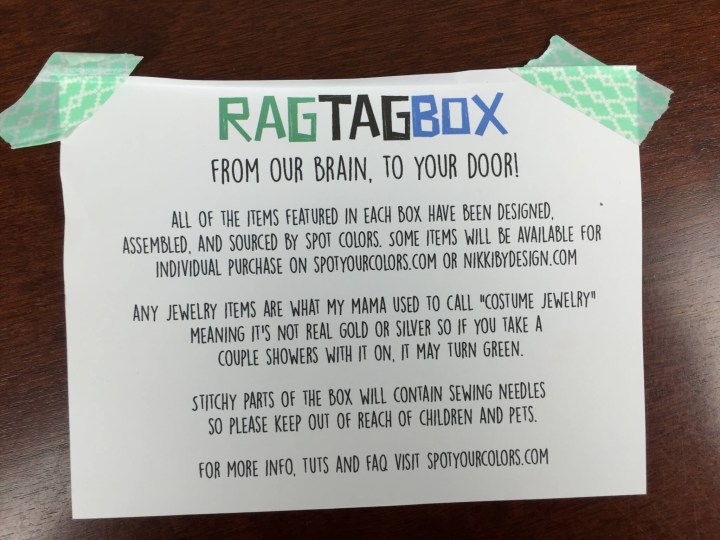 Just a little information about all the items!
And the bottom after everything is unpacked. This is only the second box I've seen use this packaging, and I rather like it. I hope more boxes start using it. It's just plain tissue paper cut up in strips I think.
Everything in the box – the paper stuff, the doodads, and the stitchy kit. You can also get mini versions of this box (the paper stuff or the stitchy stuff).
And there are a lot of doodads in this box. As I said earlier – I'm not big anymore on buying a whole package of things. It's just too much! I love having an assortment. This is a balloon, straws, and two paper doilies. It actually struck me that this box would be really good for a blogger that styles photos, or an instagrammer or what have you. When you want to keep the "stuff" seasonal – whether for wrapping packages or crafting or staging photos, or coming up with your own craft, it's all good. I think this would be perfect for two parfait glasses with straws set on top of doilies (putting parfait glasses on my list of must-have glassware right now!).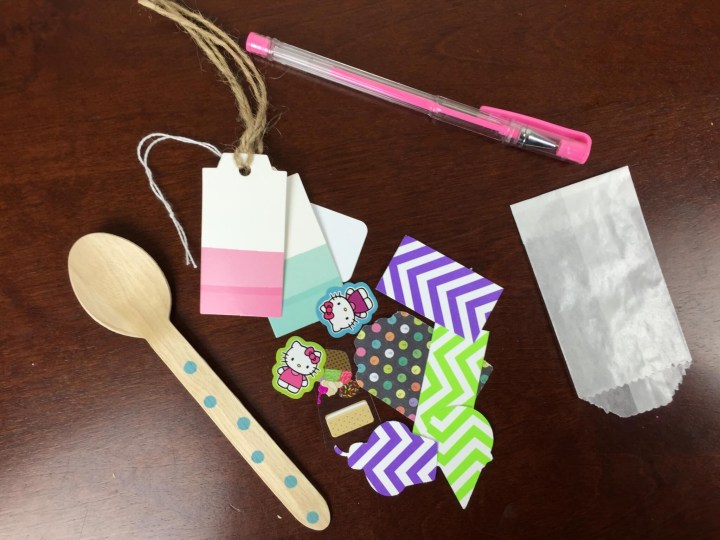 And more doodads! Tags, a wooden spoon, pink gel pen, and some die cut tags too. I love the ombre-ish tags! Adding stuff like this to my gifts makes me feel like a Pinterest Mom. You could use the die-cut pieces to attach to your planner or a fun card.
These little stickers got a little lost in the photo above – they are super cute. As you might imagine, my 6 year old daughter whisked them away.
Paper: Two really cute cards which have the right amount of humor, a couple of note taking sheets, an eraser, and a darling ice cream cone necklace that was also stolen from me (don't worry, we share!). I laughed at the The Struggle Is Real notecard, because it's one of those hashtags that seems overblown to me and this was the right amount of humor for the phrase.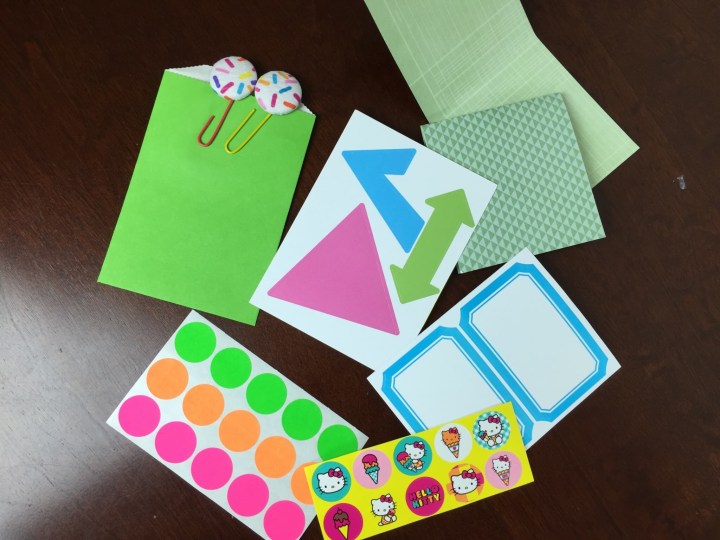 There were a variety of stickers, including labels, index circle stickers, Hello Kitty stickers, some notecards with a ledger pattern inside, and two very adorable paperclips with sprinkles/rainbow jimmies fabric covered buttons on them. Love those.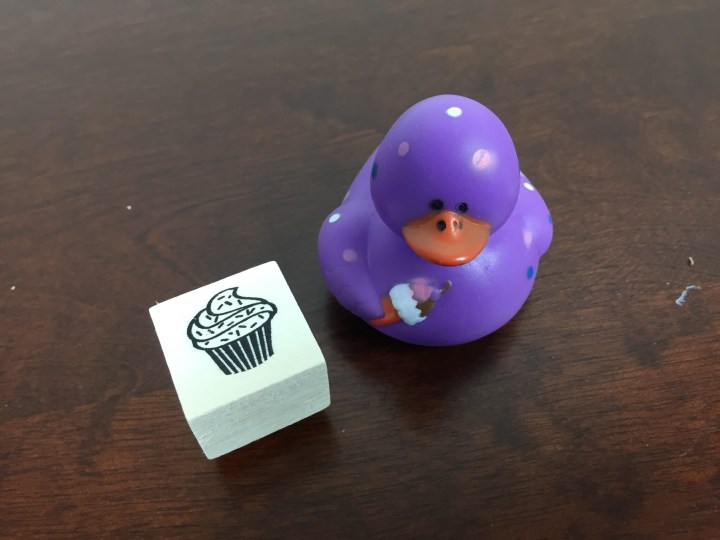 And a cupcake rubber stamp, and a rubber ducky holding an ice cream cone. I know I will get a ton of use out of this stamp! I have some inkpads around at all times and I even think this would be fun to decorate lunchbox napkins.
Now for the Stitchy Kit!
Not every month will be cross-stitch, but August was, and it featured an ice cream pop magnet!  The kit came with all the supplies you need to complete the project, basic cross-stitch instructions, and a complete project tutorial. So if you don't already know how, do not be afraid! I went through the entire tutorial knowing how I like to stitch and how other people stitch and I'm happy to report that it's totally complete. I did give the box owner a couple things I would add (to separate your two strands of floss before putting them back together, and that you can count up and start at the top if that's your thing), but those are my personal preferences and the way I like to stitch. I actually emailed her to say how impressed I was with the tutorial for the box – I had honestly only expected the supplies and the pattern.
I really very much appreciated the step by step instructions for putting together the magnet.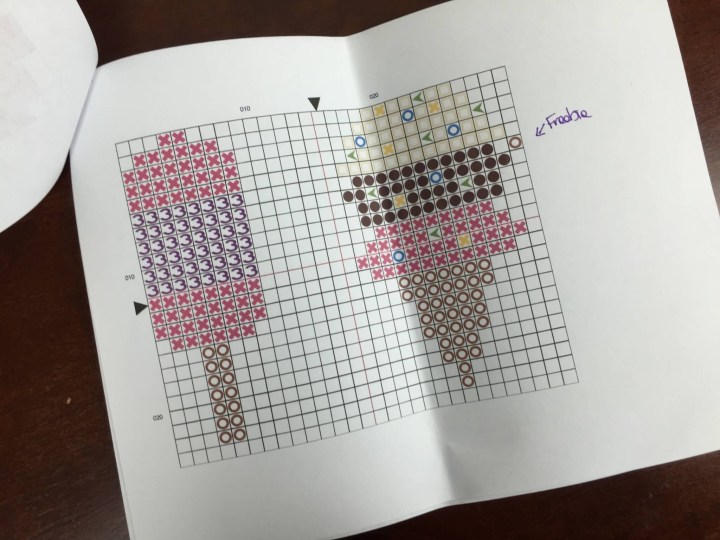 The box came with two patterns – the one for the magnet, and a bonus extra. You can get some extra fabric and a few skeins of floss and make yo'self a cone too. My daughter expressed some interest in learning how to stitch, so I've picked up some plastic canvas and yarn and we're going to give it a go!
It took me less than 2 hours to complete this project while watching The Physician on Netflix. I have never made a magnet before and that was really fun, and I think my project turned out super cute although apparently I really need to get on the reading glasses/bifocal thing! (Actually I bought this magnifying LED lamp today for use in future projects. If there's any interest I'll post a review for all us old lady crafters [I'm 37! I didn't know my eyes would go this quickly!]).  I loved having a Friday night project to do and that I could complete in one or two nights!  The pattern is definitely cute and eye catching because my baby won't stop going after it!
And I have spoilers for you for September!
The September theme is Sand & Sea! I see lots of items that are perfect for creating a cute gift or craft, stickers, a keychain perhaps, and more! I think an item from Smashbook (Nautical Tattoo rub-ons).  Super cute!! FYI – September box on sale August 10.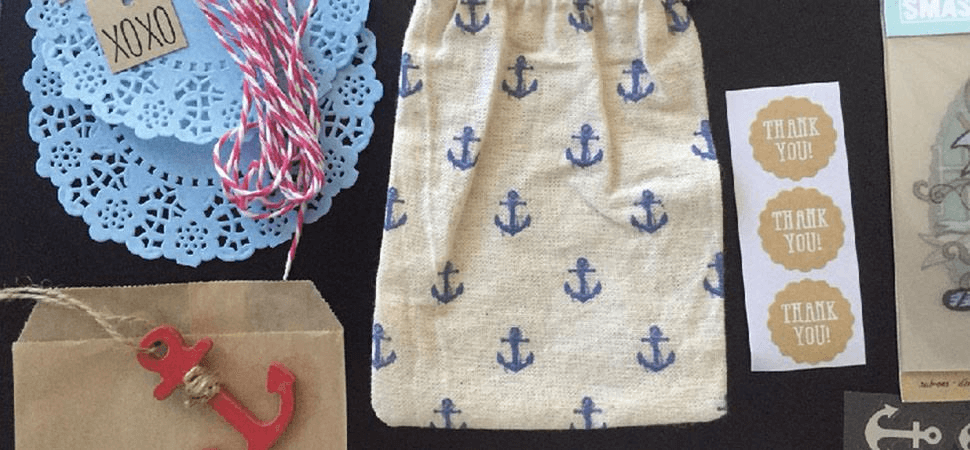 This was a fun box for me. I really enjoyed the stitchy project, all the bonus items (love that necklace and the rubber stamp especially!), and the fun attitude.  This is definitely an eclectic box and hard to define, but I think that's what made it fun. Probably most of the value is in the theming and not having to source everything yourself but I definitely enjoyed it.
Visit Rag Tag Box to subscribe or find out more. Use code RagTagBoxFun to save $2 on your first full-size box! You find more craft subscription boxes in the directory.
The Subscription
:
Rag Tag Box
The Description
: Rag Tag Box is a new monthly subscription service for crafters! Each month's themed box will contain:
1 set of paper craft items to diy (which could include note cards, stickers, paper clips, & more), 1 cross stitch, embroidery, or plastic canvas diy designed by spot colors, and 1-2 fun misc items(which could include handmade or none handmade jewelry,hair clips/ties, finished stitchy items, & more.)
The Price
: $29 per month