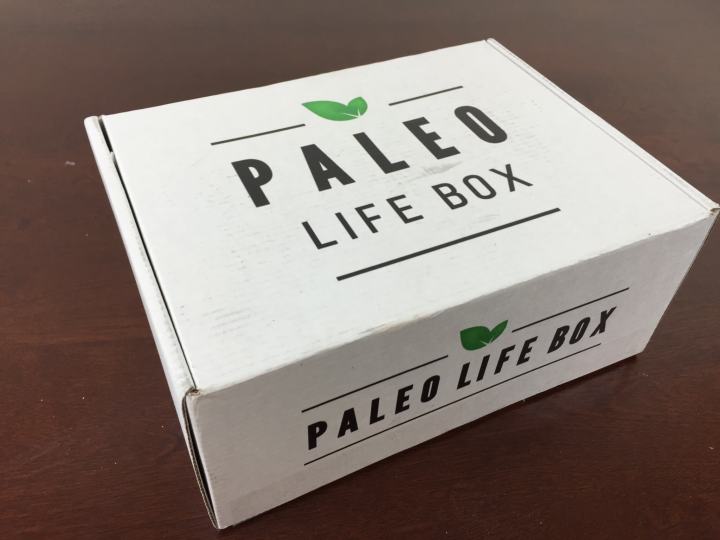 Paleo Life Box is a monthly subscription box full of great-tasting paleo snacks every month. Each month they'll send 8 to 10 snacks – a few new and other returning favorites, so you can be sure to get the snacks you want on a regular monthly schedule. You can expect a mix of meat snacks, bars, cookies, veggie chips, granola, chocolate treats, seed and nut mixes, dried fruit and more – but never grain, gluten, legumes, or artificial ingredients.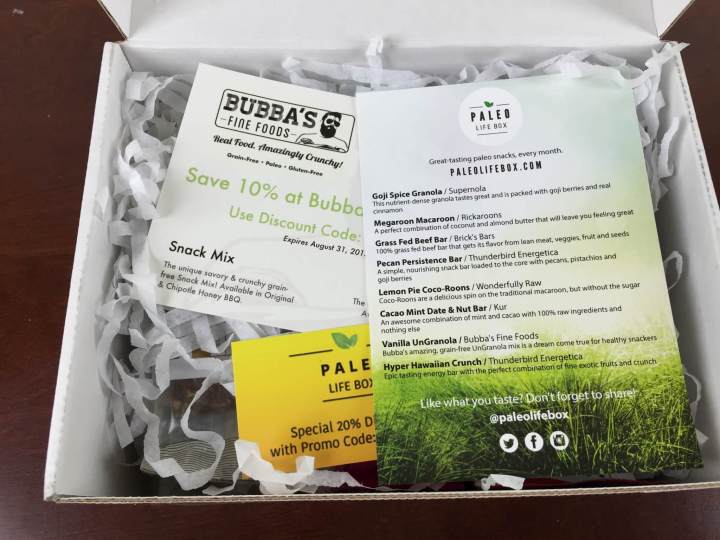 The box is no frills, but it comes with discount codes and an info card.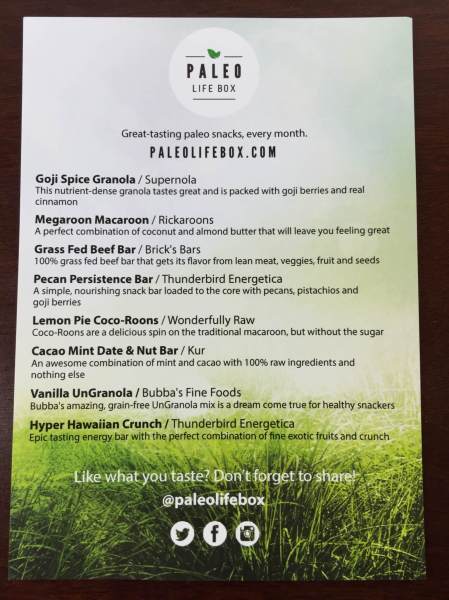 Each snack is described briefly on the information card.  This box featured a lot of coconut and nuts, not unusual for paleo.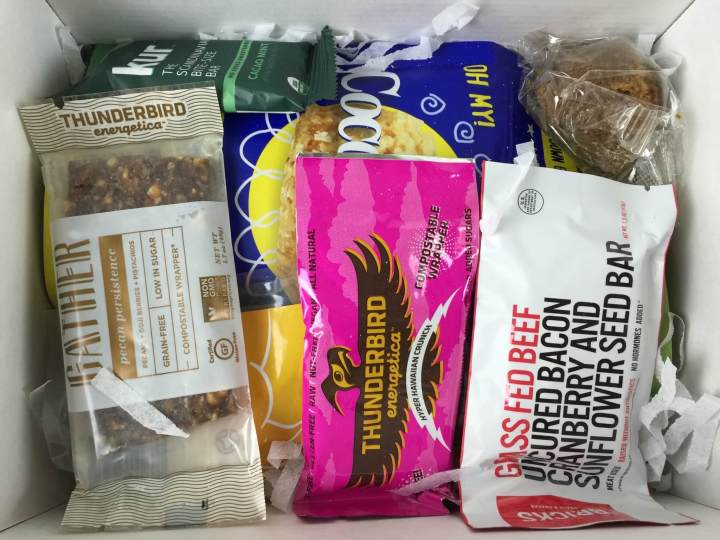 The box may be short on frills, but it does come plentifully stocked.  A couple of  the items come in amply sized bags (which is good, since they are really tasty!).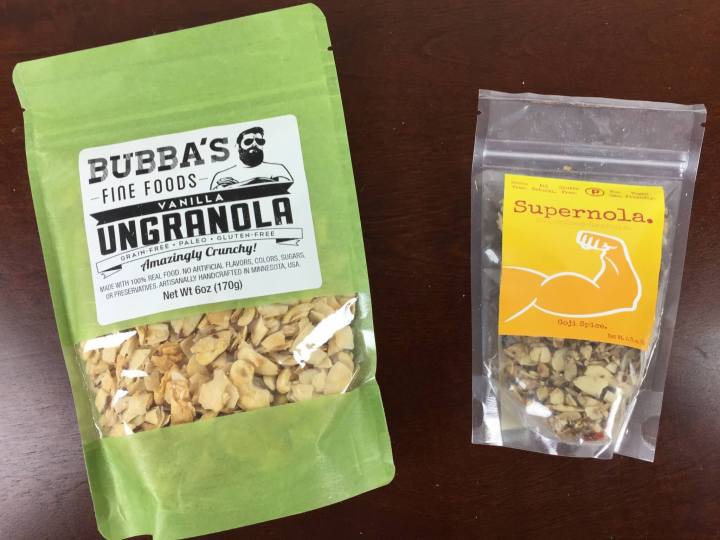 Bubba's Fine Foods Vanilla UnGranola ($8.99) Chewier than I expected given the primary ingredients of coconut, cashews, and almonds, but this also has honey and egg whites. You can nom on this one by itself or pour your favorite paleo milk on top for cereal.
Supernola Goji Spice Granola ($3.50)  This one had several kinds of nuts and seeds including cashews and almonds. It also had goji berries and red maca for some antioxidant power and activated charcoal in the form of cyprus black lava salt.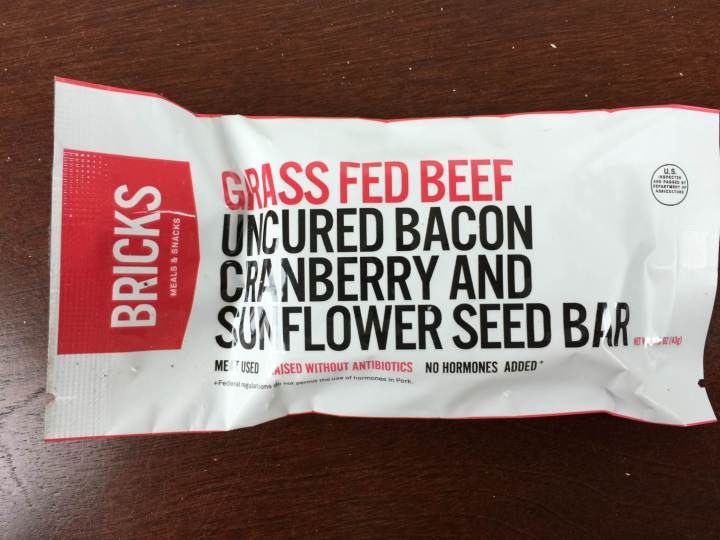 Bricks Bars Grass Fed Beef Bar ($4) I don't know if I really can get behind the meat bars, but they are definitely a unique experience. Super paleo friendly with the uncured bacon and antibiotic free meats.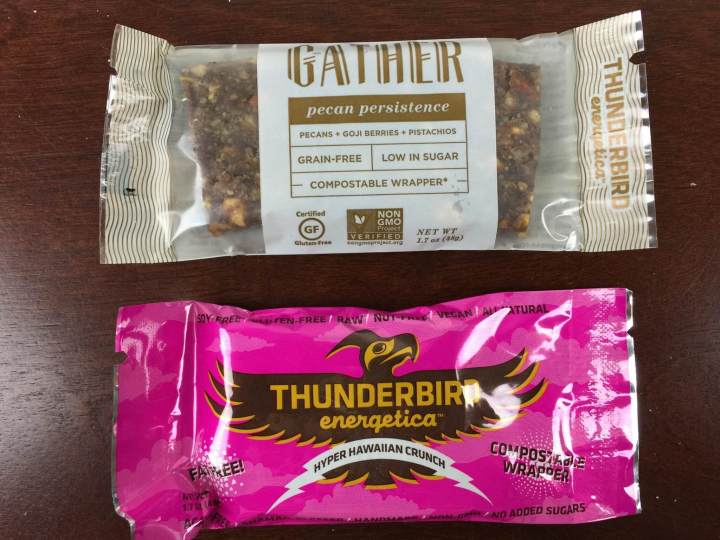 Thunderbird Energetica Pecan Persistence Bar ($2.13)  We had a different flavor last month and we liked it! Lots of nuts, held together with dates for natural sweetness plus pecan butter makes it really great and decadent.  Sweet and chewy, but not gooey — the natural caramel sweetness is really tasty and a great complement to the plentiful nuts.  
Thunderbird Energetica Hyper Hawaiian Crunch Bar ($2) This is not just soy, gluten, and nut-free, it's also raw, vegan, and agave-free. Ultimate Paleo Guide says: Agave nectar or agave syrup is made from the agave plant, but it needs to be heated and chemically altered in order to become the sweet, thin, syrup that is bottled and sold in stores. Neither the extreme temperatures nor the added enzymes required in this process were available in Paleolithic times, so it is not considered a natural paleo food.
I wouldn't have known that it wasn't so I think Paleo Life is doing a great job of very specific paleo-compliant foods, even for strict paleoists.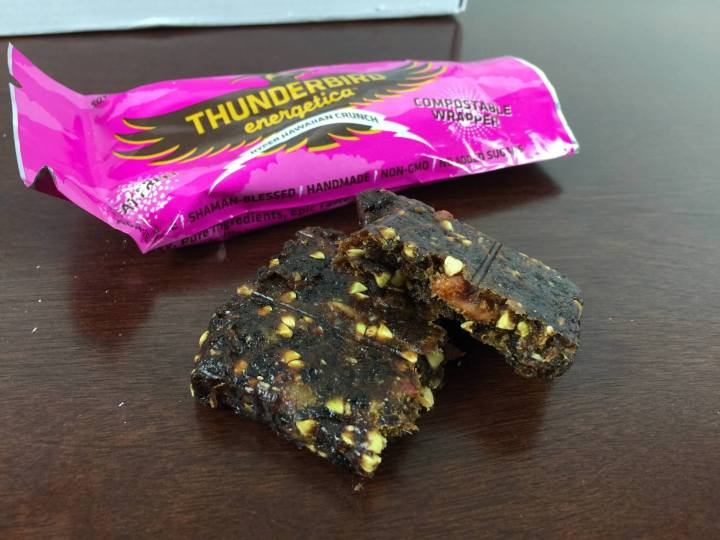 I was curious about the nutless crunch – it's buckwheat groats!
Ingredients: Organic Prunes, Organic Buckwheat Groats, Papaya, Organic Raisins, Organic Mango, Pineapple, Hawaiian Black Lava Salt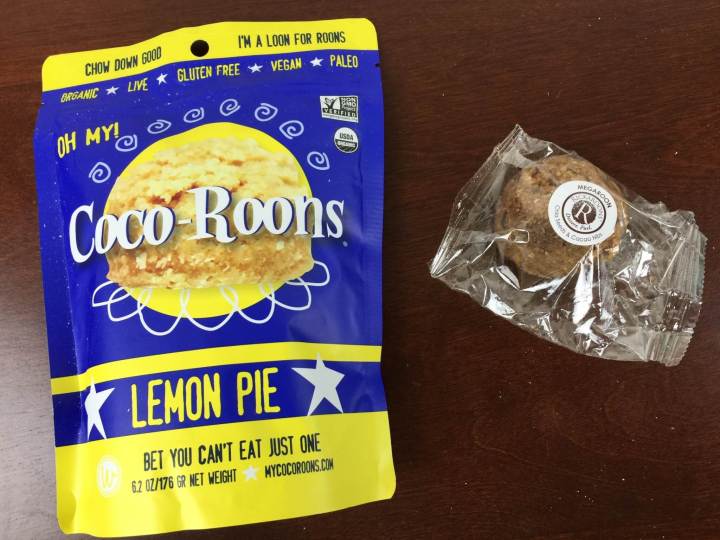 Wonderfully Raw Lemon Pie Coco-Roons ($7.99) These have a nice light lemony flavor. Organic, vegan, and totally paleo, the flavor is from real lemon zest so it's a great natural flavor. These are excellent and you get a huge bag of them!
Rickaroons Megaroon – Chia Seeds & Cacao Nibs ($2.10)  I've had these before! They're pretty good – the paleo macaroons tend to be a little cakier even though there's no flour. They're a tasty dense hit of energy.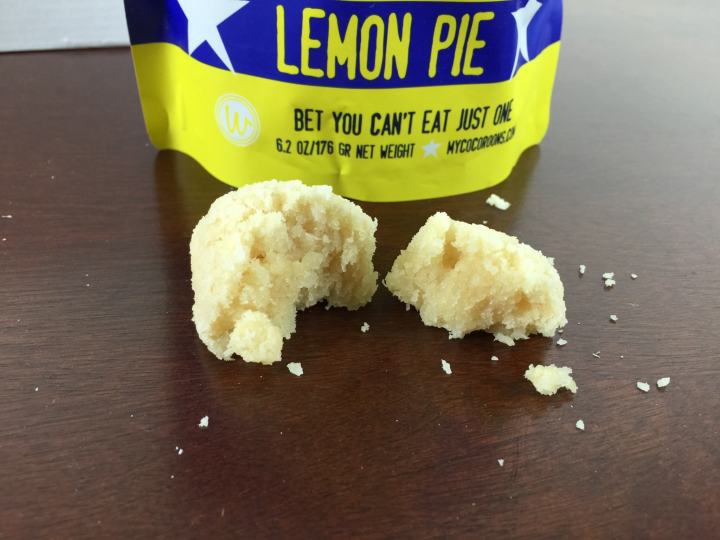 The Coco-roons are raw, so there is no crispy, chewy, caramelized  crust.  This soft, tender version, however, is a perfect medium for the bright lemon flavor.
Kur Cacao Mint Date & Nut Bar ($1.99):  Despite the rather unpleasant name, these little bars are packed with great dark cocoa and mint flavor.  The pairing of cocoa mint with a date and nut bar is uncommon in the US, but the hearty, sweet richness of the dates really carries the feature flavors well and is very pleasing.
We really, really liked this month's Paleo Life Box.  The granolas (or un-granolas, as it were) were the equal of any standard granola, the bars were well-balanced and not too sweet.  Lots of coconut in this box, but the ingredient was put to good use, lending crunch to some items and caky goodness to others.  The samples were nicely sized, too — each was good for at least one full serving. I think anyone who follows a fairly strict paleo diet would enjoy this subscription.
Visit Paleo Life Box to subscribe or find out more. Use coupon code HS15 for 15% off your first box. See all our Paleo Life reviews or find other food & cooking subscriptions in the directory.
The Subscription
:
Paleo Life Box
The Description
: Paleo Life Box is a convenient box of paleo snacks! We deliver the best snack products to your door each month to give you a unique tasting experience that fits within the confines of your diet and is still a great bang for your buck. We ship on the 1st of each month, so join today and fuel your body with the good stuff!
The Price
: $35 per month
The Coupon
: Use coupon code
HS15
for 15% off your first box!