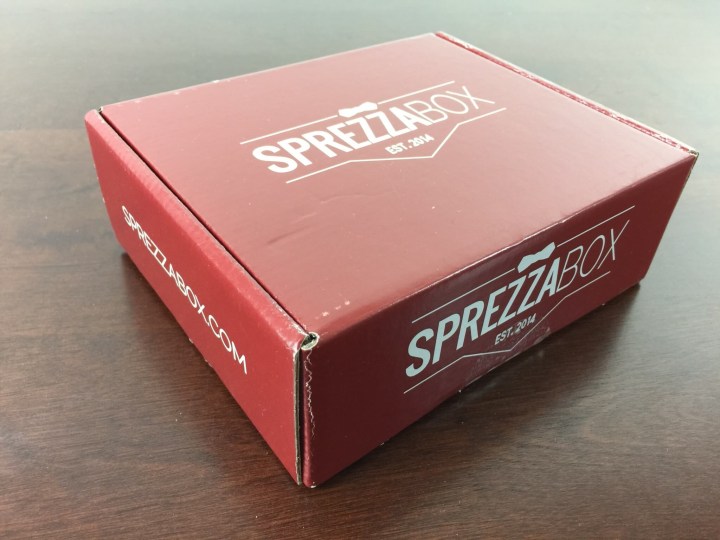 The arrival of my July SprezzaBox meant a smart update to my wardrobe was but seconds away.  SprezzaBox is a men's accessories subscription. Every month you'll receive several high quality accessories and a grooming item, all for $28 per month.  Items are chosen on the basis of the season and current trends – it's a curated mix of accessories that ensure you will always look dapper.  Selections balance wearables and grooming or accessories, and the clothing items tend to complement each other and are wearable within a single, sharply-coordinated ensemble.
This box is the Hudson Box. SprezzaBox calls boxes by a name that represents NYC instead of the month.  The naming convention conveys the overall style of SprezzaBox — sharp and cleverly sophisticated.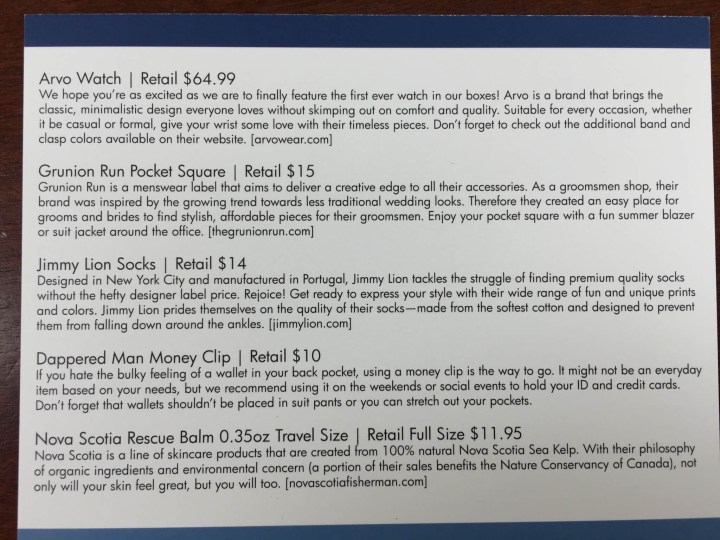 Basic information card with details of all the items.  A pretty good haul for a $28 box.  Not sure how they do it — the Arvos must have "fallen off the back of the truck."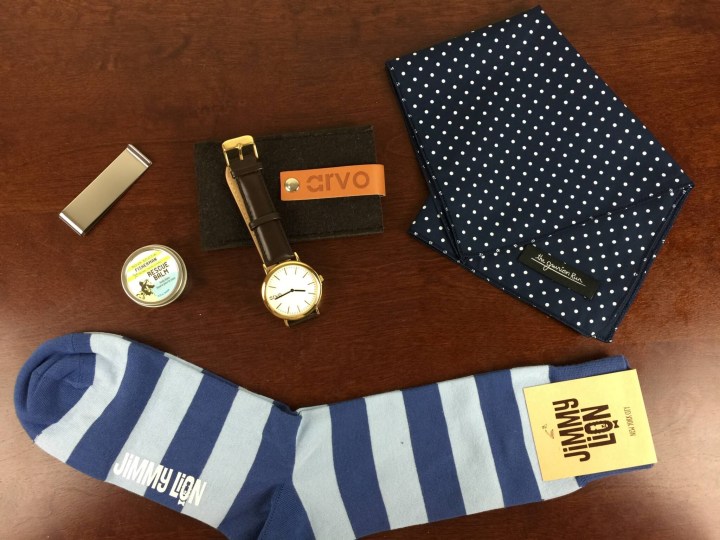 Everything in the July SprezzaBox.  Once again, the box features a sock-and-pocket-square combo that goes well together in a single outfit.  Although it cuts the surprise element down a little, it is really nice to essentially get an outfit refresh every month instead of adding random pieces to your collection hoping it comes together somewhere down the line (I'm not trendy enough for the mismatched-is-matched style philosophy).
Jimmy Lion Stripes Socks ($14):  Soft and stretchy, but not silky.  I like the sizing on these socks — some socks look right but stretch so much that the heel pad rests behind my ankle.  These are sized for US 8-12 (I'm in the middle of that), and the material is resilient enough to hug my foot after stretching these on.  I also like the cornflower and sky blue combo — the pattern reminds me of the Cheshire Cat.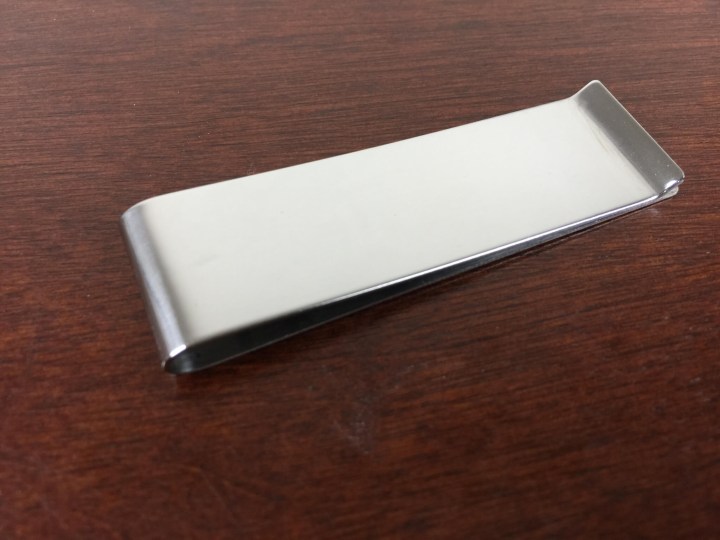 Dappered Man Money Clip ($10):  the finish is ever-so-slightly brushed, making this piece reflective but not ultra shiny.  Strong and lightweight, this is good for going light and ditching the wallet for the day.
Grunion Run Pocket Square ($15):  this piece is about a square foot in size and has a really tight fabric weave but retains a matte appearance.  This strikes me as a really good item to have, as every woman has a navy and white or black and white jumper or dress somewhere in their closet — you'll look subtly coordinated at your next event without breaking out the souvenir tee shirts.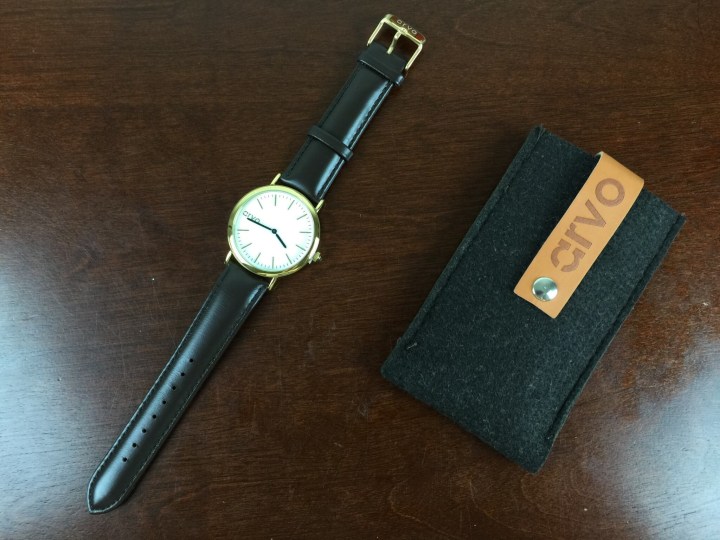 Arvo Watch ($64.99):  This is the first watch to appear in SprezzaBox — which is really cool, considering it is a $28 box.  Obviously, you are not receiving $2k Rolex, but the classic styling of the Arvo is clean and appealing.  My watch has a gold-colored bezel and deep brown genuine leather strap.  I think it will prove to be very versatile, but the Arvo website sells additional bands to update the look as desired.  It also comes with a really thick felt case to protect it when its in your drawer.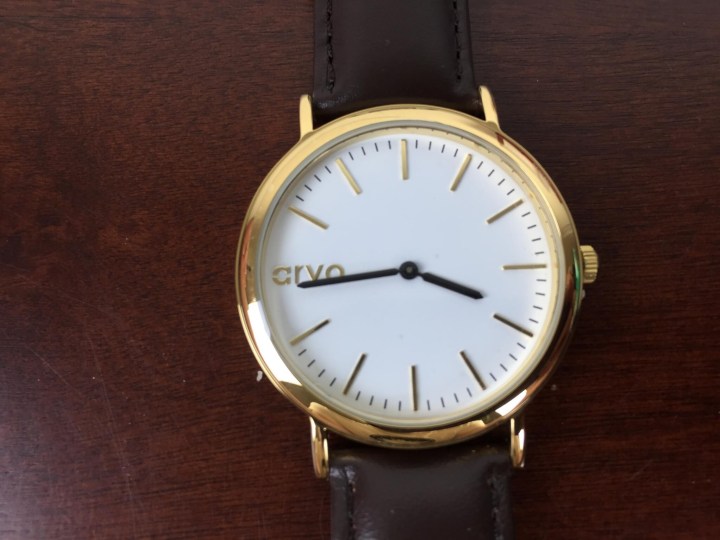 The face of the Arvo.  I was pleased that they stuck with a simple design — I think it allows an affordable watch to look great.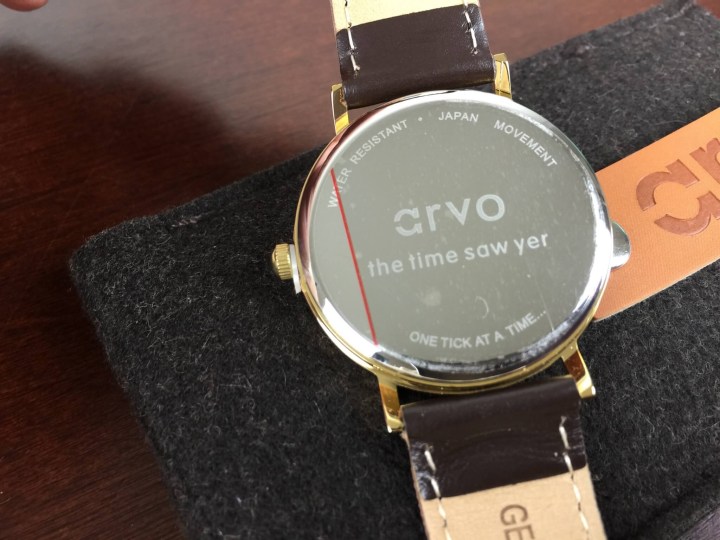 The Arvo is water resistant and constructed with Japanese movement.
Nova Scotia Rescue Balm ($4.18):  This little tub of balm contains about every moisturizing ingredient known to man — olive oil, shea, jojoba, castor, tea tree, coconut, etc, as well as several soothing botanical extracts.  The majority of ingredients are certified organic.  It is olive-oil based, so it glides on and foregoes the waxy texture of beeswax-based balms.
I have been very happy with SprezzaBox for several reasons:  the items are semi-coordinated, providing essentially an outfit per box; the balance of items is nice — not too heavy on consumables; the value is good (heck, I even got a watch this month!); and the style is spot-on, not too conservative or too trendy — it's smart and modern.
Visit SprezzaBox to subscribe or to find out more about this monthly men's accessories subscription. Use coupon code HELLO to take 10% off your first monthly box on monthly subscriptions and/or 10% off your order in the shop. See all our SprezzaBox reviews or check out more subscription boxes for men in the directory.
The Subscription
:
SprezzaBox
The Description
: Each month receive ties, socks and more! Always different items, always different brands. Each month comes with 3-4 lifestyle items and a grooming product.
The Price
: $28 per month